Advanced Scalper is a Forex expert advisor published by Profalgo Limited on the MQL5 market almost three years ago. Since that time the robot has been 3 811 times demo downloaded. There were 10 activations of the system. Its recent update was on March 11, 2021, to V1.55. Keep on reading our detailed Advanced Scalper review to get more details about the system and its trading results in 2021.
Features
As earlier mentioned, there is no official website for the product. It is sold on the MQL5 market. From the information provided by the vendor, we know that:
This is a fully customizable trading tool
It offers various setup possibilities
The current price of the EA comes with a 60% discount
Everyone who buys 1 copy of this EA receives the other one for free
There are advanced exit algorithms
The robot has a build-in spread-filter and slippage-control algorithms
Recommended brokers to trade with are ICMarkets or Alpari
Recommended VPS is 4xhosting


Recommended currency pairs to trade are EURUSD, USDJPY, and GBPUSD
The devs provide a detailed quick setup guide and user manual
It's 100% automatic EA, which is using a High/Low breakout system for entry calculations. For this trading mode, H1 timeframe is recommended
There is a combination of Entry and Exit strategies
It uses SL for each every trade
It has very advanced SL-management
The spread filter of the system allows avoiding trading during bad market conditions
It has a slippage control algorithm, which helps to avoid bigger losses during heavy slippage
The expert advisor was tested on the 99% tick quality

How to start trading with Advanced Scalper
Interested in the system traders can buy the robot on the mql5 market. It is currently being sold with a 60% discount. The vendor also points out that only one copy for 390 USD is left. The final price is $990, which is too much for an expert advisor. There also are 3 rental options offered: 3month rental costs $199, the 6-month rental comes for $249 (you save 38%) and if you want to rent the robot for 1 year, you'll have to pay $299 (you save 63%). In addition to this, a free demo account is offered. Thus, you are free to test the EA and decide what trading approach you'd like to apply. There is no money-back guarantee provided.

In the "Comments' section on the mql5 page, where the product is sold, we've found the next offer: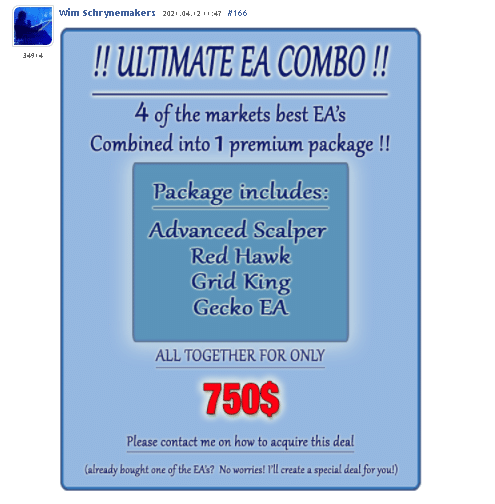 We can get a pack of 4 EAs, including Advanced Scalper, Red Hawk, Grid King, and Gecko EA for $750.
The dev also provides us with a settings list:

To start trading with this EA, a minimum account balance of at least 150$ is required.
Backtests
We have a backtest report for the USD/JPY currency pair. The robot traded on the H1 time frame with a modeling quality of 96%. The backtest started in 2014 and ended in 2018. There were 7210 bars in the test. The maximal drawdown was 0, 82%. With a profit factor of 1,81, the robot could generate $234, 37 of the total net profit. It placed 1085 orders and won 61, 84% out of them (671 trades). The win-rate was 57, 84% for Short and 65, 76% for Long trading positions.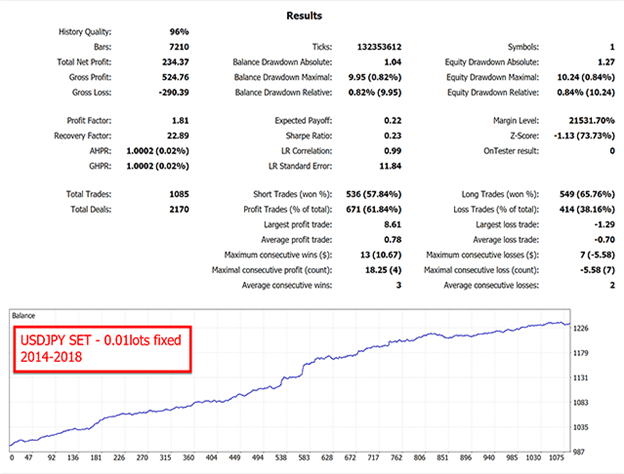 Trading Results of Advanced Scalper
The dev failed to provide myfxbook or fxblue trading account results to prove the efficacy of his trading system. Therefore, we were obliged to conduct additional research to analyze the trading performance of this trading tool. As result, we've found an areal (EUR) account, with the last trading activity on April 10, 2021.
It was created on May 05, 2019. It worked under IC Market brokerage and traded with 1:500 leverage on the MT4 platform. The trading history is hidden, thus we cannot analyze all the important aspects around the work of this EA.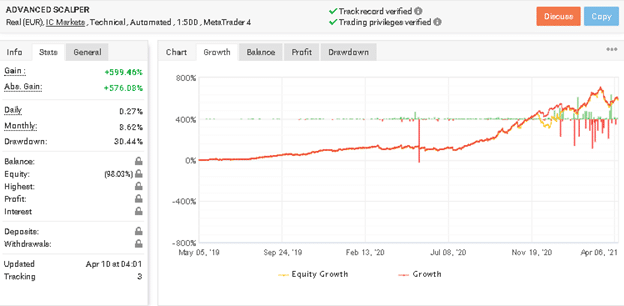 For almost 2 years of trading, the total gain has risen to 599, 46% with a monthly average gain of 8.62% and a daily gain of 0.27%. The peak drawdown was 30, 44%. It placed 6719 deals and won 4767 out of them, which represents 71% of the win rate. The average loss in pips was twice higher than the average win (-29.31 pips and 11.13 pips). The profit factor was low – 1,21. The average trade frequency was 5 hours and 12 minutes. The Longs positions win rate was 72% when the Shorts positions win rate was 68%.
It is a night scalper with the highest trading activity at 12 a.m., 10 p.m., and 11 p.m.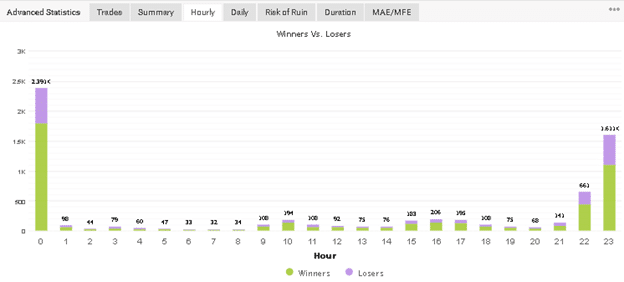 It traded multiple currency pairs, but the most profitable ones were EURUSD ($1721.8), and EURCAD ($1658.7). The following currency pairs have brought the worst trading results: XAUUSD (-$13606) and GBPJPY (-$646.7).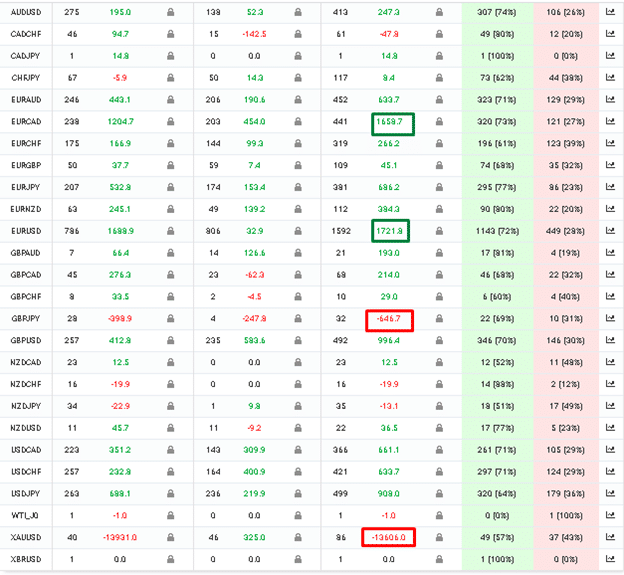 The robot traded erratically and unpredictably: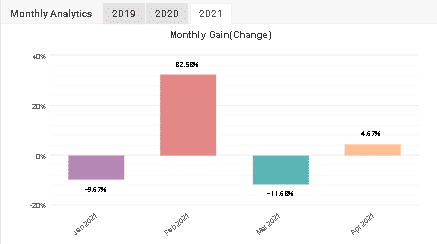 Customer Reviews
The system has a 3,5 out of 5-star rating on the mql5.


The last customers' reviews tell us that the system is unprofitable.
Is Advanced Scalper a viable option?
Advantages
Backtest reports provided
Three rental options available
Disadvantages
A money-back guarantee is not included
Hidden trading history
Bad reviews from customers
Lack of vendor transparency
High pricing
Conclusion
Advanced Scalper is not the best option for the price it is sold. It does not trade predictably. In addition to its extremely high price, the vendor does not offer a money-back guarantee. It is a one-way ticket.
Would you like to try out trading with an Expert Advisor?
Learn more about the best forex robots.