Altredo is a website offering Forex EAs and indicators for different trading platforms: Metatrader, Tradiwnview, Ninjatrader, Nadex, Thinkorswim, Tradestation, etc. The vendor promises accurate market forecasts, a high daily win-rate, and consistent monthly profits with these robots. 


On the official website, we have a list of different trading platforms, and clicking on each of them would take you to a page containing the list of EAs that are compatible with a particular platform. We have the link to a live trading account on Myfxbook showing real-time results, the pricing details for each robot, as well as customer testimonials.
Altredo is a company founded in 2010 by Betsalel Avraham. Its headquarters are located in Acre, Israel. On the official website, we don't have any relevant information pertaining to the company, and the vendor has not revealed the identities of the traders and developers working behind the scenes. However, we know that it has developed several Forex robots over the years, and has a bit of a reputation in the Forex automated trading systems reputation.
Features
Using the various Forex EAs offered by Altredo Forex Robots, you can trade in all major and minor currency pairs. Since different Forex robots offered by the website use different strategies, we shall discuss the Scalper and Arbitrage EAs. The former mainly trades in AUD/USD, GBP/USD, and EUR/USD pairs using a high-profit, low-risk setting.
It contains a news filter and can generate consistent profits from small as well as big deposits. The strategy involves making use of small price movements to gain steady profits. Here, the positions are not held for too long, and exits are made as soon as a profit target is reached.
The Arbitrage EA, on the other hand, trades in multiple pairs and is not dependent on political events, news background, etc. This strategy lets you trade with minimum risk and make profits minus open currency exposure. During short trading windows pricing discrepancies may exist, and these present lucrative opportunities that this robot utilizes.
How to Start Trading With Altredo Forex Robots
The Forex EAs from Altredo Forex Robots do not come cheap, as we can see the Thinkorswim, Interactive Brokers, and NinjaTrader robots are all priced at $1500. Some of the cheaper systems include the Ideal Scalper and Scalper Premium that cost $430 and the Arbitrage robot priced at $770. The vendor has explicitly mentioned that no refunds or cancellations are offered for any of the products, which is quite disappointing.
Since there are multiple robots and indicators available on this website, they would have different installation recommendations and starting balances.
Backtests
We were unable to find backtesting data for any of the Forex EAs sold by Altredo Forex Robots. Backtests are considered vital by most Forex traders, since they are conducted over several years, and thus tests the robot against a variety of market conditions. A system with an impressive backtesting result should be able to withstand difficult market situations and generate profits at a consistent rate.
From backtests, we also get to know about some crucial performance parameters like win rate, profit factor, relative drawdown, etc. It is not possible to accurately gauge a system's profitability without them.
Verified Trading Results of Altredo Forex Robots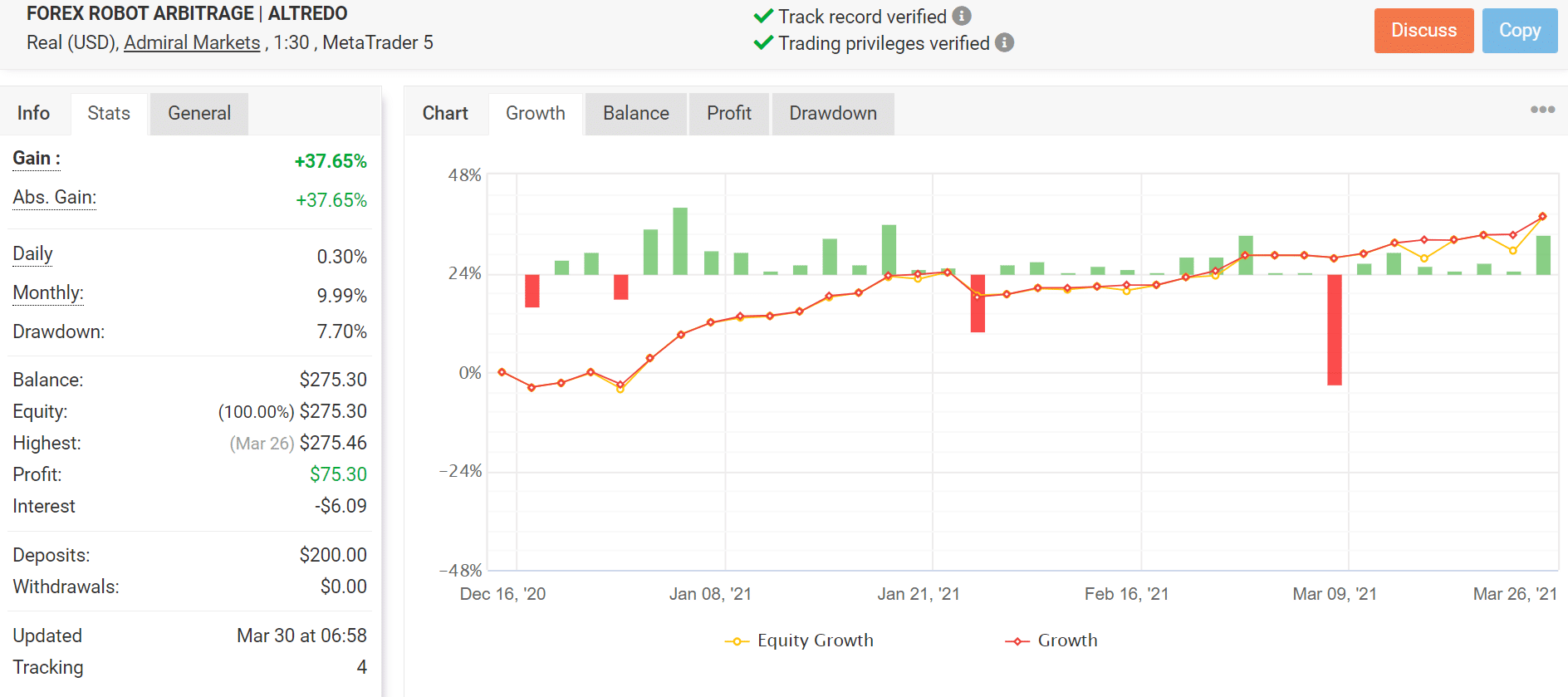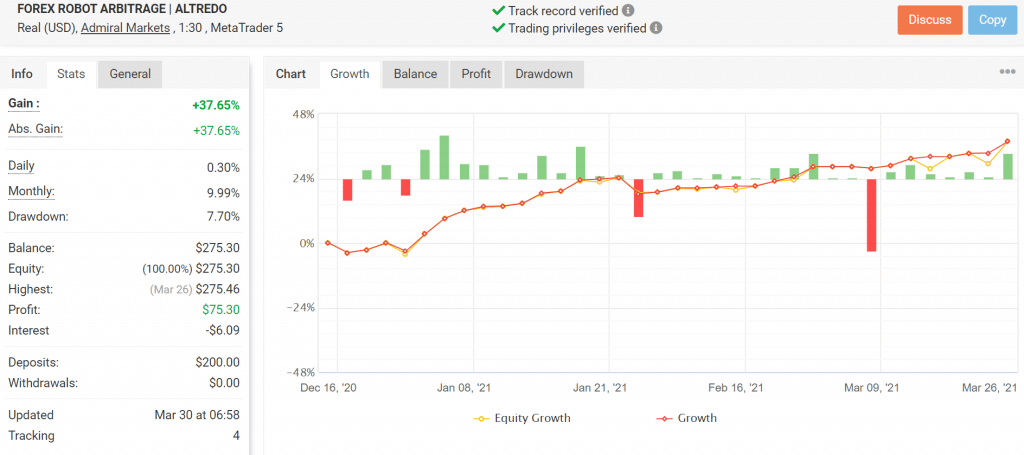 Here we have the live trading result for the Arbitrage robot, presented on a verified Myfxbook trading account that was launched on 16th December 2020. Only 80 trades have been placed through this account as of now, out of which 63 have been won. Thus, the Arbitrage robot has a high win rate of 79%, with an average win of 19.37 pips/$1.70.
The daily and monthly gains for this account are 0.30% and 9.99%, respectively and both the time-weighted return and absolute gain are 37.65%. Another parameter that should be noted is the extremely low drawdown of 7.70%. Currently, the total profit generated is only $75.30.
Although the trading results look profitable and the account has a high profit factor of 3.39, it is based on an extremely small sample of trades. We have to wait for more trades to be placed through this account before we can confidently say that the Arbitrage robot is capable of earning steady profits.
Customer Reviews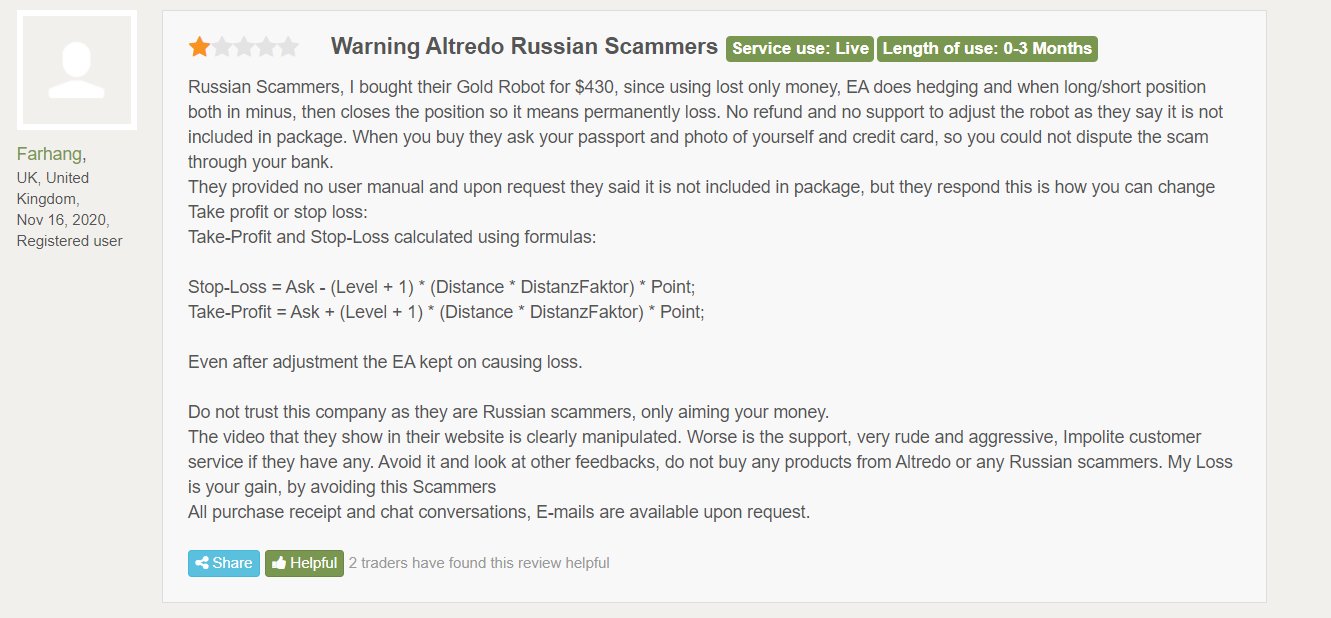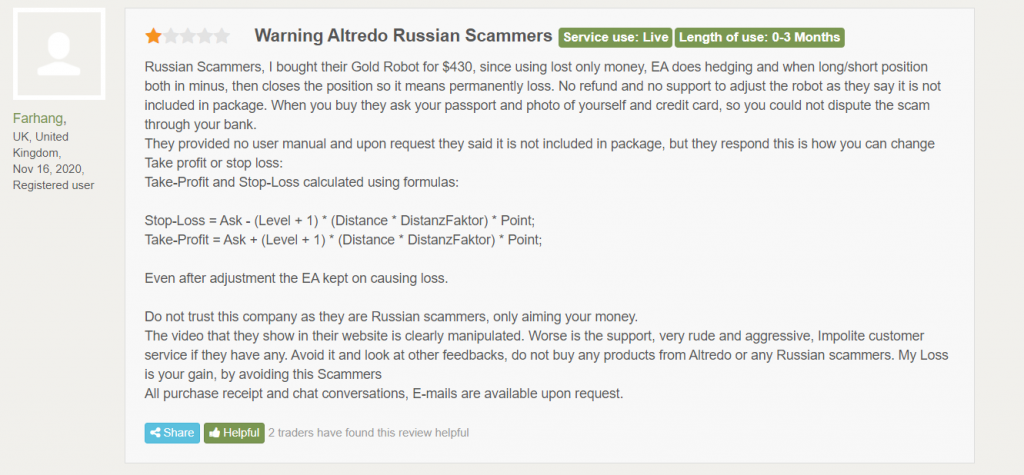 On the Forex Peace Army website, we found some customer reviews for Altredo Forex Robots. Several users have stated that this is a scam website. One of them has mentioned that no refund or support is provided. The user goes on to say that the Forex EAs suffer from losses even after making adjustments.
Is Altredo a Viable Option?
Advantages
Verified live trading results
EAs for different platforms
Disadvantages
Short trading history
No refunds
Negative customer reviews
Summary
Altredo Forex Robots is very likely to be a scam service since it provides live trading results for only the Arbitrage EA, and that too has an extremely short trading history. Furthermore, there is no money-back guarantee for any of the products.
Would you like to try out trading with an Expert Advisor?
Learn more about the best forex robots.