Forex expert advisors are a popular trading tool widely used all over the globe. By using them, you can not only save time but also avoid an emotional aspect that often leads to losses. Blueshift is one such intraday Forex expert advisor that is based on WPR (Williams Percent Range) and MA (Moving Average) indicators. This fully automated MT4 tool was designed for intraday trading.
Blueshift claims to have a high win rate, but it is something every vendor claims and we cannot trust the service and its developer blindly without having any proof. Therefore, we've decided to conduct a detailed analysis of this recently launched Forex market trading tool. We are here to analyze vendor reliability, product safety, and price to say with confidence whether you can trust this system or not.

Currently, there is no official website for Blueshift. It was published on MQL5 on January 10, 2021. Its current version is 2,20 and the last update was on February 19, 2021. Taking into account that this is a new EA, it is obvious that not too many people know about this product as of now.
The developer of this EA is Marco Solito located in Italy. He has 12 products in his portfolio, including Dark Oscillator, Dark Moon, Redshift, and Dark Venus optimized to run on both MT4 and MT5 terminals.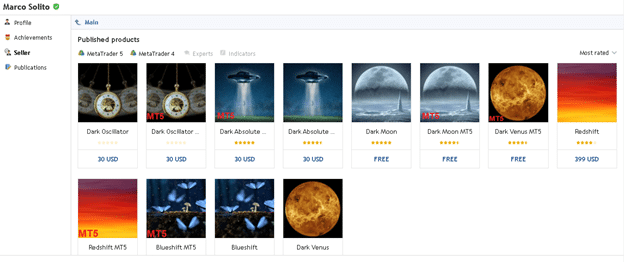 However, apart from this, not much is revealed about the vendor, and this may act as a deterrent for Forex traders who prefer investing in reliable, safe, and reputable trading systems. We know very little about the developer and the one possible way to get in touch with him is by messaging him on the MQL5 website or through their Telegram channel.

No additional information about the vendor, his team, contact details or office headquarter location is provided.
Features
We've gathered all the features of this EA in this list:
The developer tells us that the robot works fully automatically on the MT4 terminal (MT5 version is also available)
It is based on Wpr and Ma Indicators
The system opens new deals in the market direction
The robot can open new trading positrons in a counter-trend direction
It does not use Grid or Martingale
This EA is said to provide a high rate of winning trades
It was tested on XAUUSD (Gold) and XAGUSD (Silver) currency pairs on M15 timeframe
The backtests were performed with the real tick data with 99,90% accuracy, the actual spread, and additional slippage
It places real SL and TP for every trade
The recommended timeframe to run the robot is M15
The system requires low latency and a VPS service
How to start trading with Blueshift EA
The robot works fully automatically on the MT4 platform. The dev recommends we trade with an ECN broker and leverage as low as 1:10. The minimum deposit to start trading is $100.
You can buy the EA for $399. In addition to this, the robot is available for rent and costs $369/month. The rental option looks odd. The price is extremely high, especially considering its relatively unknown system.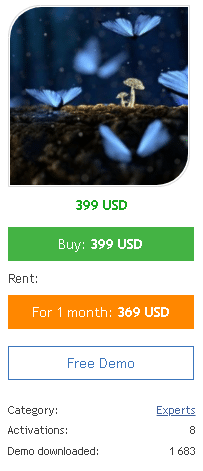 Users can also test the EA on a free Demo account. Over 1 683 traders have already tried the demo version of Blueshift EA.
Backtests
Two backtest results were conducted for each currency pair.
We have a XAUUSD (GOLD VS Dollar) report performed on the M15 timeframe. The modeling quality was 99, 90%. As you can see, the robot generated a total net profit of $29771800.12 with an initial deposit of $100. The robot traded 2800 trades and won 2740 out of them, which represent a high win rate of 97, 86%. The profit factor was 7, 57 which sounds too good to be true. The best EA has a profit factor lying between 2 and 3, so this is a highly surprising figure. The maximum drawdown was low – 6, 07%.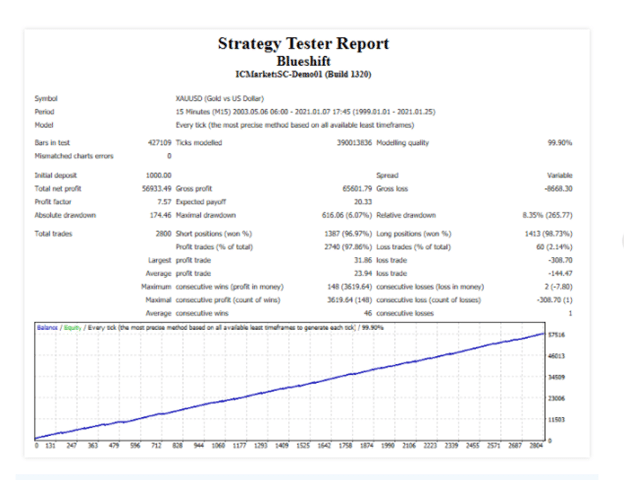 No Trading Results
The vendor does not provide any trading results of his EA. The absence of live trading results is a red flag, especially for a brand new trading system that has been on the market for less than 2 months. The absence of live trading results is a major drawback, as traders cannot analyze the live trading performance of the EA and, respectively, are not in a position to make the right investment decision.
We have found 3 trading accounts on myfxbook, but, unfortunately, all of them were stopped with loss ranging from 5% to 24%:

The real trading account ended with a money loss of -$116, 31 from the deposited funds. The drawdown was as high as 43, 18%.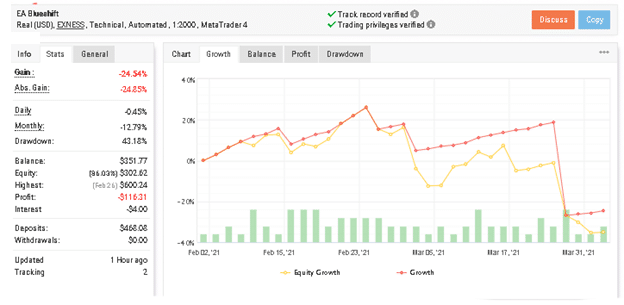 The system set SL levels that were over ten times higher than TP ones. As you can see on the screenshot below, the system experienced large losses of -$154, 83, -$62, 25, -$62, 20, -$60, 37, and -$60, 25 that are 35 and 70 times higher than the average profit.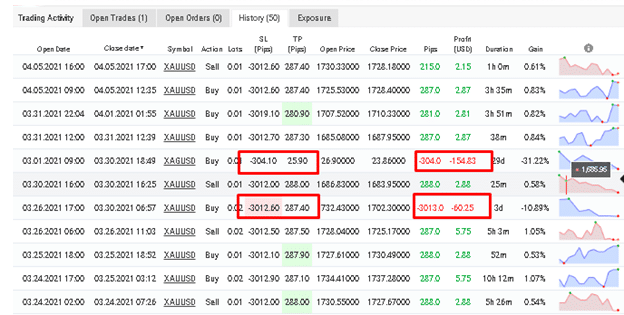 These losses ruined the trading account.

Special Offer
On the MQL5 page, where the robot is sold, the vendor offers us a second Blueshift package for free. It is possible only in case we buy 1 EA on MQL5 and write feedback on the market.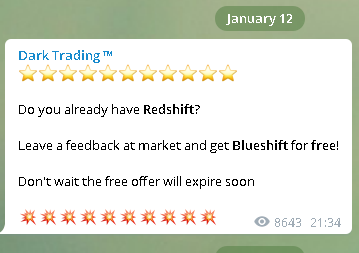 Is Blueshift a viable option?
Advantages
Backtesting reports provided
The robot can be tested on a free Demo account
Disadvantages
No money-back guarantee
No live trading results provided
Extremely high pricing
Lack of vendor transparency
Summary
We'd not recommend you to pay $399 for this trading platform now. The pricing is odd and there are no trading results to analyze how the system performs in the live market. There is no money-back guarantee provided and this is a major con. We advise the developer to provide more details about himself, his team, and location. We expect to see live trading results to have more data to analyze. Otherwise, we are not in a position to recommend this EA to the public.
Would you like to try out trading with an Expert Advisor?
Learn more about the best forex robots.