Breakthrough Strategy is a Forex robot launched on 3rd August 2020 which is sold on MQL5.com. The information provided on the product page is very limited, which makes it difficult to assess the reliability of this EA. We received some instructions from the vendor for modifying the EA setting, but apart from that there is no list of features, or screenshots showing backtesting data. At first glance, it does not look like an EA you'd want to purchase.
Would you like to try out trading with an Expert Advisor?
The developer behind this robot is Konstantin Kulikov, who is based in Russia. His MQL5 profile tells us he has more than 6 years of experience in programming Forex automated systems. Apart from that, there is no information available on this person or the people he works with. Other EAs developed by Kulinov include GridMartin Conqueror, FrankoScalp, Good Monday, and Friday Monday.
Features
You can use Breakthrough Strategy to trade in pairs like AUDCHF, AUDJPY, AUDNZD, CADCHF, EURCAD, EURCHF, EURGBP, EURJPY, EURNZD, EURUSD, GBPCAD, GBPJPY, GBPUSD, NZDJPY, NZDUSD, USDCAD, USDCHF, and USDJPY. It works on both Metatrader 4 and Metatrader 5 and you can use it for all timeframes.
The vendor has shared no information on the trading strategy used by this robot, which is a major red flag. We have no idea if it uses any indicators or whether it trades with the trend or against it. Different traders have different trading styles, and naturally, they wish to know about the details of the strategy. We think this will deter many individuals from investing in this EA.
How to start trading with Breakthrough Strategy
As per default settings, this EA uses a trading lot of 0.01 for every 100 units of balance. According to the vendor, it has been corrected for 2 years based on statistical analysis performed on a live account. While the robot is live, the EA calculates the GMT offset parameter based on your system's local time. In case the parameter value does not match the GMT offset of the broker, you can set GMT_Offset_AUTO=false and enter your own value for GMT_Offset_Manual.
The robot has several other customizable parameters that allow you to build your own trading style. It has a News Filter that you can activate by enabling the Allow WebRequest parameter and adding the proper link to the URL list. The EA has been tested on the M1 timeframe, and if you wish to use it with others, you need to download the quotes for all of them and test them on the terminal. It is available for $197, and there is no money-back guarantee.
Backtests
Backtesting results are vital for a Forex EA because it acts as proof of its durability. Since EA vendors conduct backtests over a long time period, we get to know whether the system can deal with difficult market conditions. Unfortunately, the results are not available for Breakthrough Strategy.
Verified trading results of Breakthrough Strategy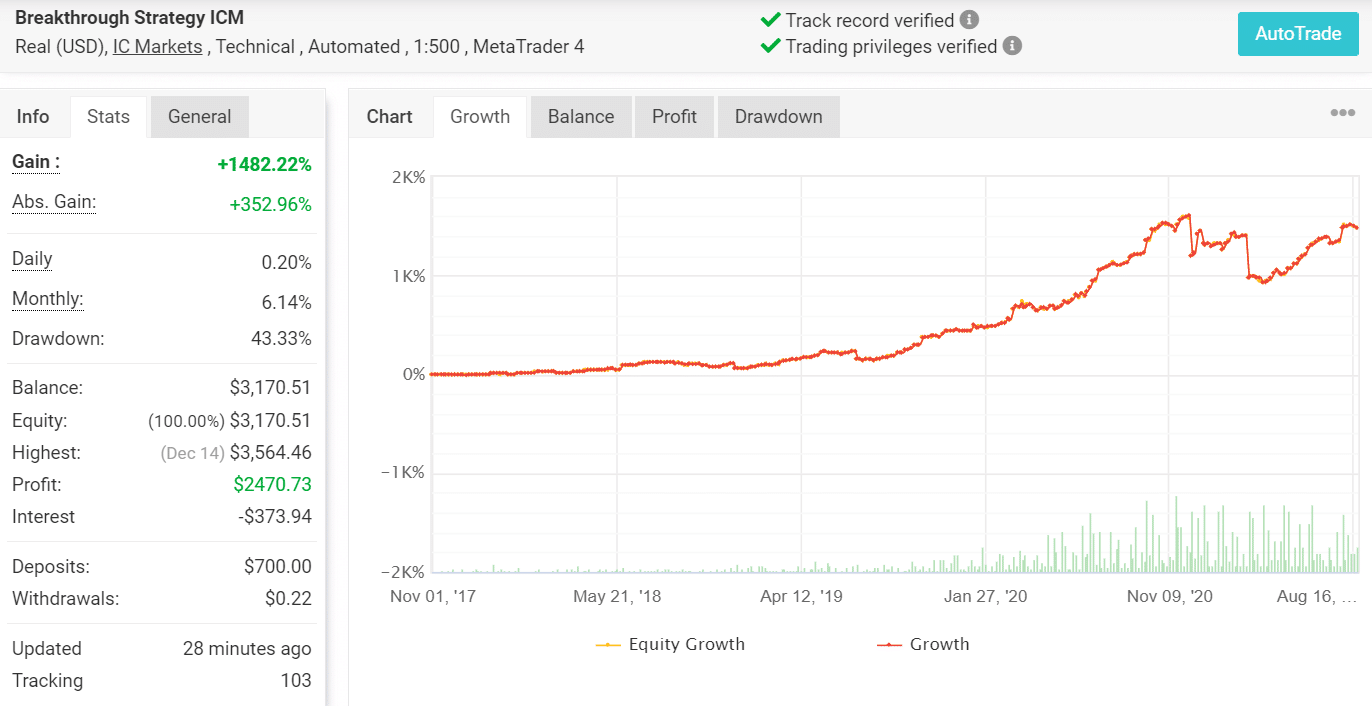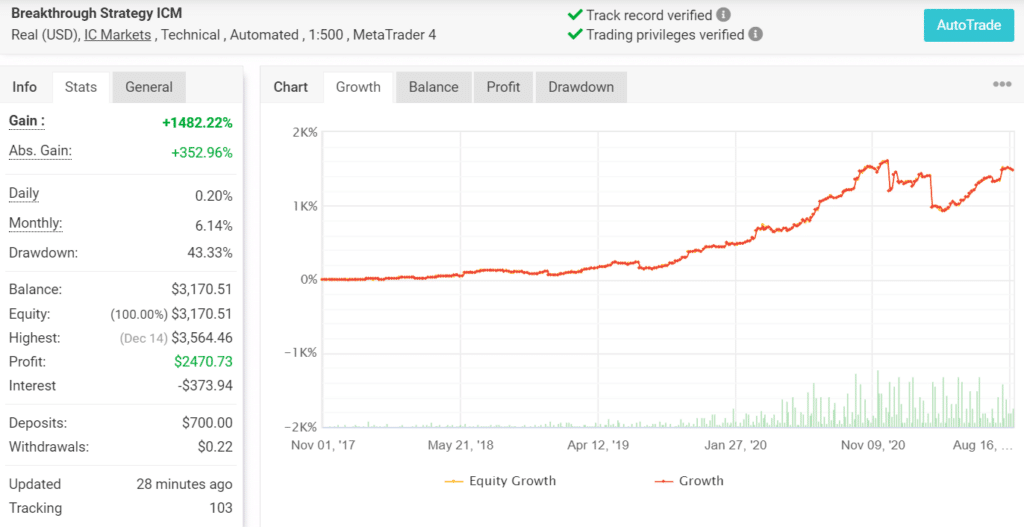 Here we have the live trading results for Breakthrough Strategy presented on a live trading account in Myfxbook. The EA has placed a total of 1920 trades through this account, and from the trading history, we can see that it follows a high-frequency approach. It has won 1457 out of these 1920 trades, which means it has a profitability of 76%.
While the daily and monthly gains for this account are 0.20% and 6.14% respectively, the drawdown is incredibly high at 43.33%. This tells us that the robot trades with high-risk and you can lose a large portion of your account while using it in the live market. At this moment, the account has a profit factor of 1.33 and a Sharpe Ratio of 0.12, neither of which is that impressive.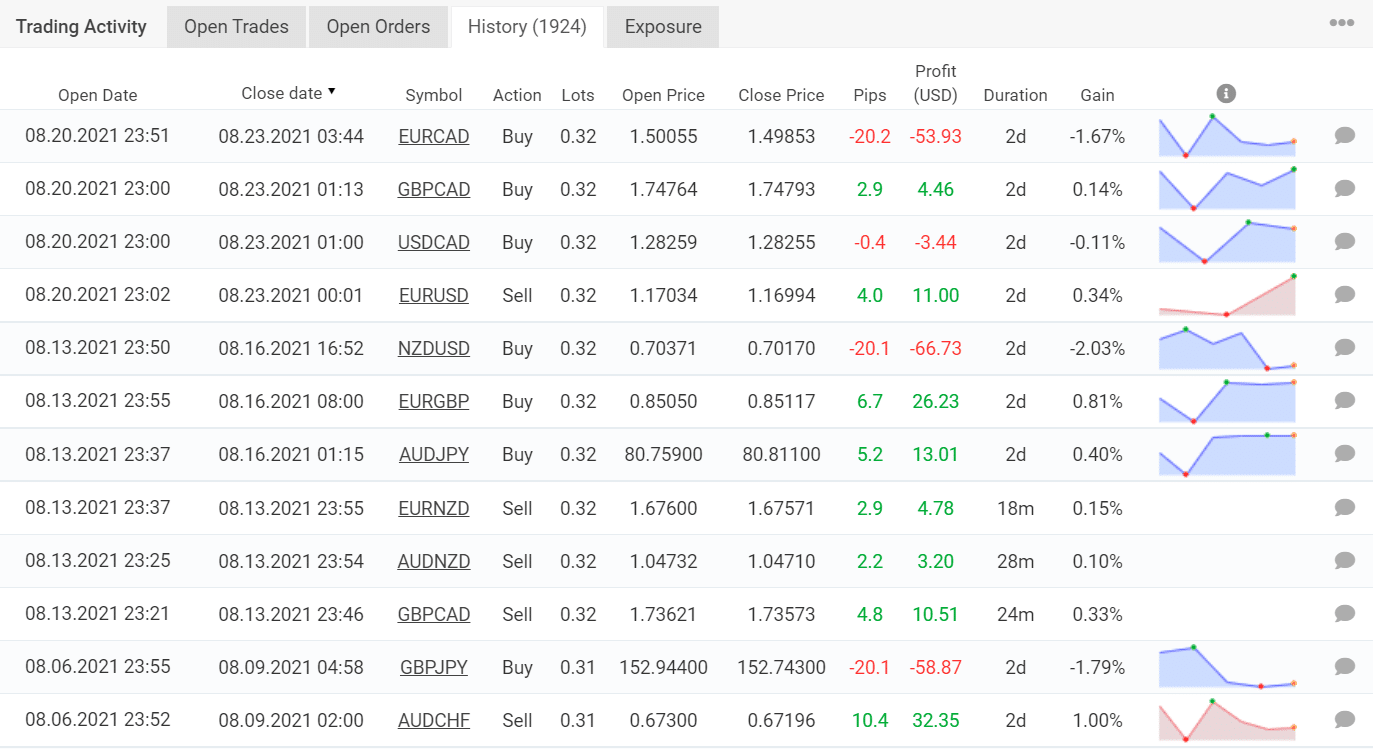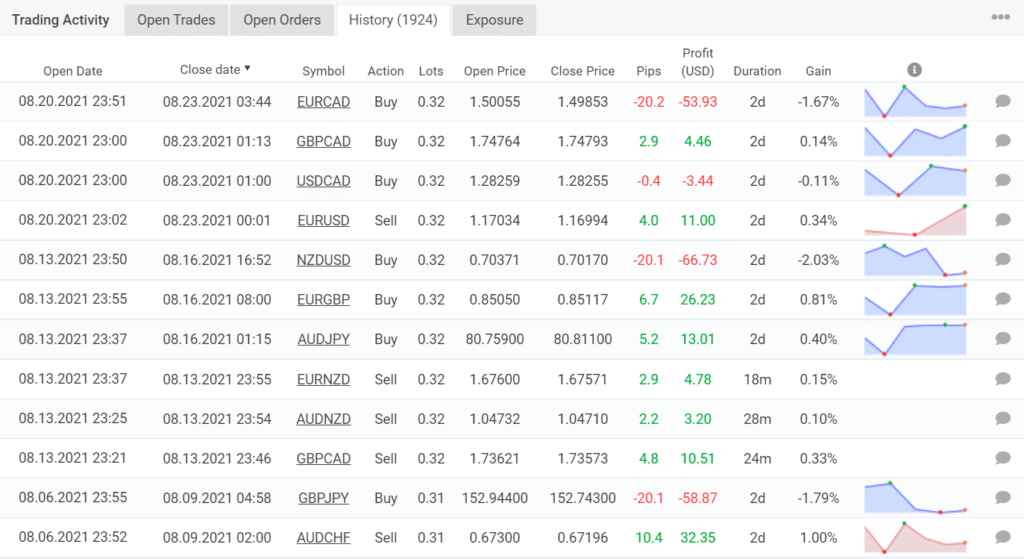 Looking at the trading history, we can see that the robot follows a combination of Martingale and Grid strategies where it extracts small profits from each trade. This is a risky trading approach that is not suitable for long-term traders.
Customer reviews

There are no user reviews for this Forex EA on trusted third-party websites. We have a few reviews from customers on MQL5, but we cannot consider them genuine since it is possible for the vendor to manipulate them.
Is Breakthrough Strategy a viable option?
Advantages
Disadvantages
No money-back guarantee
High drawdown
No backtesting data
Summary
Breakthrough Strategy is a robot that you definitely stay away from. Sold by a vendor who has no reputation whatsoever, this EA exhibits high drawdown and uses a risky trading strategy. The lack of a refund policy makes it an even riskier investment.
Would you like to try out trading with an Expert Advisor?