Euro Scalper Pro is advertised as a 100% automated signals service provider that is easy to set up and does not require master experience to trade with. This Forex trading system takes advantage of copy trading software to automate signals within your MetaTrader4 platform. Moreover, its vendors claim that the system can work 'anywhere in the world'. It sounds great, but is it as good as its devs claim? Find out the answer in our detailed Euro Scalper Pro review.
How Euro Scalper Pro Works
From our initial assessment of the service, we could not gather enough information to analyze this trading system in detail. Firstly, the dev failed to provide any sort of information about himself/herself, their team, location, or what trading experience they have in the Forex marketplace. They've only provided email and Facebook credentials to get in touch with their no-name team. We'd like the dev to provide some sort of clue who they are to know to whom we are going to trust our money. Secondly, although their website presentation provides a short video to demonstrate their trading results, we have no reason to trust it, as it cannot be verified. Thirdly, they provide neither backtests nor detailed trading strategy information on their homepage. It looks poorly organized and lacks info where it is the most required.
Key features of the system are:
Signals are automatically delivered
No hidden fees or charges
It is recommended to use on M1 or M5 timeframe
The minimum deposit for a cent account is $100
It is recommended to use VPS for running Euro Scalper Pro 24/5
The devs convince us that this system is the best for long term profits
To open run the software for free traders need to open a standard MT4 account through their web with their partner broker with a minimum deposit of €1000 / $1000
The devs guarantee unlimited access to Euro Scalper Pro Signals with Free Auto Trade Copier

Brokers to run Euro Scalper Pro free account are XM.COM and ICMARKETS
The software is easy to set up and run
To start trading using a free software version traders have to open a standard account with recommended brokers, after opening an account send an email to [email protected] to inform devs that they are already registered, and get free lifetime access to EURO SCALPER PRO SIGNALS.
Euro Scalper Pro paid membership offers trading 1 currency pair – EURUSD. The dev says that signals are automatically copied to all MT4 supported brokers to any part of the world. They offer 'Laser accurate trade Entry and Exit 100% automated by Trade Copier' and 'ability to monitor your account 24/7 without restriction'.
Applied Strategies
The only thing we know about the trading strategy the software uses is that it trades EUR/USD currency pair and uses a short term scalping strategy. It promises to deliver great trading results via trending and choppy price action.
Backtest results are not provided on the Euro Scalper Pro website.
Euro Scalper Pro Trading Results
In terms of trading results, the devs have decided to provide us with a video that has been running from December 2018 until today. The way this system trades looks more like a Forex expert advisor than a human providing signal.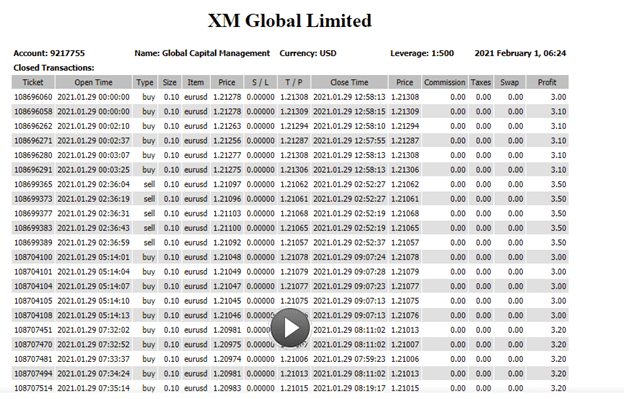 The one issue with these trading results is that they are not uploaded to any statement sharing service. The developer has full control over these trading results, thus they are not 100% transparent. We recommend the developer provide live trading results that could be verified either on myfxbook, fxblue, or fxstat.
Pricing & Refund
As earlier mentioned, this software has both free (if traders open an account with XM.com or ICMarkets brokers) and paid versions. Euro Scalper Pro Paid membership comes in 2 different options: monthly ($197) and annual ($1997) payment, which currently goes with a 15% discount off the regular price ($2364).

There is no word said about a money-back guarantee.
Other Notes
We've googled for customer reviews to analyze what traders say about this signal service. As a result, we've found 9 reviews on Trustpilot.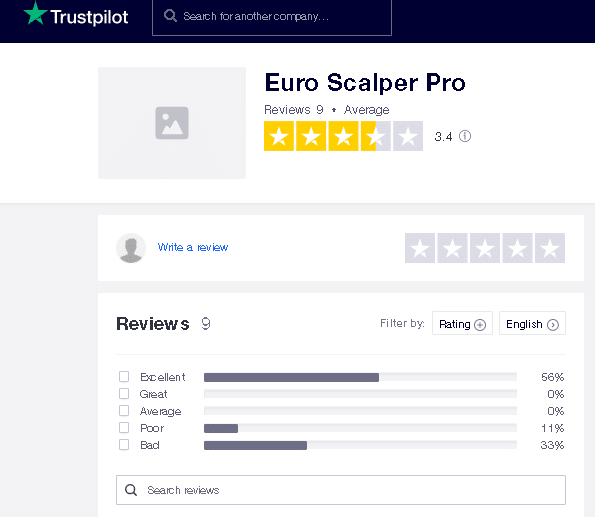 This signals service has a 3,4 out of 5-star rating based on nine reviews from customers.
Negative reviews take a turn with positive ones: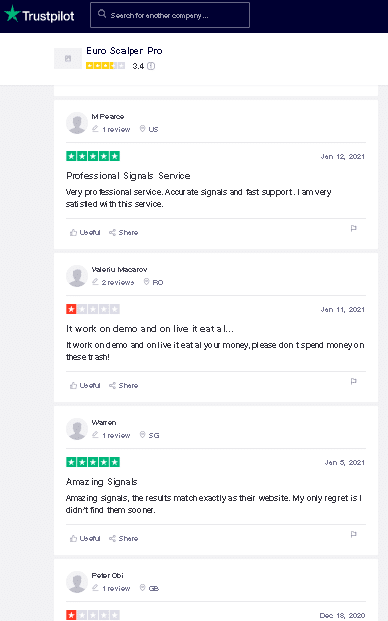 While some traders say that it is an amazing signals service, others say that it is an 'absolute pile of rubbish' with grid orders and large drawdowns: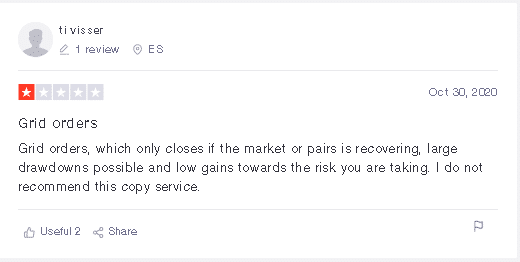 One trader says that his account was brown in 2 weeks: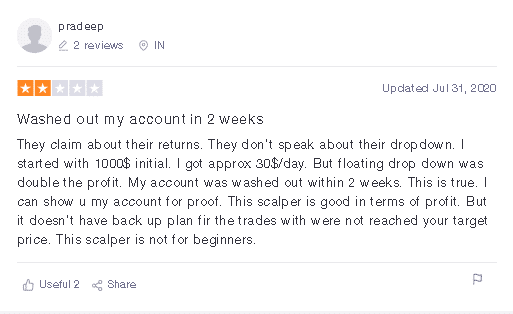 Review Summary
We do not trust this signal service. Firstly, we do not know who stands for Euro Scalper Pro, secondly, neither backtests nor verified trading results were provided. Paid membership does not include a money-back guarantee that looks suspicious, taking into account its high pricing. The overall land of the website is very basic and lacks information where it is the most required.
Would you like to try out trading with an Expert Advisor?
Learn more about the best forex robots.