Forex Auto Millions is a trading advisor that has a short presentation about how the system works in general. Also, it lacks details about the robot, settings, and features. We decided to check the system out to understand if it can provide us with profits.
Would you like to try out trading with an Expert Advisor?
Features
The presentation includes the most important information about how everything has to work and what parameters we have to follow.
We can work with the system completely automatically on a terminal.
Trading is possible on MT4.
The advisor doesn't trade, using Martingale, Hedge, and Grid.
We can trade on the EURUSD cross pair.
The only time frame to work is M5.
It was back tested on the original data that had 99% of the quality.
Past testing can't guarantee us that the robot will be profitable.
The system is delivered with a refund policy to protect us if something goes wrong.
We can get our money back without any question.
The devs allow us to rely on a user guide.
We may get started with no trading experience.
So, that's almost it.
How to start trading with Forex Auto Millions
There's an offer where's a copy available for $99. The devs decided not to reveal package details like a number of real and demo accounts, parameters, and other information. As was mentioned before, the system has a refund policy.
Backtests
We have a report that was received from testing EURUSD on M5 on the 18-year tick data. The modeling quality was 99.90% with variable spreads. The maximum drawdown was 5.04%. The robot has executed 7382 deals with the maximum win rate for shorts.
Verified trading results of Forex Auto Millions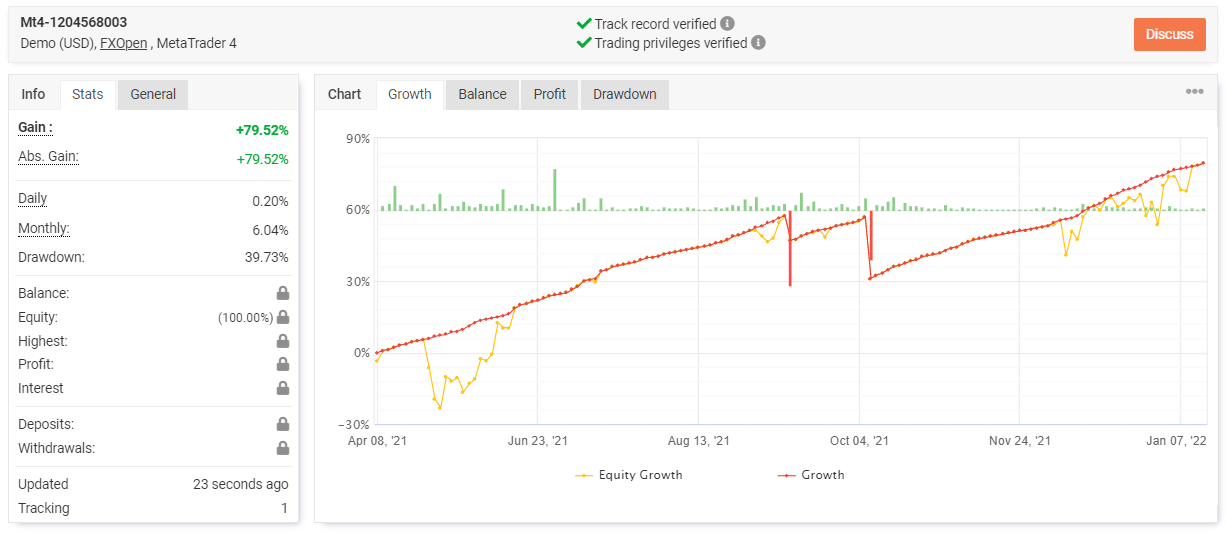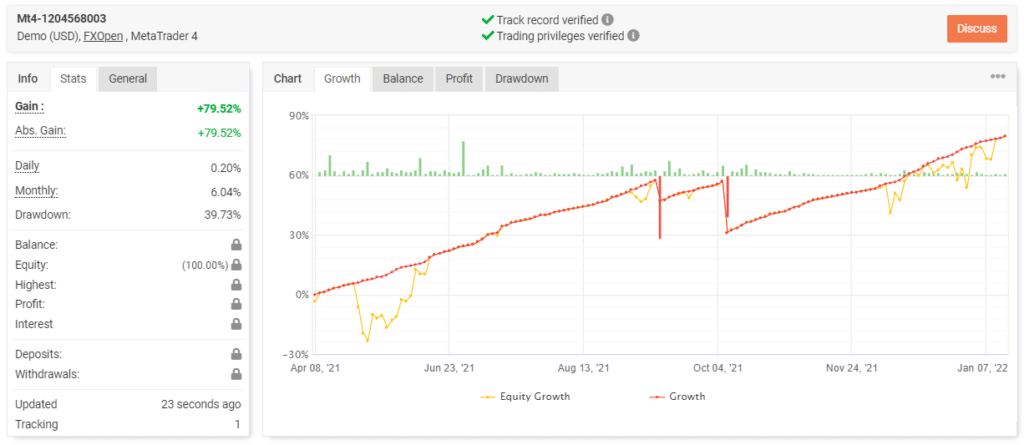 The advisor works only on a demo account that was registered on FXOpen. Most likely, there's leverage but it wasn't mentioned. The account has a verified track record. It was created on April 08, 2021. Since then, its total gain has become 79.52%. An average monthly gain is 6.04%. The maximum drawdown is 39.73%.


The system traded 633 deals and obtained 2370.4 pips. An average win is 4.99 pips when an average loss is -74.12 pips. The win rate is as high as 98% for short trading positions. The long direction isn't traded at all. An average trade length is 12 hours and a half. The profit factor is 3.11.


The direction table has nothing special.


The system opens orders during the Australian and Asian sessions.


The system almost skips trading on Wednesday (66 orders).


The advisor works with medium risks to the balance. There's a 2.44% chance of losing 10% of the balance.


The history is hidden from us to check.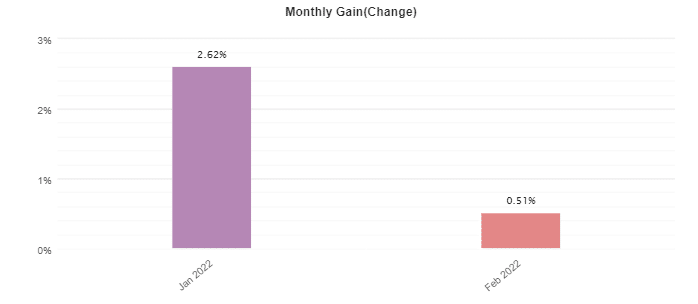 January 2022 was closed for a profit.
People feedback
There's a huge wall of comments provided about the system. Alas, they are not verified.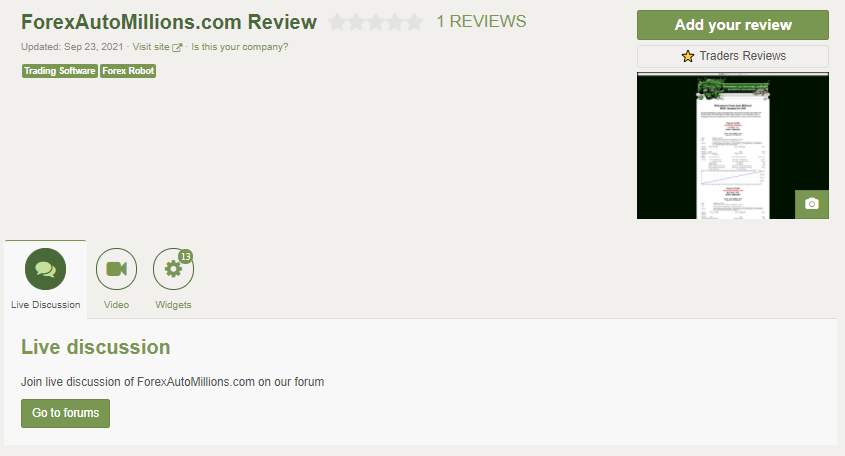 Forex Auto Millions has a page on Forex Peace Army. We have no testimonials written about it.

The system has a positive review from a guest that wasn't liked by no one.
Review summary
| | |
| --- | --- |
| Advantages | Disadvantages |
| Backtest reports provided | No risk advice given |
| Trading results shown | No team revealed |
| | No settings information shown |
| | No money management advice provided |
| | No verified testimonials published |
| | The advisor works only on a demo account |
Forex Auto Millions trades only on a demo account. The advisor works only in the one direction that keeps the account profitable. It trades a EURUSD pair only with high accuracy. The presentation includes many unverified testimonials that weren't published anywhere else.
Would you like to try out trading with an Expert Advisor?