Accurate trade entries and exits are important to reap profits in Forex. This is made possible with the help of the automated trading systems available now. But you need to choose a system that is suitable for your style of trading. Forex Diamond from FX Automater is a system that guarantees accurate trading, a complete service, and lifetime future updates. We have reviewed this system here to help you identify whether it is the right system for your style of trading.
FX Automater has produced several expert advisors besides Forex Diamond and claims this system outperforms the company's expectations. The vendor does not provide information about the developer or team behind the system. Besides an online contact form, there is no other form of support available.
Features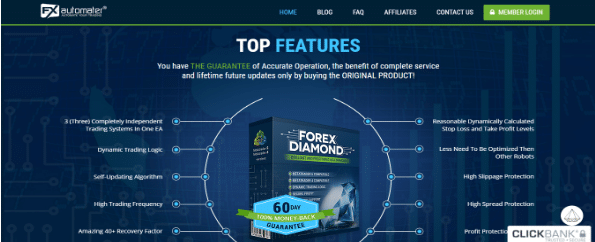 According to the vendor, this is a dynamic trading system that offers maximum reliability and profit. Three different strategies are used in this system with all three combining to provide superior results. Counter-trend, scalping, and signal trading approaches are used. Adaptation to the prevailing market conditions and real-time calculations are part of the working model of this system.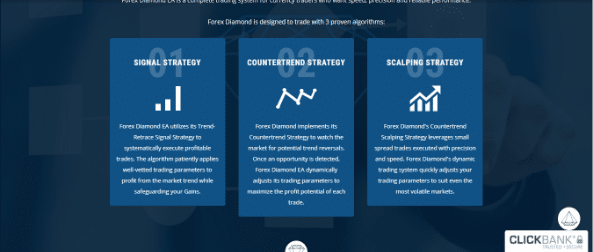 Features like threshold values, take profit and stop loss are calculated and managed by the system. Important features of the system include configuration of trades based on the trading strategy, optimal money management, full trading support, high-frequency trading, and very minimal need to optimize the system. Profit, spread, and slippage protection are part of the system. Four currency pairs can be traded using this system.
How to start trading with Forex Diamond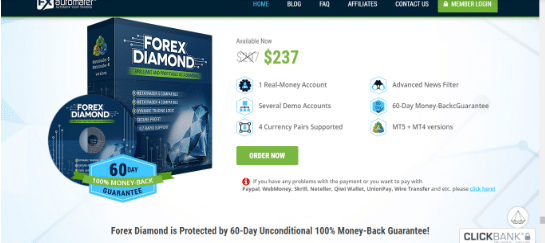 A discounted rate of $237 is available for this product from its earlier price of $297. For the given price, the features included are a single real-money account, advanced news filter, multiple demo accounts, and MT4 and MT5 versions. The vendor offers a 60-day money-back guarantee.
Once you purchase the software, you need to download and install it. The setup takes just a couple of minutes and you can start trading with the system. A quick-install wizard helps in easy installation. The minimum trading amount ranges from $100 to $500. The recommended capital ranges from $1,000 up to $5,000. An M15 time frame is used for this system.
Backtests
Backtesting done over 19 years is displayed on the website. A screenshot of one of the strategy tests is shown below: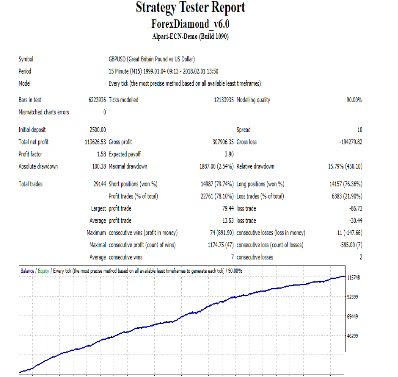 From the backtesting report, we could see a profit factor of 1.58 being gained for the GBPUSD pair done on a 15 minutes time frame. A maximal drawdown of 2.54% is shown. However, we are not satisfied with the modeling quality which is 90%. We prefer quality of 99.9% as this gives more accurate info on details like slippage, spreads, commission, etc.
Verified Trading Results of Forex Diamond
A live verified real account trading result is shown on the site. Here is a screenshot of the trading results revealed on the myfxbook site.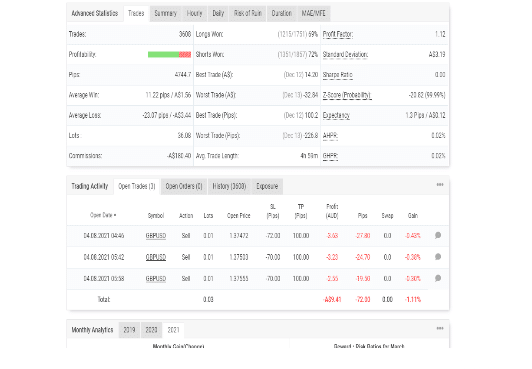 From the trading stats, we find the gain and absolute gain percentage are similar at 102.23%. A drawdown of 21.14% is seen and the daily and monthly gains are 0.10% and 2.93% respectively. The AUD account uses the leverage of 1:500. For trading that began in April 2019 up until now, a total of 3608 trades have been executed with the average win coming at 11.22 pips and the average loss at 23.07 pips. The profit factor is 1.12. We could see from the trading history that the lot size is 0.01.
Comparing the backtesting result with the live trading account result, we can see there is a difference in the drawdown and profit factor. While the backtesting indicates a very low drawdown, it is high in live trading.
Customer Reviews
There are no user reviews for this system on trusted third-party sites such as Forexpeacearmy, Trustpilot, etc. Without genuine user reviews, it is difficult to assess the important features of the system such as its performance, support, drawdown, etc.
Is Forex Diamond a viable option?
From our analysis of this system, there are a few positive factors present that are in favor of the system. We have listed the advantages and disadvantages of the system below:
Advantages
Fully Automated system
Live verified trading results
Uses three different strategies
Disadvantages
Vendor transparency is not present
No user reviews
Price is expensive
Summary
Summing up our review of the Forex Diamond expert advisor, the system uses three different trading approaches which give an added advantage. The presence of backtests and live trading results verified on the myfxbook site further make this system look reliable. But we found a few shortcomings such as the lack of vendor transparency and expensive price. The absence of user reviews is another factor against the system. This system shows potential provided the vendor takes care of the shortcomings with the necessary tweaks.
Would you like to try out trading with an Expert Advisor?
Learn more about the best forex robots.