Today in this review, we will take a close look at an improved and recently updated version of the Forex inControl expert advisor, which promises that with the help of its advanced features it can help both novice and experts by providing them with unforgettable and smooth trading experience.
ForexinControl aims to function as a single system or in combination with another expert advisor. The developers of this automated MT4 tool claim that the robot does not open trades all the time. Instead, it 'awaits for the best moment to enter the market' which allows traders to trade with multiple EAs on the account without big drawdowns.

Is there any reason to trust the developers who failed to provide information about themselves, their headquarter location, or what trading experience they have in the Forex market place? Why should we invest $270/$310 in the product with zero vendor transparency? Well, we are not here to judge the vendors but to provide a detailed Forex inControl review for letting you know whether this EA can be trusted or not.
Features
Forex inControl offers many features:
Easy setup
100%automated system
Adapting to different trading styles (conservative, normal or aggressive)
Backtesting results for over 15-16 years
Verified trading results
The team behind Forex inControl also highlights 3 main aspects, which they consider, make the system reliable and profitable: 

– allows the robot to take low-risk trades so that a trader won't lose more than expected under any circumstances. Automatic Stop Loss technology is a very important aspect of this MT4 system.

– after testing, the devs have found out two main currency pairs that are the most profitable.

– this section tells us that the EA trades 2 currency pairs (repeats section #2 'trading 2 currency pairs'). Therefore, probably, there should be only two main aspects, not three, but we won't hold that against them.

The trading strategy, as well as timeframe information, are undisclosed. The one thing we know is that the EA comes with or without accelerator mode and can trade Conservative, Normal or Aggressive styles of trading. However, there is neither explanation of mode accelerations nor a detailed description of any of its trading styles.
How to start trading with Forex inControl
To start trading with this EA, traders have to choose between 2 packages (one includes accelerator mode, while the other one – optimized settings without accelerator mode):
Both packages include a user manual, free updates, and 24/7 customer support. Unfortunately, there is no word said about a money-back guarantee or a trial/demo version of this EA. There is no information about the minimum deposit required to start trading with this robot.
Backtests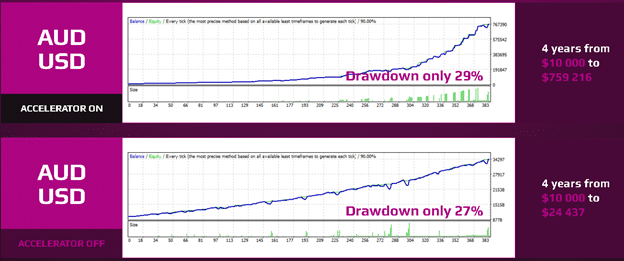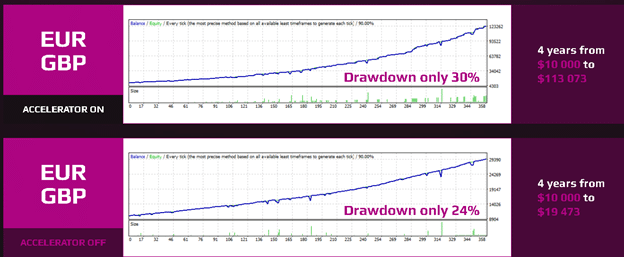 As we can see from the screenshots above the final profit varies in times with the accelerator mode "on" and "off".
These are backtesting results of the EUR/GBP currency pair with accelerator mode on. The time frame has been (M30) and the peak drawdown equaled 24, 32%. The initial deposit was $1K, which raised to over $113K. Its profit factor was 3, 53 and the absolute drawdown was 49, 41%. The average win-rate was 83, 52% for short positions, and 68, 75% for long positions.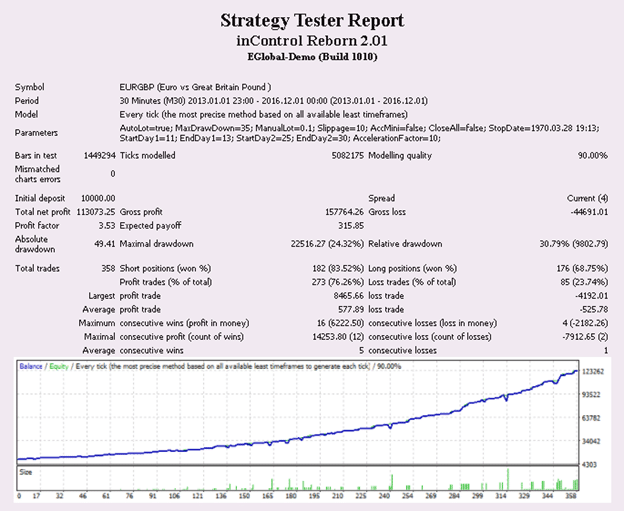 Verified Trading Results of Forex inControl
The developers of this Meta Trader 4 tool provide us with myfxbook results on their website.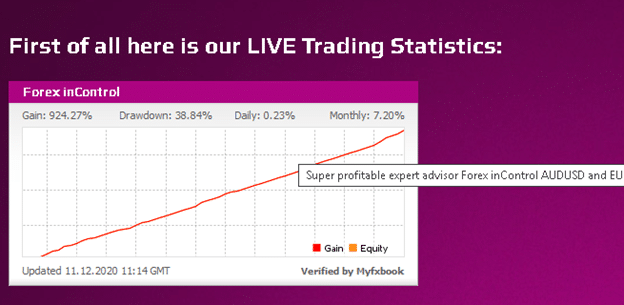 It is a Real USD account that works on the popular MT4 platform and trades with FXOpen brokerage. This account was launched on February 12, 2018, and since that time it has obtained a 924, 27% gain, and a monthly gain of 7, 26%. Its peak drawdown was 38, 84%. Initial deposit was $1000. For 2 years and 9 months of trading, the robot has brought $9241 of profit. Now, the account balance equals $10230.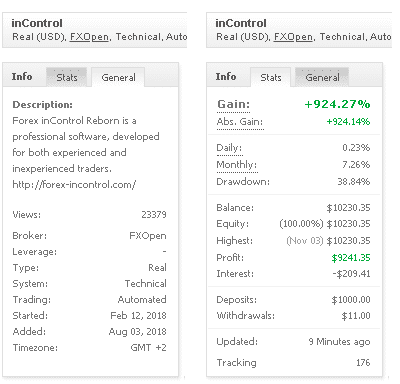 Although the account was added 2 and a half years ago, it does not trade frequently as it has only traded 141 times over the whole trading period.
Its average win ($124, 90) is mostly the same as its average loss (-114, 23). The average trade length is 6 days and the average win-rate is between 70% – 80%. The profit factor is high and equals 3, 31.
The largest gains come from 2018 with winning months nearing the 20% mark: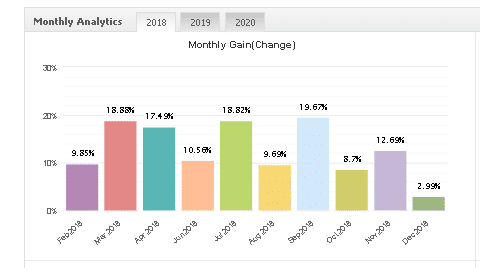 The 2019 year showed dwindling trading performance with the highest monthly profit of 11% (in February):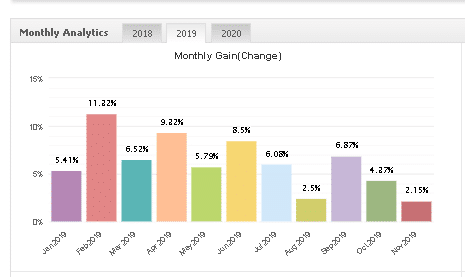 Now, the EA is not as profitable as it used to be in 2018 or even in 2019: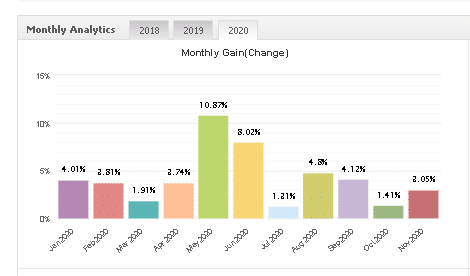 Customer Review
We are dissatisfied with what we see on the Forex Peace Army:

The performance test there has blown the trading account. In addition to this, we have found only 1 customer review written in 2016:

The trade has provided this EA with 1 star, claiming that the robot uses a 'Grid Martingale' trading strategy. He added that the trading strategy is very dangerous as 'the number of levels in the basket are unlimited'.
We would like to know why the Forex inControl account on the FPA was blown as well as want to see other client accounts.
Is Forex inControl a viable option?
Advantages
15 years of backtesting results
Myfxbook results provided
Disadvantages
Undisclosed trading strategy
Undisclosed timeframe
Negative customer review
Lack of accelerator mode explanations
Lack of "Conservative, Normal and Aggressive styles of trading" explanations
FPA blown account performance
Conclusion
From the scarcity of customer reviews, undisclosed trading strategy and timeframe, unclear explanation of accelerator mode, styles of trading, lack of vendor transparency and a money-back guarantee, we would like to provide this robot with a three-star rating. We do not recommend this EA. However, if you feel okay with trading blindly, then it's up to you, but do not forget that the expert advisor trades well because its developers know all about its settings, so you may not have proper knowledge for this.