FX Blaster Pro is an all-new robot that has a several-page presentation with myfxbook-verified results.
Features
Let's talk about its features that are separated on the blocks:


The robot executes deals fully-automatically.
There's no need for human intervention.
We can customize the EA for our needs.
It can be run on with any broker house.


The robot can provide consistent profits.
There's a money-management system. We don't know what they meant because there are no explanations.
It includes a recovery system. There's probably a Martingale on the board.
The EA is protected from high slippage and high spreads.
There should be SL and TP level protection.
The EA is built around three strategies that work apart from each other.
It performs Trend, Grid, Hedge, and conservative Martingale strategies.
The risk level can be: low, mid, high, and combined.
How to start trading with FX Blaster Pro

There are two packages: FX Blaster Standard and Advance. The Standard pack costs $299 and allows trading on one real account. The Advance pack costs more – $459 and allows trading on three real accounts. The packs are featured with free updates and support. There's no money-back guarantee.
Backtests
The developers didn't provide backtests that would allow us to understand how the EA handles this combo of Grid, Hedge, and Martingale.
Verified Trading Results of FX Track Pro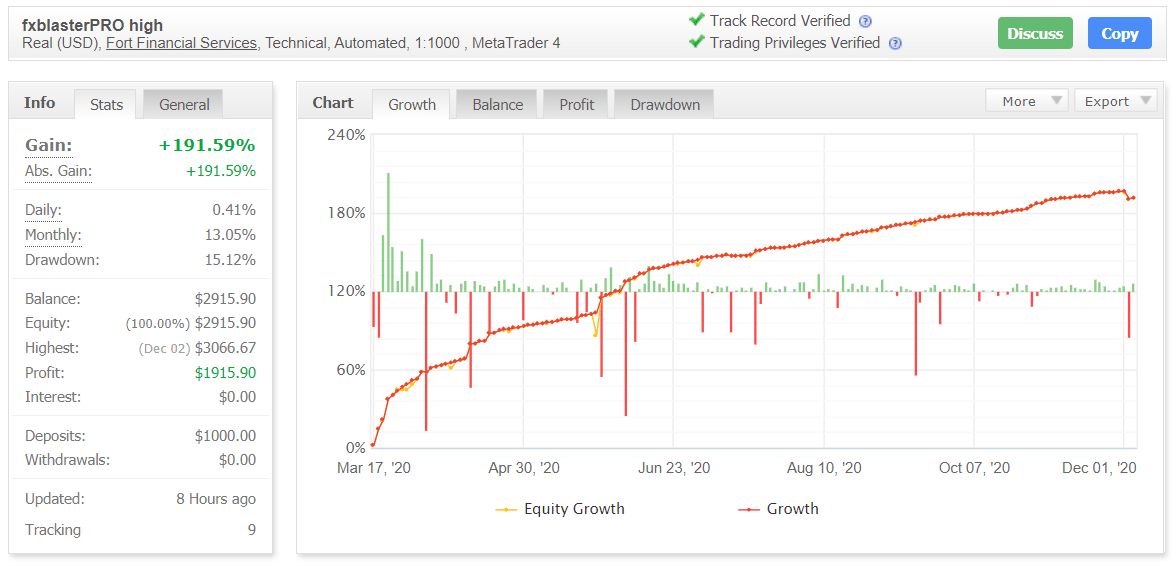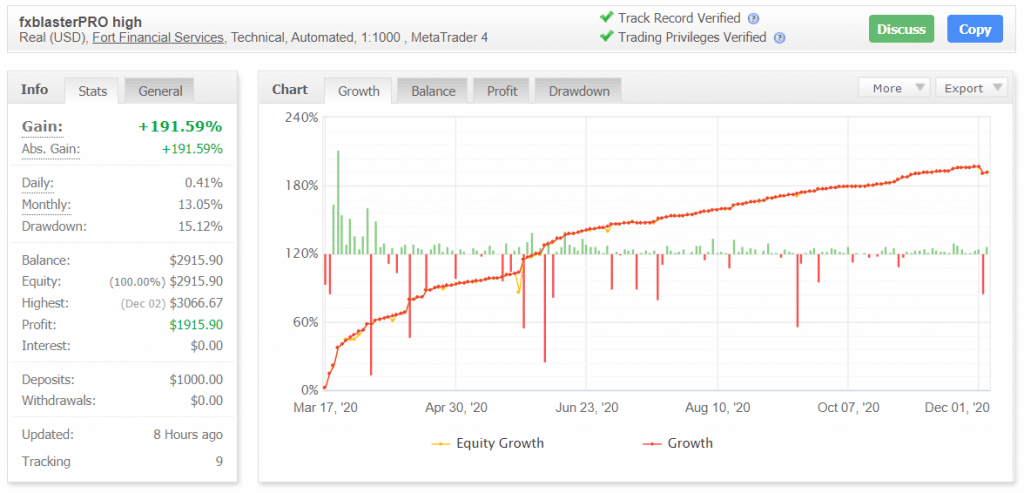 The robot runs a real USD account on Fort Financial Services. It uses technical indicators and trades automatically on MT4 with the maximum leverage of 1:1000. The account has a high level of transparency, having a Track Record Verified badge. It was created on March 17, 2020, and funded at $1000. The absolute gain was +191.59%. An average monthly gain is +13.05%. The maximum drawdown was 15.12%.

It has traded 2551 deals with -292.8 pips. An average win (10.96 pips) is twice less than an average loss (-22.87 pips). The win-rate for Longs is 66%, for Shorts – 68%. An average trade length is almost three days. The Profit Factor is only 1.59.


The EA works with six symbols: AUD/USD, EUR/GBP, EUR/JPY, EUR/USD, GBP/USD, and USD/CAD. The most profitable pair is USD/CAD ($509.56). The less profitable is EUR/JPY ($154.48). The most frequently traded symbols were EUR/JPY (528 deals) and EUR/USD (540 deals).


The EA focuses on trading a European trading session.


Tuesday and Wednesday are the days with the most open trades.


The EA trades with acceptable risk to the account balance.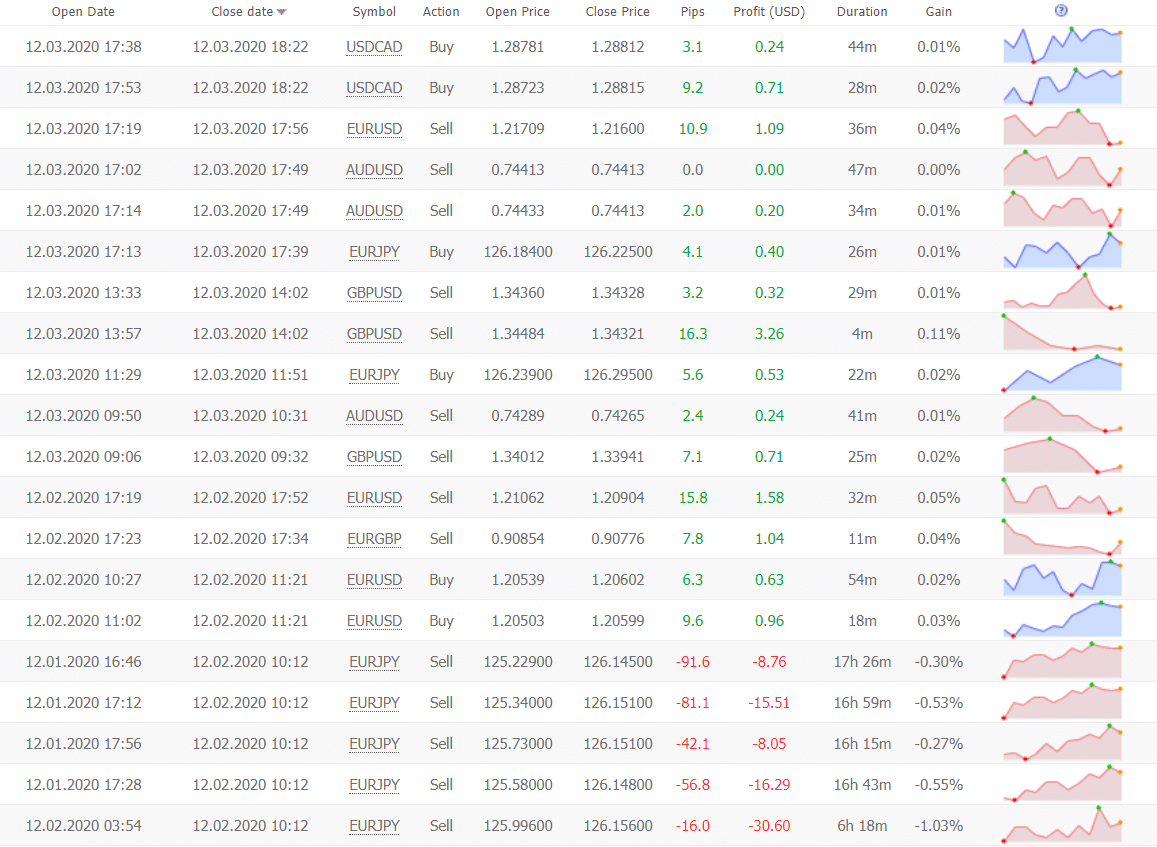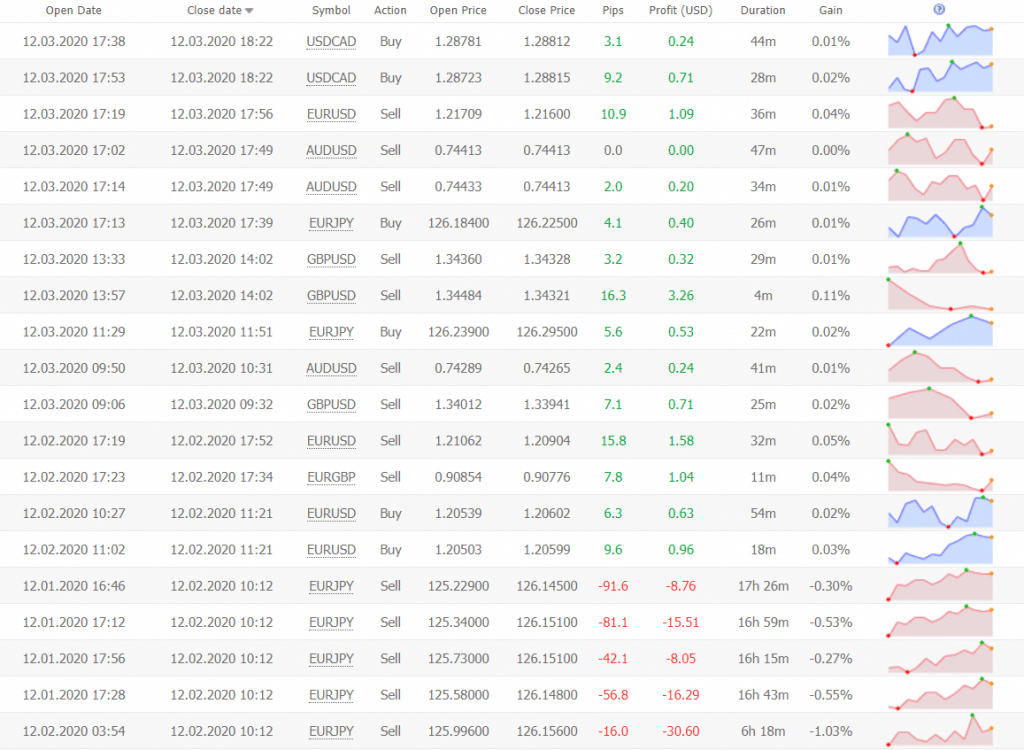 As we can see, Grid trading could finish with significant losses.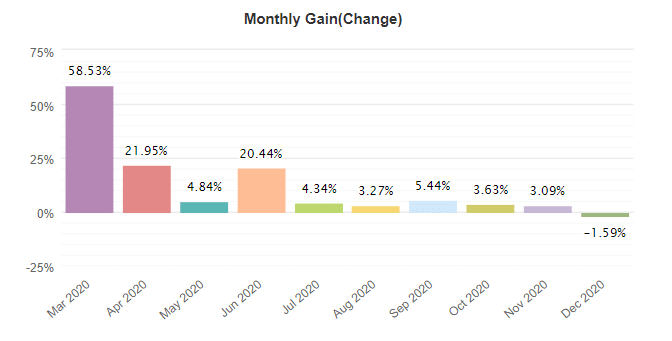 It immediately reflected on the December gain (-1.59%).
People's feedback
The robot has no people's feedback on the Forex Peace Army and TrustPilot sites. It makes it hard for us to decide if the robot works on traders' accounts well.
Other notes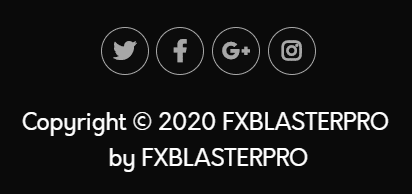 There are icons of social networks, but they're not connected to any page. So, the vendor doesn't care about gathering the attention of potential clients.

The positive moment is that the robot sells through the Click2Sell service. There can be changes for refunding.
Is FX Blaster Pro a viable option?
No, we don't think so. There is an empty for important information and settings details presentation and "went-nuts" trading results.
Conclusion
FX Blaster Pro is a robot that uses the scariest combo of Grid, Martingale, and Hedge. The robot checks the trend indicators but still relies on Grid more than on Trend trading. As a result, one of the last Grid deals pack was closed with significant losses. The presentation is several pages short and doesn't provide the minimal level of information like settings, backtest reports, currency pairs, and margin requirements for each of them, and so on. Now, it's not an option to go.