Forex managed accounts are a great choice for those traders who have no idea about the Forex market. It is one of the best investment opportunities when it comes to Forex newbies lacking practical trading experience. The one thing traders have to do is to put money on their Forex account and let professionals handle all the hard work.
Opting for a managed Forex account is also a good choice for those who have no time to monitor changes in the Forex market. One of the companies that offer managed account service is FX Deal Club. It's a Forex team with over 19 years of trading experience in the industry. They claim that the foundation of their success is continuous improvements to their strategy, challenging the status quo, and not being afraid of failure. They claim that FXDC is 'trusted by clients and institutions from all over the world'.

The office for FX Deal Club is located in Dubai, United Arab Emirates:

To get in touch with the support we have to fill out their online contact form at the bottom of the website: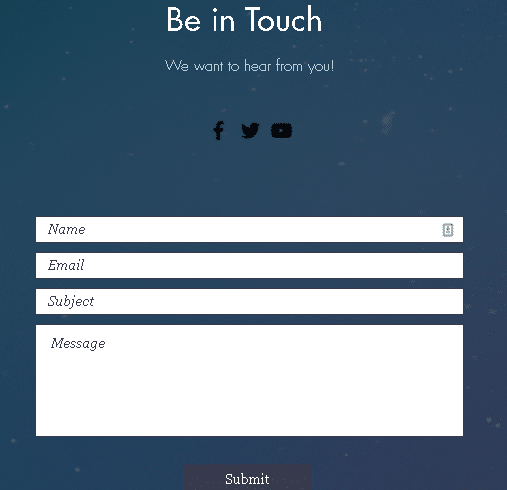 Traders can also email them directly by sending an email to [email protected]
Features
The FXDC team offers managed account service. They claim that they are the best choice for traders because:
They have a proven trading strategy that is based on Price Action and daily trends. They make sure that their experts monitor the Forex market 24/7 searching for the best trading opportunities to generate maximum income for their clients.
Their managed account service is easy to use. Traders have to deposit their trading account with the broker they want to trade or one of the recommended/partner FXDC's brokers. You need to share your MetaTrader 4 login with the FXDC team.
The FXDC team claims they can generate from 30% to 50% ROI monthly.
They offer a top security system. It includes smart hedging options, reward ratio, and diversification of trading portfolios.
They offer full time 24/7 customer support.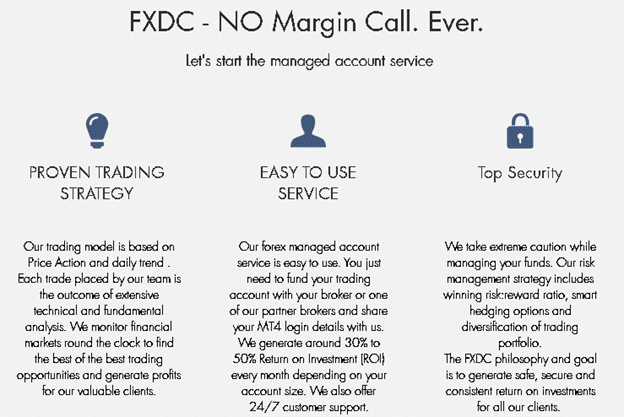 How to start trading with FX Deal Club
To get started with FXDC traders have to:
Fill in their MT4 details on the FX Deal Club website
Pay the upfront fee of $250 to their Paypal, Skrill, or Bitcoin account
That's all
The FXDC team points out that the minimum deposit to get started with their managed service is $1000. However, as they say, they 'encourage' their investors to start with $5000 or more: 'Higher initial investment leads to higher monthly gains'. There are weekly charges. They charge a 35% profit share based on the high water mark rule. There is also an upfront fee of $250, which will be minus on your first invoice.

The upfront fee can be sent via PayPal or Skrill.

Backtests
The FXDC team does not provide backtesting results. They do not provide much detail when it comes to the trading strategy and methodology. They make mention that their trading model is based on Price Action and daily trends, that they can generate around 30% to 50% ROI, and that they have a money management strategy. However, they do not go into details.
Verified Trading Results of FX Deal Club
There is one live trading account provided by FXDC. Let's analyze this trading account in detail.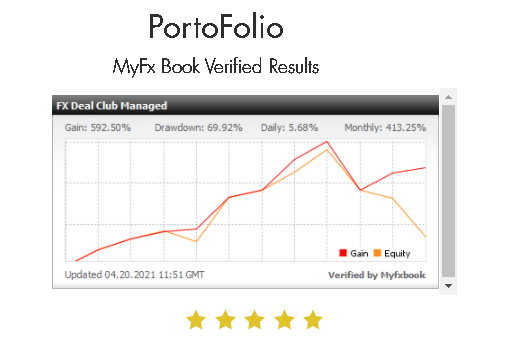 It's a Real (USD) account, showing a gain of 592, 5% since March 16, 2021. The leverage is 1:500. The account was deposited at $3,4K. There were 16646.85 dollars generated. The average monthly gain is 421.75% and the average daily gain is 5, 68%. The peak drawdown is insane – 69, 92%. High drawdowns are too risky for any trading account.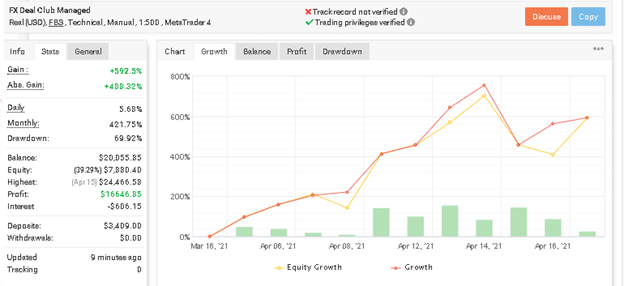 There were 61 trades traded and only 87% of them were profitable. The average loss in pips is x15 higher than the average win: -268.98 pips and 17.34 pips. The system trades both positions equally: 87% for Long positions and 85% for Short positions. The average trade length is 9 hours and 32 minutes. The profit factor is high – 2, 23.

Multiple currency pairs are traded on this managed account. The most profitable symbols are GBP/CAD – $ 4234 (3 trades) and NZD/USD – $ 3551.78 (5 trades). The high-risk trading approach is applied. There is a 45, 74% chance of losing 20% of the account balance in case of 1 consecutive losing trade. So in the case of 1 losing deal, a trader will lose $3, 329 of the account balance.

Customer reviews
On FPA we've found 1 review from a customer who's already used this trading service.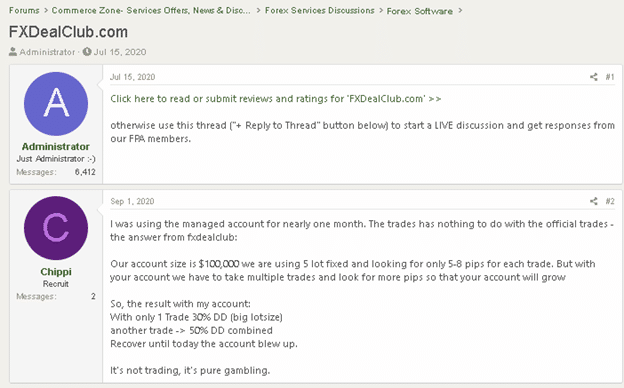 The trader says that it is 'pure gambling'.
Is FX Deal Club a viable option?
Advantages
Live trading results provided
Disadvantages
Undisclosed trading strategy
No backtest report provided
Lack of customer reviews
High drawdowns
Risky trading approaches used
Big minimum deposit to get started required
High pricing
Summary
Wrapping everything up, there are more drawbacks than advantages of FX Deal Club managed account service. Although the live trading account shows impressive results for 1 month of trading, risky trading approach and high drawdown are the main reasons of concern. It is a risky investment decision and trading with it can be compared with 'gambling'. One day you may hit the jackpot, when the next day you may lose everything you have.
Would you like to try out trading with an Expert Advisor?
Learn more about the best forex robots.