FX Premiere is a company that delivers signals services for Forex currency pairs, educational materials, courses. The signals, trading ideas, and updates are posted on Telegram channels. The presentation explains how to use these signals and how they were generated.
Would you like to try out trading with an Expert Advisor?
Features
The service has many features:
The signals are received from over 50 signal sources.
These signals are for fifteen Forex pairs and XAU/USD.
The signal frequency is from 2 to up to 15 signals a day.
The signal format is the same for all of them: Symbol, Direction, Entry Price, Take Profit, and Stop Loss.
There are Gold signals as well.
There's a pip counter in Telegram.
The service is available for cards and PayPal service owners.
The subscription can be canceled anytime.
The signals are executive orders. So, we have to make them work asap.
There's 24/7 live support.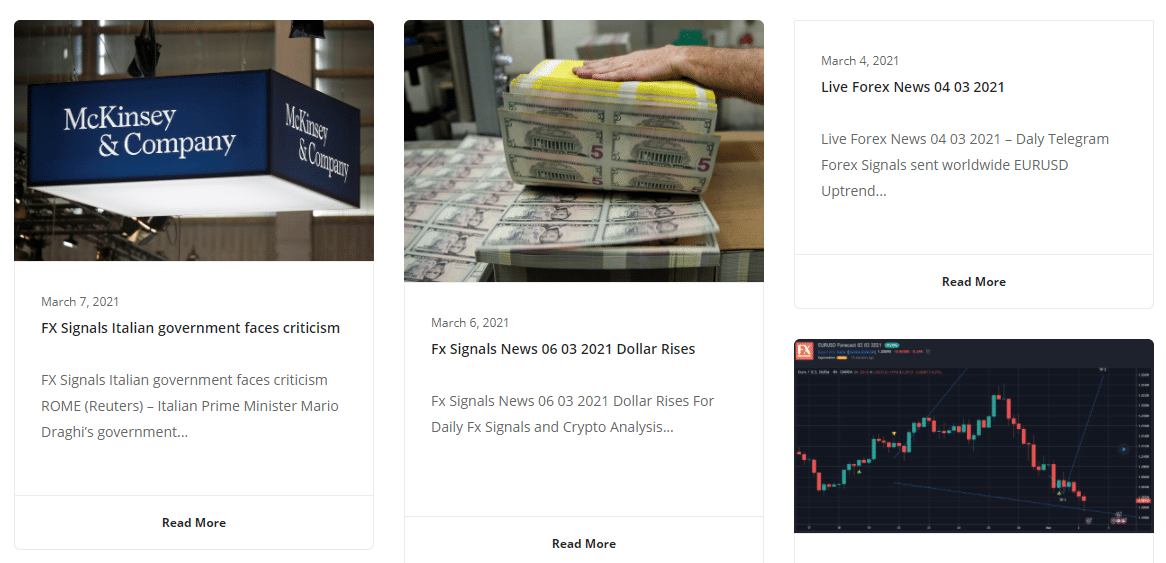 The site has articles and updates consistently posted.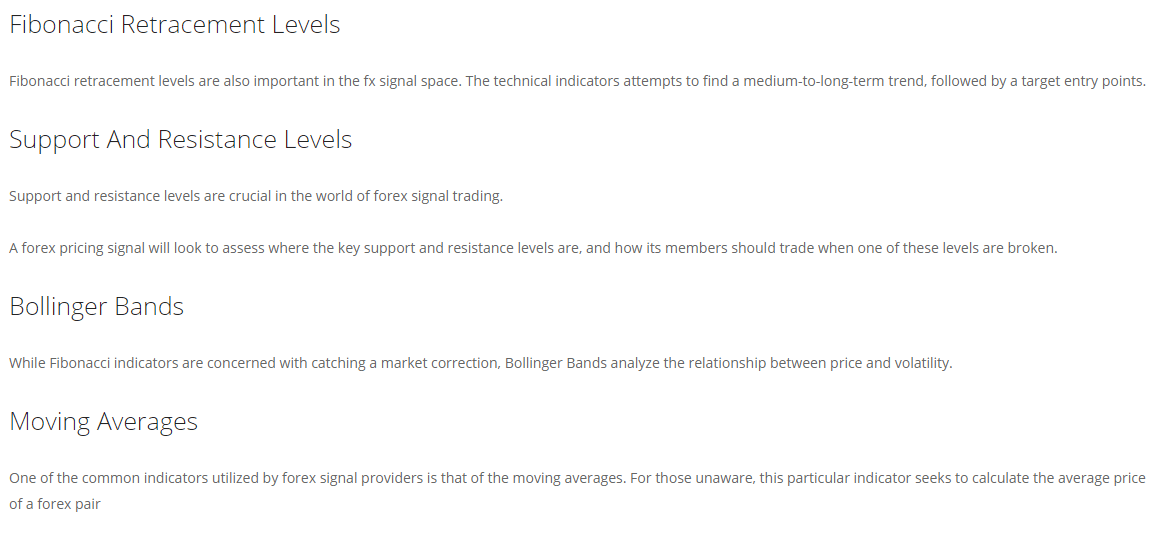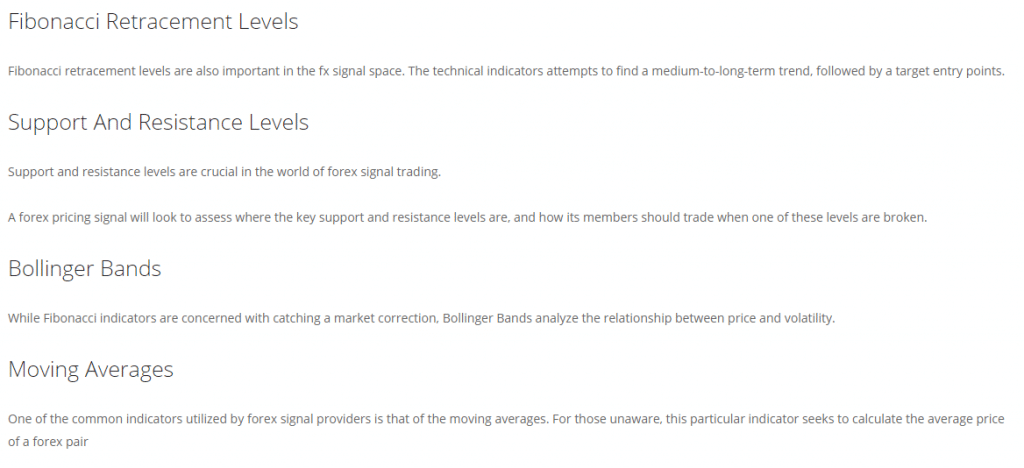 These signals are based on Fibonacci Retracement Levels, Support and Resistance levels, Bollinger Bands, Moving Averages terminal indicators.


High Impact News influences the signals as well.
How to start trading with FX Premiere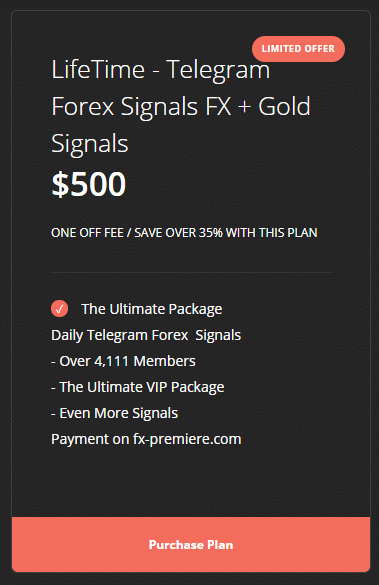 We have a $500 one-time fees package. It is featured by access to a VIP Telegram channel with over 4111 members and even more signals. We can save over 35% with this plan. The vendor doesn't support it with a money-back guarantee.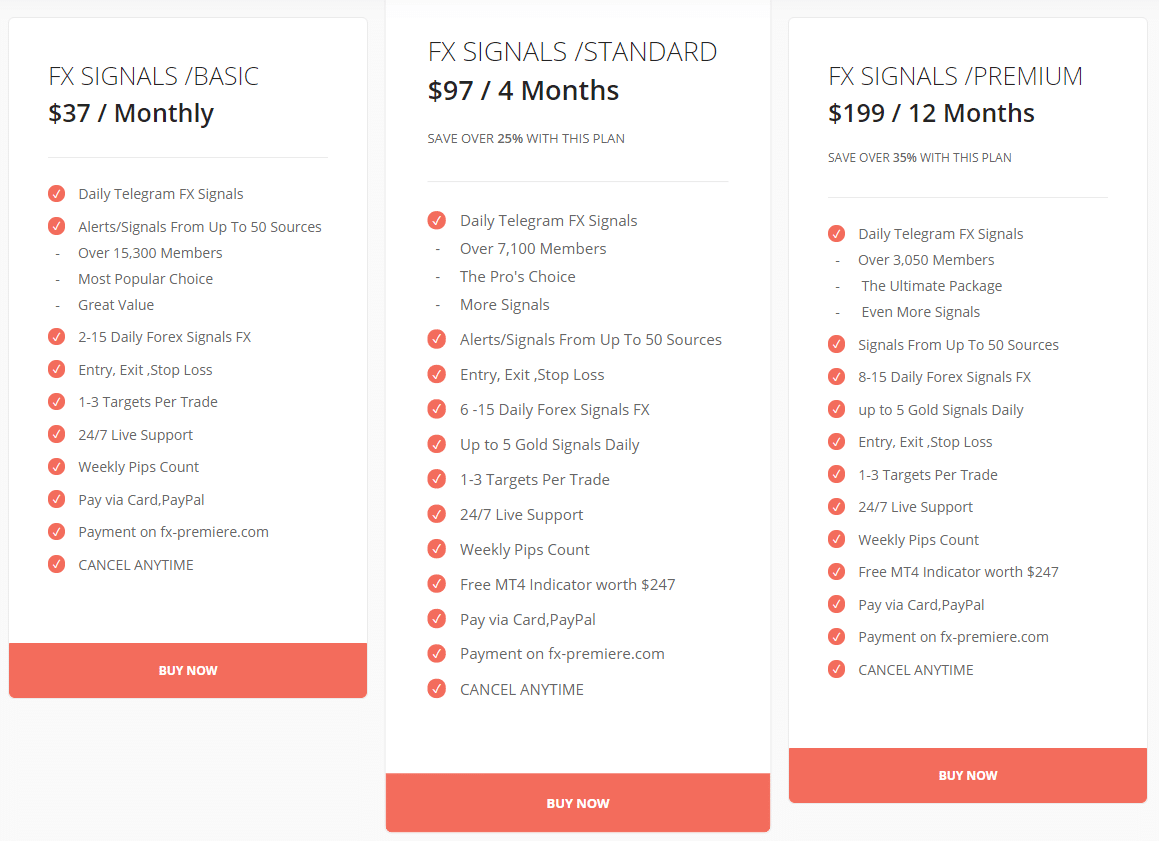 The main offer includes three subscription plans. FX Signals Basic subscription has a $47 monthly price. It's featured 2-15 signals daily with 1-3 targets per trade. The Standard subscription costs $97 for four months. It includes 6-15 daily signals, 1-3 targets per trade, and up to 5 Gold signals. The Premium package costs $199 for a twelve-month subscription. It includes 8-15 daily signals, 1-3 targets per trade, and up to 5 Gold signals.


There's a package with only Gold signals. Five daily Gold signals cost $19.99 a month.
Backtests
The company doesn't provide backtest reports because they don't own a system that would generate these signals.
Unverified Trading Results of FX Premiere


We can find free signals and trading results in the Telegram channel.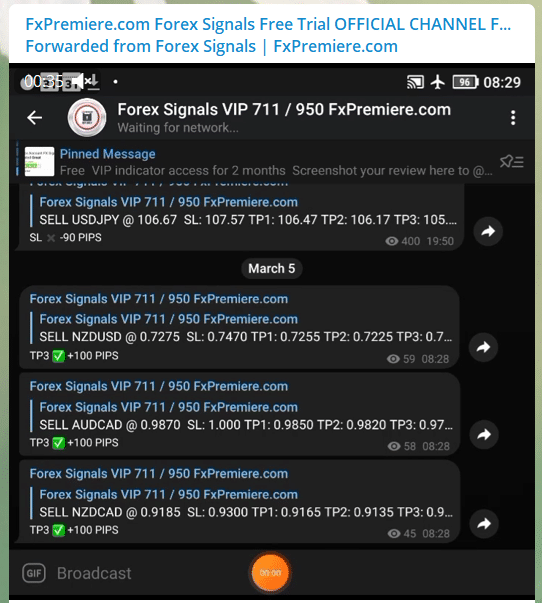 There are videos instead of text reports that tell how the signals were closed. As we can see, these deals were closed after reaching TP3 levels.
People feedback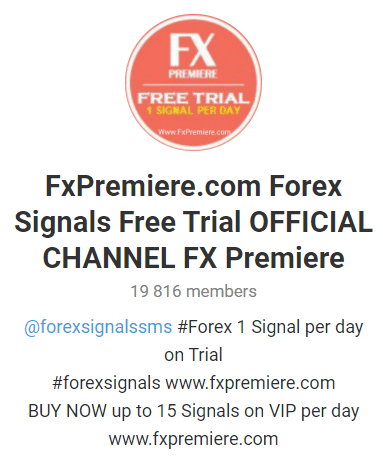 Something goes wrong because the free channel has lost over 2500 subscribers for less than a month. There were approximately 22000 subscribers instead of 19816 for now.
The trial channel is featured by a free signal for a minor currency pair.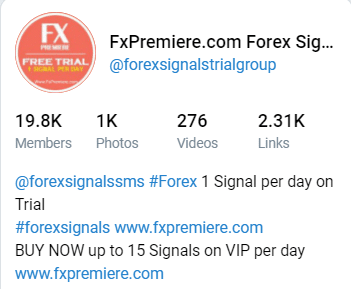 The Free Telegram channel includes 1000 photos, 276 videos, and 2310 links.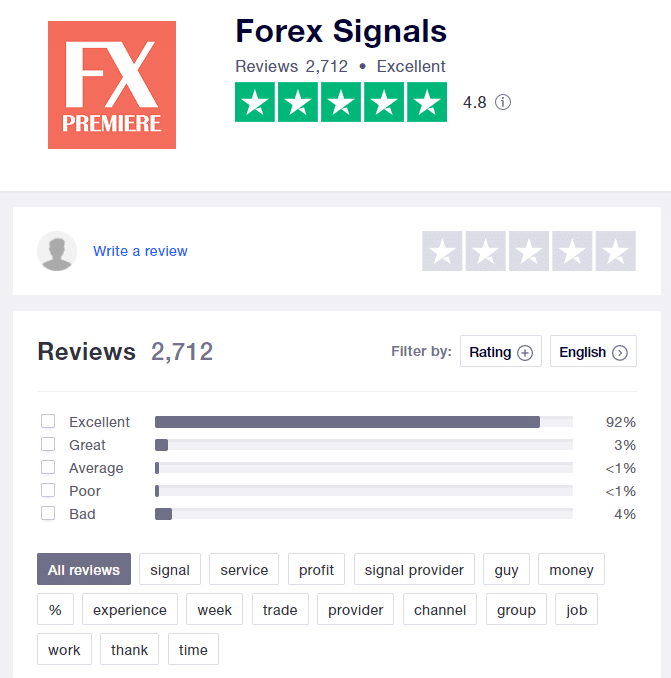 There's a page of FX Premiere on Trustpilot. The rate is 4.8 based on 2712 reviews.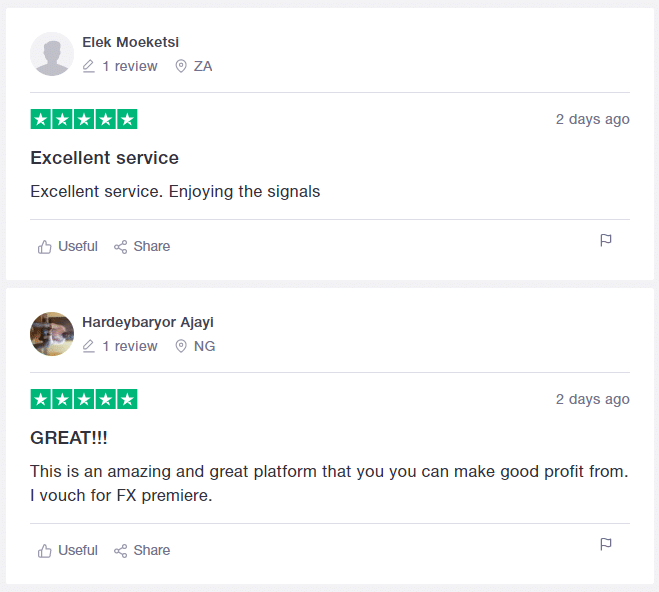 There are many positive comments from people with a single review written.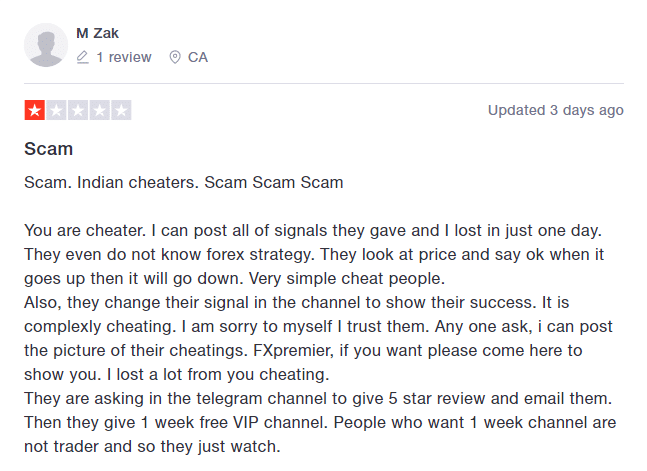 Here the reason why the channel lost members and why there are so many positive signals.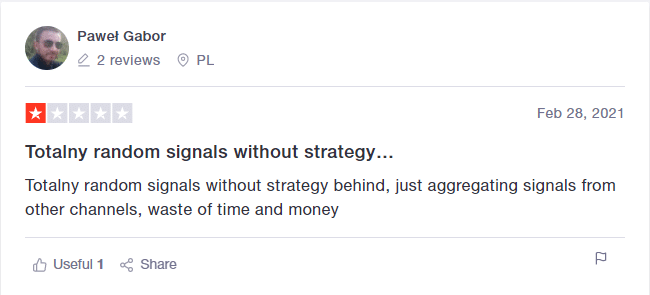 The signal quality is too low and unpredictable.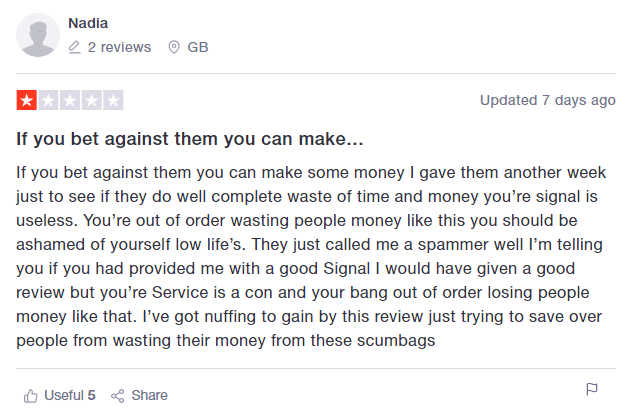 The signals have low accuracy. To close an order with a profit, we can open trades in the opposite from signals directions.
Other notes
There are so many negative testimonials that sink in the paid comments. There should be a serious reason for losing over 2000 subscribers in a short period.
Is FX Premiere a viable option?
We don't think so. The owner doesn't trade these signals on his own. The channel is just another aggregator.
Conclusion
FX Premiere provides signals that the owners don't trade. They simply don't have an account to experience them and become sure the service is good for clients. It's a reason that clients noticed that FX Premiere cheats with trading results and doesn't show the real state of affairs. Subscribing or not, it's completely up to you. We wouldn't do this.
Would you like to try out trading with an Expert Advisor?