FX Track Pro is introduced as the most profitable Forex robot. We've read this statement hundreds, even thousands of times. We hope the presentation provides all information for making a wise decision because it's just several pages short.

Features
FX Track Pro has just several blocks of its features. That isn't enough for sure, but at least we know more useful info about it:
The robot trades fully automatically for us.
The EA can be run on MT4, as well as on the MT5 platform.
It uses little margin to make significant profits.
It trades using three types of various indicators at once.
They're used apart depending on market conditions.
The robot is compatible with the next currency pairs EUR/USD, USD/CAD, GBP/USD, EURJ/PY, USD/JPY, and CHF/JPY.
The money-management system has two levels of account protection:

It places an SL level for every open deal.
It checks the market conditions to close the deal if something goes wrong.

The robot can be run on any broker without restrictions.
Lot Sizes for every deal are automatically calculated by the EA.
How to start trading with FX Track Pro
The robot has two packages: Standard and Super. The Standard pack costs $325 and allows trading on EURUSD, GBPUSD, and USDJPY. The Super pack costs $445 and allows trading on EURUSD, USDCAD, GBPUSD, EURJPY, USDJPY, and CHFJPY. There's a 30-day money-back guarantee, support, and free updates.
Backtests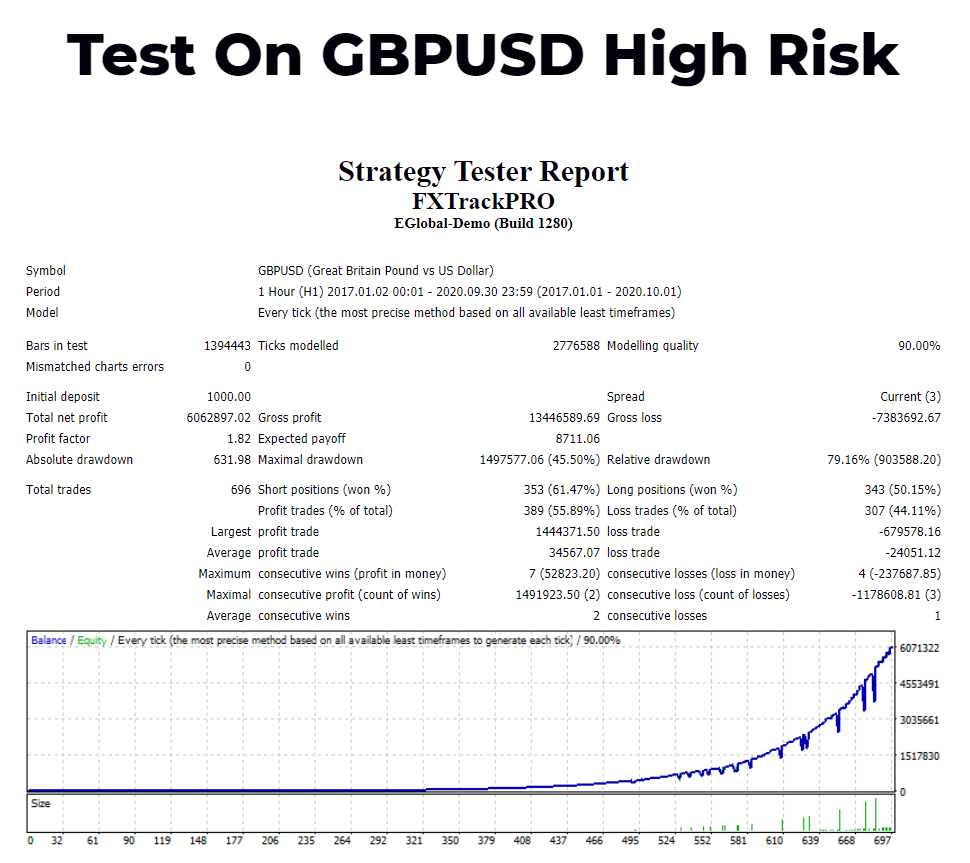 We've got a list of backtests to check. This one is a high-risk GBP/USD on the H1 time frame. It was performed from 01.01.2017 until 30.09.2000. The modeling quality was 90.00% with tight spreads (3). An initial deposit was $1000. For over three years, it has become $6.06M of the total net profit. The maximum drawdown was high (45.50%). There were 696 deals closed. The win-rate for Shorts was 61%, for Longs – 50%. The win-streak was only two deals.
Verified Trading Results of FX Track Pro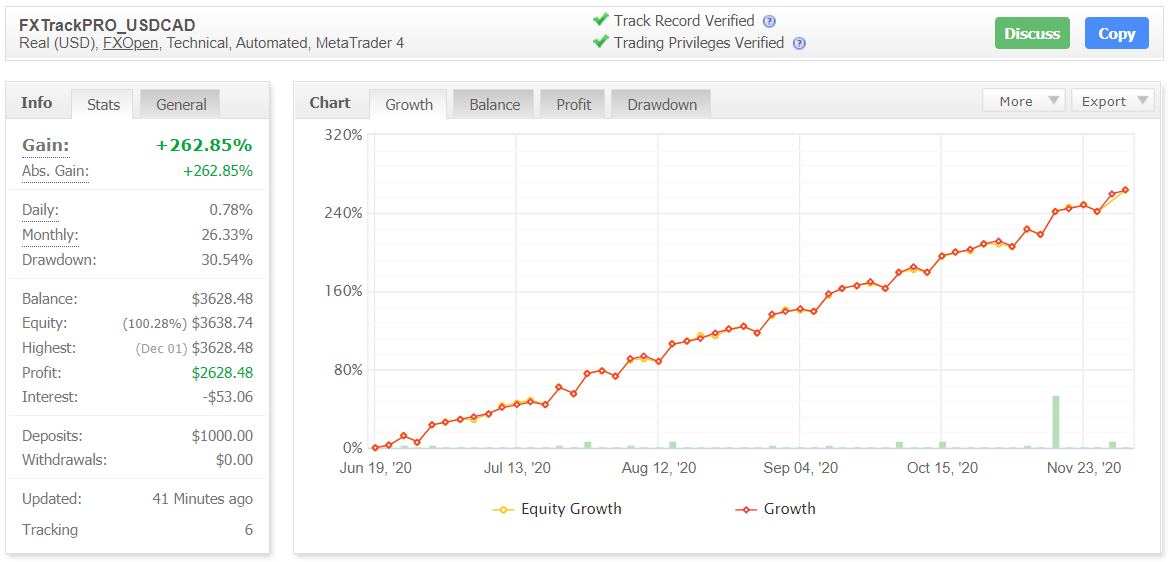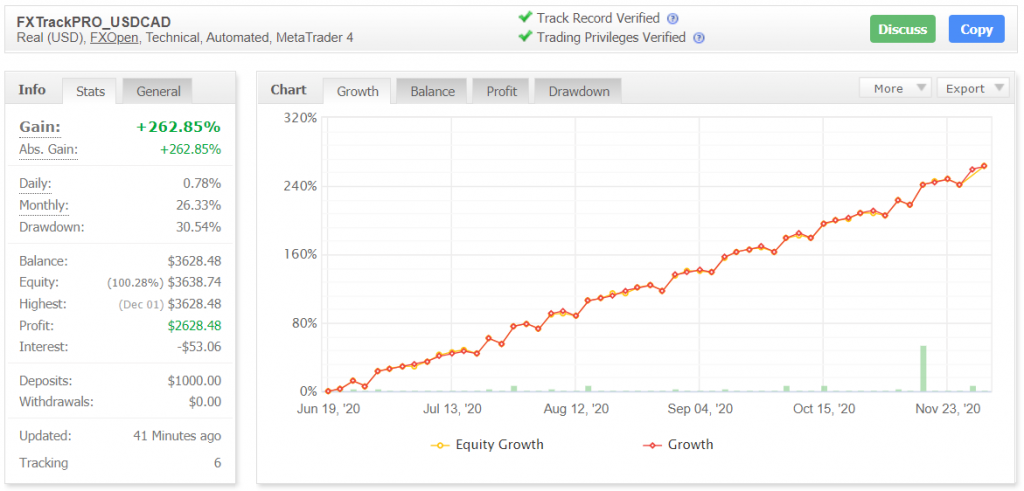 It's a real USD account for trading USD/CAD on the FXOpen broker. It uses technical indicators and trades automatically on MT4. This account has a verified track record. It was created on June 19, 2020, and funded at $1000. Since then, the absolute gain has been +262.85%. An average monthly gain is +26.33%. The maximum drawdown is 30.54%.


The robot closed 71 deals with a solid number of pips – 1115 pips. An average win is 47.12 pips, while an average loss is -70.26 pips. The win-rate keeps varying. For a BUY direction, it's 65%, when for a SELL direction, it's 83%. An average trade length is two days. The Profit Factor is 2.57.

The robot doesn't trade directions equally. The short one has got 31 deals with 825, compared to 290 pips on the long.


It's rare to see the EA that doesn't hard focus on trading during a European session.


As well, it's rare to see Monday as the most active day of the week.

The robot runs with medium risks. There's a 40% chance of losing 10% of the account.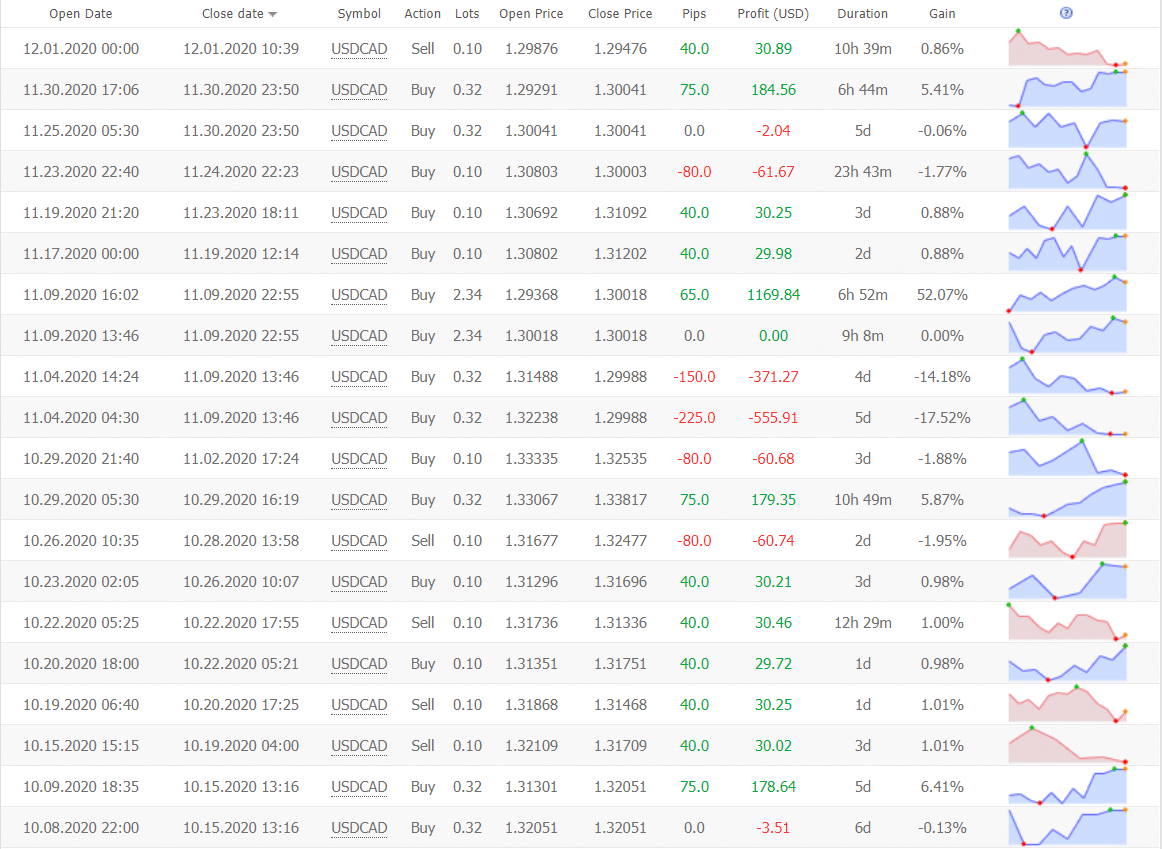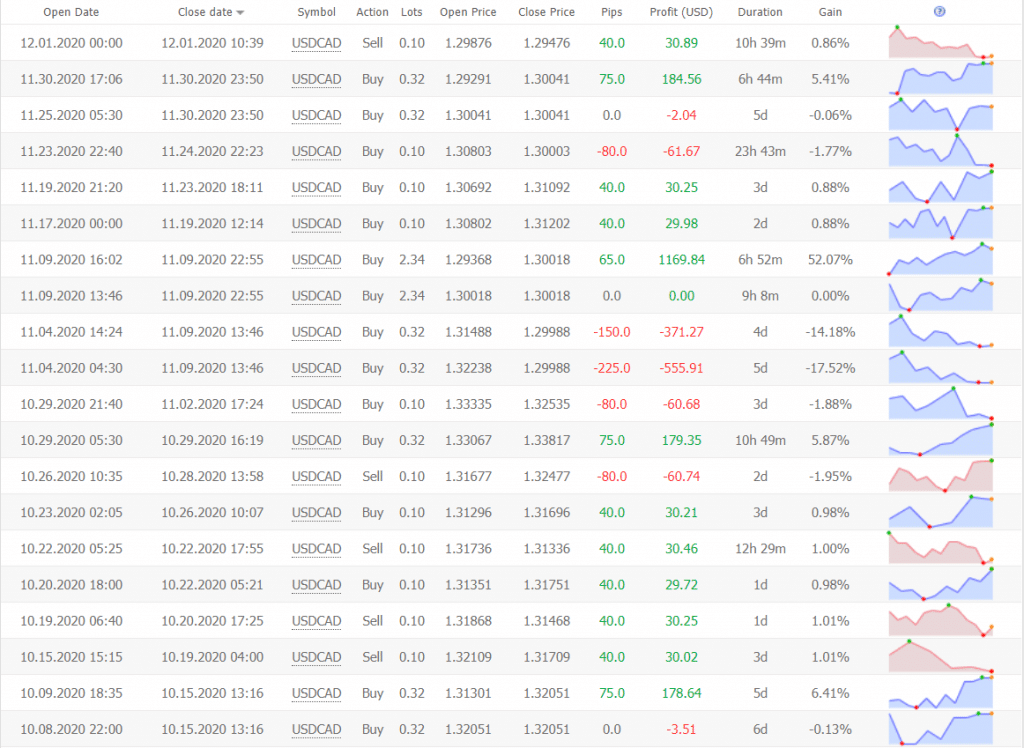 As we can see, there were Martingale deals (2.34 Lot Size) after losing several Martingale deals (0.32 Lot Size) in a row. TP levels vary from 40 pips to 65-75 ones.
The robot closed all months with high profits, having traded with high risks as well.
People's feedback
The developer doesn't provide people's testimonials on the site. Alas, the same we can see on Forex Peace Army, they didn't create a page there. Btw, Google knows almost nothing about the robot, so you can't even google for feedback effectively.
Other notes
The robot is featured by Forex Store. It has been designed like many other robots: Forex Truck, Trader's Moon, and Trader's Sun. It seems they belong to one company.
Is FX Track Pro a viable option?
There is Martingale with Grid on the board. Everyone has to design for her or himself if risky strategies are acceptable to trade.
Conclusion
FX Track Pro has very strange trading results: July 2020 was closed with a +45% monthly gain, then profitability fell down to +22% monthly, then profitability fell in a half again to 11% monthly in November 2020. It seems that something went wrong with its performance. The most important con is using a Martingale strategy on the EA that has less than 90% win-rate. Sooner or later, it'll be able to turn into huge consistent losses. Traders who prefer conservative trading wouldn't like to risk their hard-gained accounts to try this rollercoaster. If the deal opened with a 23 times increased Lot Size would be brought the loss, instead of a +50% gain, so what would be the next? You'd get your account halved.