Today's expert advisor review will be about FXRapidEA, the trading system that has an in-built money management control system that ensures stable profits with minimal losses.
Although their website is pretty basic and there are only a few words about the product itself, there are two live verified trading accounts and eight backtesting reports provided. Forex Store, the developer of this EA is a well-known company in the Forex market. They have developed different trading systems we trade in today. They introduce 2 packages of their EA: Due and Quattro. Let's analyze each of them separately.
Features
We've gathered the most important intel about the expert advisor in this list:
The robot is available in 2 different packages: Due and Quattro

The EA was designed for trend trading. With the help of a specially programmed trading algorithm, this expert advisor determines the trend direction and opens a trade following that direction

It always trends with the trend and closes deals that are against the trend
It never keeps trades open for more than two days

The robot has a money management control system. The EA adjusts to the set risk level and calculates the LOT size the way that will suit the trading strategy used. It is done to minimize losses and maximize profits

How to start trading with FXRapidEA
The system can be run on an MT4/MT5 terminal
The robot is compatible with any broker
It's a 100% automated EA that is easy to install and set up
The minimum deposit to start trading FXRapidEA is $460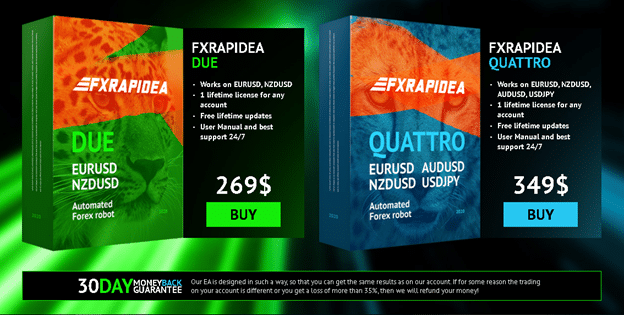 For traders interested in this Forex trading system, there are 2 options available for purchase: DUE or Quattro version.
Both packages include a 1-lifetime license for any type of trading account, free lifetime updates, a user manual in PDF, and 24/7 customer support.
None of these packages includes a trial period, but offer a 30-day money-back guarantee. Their refund policy is unusual: it requires traders to have at least 35% of the loss to ask for a money refund. The dev can easily make traders jump through some hoops to prove their results.
Backtests
There are 8 backtests provided. As you may see, every symbol was tested with two risk levels: 35% and 100%.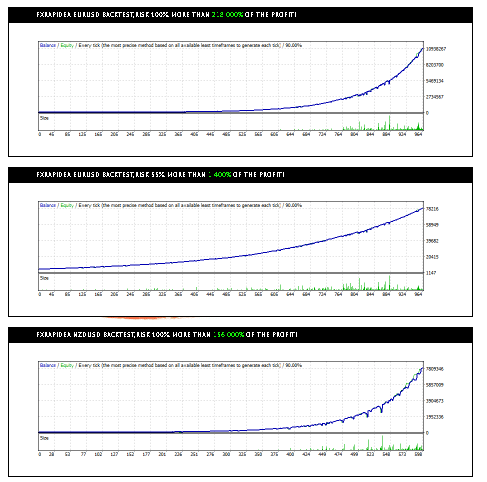 It's the EURUSD backtest that was conducted with 35% risk on H1 Timeframe. The modeling quality was 90%. There were 1206247 bars in the test. Deposited at $5K, the account has brought over $73K of profit for 3 years of testing. Its profit factor was high and equaled 3, 09. There were 963 trades performed and 591 of them, which represents 61, 37% were winning ones. The system traded both short and long positions equally with a win rate ranging between 61, 02% and 61, 73%. The maximal drawdown was 31, 94%.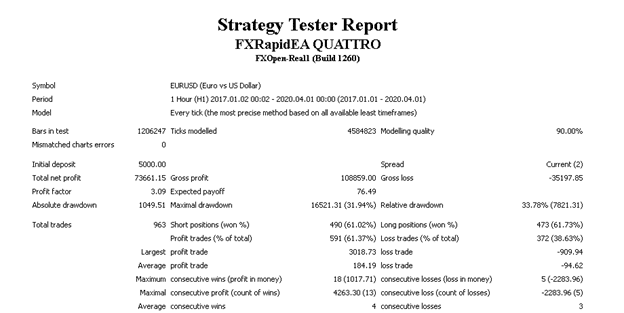 Verified Trading Results of FXRapidEA
Well, let's analyze how the system performs in the real market condition. The dev provides us with 2 myfxbook accounts that show the trading performance of ForexRapidEA Due and ForexRapidEA Quattro robots.

Oddly, but for some reason, the robot that ran FXRapidEA QUATTRO account was stopped on March 17, 2021. We do not see any trading activity for the last 25 days. Last trades have brought only losses. The EA used Martingale to recover, but, as you may see, it did not bring the desired result.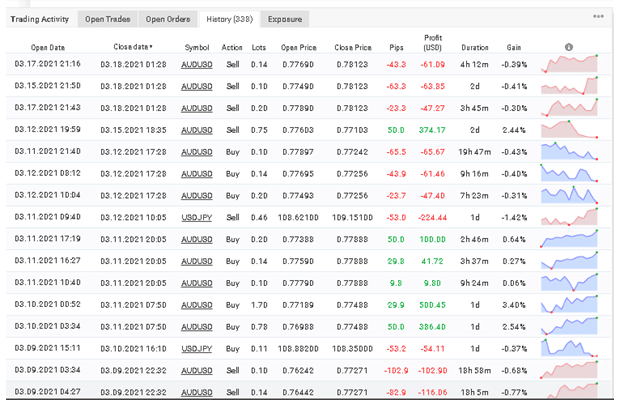 Let's analyze the live trading account. It's an FXRapidEA DUE account. It works with an FXOpen broker on the MT4 platform. The leverage is unknown. This trading account was created on December 03, 2019, and was deposited at $1,581. For 1 year and 5 months of trading, its total growth has grown to 844.31%. The average monthly gain is 14.73% and the peak drawdown was 31.78%. Trading with a Profit Factor of 2.04, the robot has brought $13348.46 of profit. For the whole trading activity period, there were 341 trades traded, but only 217 out of them were won, meaning that the average win rate of this EA is 64%. The average trade frequency is 2 days. The average win is 30.16 pips and the average loss is -41.33 pips which makes a normal risk/reward ratio.

Only one currency pair is traded on this trading account – EUR/USD.

The EA trades with medium risks to the account balance:

The dev claims that the robot closes trades rapidly and that the trades do not stay in the market for more than 1-2 days. However, it is false. Trades are kept open for 3 or even 4 days. As you can see, those trades that have been kept open for 96 hours were losing ones. The system increased lot size from 0,10 to 0,50 to recover after loses.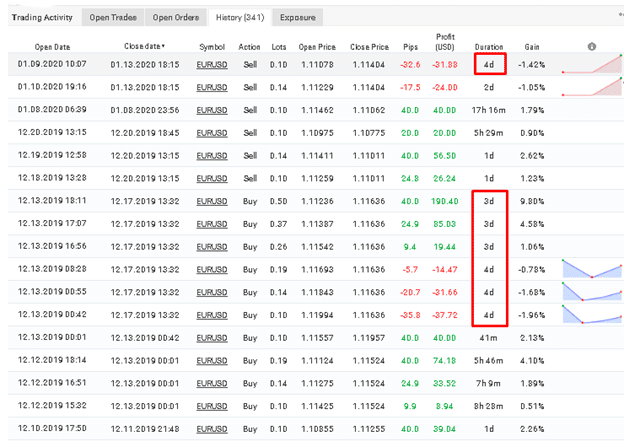 These are 2021 trading results: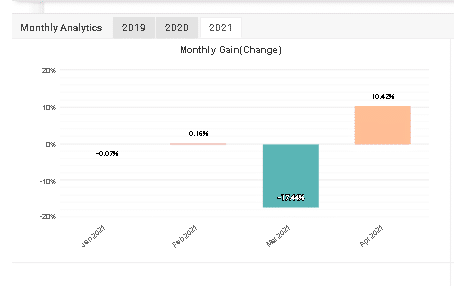 The first 3 months were unprofitable ones. Although it is only the mid of April, the robot has already brought 10, 4% of the profit. Although it looks promising, it does not mean that the result will be higher or at least the same at the end of the month.
Customer Testimonials
We could find no customer review neither on the site of the developer nor on the other third-party websites like Quora, Trustpilot, or FPA. On forexstore.com, the FXRAPIDEA QUATTRO robot has a low 2 out of 10 possible rate, when FXRAPIDEA DUE has a high 8,5-star rate.

Is FXRapidEA a viable option?
Advantages
Backtesting reports provided
Myfxbook trading results provided
30-day money-back guarantee
Affordable pricing
Disadvantages
The minimum deposit to start trading with this EA is $460
Little strategy insight
Small sample size
The robot can trade up to 4 days, not 2 as the dev claims
It increases Lot size to recover
No customer reviews provided
Wrapping Up
We appreciate that the vendor provided 2 myfxbook trading accounts for every EA he offers. However, it looks odd that the robot that trades 4 currency pairs was stopped in March. Although the other trading account run by Due EA is active, we do not like that the robot increases lot size to recover. It is too risky for any trading account. Moreover, the robot can keep trades open for 4 days, not for two days as it was promised by the vendor. January, February, and March were unprofitable months for this EA. We expect to see better trading results in the further months. Until now, we do not consider this expert advisor to be a good choice for generating stable profits in 2021.
Would you like to try out trading with an Expert Advisor?
Learn more about the best forex robots.