Claiming to be the best signal provider in Forex, Learn 2 Trade is one of the signal services available to traders now. Accurate signals make it easy to make trade entries and exits.
With so many signal providing services present on the market, what does Learn 2 Trade offer that is unique and attracts users? Our experts have put together this Learn 2 Trade review to give you a clear picture of what this service can and cannot do.
To start with, the service is offered as a free and paid package. In addition to Forex signals, it also provides crypto signals. The notifications are sent via Telegram. Led by Scott Ryder, this service provides a location address, phone contact, and email for support.
Features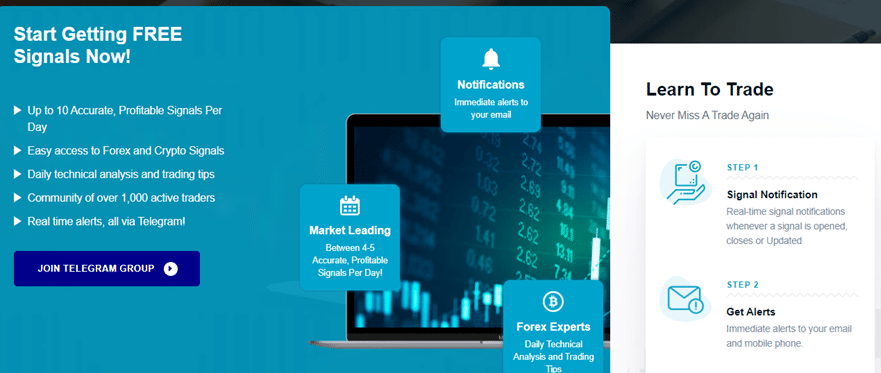 This service boasts of providing profitable and accurate signals every day. A maximum of 10 signals is sent per day. Additionally, the service offers daily technical analysis and trading tips. Traders using this service get to be part of a community of more than 1,000 active traders. This system works with all major, minor, and exotic pairs.
According to vendor info, the service uses automated technology that runs advanced technical analysis on the currency pairs to identify suitable signals, which are notified to members via Telegram group.
Many advanced charting tools are used for the trading algorithm which scans for the right trading opportunities. Besides analyzing Forex pairs, the algorithm also analyses indices, cryptocurrencies, and commodities.
A trading course is also provided by the vendor which gives information on the various aspects of trading but does not delve much into the strategy that works best.
How to Start Trading With Learn 2 Trade
A free signal service and a premium paid service are offered by this vendor. Free members receive up to 3 signals in a week without having to open an account. As per the premium plan, users will receive 3 signals daily for five days a week. This costs $14 per month when purchasing the 6 monthly subscriptions. As per this package, you will get 3 to 5 signals a day.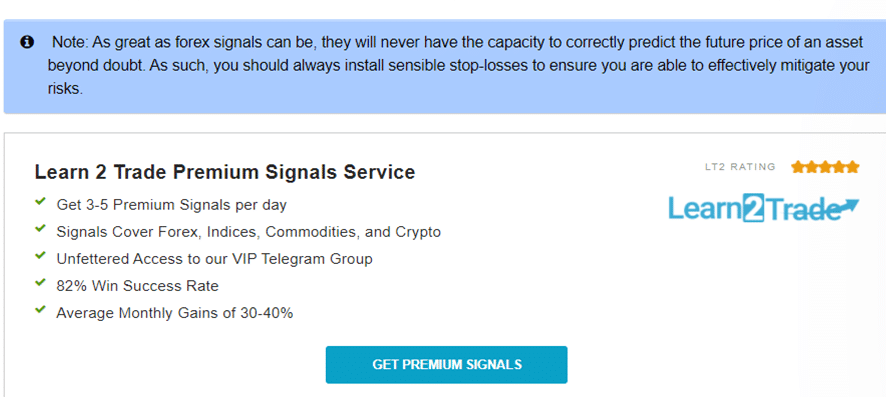 When you receive the signal alerts via Telegram, you can place a trade easily. This system focuses mainly on technical analysis and boasts of an 82% winning rate with an average profit per month of 30% to 40%. The vendor does not provide information on the recommended balance that a trader has to use while trading using the signals provided.
Backtests
Strategy tests use historical data to reveal the efficacy of a trading system. Backtests/strategy tests are used by traders to know how effective a system is. While past performance cannot predict a similar future performance, traders use it to assess the strategy used and whether it will fit their trading level. The absence of backtests makes it difficult for us to evaluate this system properly.
Unverified Trading Results of Learn 2 Trade
In addition to not providing backtests, the vendor does not show any trading results verified or unverified. Trading results especially those verified on reliable sites like the myfxbook site or FXBlue site offer a plethora of information about the trading approach.
We can find out about the gain percentage, drawdown, profit factor, lot size used, and more. Such info is essential to know how effective and safe the system is and whether it is worth investing in. Without backtests or verified trading results evaluating this system is difficult and it reflects poorly on the reliability of the vendor.
Customer Reviews
We found user reviews for this service on the Trust Pilot site. While some reviews are positive, the negative reviews provide a more candid picture of the service. From breach of privacy to being a scam site, the reviews reveal that this service is not to be trusted.


Is Learn 2 Trade A Viable Option?
When it comes to signal service providers in Forex you have plenty of choices. But, as you can see from our review of Learn 2 Trade, not all are effective. From our analysis we found the system to have several issues that need to be rectified before we can evaluate it fully. Here is a list of the advantages and disadvantages we found in this service provider.
Advantages
Provide free signals
Big trading community
Disadvantages
No verified trading results
Backtests are not provided
User feedback is poor
Summary
Wrapping up our Learn 2 Trade review, the analysis we have performed on the various aspects of this service reveals several downsides. While the trading course and tips provided by the service are useful, the signal service is not as effective.
According to the vendor, the service can provide up to an 82% win rate. However, there is no proof of such a profitable performance from the vendor. Without backtests and verified trading results, we cannot arrive at a proper conclusion on the trading approach used by this service and its efficacy. Until the vendor provides us with solid proof, we would not recommend this Forex signal service.
Would you like to try out trading with an Expert Advisor?
Learn more about the best forex robots.