MyForexPath is a 100% automated Forex expert advisor that is compatible with both Metatrader 4 and Metatrader 5. As per the vendor's claims, this robot manages to win 65-70% of its trades. This is quite a bold claim, but in order to check its veracity, we must analyze the different aspects of the system.
Would you like to try out trading with an Expert Advisor?
On the official website, the vendor has shared a short introduction to the trading system. We have a list of all the main features and the link to a live trading account on Myfxbook. There are several backtesting results available for the robot and the vendor has also shared the pricing details.
Unfortunately, we don't have any information on the parent company behind this EA. We don't know where it is located or when it was founded. The developer has not revealed the identities of the team members, so we don't know whether they have the required expertise to build a profitable trading system. Also, it is unknown whether this developer has built other EAs in the past.
Features
This expert advisor is compatible with three currency pairs, namely USD/CAD, EUR/USD, and AUD/USD. It has four sessions for every pair, and these sessions are independent of each other. They provide a wide range of signals without diminishing their quality. The EA is not broker-sensitive, so you can use it with any broker of your choice. According to the developer, the outcomes are identical for different brokers.
MyForexPath has a drawdown control system that shields your account from heavy losses. It uses stop loss as a risk-mitigation tool while closing orders at the market price for added protection. The robot uses a trend-following strategy, opening orders in the direction of the dominant trend. For this, it uses indicators like Parabolic and MA, along with special algorithms.
How to start trading with MyForexPath
The current price of this EA is $285. Compared to other Forex trading systems, the price is not that high. The vendor offers a 30-days money-back guarantee. You get a single license and the ability to change the account number online. Each user gets access to a user manual and free updates.
In case the trend changes or there is an unsuccessful entry, the EA closed previous trades to recover losses. This way, according to the developer, it shields your account against large drawdowns.
Backtests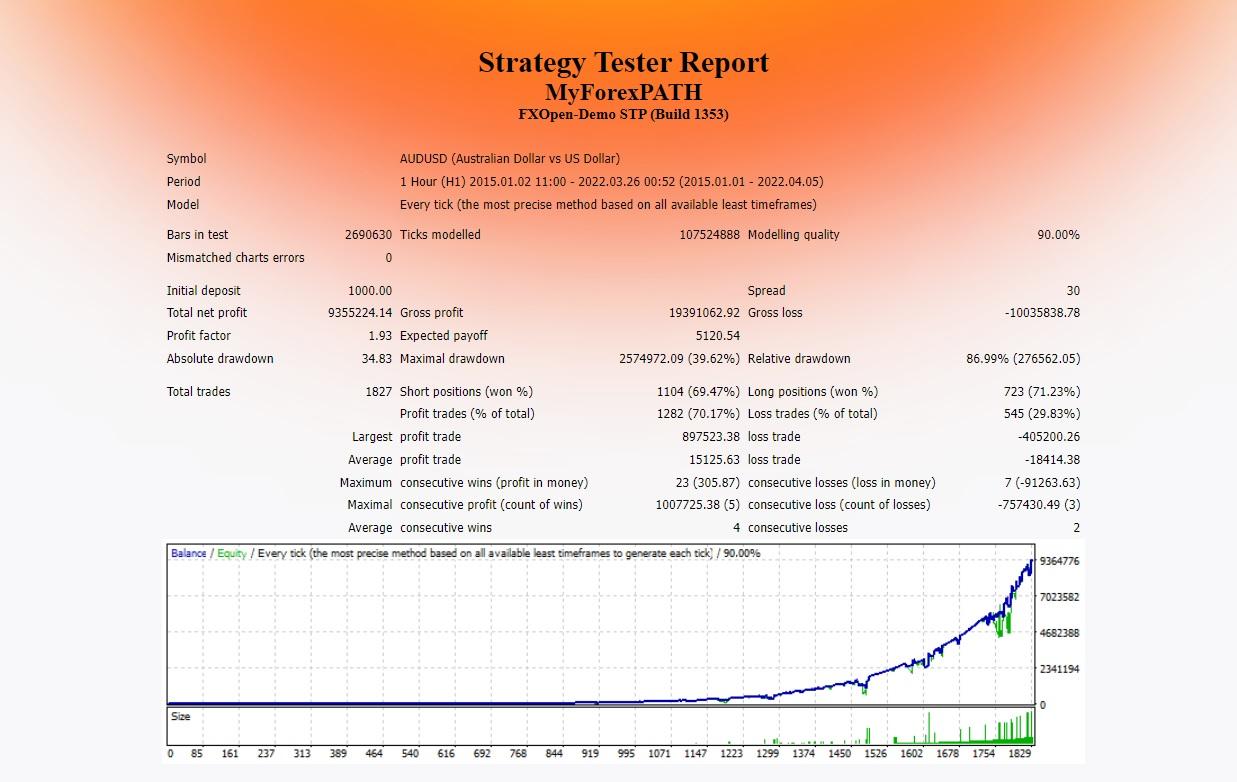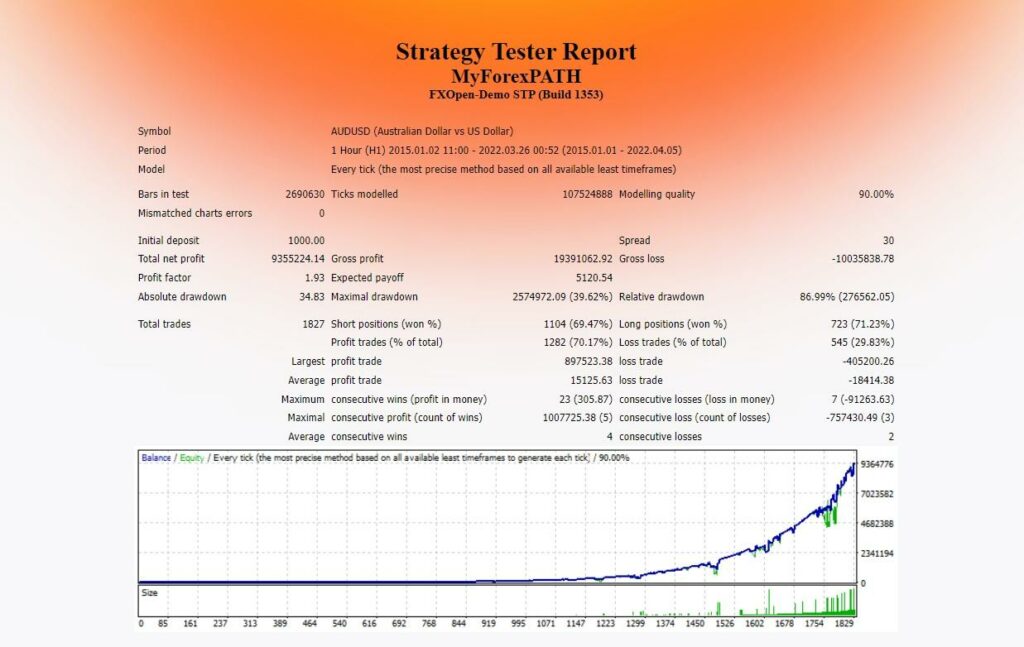 This backtest was conducted from January 2015 to March 2022 using an every tick model. The EA used an initial deposit of $1000 to conduct 1827 trades, winning 70.17% of them and generating a total profit of $9355224.14. Apart from the high win rate, it also had an impressive profit factor of 1.93. The maximum drawdown was quite high at 39.62%, indicating a risky trading strategy. There were 23 maximum consecutive wins and 7 maximum consecutive losses for the testing period.
Verified trading results of MyForexPath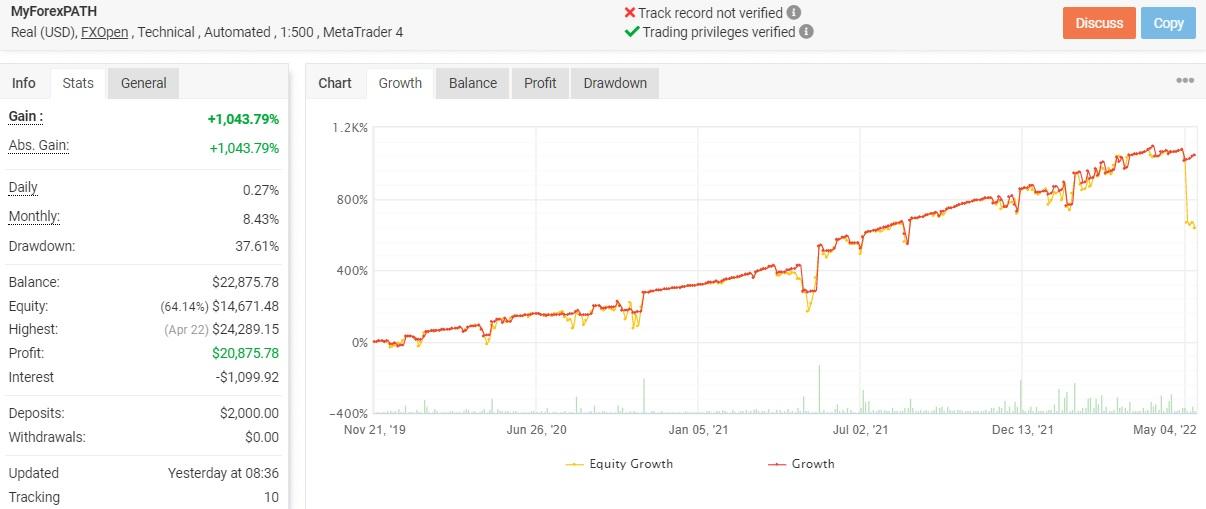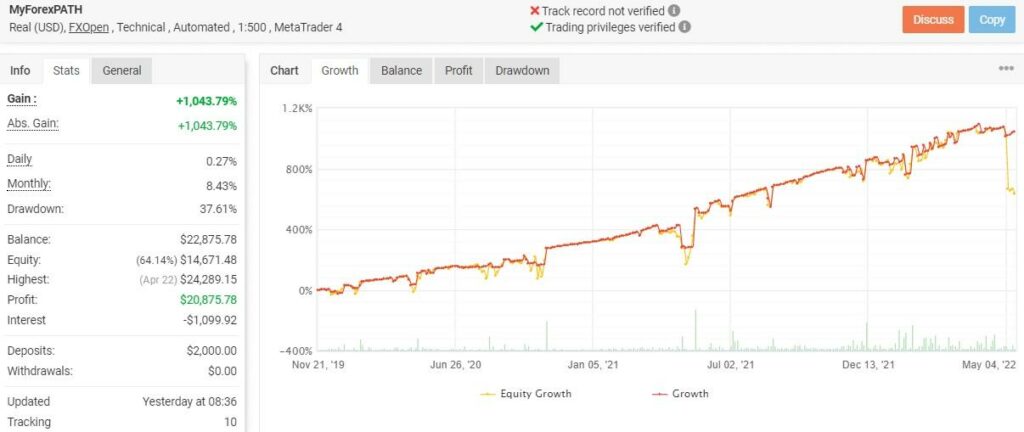 Here we have a live trading account on Myfxbook that was launched on November 21, 2019. To date, the EA has conducted 663 trades through this account, winning 65% of them and generating a total profit of $20,875.78. The win rate is a little low compared to the backtest, but it's still quite decent.
Currently, the daily and monthly gains for this account stand at 0.27% and 8.43%, respectively. The drawdown is quite high at 37.61%, indicating a high risk of ruin. This account has a time-weighted return of +1,043.79% and a profit factor of 1.47.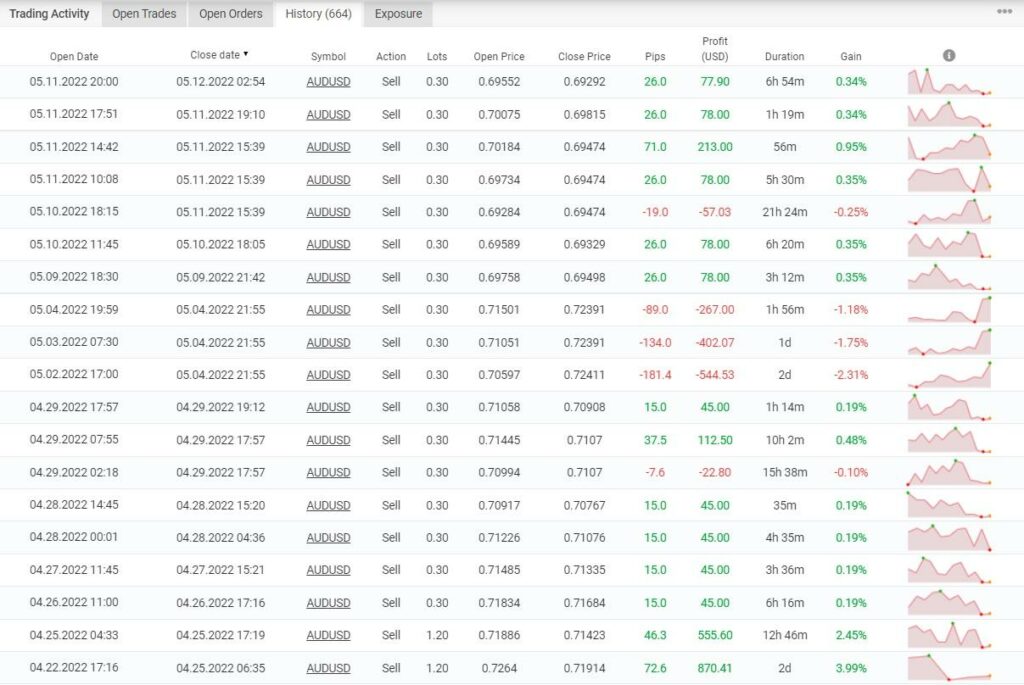 From recent trading history, we can see that the EA is prone to suffering consecutive losses. For the last 20 trades, it has used a lot size of 0.30-1.20. It is not an EA that trades daily, and the average length of each trade is 3 days. The average win and loss for this account are 32.77 pips/$151.22 and -72.28 pips/-$189.47, respectively.
Customer reviews
At this moment, there are no user reviews for this EA on third-party websites like Myfxbook, Quora, Forex Peace Army, and Trustpilot. This tells us that not many people are currently using this EA.
Is MyForexPath a viable option?
| | |
| --- | --- |
| Advantages | Disadvantages |
| Verified trading results | High drawdown |
| | Lack of vendor transparency |
| | No user reviews |
Summary
MyForexPath has a decent win rate and has been trading in the live market for quite some time. However, despite having a drawdown-control mechanism, it exhibits a high drawdown and suffers heavy losses. Also, there is very little information about the developers behind this expert advisor.
Would you like to try out trading with an Expert Advisor?