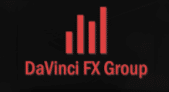 We'd like you to read a review of the Night Hawk robot. It was designed by a Russian company – DaVince FX Group. The presentation includes some explanations, backtests, and trading results.
Features
The robot is a Martingale strategy robot.
The strategy works consistently profitable.
There are Grid and Averaging strategies on the board as the second ones.
How to start trading with Night Hawk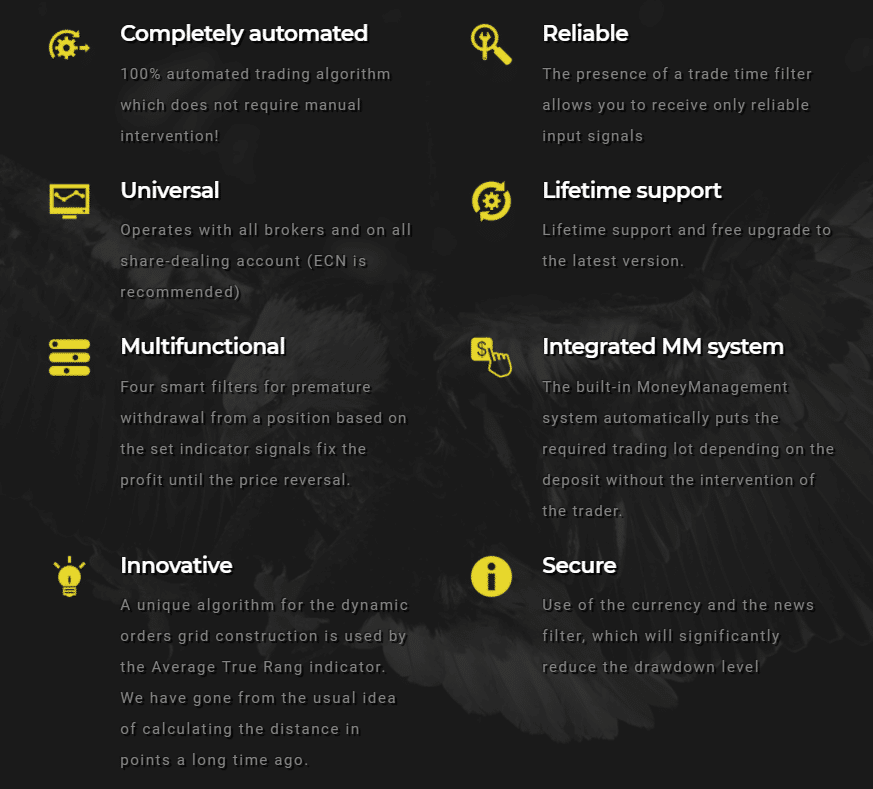 The robot trades fully automatically on the MetaTrader 4 platform.
It was backed on the optimized data with proper spreads and medium slippages.
It uses many indicators like Bollinger Band, Commodity Channel Index, and others.
The EA works with any broker we want.
The ECN-account is the only option for this EA to work well.
The money-management system reduces drawdowns.
There's reliable and knowledgeable support.
The robot will be receiving free updates and upgrades.
The money-management system calculates Lot Sizes for each trade it's going to open, based on the percent of the risk to the account balance.
There's a News filter that allows avoiding trading during periods of High-Impact News.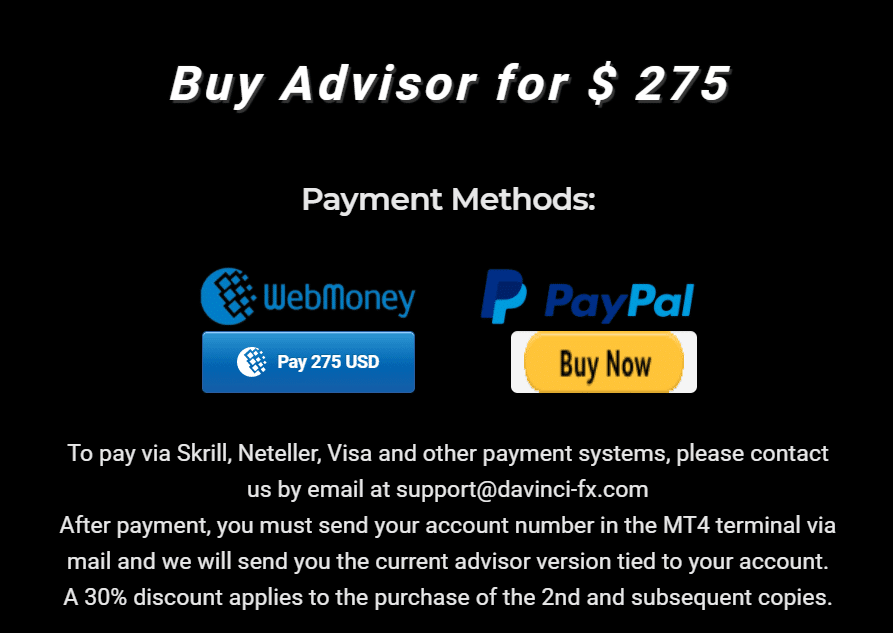 The robot costs $275. We can buy it via WebMoney and PayPal. So, there's no money-back guarantee.
For changing an account, we have to write to them every time.
If we want to buy a second copy of a product, we can expect to get a 30% discount.
Backtests


We've got an NZD/CAD backtest. It was performed from January 25, 2012, until April 16, 2020. The absolute gain has amounted to +519.91%. An average monthly gain was 1.84%. The maximum drawdown was 19.56%. The deposit of $3000 became 18600 of the balance.


The EA has closed 652 deals with 8551 pips. An average win was 32.76 pips when an average loss was -42.13 pips. The win-rate was 71% for Longs and 74% for Shorts. The Profit Factor was 2.63.


The SELL direction was traded almost three times more often.


As we can see, it's a night scalper.

The most-traded days were Tuesday, Wednesday, and Thursday.


The backtest was performed with little risk to the account balance.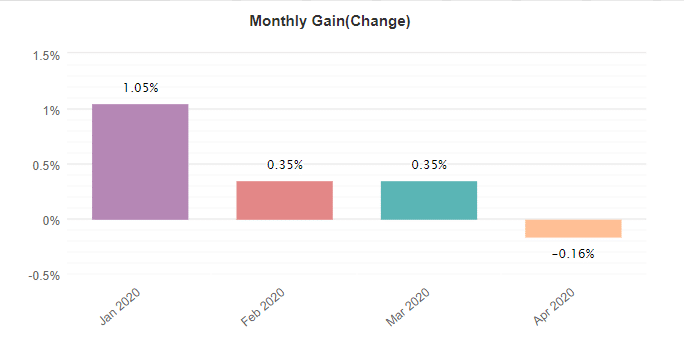 The last half of the month was not quite profitable.
Verified Trading Results of Night Hawk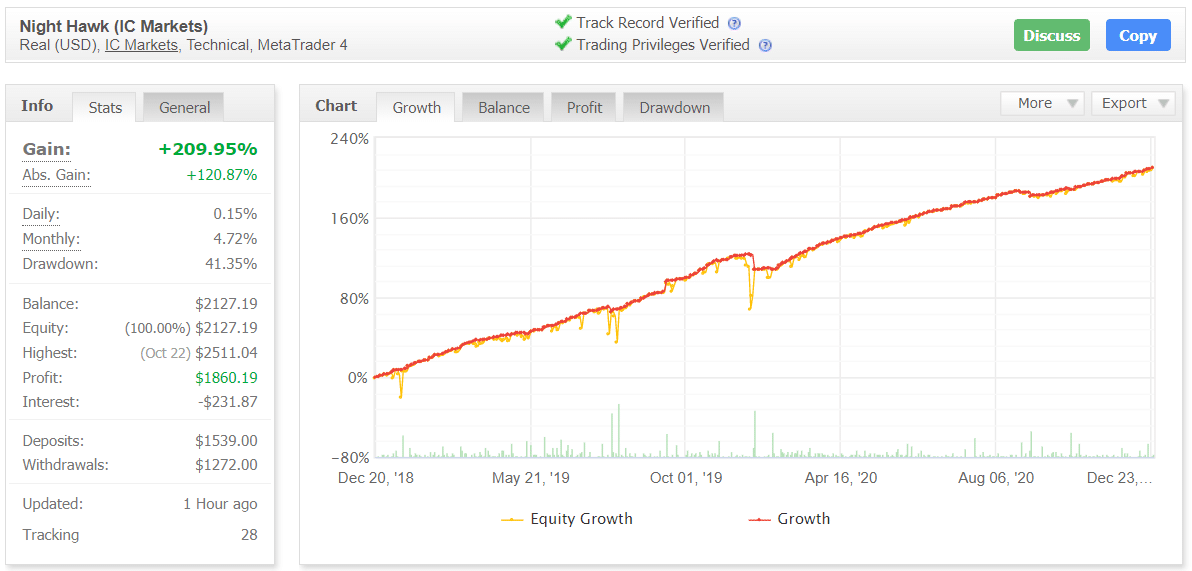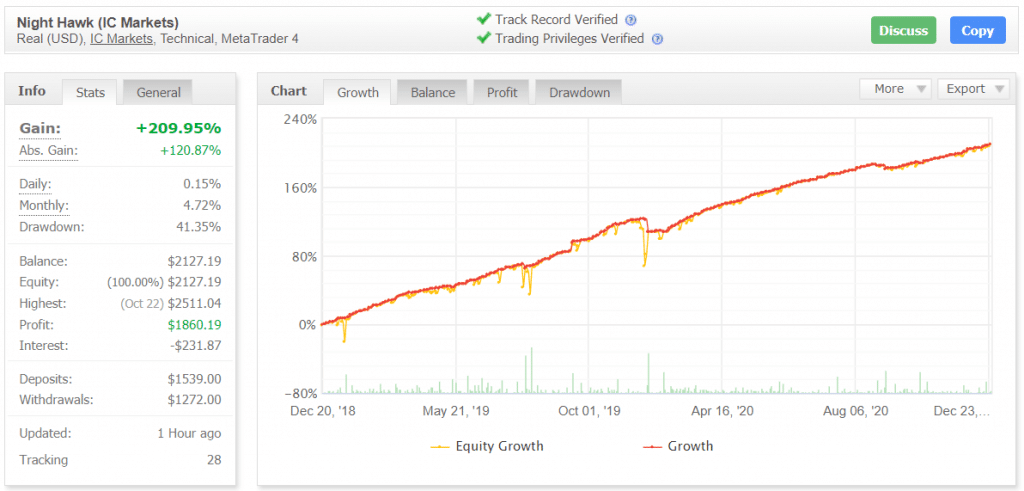 The robot runs a real USD account on IC Markets trading automatically (wasn't mentioned) with 1:400 or 1:500 leverage (wasn't mentioned too) on the MetaTrader 4 platform using technical indicators. The account has a verified track record. It was created on December 20, 2018, and funded at $1539, and withdrawn at $1272 in total. The absolute gain has become +209.56%. An average monthly gain is +4.72%. The maximum drawdown is sky-high and equals 41.35%. This account is tracked by twenty-eight users.


The robot closed 1524 deals with 8376 pips. An average win is 24.11 pips when an average loss is -51.93 pips. The win-rate is 75% for Longs and Shorts. An average trade length is two days. The Profit Factor is 1.74.


The robot trades eight symbols. The most-traded are AUD/CAD – 393 deals and $521, GBP/CAD – 282 deals and $232, and GBP/AUD – 224 deals and $290.92.


Most deals are opened from 8 p.m. until Midnight.


Wednesday (354 deals) and Tuesday (326) are most-frequently traded days.


The EA runs the account with medium risk to the account balance. For losing 10%, we have to close 31 losing deals in a row.


Night Hawk opens Grids of six orders and trades the last deals with Martingale Lot Sizes.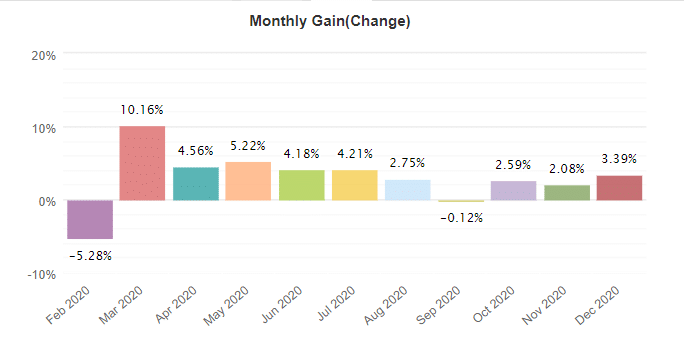 As we can see, this year is going to be closed with two lost months. Anyway, December's 2020 profitability is okay.
People feedback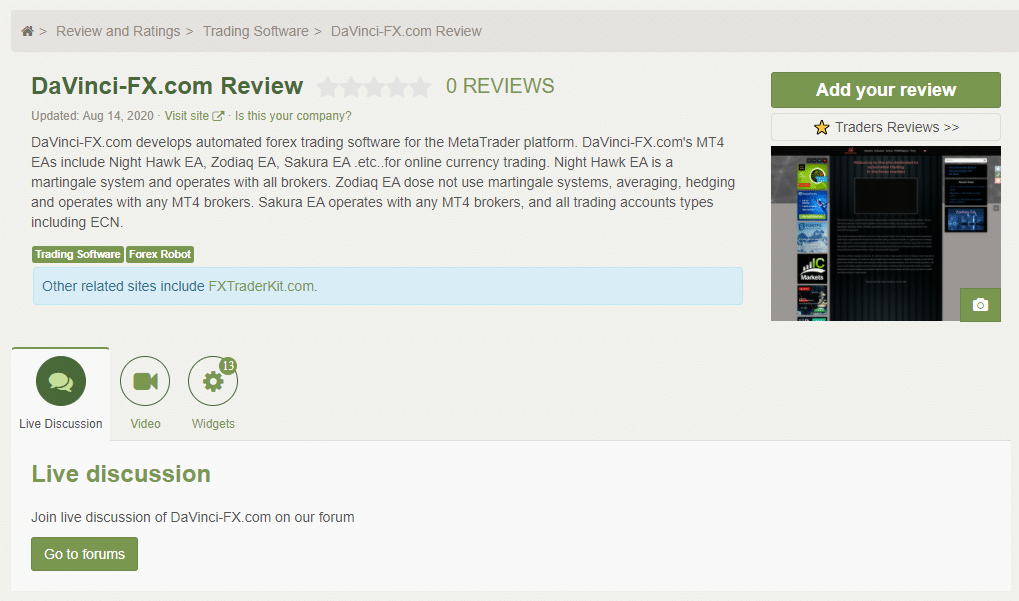 There's an empty page of Davinci FX on Forex Peace Army without feedback. The company unites not only Davinci but also the well-known FX Trader Kit.
Other notes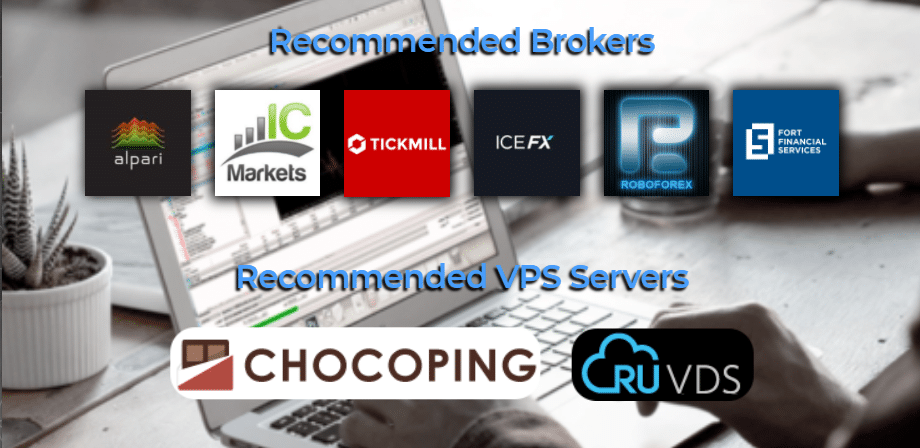 The company informs us that there are recommended brokers and VPS services. The brokers' list is good to go, but we'd not trust these VPS services. We don't know them.
Is Night Hawk a viable option?
It completely depends on your trading styles. The EA uses Martingale on Grid orders, and this is a scary practice. Conservative traders won't like to run this software on a real account.
Conclusion
Night Hawk is a robot that trades eight symbols during night hours, scalping the market and opening Grids of orders when it's needed. This year has got two lost months. We'd like to see how it'll be performing the next half a year and what results it'll manage to achieve. For now, it's risky to invest in Night Hawk.