Ohlsen Trading has a simple and not quite informative presentation. There are no big explanations about the system and its functionality. The devs decided not to provide us with the main claim about how great their service is.
Would you like to try out trading with an Expert Advisor?
Features
We have the main intel separated into four parts: 'extraordinary results', a '30-day trial', 'no work required', and 'great pricing'.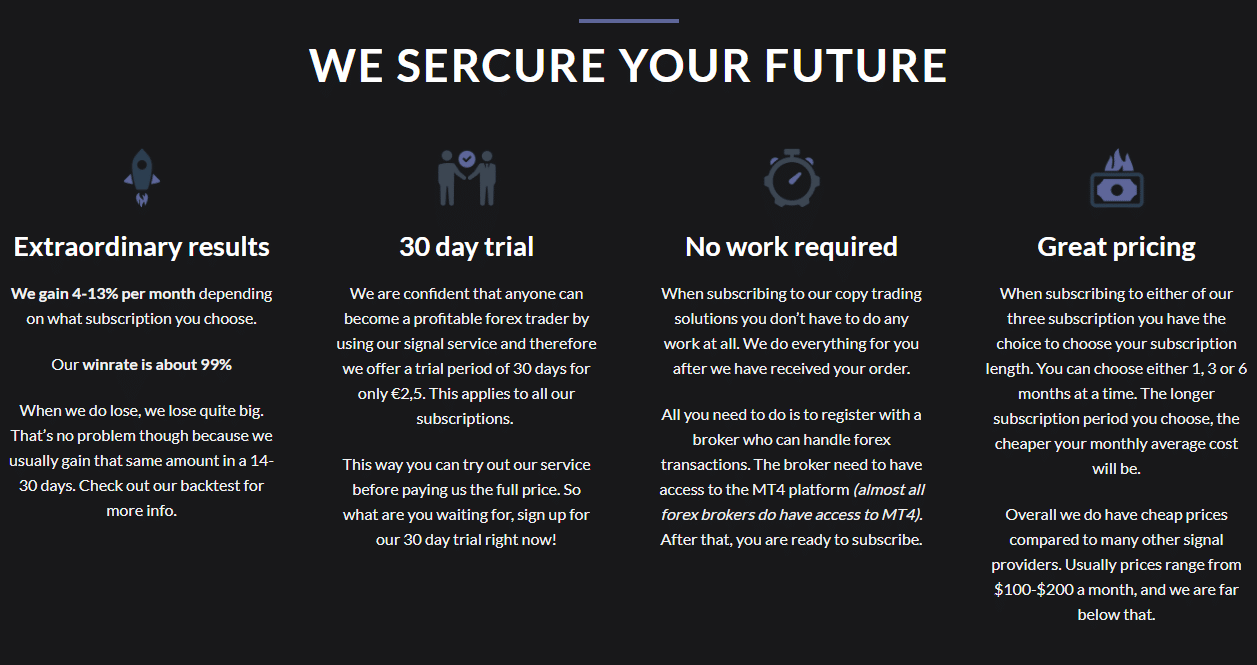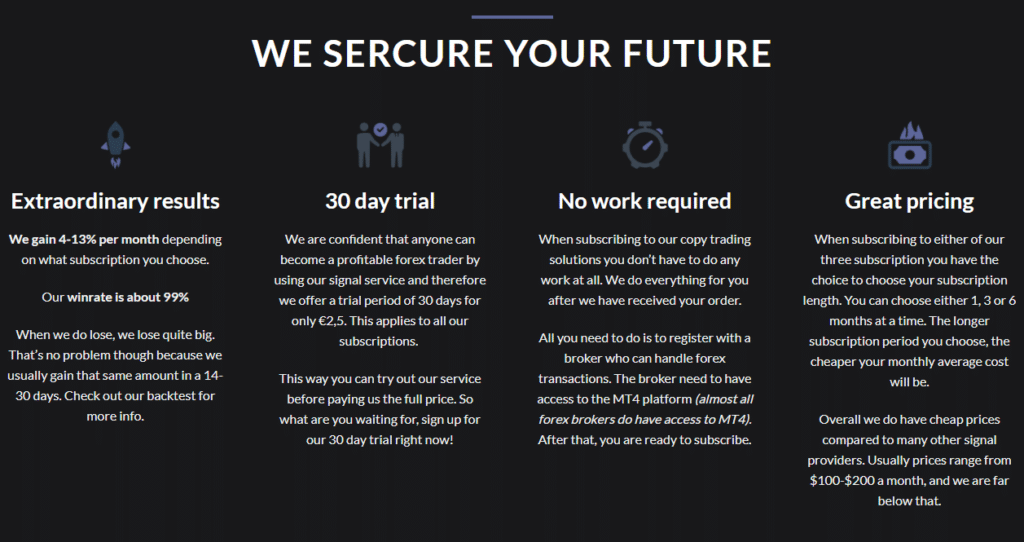 Everything will be working automatically for us.
The monthly profitability can be as high as 13%.
The win rate is up to 99%. It's such a brave claim. We're going to check it out.
The system can experience losses from time to time. The devs claimed about them, "when we do lose. We lost quite big. That's no problem, though, because we usually gain that same amount in 14-30 days. Check out our backtest for more info."
It sounds like a scam because no one wants to lose much.
The advisor places deep Stop Losses to keep hope alive that the market goes in the right direction.
There's a 30 days trial period for 2.5 EUR only.
The system will bring profits for us.
All orders will be executed automatically after being copied to our account.
The developers may force us to open an account on a broker that would work better for us.
We can use the copy-trading system only on MT4.
We have two rental options on the board.
The devs claimed that "usually prices range from $100-$200 a month, and we are far below that."
How to start trading with Ohlsen Trading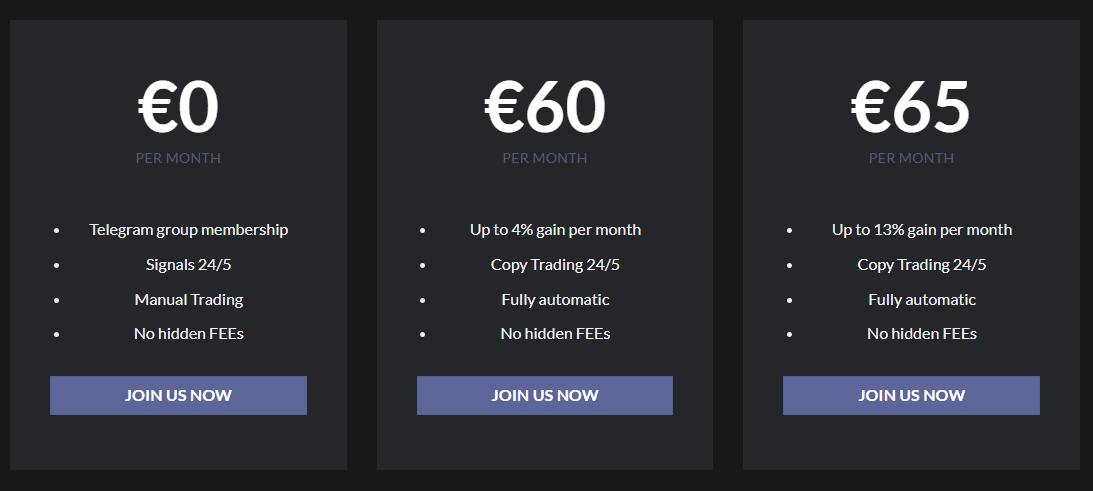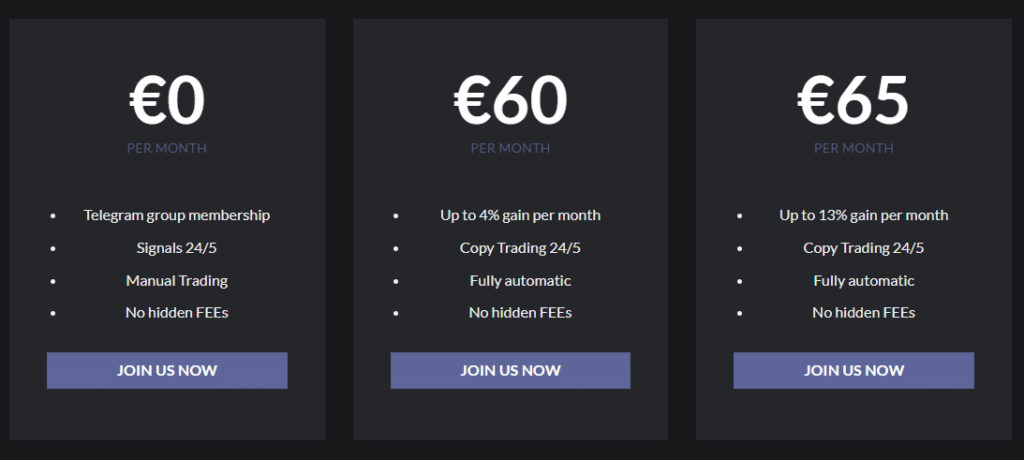 We've got three packages introduced. The first one is free. It includes little: Telegram group membership, 24/5 signals, and manual trading. For €60 monthly, we are allowed to use copy-trading software. For €65 monthly, we can expect to be profitable of 13% a month. There's no refund policy to cover us if we are not satisfied.
Backtests
We have no backtest reports provided. It's a huge con because we can predict how the system will work after running on the past broker data.
Verified trading results of Ohlsen Trading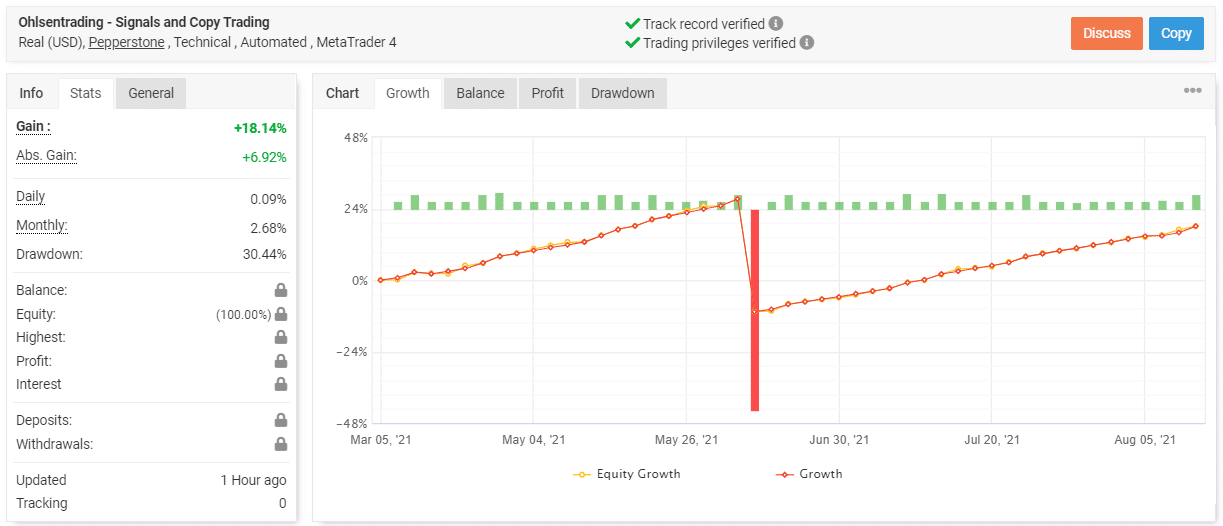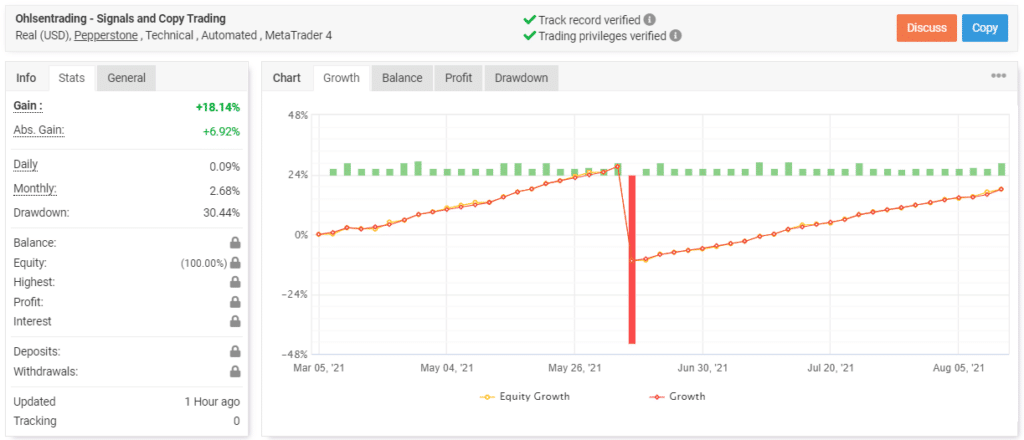 The robot was set on a real USD account on Pepperstone to work automatically. The robot uses data from MT4. We don't know what leverage the system used. The account has a verified track record. It was created on March 05, 2021. We have no idea what size of the deposit it has. Since then, the absolute gain has become -18.14%. An average monthly gain is -2.68%. The maximum drawdown is 30.44%. People don't track the results. So, most likely, there are no subscribers.


The system traded 61 orders with 317.1 pips. An average win is 10.16 pips when an average loss is insanely deep, -141.20 pips. The win rate for Longs is 91% and 100% for Shorts. An average trade length is a day. The profit factor is 1.28. It was twice lower on our last visit.


EURUSD is the only pair. The longs direction was lost in pips -63.3 pips.


It trades only an hour a day with a solid accuracy rate.


It skips trading days around the weekend.


The advisor trades with insanely high risks to the account balance.


The details about closed orders are closed.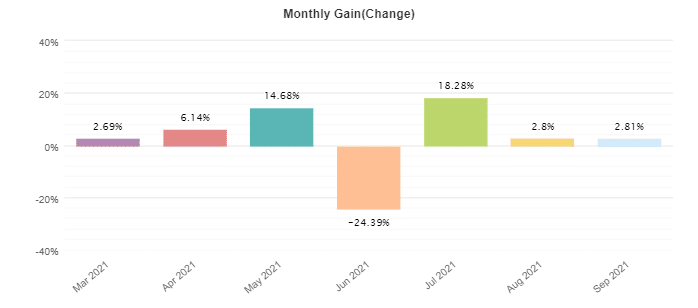 The robot trades completely unpredictably. We don't know why the profitability went down that much.
People feedback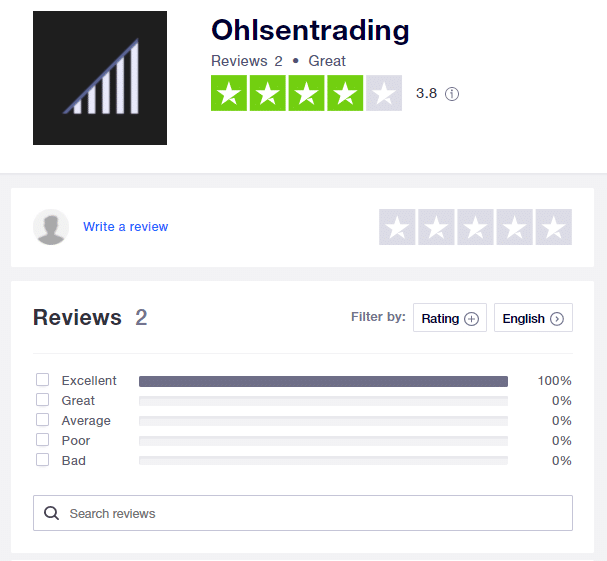 Ohlsentrading runs a page on the Trustpilot verification platform. There are only two reviews written.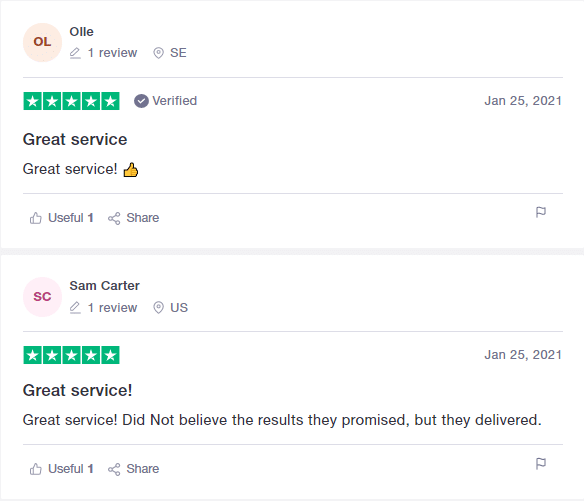 We can't be sure that these testimonials weren't written by the devs friends. In addition, there are faceless profiles that have only two reviews on the board.
Is Ohlsen Trading a viable option?
Advantages
Disadvantages
No team revealed 
No risk advice given 
No backtest reports provided 
Trading results show that the system losses much if a loss happens
Only rental options are available 
No refunds provided
Summary
Ohlsen Trading is a service that provides a copy-trading service. The developers don't have backtest reports but do have trading results. They show that the system is far from being stable and consistently profitable. It works with insane risks, which a few people want to experience. As a result, no one tracks trading results, and there are only fake testimonials written on Trustpilot.
Would you like to try out trading with an Expert Advisor?