Omega Trend is a professional trading adviser, which is based on three universal principles for effective and profitable trading in the forex market. The FXAutomater has developed the robot. It is suitable for traders of any skill level and is sold on fxautomater.com. Let's try to figure out if everything is so great and if any hidden details can cause you to lose your deposit. We will conduct a review, study user reviews and conclude by concluding – so read to the end and do not rush to buy anything.
Omega Trend trading advisor cover by FXAutomater developer.
Main characteristics
Omega Trend robot is presented on a specialized site, where only one page is highlighted for its description – the rest of the site is devoted to the presentation of similar products on which FXAutomater earnings are built. That is, to evaluate the adviser you will not have many details and all the basic information you will find in this section.
Trading strategy. To successfully work in a volatile market, the adviser uses three trading approaches at once, which have the following capabilities:
The first approach is based on the identification of dominant trends that are formed daily at small time intervals (here the program assesses micro and macro movements). The adviser evaluates all possible movements and stops at those that can give maximum profit. Next, the program performs the setup, selects entry points and prepares to get into operation immediately in the wake of a new impulse.
The second approach is based on the diversity strategy – the foreign exchange market is too unpredictable to be predicted by anyone set of rules. Therefore, the developers integrated several trend indicators into the program at once, which are tied to several trading strategies at once. This combination makes Omega Trend resistant to market changes and allows profitable trading in any condition.
The third approach allows you to use dynamic orders to open and close transactions. The authors of this concept are convinced that if you use static entry points and take profits for a certain number of points, then over time this leads to a significant landing of a trading account, a lot of missed opportunities and a limit on the size of potential earnings. A modern adviser should be able to respond to changing volatility and make adjustments to the order opening scheme along the way (use a floating trailing stop, take profit and stop loss).
Omega Trend combines these approaches into one holistic algorithm, which in some way can automatically adapt to various currency pairs and choose the most profitable and safe trading scenario. In theory, everything looks good, but the developers did not provide any details so that these three approaches could be safely tested on a demo account or chart history.
Cost. If you didn't make it to the sales period, then you will have to pay $ 97 for the adviser – we conduct a review on the eve of Black Friday, so we can buy it for $ 47. This amount includes one license for one real deposit, three licenses for testing on a demo account, round-the-clock support and a 60-day warranty period during which you can return the money.
Test results. By default, the adviser is optimized for the euro/dollar and pound/dollar currency pairs, which were tested over a long-time period and with a minimum drawdown, significantly increased the size of the initial deposit.


On the pound/dollar currency pair, the Omega Trend adviser conducted a 13-year test and was able to disperse the deposit from $ 10,000 to $ 206,000 – this is a 73.65% return.


On the euro/dollar currency pair, the Omega Trend adviser conducted a 4-year test and dispersed the deposit from $ 5,000 to $ 169,000 – this is 62.65% of the yield.
User reviews
We reviewed a lot of thematic forums and did not find any useful references to Omega Trend trading advisor from FXAutomater – there are free versions of Omega Trend and Omega Trend Plus that have nothing to do with our program. Instead, we found some negative references to the developers of FXAutomater:
Developers hide real identities and do not use their products.
In the long run, all advisors from FXAutomater merge the deposit.
FXAutomater developers remove negative statistics and do not allow traders to evaluate real trading results.
As evidence, we will add some screenshots, having studied which you can get acquainted with the details.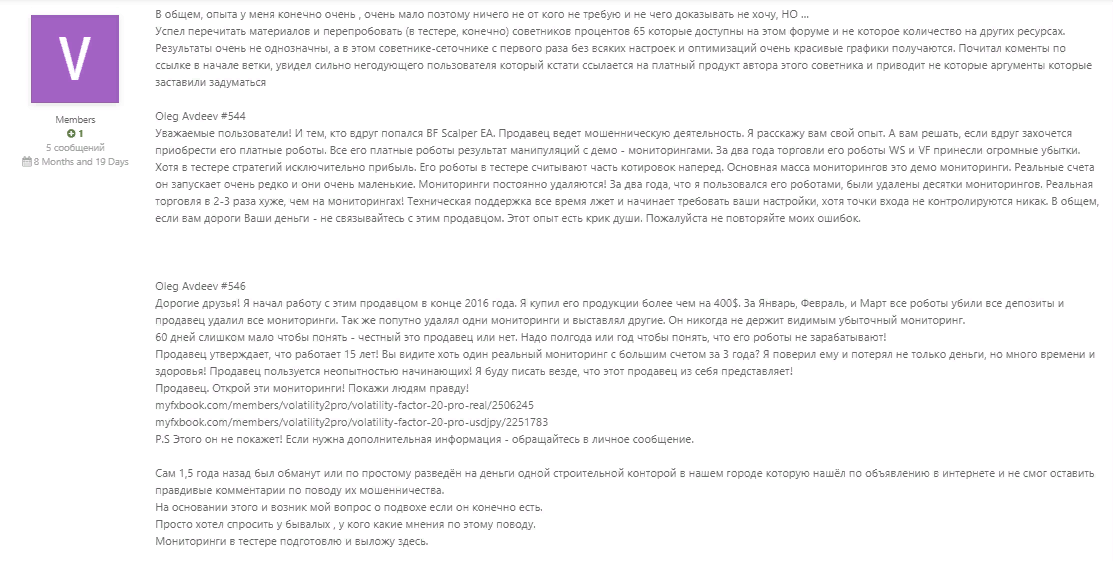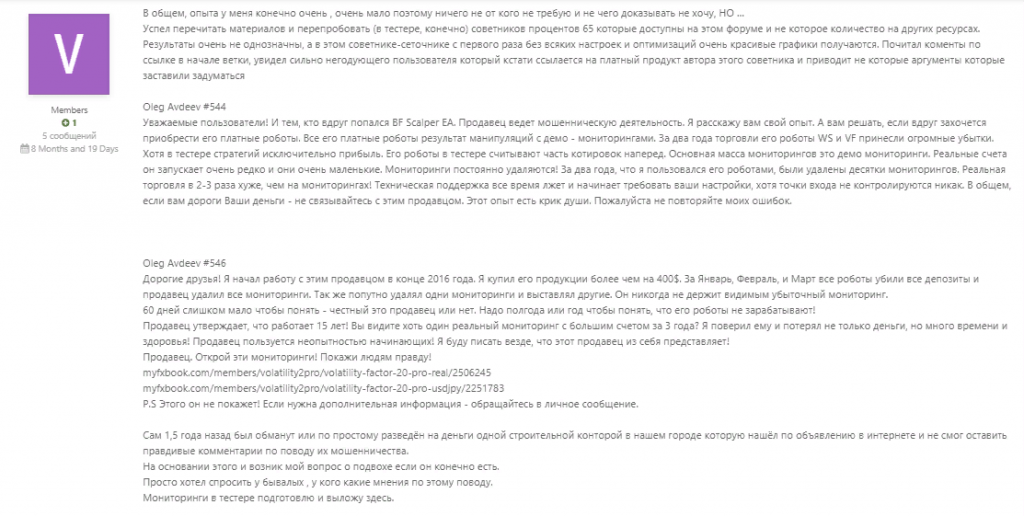 Lachezar Krastaev (nickname "Bulgarian") is one of the famous representatives of the FXAutomater team. He sells many trading robots, each of which merges a deposit.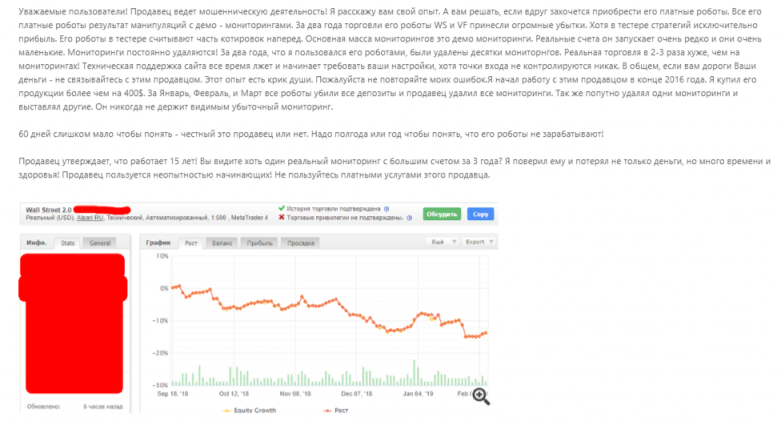 The user accuses the seller of fraud and cleaning of trade statistics. FXAutomater claims to have 15 years of experience, but cannot provide even 5-year statistics. A 60-day warranty period is available to all users, but this is not enough to test the performance of a trading robot – if you take six months, then during this time all released products trade at a loss. Real statistics are deleted. As evidence, you can follow the link where one of the real monitoring volatility-factor robots from FXAutomater is closed. There is no page, but the product is still for sale. Verification link: www.myfxbook.com/members/volatilityfactor/volatility-factor-ds/1708093.
User Agreement Nuances
We highlight several points that are masked on the site and should warn you against rash investments:
They sell all trading robots exclusively for educational purposes and after use can lead to large losses. Therefore, do not invest money that you cannot afford to lose (developer warning).
The tests performed are subject to rule 4.41 CFTC. That is, all statistics are modeled, taken from the history of charts and not verified on a real deposit.
If you buy an adviser and lose everything, you will be to blame for everything and you will not be able to file a legal claim against representatives of FXAutomater.
If we combine everything, we will receive an unverified, highly risky trading robot that can quickly and unpunished drain your deposit. In our opinion, the outlook is not very bright, so we move on to summarizing.
Conclusion
Omega Trend is a low-quality program that cannot be trusted with a real deposit. Here are a few main reasons why we think so:
Unreliable developer: FXAutomater does not use its products, carefully erases negative reviews and removes the test results of its later developments.
In the official description, there is no such information about which specific algorithms the transactions will be conducted and how the listed strategies will interact with each other. Now it's just an abstract concept, for which you can pick up a hundred free strategies from trading forums.
The developers did not conduct real tests, took statistics from the account history and do not guarantee future results.
Write in the comments about how you feel about the Omega Trend trading advisor and all FXAutomater products? Why do you think unprepared traders are actively investing in such programs and do not want to study the market on their own?