Perfect Score is a Forex robot being sold on the MQL5 website. It was launched on 2nd July 2020 and claims to be suitable for both new and experienced traders.
On the MQL5 page of the Forex EA, the vendor provides us with a brief overview of how the system functions. We have the link for MQL5 signals and a Telegram channel, along with information related to timeframe, account balance, and pairs. The main features of the system have been highlighted, and the vendor has also provided us with a list of settings that you can customize to suit different trading styles.
Perfect Score is sold by a Russian trader by the name of Sergei Riebin. We don't know much about his background and qualifications, but his MQL5 page tells us that he has developed other Forex robots in the past. These include systems like SharkEA, GoldenBot, RocketEA, Boss EA, HistoryShifter, To The Moon EA, etc.
Features 
Every trade placed through this Forex EA is protected with a stop loss. It is not a broker-sensitive robot, so you can use it with any trustworthy broker. It has an optional grid system, but it is not used in the signals provided by the vendor, and risky money management techniques are avoided as well.
As per vendor claims, the robot offers decent resistance to unforeseen market events. It has been stress tested with 99.90% tick data using variable speed. Perfect Score mainly trades in the EUR/USD pair in the M5 timeframe, and its default parameters are optimized to work for this pair. It uses short-term reversal patterns for trading, which is based on the assumption that Forex prices advance towards the mean price during the London Stock Exchange session where this robot makes its market entry.
How to Start Trading With Perfect Score
Perfect Score is sold at a price of $1499, which is extremely expensive compared to the market average. Most Forex robots cost less than half of this amount, and it is quite odd that a newly-launched system would have such a high price tag. Nonetheless, there is a rent option available, so you can rent the robot for 3 months at $399.
There is also a free demo version of the software, and you can use it for performance testing prior to live trading. The vendor does not offer a refund for this product.
Perfect Score protects your trades against high spreads, and you have the option of trading with a fixed or automatic lot size. By enabling the AutoLot setting, you let the EA calculate the lot size by itself. Of course, you can set the amount of balance to be used for every 0.01 lots. The maximum lot size can also be set by the user.
As per vendor recommendation, you should start trading with a minimum account balance of $50.
Backtests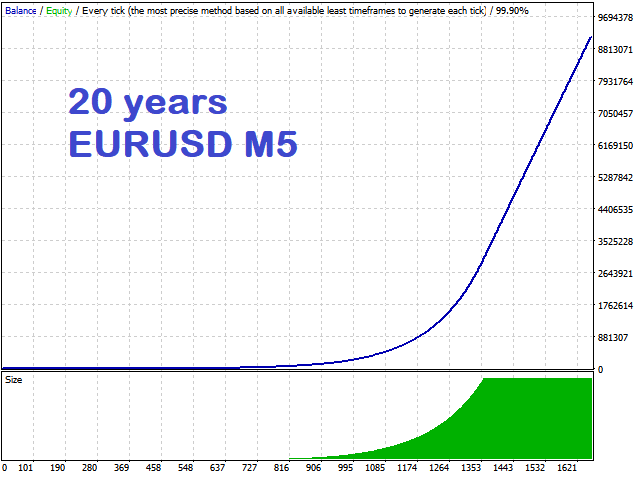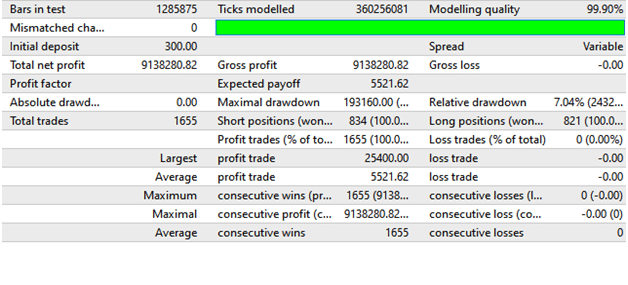 This backtest was conducted over a 20 year period for the EUR/USD pair on the M5 timeframe. There were 1655 trades placed during this trade, and out of them, 1655 were won, which means the win rate was a perfect 100%. With an initial deposit of $300, a huge profit of $9138280.82 was generated by the robot, which is quite impressive.
For this backtest, the relative drawdown was pretty low at 7.04%. Although it was conducted with a modeling quality of 99.90%, a 100% win rate always makes us suspicious, and we must study the live trading results before forming a conclusion about the system's profitability.
Verified Trading Results of Perfect Score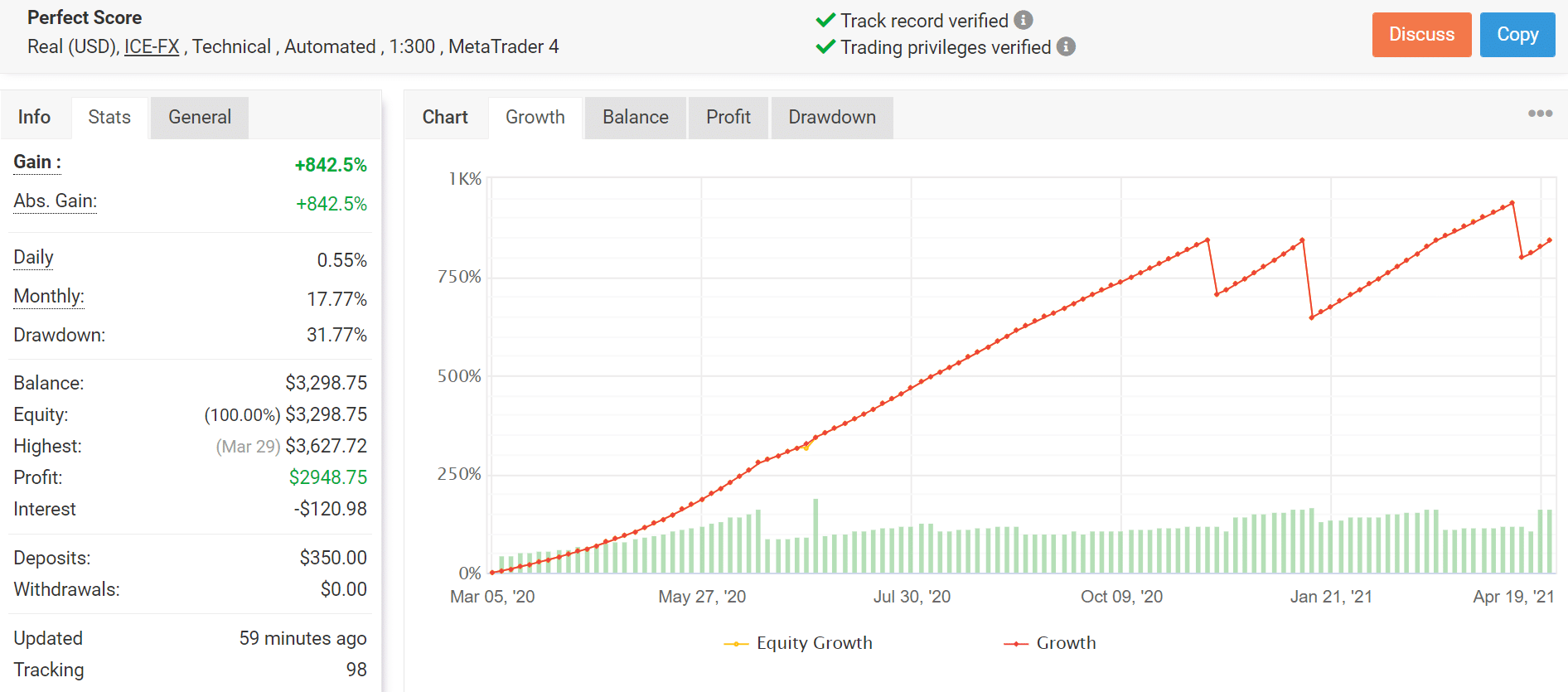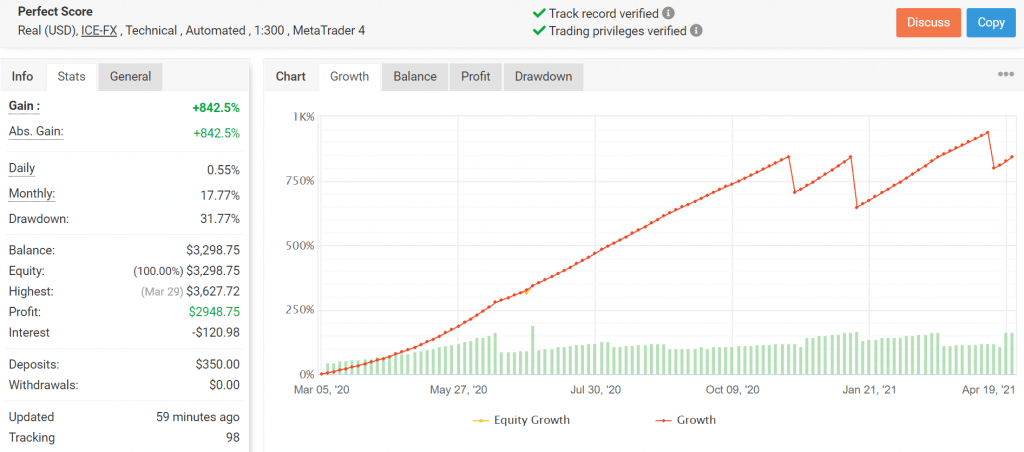 This live trading account for Perfect Score was launched on 5th March 2020. After placing 112 trades in total, this account has accumulated a profit of $2948.75. It has a time-weighted return of 842.5%, and daily and monthly returns of 0.55% and 17.77% respectively.
Here, we should mention that the drawdown of 31.77% is marginally high. Nevertheless, it has a high profitability of 97% and a profit factor of 2.80.
Customer Reviews

On the Myfxbook website, we found several users commenting on the performance of this Forex EA. Once a particular user has mentioned that the signals sent by the robot are risky, and the risk-to-reward ratio is not very professional. We think this is quite possible, given the high drawdown exhibited by the live trading account.
Is Perfect Score a Viable Option?
Advantages
Live trading results verified by Myfxbook
20 years backtest
Experienced developer
Disadvantages
Overpriced robot
Short trading history
High drawdown
Wrapping Up
To summarize, Perfect Score does not seem like a scam service, but that does not mean it is entirely reliable either. First of all, it is an extremely expensive robot, and secondly, it has a short trading history with profitable results but a high drawdown.
Many Forex traders would not consider investing in such an expensive system, especially one with such a high drawdown. Hence, we would advise you to go for a cheaper system or wait a few months to see whether this robot is able to maintain its high profitability.
Would you like to try out trading with an Expert Advisor?
Learn more about the best forex robots.