Pinpoint EA is a Forex robot launched by American trader Ryan Brown on 29th October 2020. Apparently, it took about 12 months of rigorous development to create this system that is based on more than 17 years of backtesting data. As per vendor claims, it closes 94% of trades in profits and has never lost more than 2 trades in succession.
On the official website, there is a video where the vendor introduces himself and goes on to explain how he used his 15 years of trading experience to create this Forex EA. He says that he has developed several Forex trading algorithms and that the Pinpoint EA is based on one of the most efficient among these. Apart from Pinpoint EA, he has also developed a system called Ranger EA that trades in different pairs.
We have been provided with a professional presentation outlining the main features, how the robot works, its benefits, etc. There is also the link to a live trading account on Myfxbook, along with several backtesting results. You can get quick access to help by using the chat feature on the website.
Features
Pinpoint EA is a robot that trades almost daily and maintains an optimum level of weekly profit. It trades in the GBP/USD and EUR/USD pairs and has an average monthly profit of 3.04% and a projected monthly profit of 2.5%.
This Forex EA uses the combination of three indicators, including the Relative Strength Index (RSI) indicator to identify the most profitable trades with the bigger trend. The positions are taken inside the larger trend's pullback and trades are entered only when the trend supports them. It looks to us like this system uses a form of Martingale strategy.
Pinpoint EA looks for the dips inside the trend in order to make better entries. It has an intelligent recovery functionality that lets it make up for lost trades quickly and effortlessly. This way, it is able to avoid too many consecutive losses.
How to Start Trading With Pinpoint EA
You can purchase Pinpoint EA for $397, but the vendor has rent options available as well. If you wish to rent the software for a month, you need to pay $30, while the 3-month rent option costs $90. In case you don't wish to spend money before testing the system, you can go for the free demo version. We think $397 is a bit too expensive for a new system.
On the official website, the vendor has created a video explaining how this Forex EA works. It employs a low-risk scheme and aims to maintain an optimum level of profit each month without hitting drawdown. The vendor maintains a discord group where you can get further information on how the robot works. It is a FIFO compliant robot that trades in the M15 timeframe using the leverage of 30:1.
Backtests 


Although backtesting data has been provided for both the EUR/USD and GBP/USD pairs, here we shall take a look at the latter. The test was started on 7th May 2003 and continued till 14th September 2020. During this time, it managed to generate a profit of $12,687.88 from deposits of $1000, which represents a time-weighted return of 1268.79%.
We can see that the daily and monthly gains are quite decent at 0.04% and 1.25, respectively. The system also has a low drawdown of 24.09%. From the backtesting data, Pinpoint EA looks like a profitable system, but we need to compare the performance with the live results to be sure.
Verified Trading Results of Pinpoint EA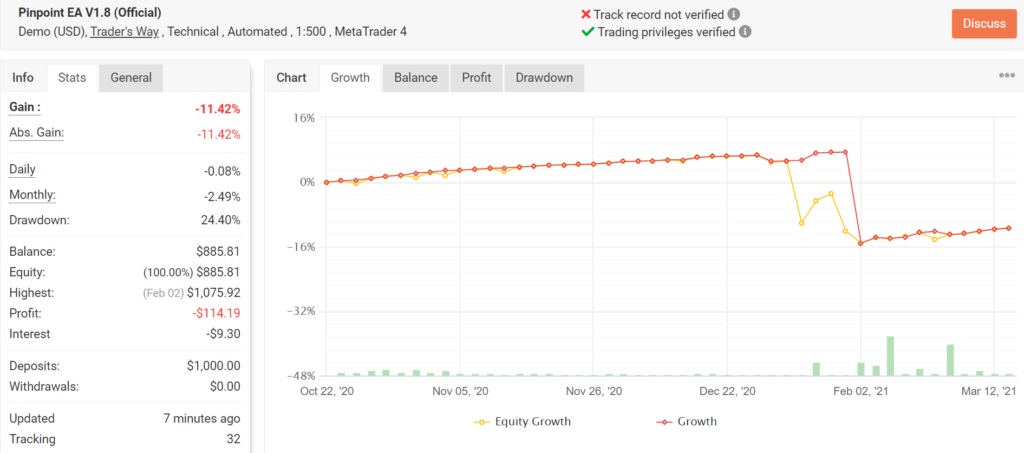 Looking at the live trading account of Pinpoint EA on Myfxbook, we can see that the track record has not been verified, which is not a good sign. Currently, the profit made by this system is negative, so it is clear that it has suffered some huge losses along the way. The daily and monthly gains are -0.08% and -2.49%, respectively, while the profit factor is less than 1.
What we can gather from the trading history is that in spite of closing most trades in profits, Pinpoint EA has suffered huge losses, which although infrequent, have drained a large part of the account balance. We can tell that the system used a risky strategy.
Customer Reviews
We were unable to find user reviews for Pinpoint EA on websites like Quora, Myfxbook, Forexpeacearmy, and Trustpilot. Clearly, not many traders use this system currently, and it may be some time before it gains their trust.
Is Pinpoint EA a Viable Option?
Advantages
Backtesting data available
Live trading results verified by Myfxbook
Vendor transparency maintained
Disadvantages
Risky trading strategy
No customer reviews
No money-back guarantee
Summary
Although Pinpoint EA is not a scam service, we think it is a risky proposition to invest in this system right now. It uses a risky Martingale strategy that can potentially lead to huge losses. But since it has a short trading history, we need to keep an eye on it to see if its performance improves in the future.
Would you like to try out trading with an Expert Advisor?
Learn more about the best forex robots.