Progressive EA is a robot that makes money. It's everything that its developers want to tell us about it.
Features
The presentation is three pages long, so there'll be so hard to provide extended information about its features and settings:
The robot trades automatically on MetaTrader 4.
It was designed to provide from +50% up to +200% of the monthly profit. For us, it sounds like a bad joke.
It uses "advanced algorithms" to keep updating consistently to the market conditions.
The robot closes all trades at the end of the day automatically.
There's a "hard" SL to cover deals from losing more than we can afford.
The recommended broker is Roboforex. The devs noticed that any with low-spreads (ECN) are good to go.
The robot works with GBP/USD and GBP/JPY symbols.
The minimum balance is $10.
The recommended balance for a Standard account is $100. For a Mini account, it is 1000 cents.
The leverage should be 1:200 and up to 1:500.
VPS server is recommended to increase an order execution speed.
There is welcome 24/7 support.

The list of features was ended by this joke.
How to start trading with Progressive EA




To get started, we have to buy a subscription via PayPal that doesn't support refunding if something happens. The one-week subscription costs 25 EUR. The one-month subscription will cost 80 EUR. The price for a one-time payment is insane – 499 EUR.

This is a second good joke from them.
Backtests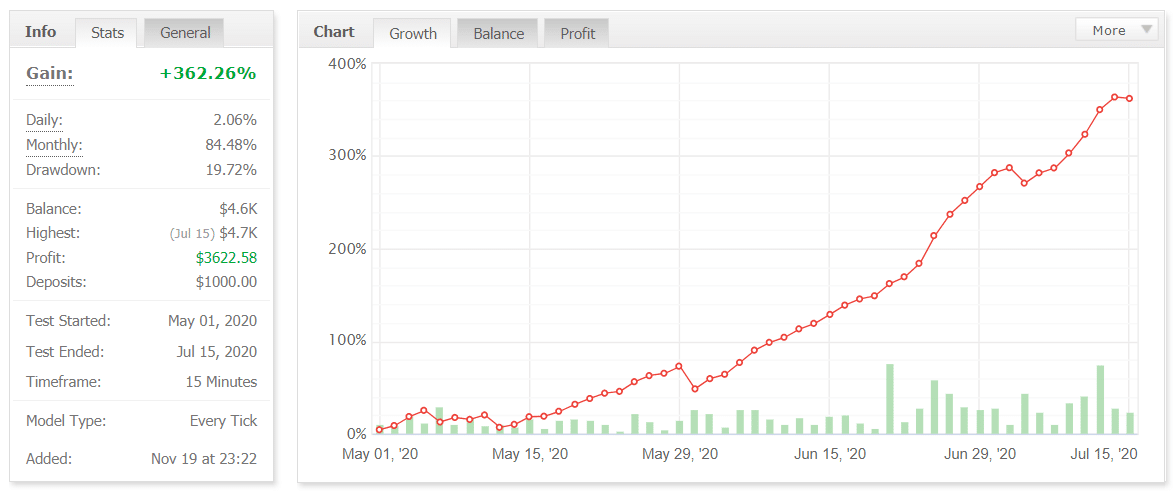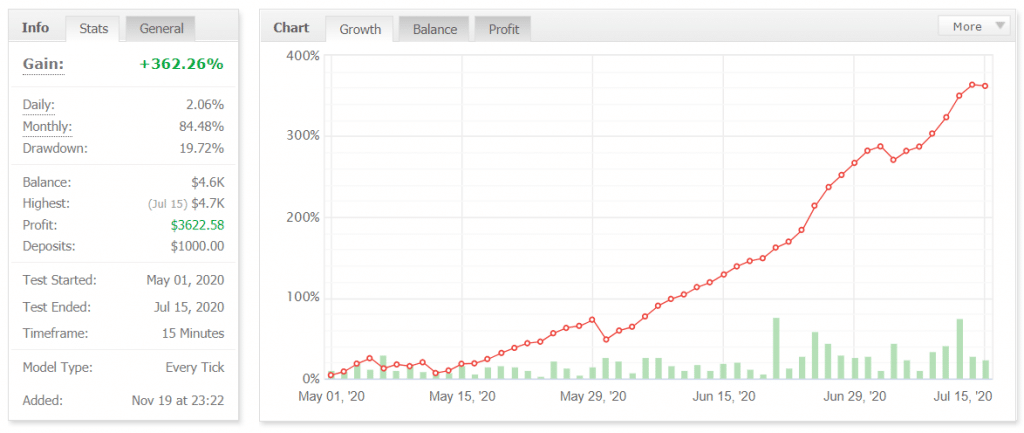 We've got a backtest EUR/USD. It's weird, right, because the devs said about other main symbols? The backtest was started on May 21, 2020. For almost two months, the robot provided +362.26% of the gain. An average monthly gain was +84.48%. The maximum drawdown was -19.72%.


It traded 179 deals with 662 pips. An average win (6.15 pips) was twice fewer than an average loss (-12.14 pips). The win-rate was 83% for Longs and 89% for Shorts. An average trade length was over three hours. The Profit Factor was 3.83.


The robot closed both directions equally by deals and profits.


The robot traded mostly during a European trading session.


The most active days were Monday and Friday.

The backtest was performed with high risks to the account balance.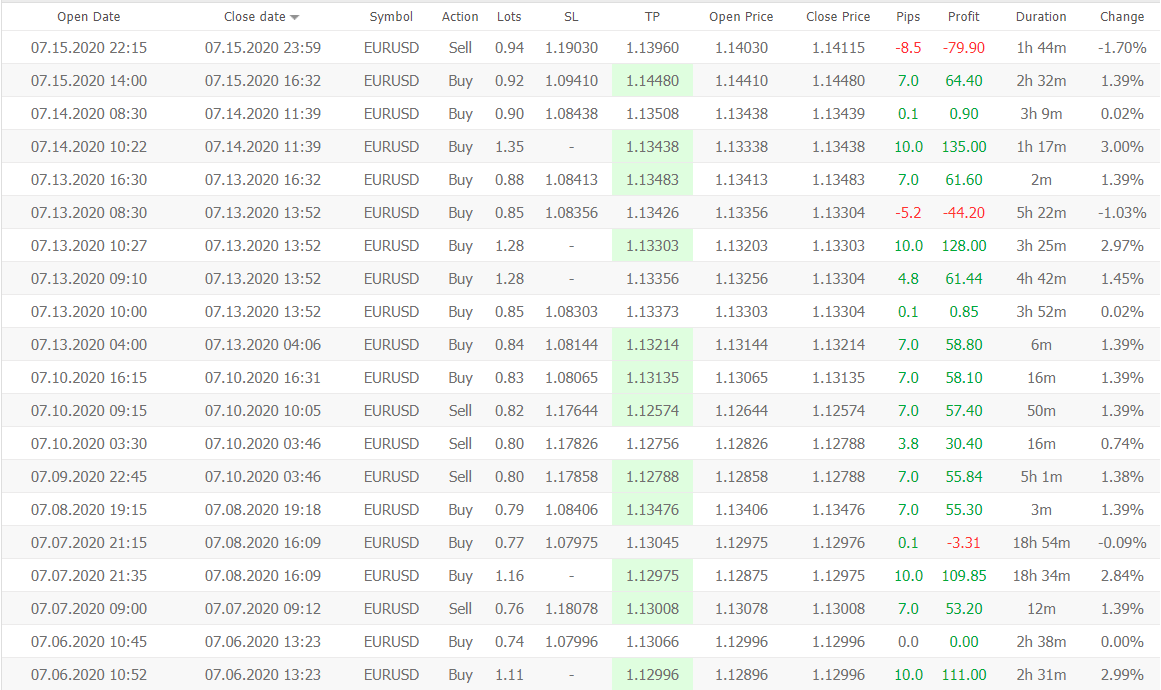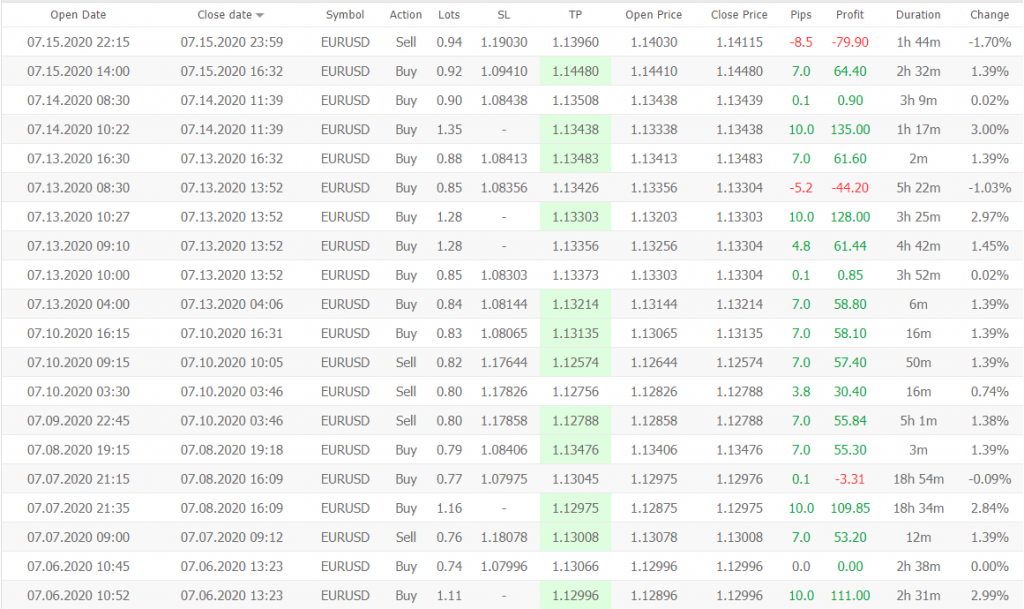 The robot used Hedging and Martingale in its trading activity.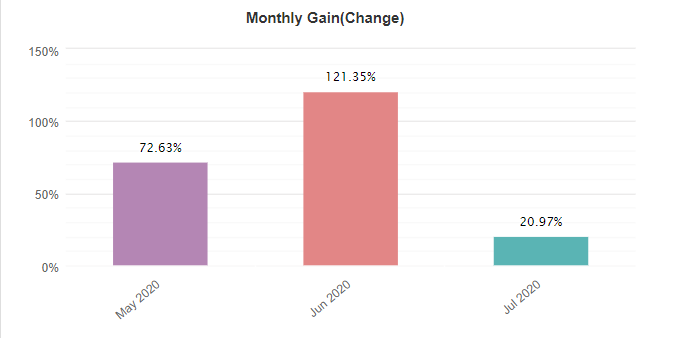 All three months were closed with profits.
Verified Trading Results of Progressive EA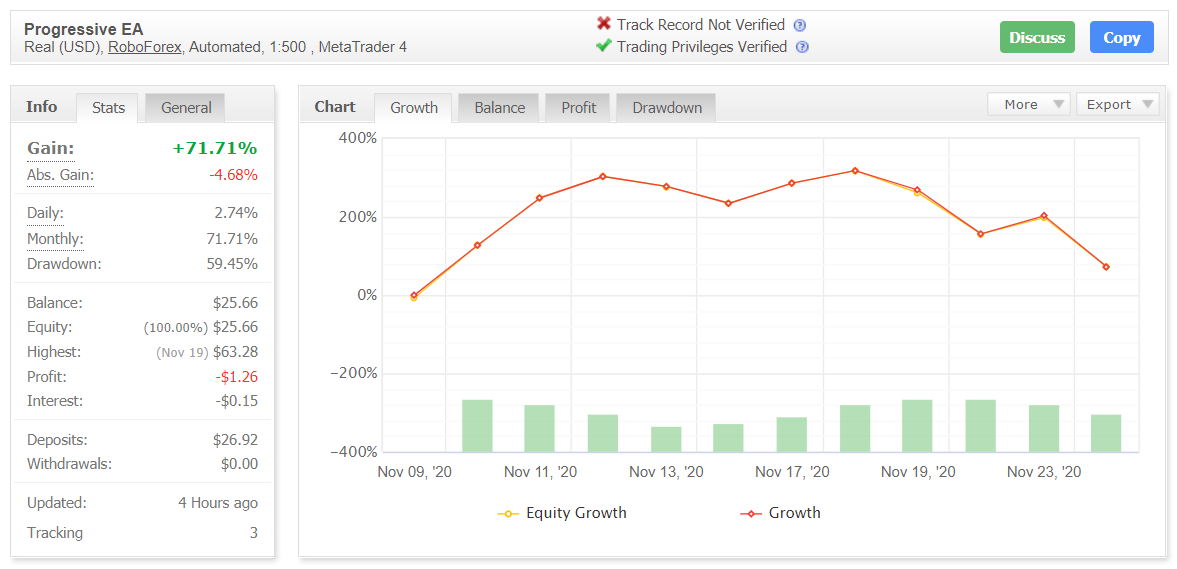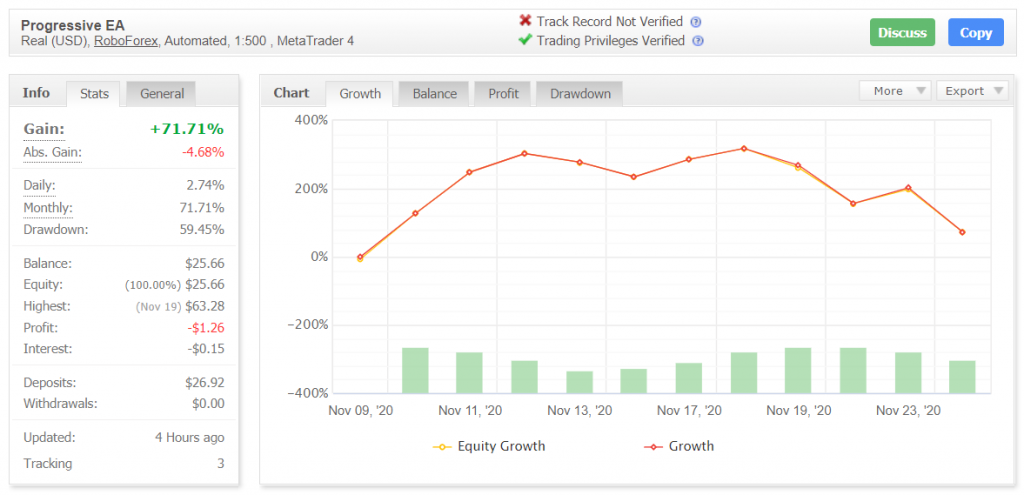 It's a real USD account of Progressive EA on the RoboForex broker. It trades automatically without using technical indicators. So, there can be Cost Averaging or Price Movement trading strategies. The robot trades with 1:500 leverage on the MT4 platform. The Track Record of this account is Not Verified. The account was created in this month on November 09, 2020. The minimum deposit was only $26.92. It tells much about the developers. An absolute gain is +71.71%. The maximum drawdown was insane – 59.45%.


The EA closed 138 deals with only 87.9 pips. An average win (8.87 pips) is almost twice fewer than an average loss (-15.83 pips). The win-rate varies so much depending on the direction. For Longs one, it is 73%. For Shorts direction, it is only 55%. An average trade length is over one hour. The Profit Factor is 0.99.


As we can see, there's no stable performance at all. The robot can't trade backtested EUR/USD. There's something wrong with a strategy design.


The EA trades monthly during a European session.


Tuesday, Wednesday, and Thursday are three days of the most frequent trading.


The risk of ruin is 99.99% because no free margin is left.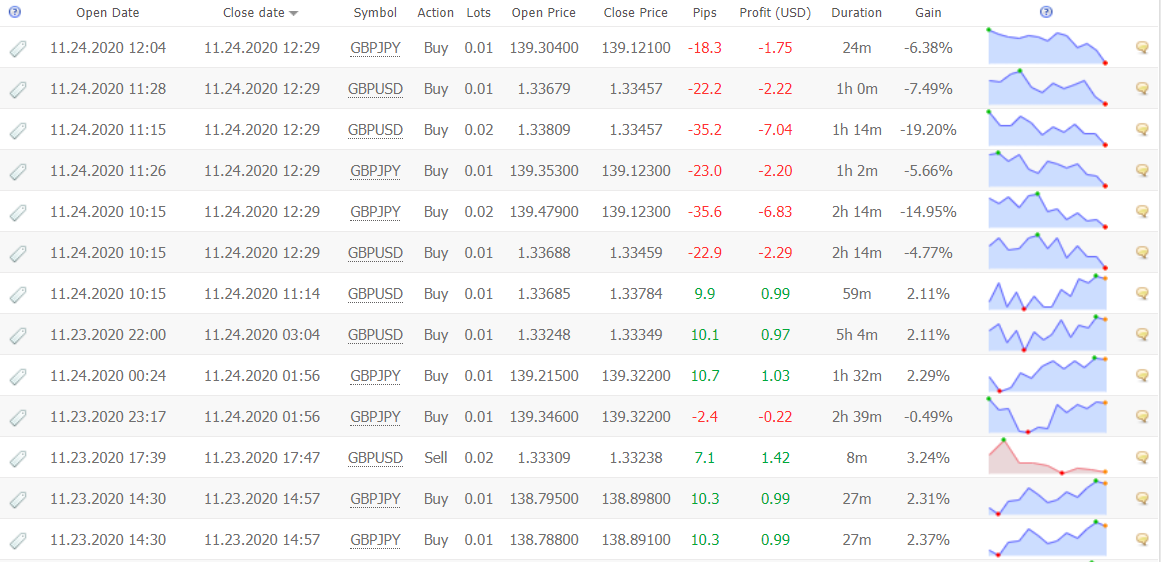 The last deals were stopped by the broker because of reaching the Stop Out level.
People's feedback


There's no onsite feedback. We've found a page on Forex Peace Army with connected trading results. Alas, there are no comments at all.
Other notes

An Instagram page has neither followers nor posts.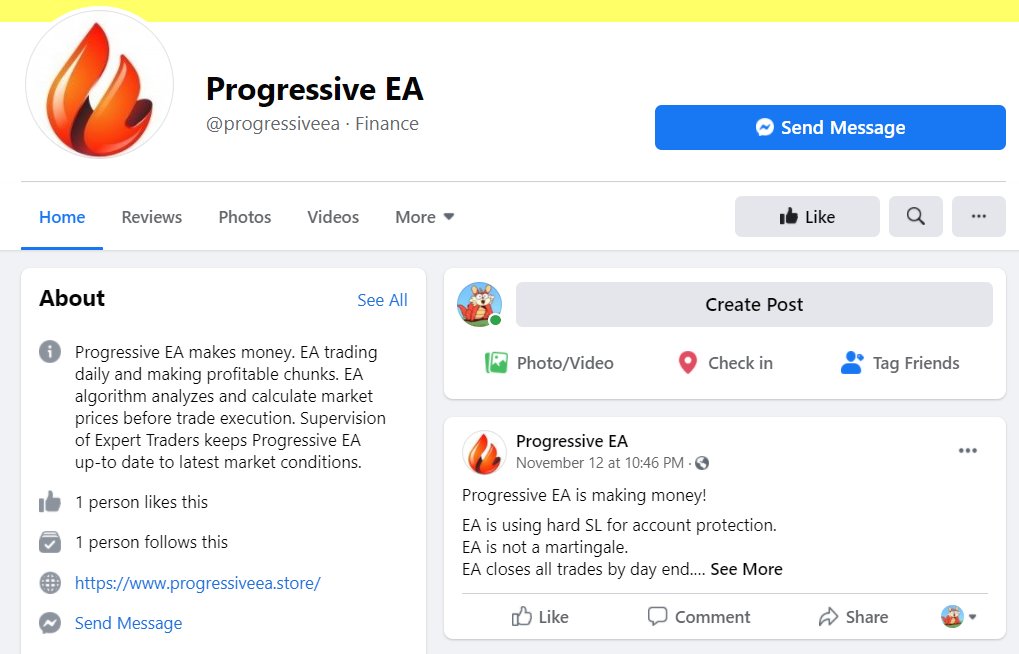 FB's page is not much better. There's only one like and follower.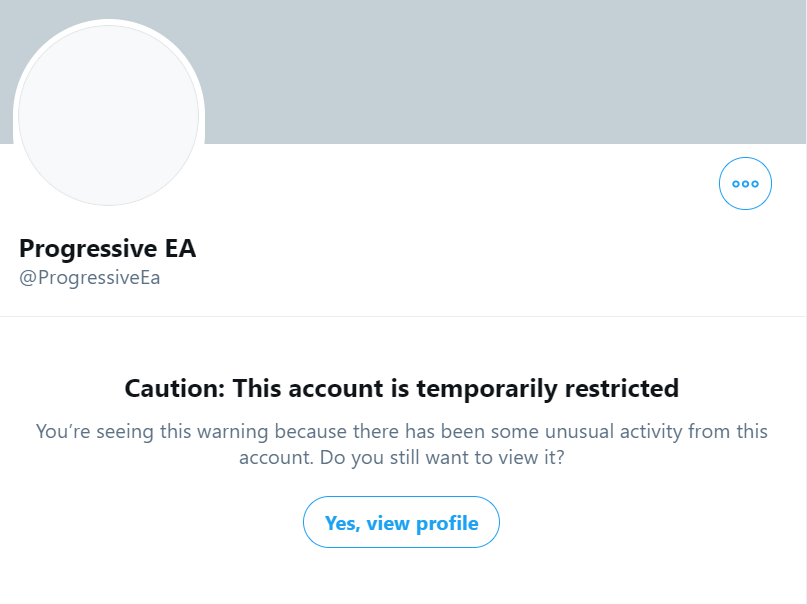 The Twitter account got restricted after some suspicious activities.
Is Progressive EA a viable option?
No, it's not. The robot couldn't show that it can be consistently profitable.
Conclusion
Progressive EA is a scam. First, the presentation looks unprofessional. We still have a lack of info about strategy, settings, features, money-management, symbols, and so on. Second, the robot couldn't show trading results that would impress us. It went worse, and the account has no margin to keep trading. The devs funded an account at the money that equals half an hour of the MQL5 developer's hourly rate, so they didn't worry about losing them. Last, there's no money-back guarantee because you have to pay through PayPal. It stays on the seller side when you have a case with digital services/product refunding.