R Factor EA is a Forex EA with a proprietary dynamic portfolio management system that is based on 4 years of rigorous development and 3 years of profitable outcomes in the live market. The vendor claims that the strategy has been tested thoroughly before being shared with the public. It promises to let you earn profits even during unfavorable market conditions while striving for continuous improvement.
On the MQL5 page of R Factor EA, the vendor has made a detailed presentation highlighting the points that make the system better than others when most people are suffering from losses in the Forex market. Some signal links have been provided, showing the live performance of the system, and the main characteristics have been outlined. In the comments section, the vendor has provided an explanation of software configuration and sets.
The creator of this system is Raphael Minato, a trader based in Brazil who has around 7 years of experience in Forex trading. Although he has published many signals concerning R Factor EA, we do not know if he has developed similar systems in the past, or whether he is a licensed trader.
Features
R Factor EA lets you trade in pairs like GBP/CAD, GBP/AUD, EUR/USD, EUR/SGD, CAD/CHF, GBP/CHF, USD/CAD, NZD/CHF, AUD/CHF, EUR/CHF, GBP/USD, USD/CHF, EUR/CAD, EUR/GBP, EUR/AUD, EUR/JPY, etc. For all the trades, R Factor EA employs dynamic take profit and defined stop loss, while handling one pair for each pair at a time.
The vendor mentions that R Factor EA does not use risky trading schemes like Martingale and Averaging, but does not reveal any further details about the trading strategy. So we don't know what kind of indicator this Forex EA uses for gauging the strength of the trend and for identifying profitable trading opportunities.
How to Start Trading With R Factor EA
R Factor EA is priced at $519, but you can also use the free demo version to test its performance before investing. Considering it's a new system that was launched on 9th January 2021, we think the price tag is quite high. Most Forex EAs available on the market are cheaper than this.
There is no money-back guarantee provided by the vendor, which means you just need to trust the system to generate profits for you. Many Forex traders would shy away from investing in a system that does not have a refund policy.
Backtests
Backtesting data is not available for R Factor EA, so we have no idea how the system would have performed on historical data. Seasoned Forex traders often look for backtesting data, because it reveals the sturdiness of the system, testing it against different market conditions. We hope the vendor decides to share the results in the future.
Verified Trading Results of R Factor EA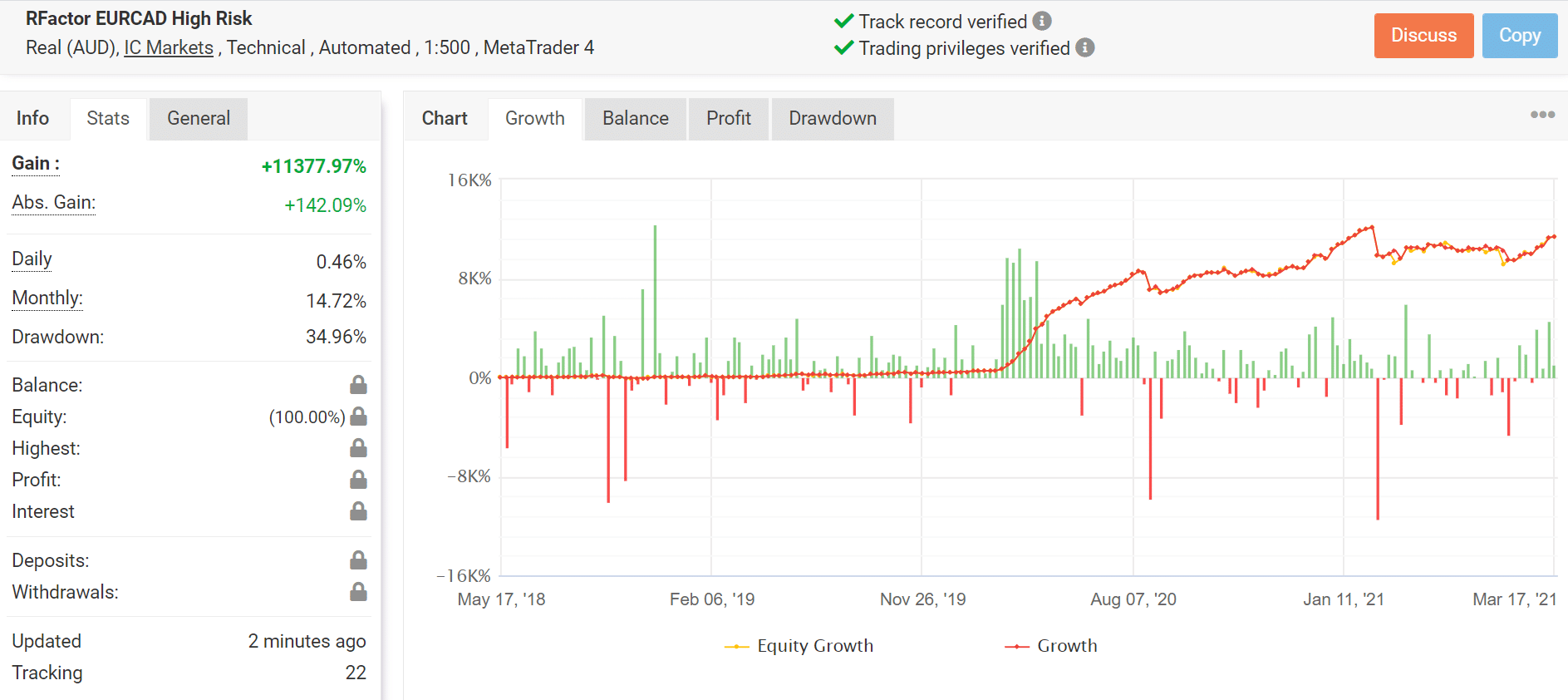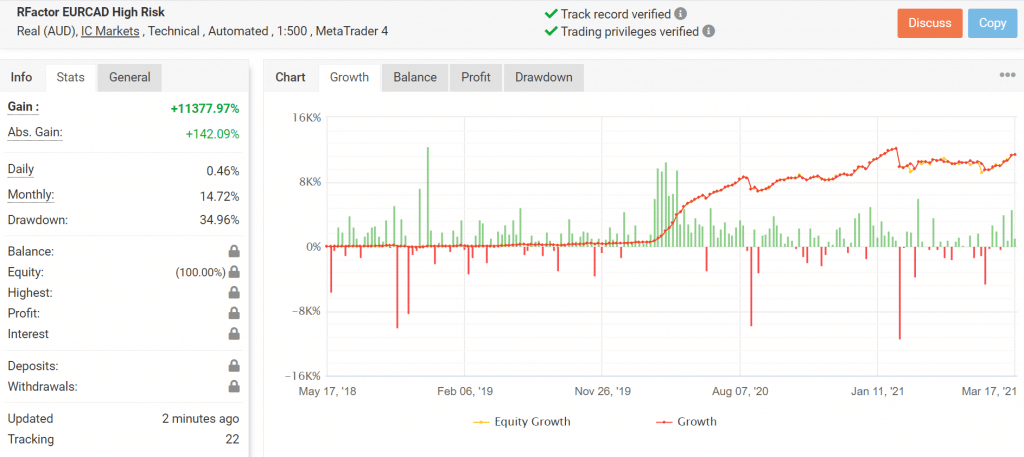 After searching on the Myfxbook website, we found a live trading account for R Factor EA that trades in the EUR/CAD pair with a high risk setting. Here, we can see that the vendor has chosen to conceal the trading history, as well as other parameters like withdrawals, deposits, interest, profit, balance, etc. After placing 2019 trades, the time-weighted return for this account stands at 11377.97%, while the absolute gain is 142.09%.
While the drawdown is slightly high at 34.96%, the daily and monthly gains of 0.46% and 14.72% are more than decent. This account has a win rate of 70%, having won 68% of long trades and 72% of short trades. It has a high profit factor of 2.12, which is a sign of a reliable and trustworthy Forex EA. Since no backtesting data is available, however, we cannot compare it with the live trading outcomes.
Customer Reviews
After going through several popular review websites like Trustpilot, Quora, Myfxbook, and Forexpeacearmy, we couldn't find a single user review for R Factor EA. On the MQL5 page, we can see a handful of positive user reviews, but since they are not verified by a third-party source, we cannot consider them genuine. The absence of user reviews tells us that R Factor EA has not managed to build a reputation for itself yet.
Is R Factor EA a Viable Option?
Advantages
Live trading results verified by Myfxbook
Disadvantages
Lack of information about trading strategy
No customer reviews
High price tag for a new product
Summary
We would like to conclude by saying that R Factor EA is simply not worth your hard-earned money. Yes, there are live trading results available for this Forex EA that show decent profits being made, but there is a dearth of information about the robot that you cannot ignore.
The vendor does not explain the trading strategy clearly, nor does he provide us with the backtesting data. Furthermore, it is quite an expensive system to purchase, considering the short trading history.
Would you like to try out trading with an Expert Advisor?
Learn more about the best forex robots.