RevenueBot has a total of 11467 trading robots that can work on multiple exchanges using API keys. Traders can use the marketplace to sell and purchase ready-made algorithms. Volatility indicators and signals are made available alongside the time filters to help participants with their trading. While the offerings seem enticing, we will verify them in our review to see if the platform is suitable for long and short-term investments.
Would you like to try out trading with an Expert Advisor?
How does this crypto bot work?
RevenueBot is an online trading platform that hosts multiple crypto trading bots. Traders can select one of the algorithms and connect it to their exchange for automated trading.
Getting started with RevenueBot
The website states that investors can start with the algorithm in six steps:
Sign up on the platform
Choose an exchange and pair
Create and add the API key
Select the total funds and wallet
Choose your trading robot
Start the algorithm
Company information
The developers of RevenueBot are not willing to provide information on their names and market experience. They only share their location as A-5802-66, Flamingo Villas Ajman, UAE.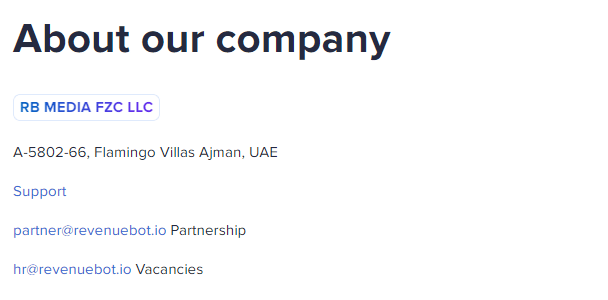 Features of RevenueBot
RevenueBot comes with the following mentioned features:
24/7 cloud trading
Participants do not need to download the platform as all the trading activities are carried out in a cloud-based network.
Time filter
It is possible to implement a time filter to avoid trading during uncertain market conditions.
No coding skills
There is no requirement to learn complex Python or other coding languages. Prebuilt algorithms are available on the marketplace.
Strategies of RevenueBot
RevenueBot has long and short algorithms that can use the dollar-cost averaging strategies. Volatility indicators and filters are included alongside trailing stop functions to help with trading.
Pricing, fees, and commissions
The platform deducts 20% commission from the profits. The total amount does not exceed $50 during a single trading month.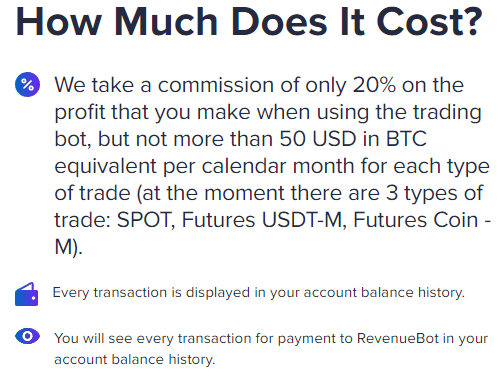 Deposit requirements
The developers recommend that traders have at least $300 to $400 in their accounts. The minimum deposit can vary depending on the no of grid orders that you plan to use.

What exchanges does RevenueBot support?
RevenueBot currently supports the following exchanges:
Binance
Bitfinex
Bitget
Huobi
ByBit
Gate.io
Bittrex
CEX.IO
EXMO
FTX
HitBTC
Kraken
Kucoin
OKEX
Poloniex
What languages does RevenueBot support in their product?
Unfortunately, the website is only available in English and Russian as of now. This shows that the developers are not keen on providing worldwide support.
Can you really make money with this bot?
Averaging systems are only useful when the markets are ranging. During a strong trend, it is possible that you may receive a margin call on your account or suffer a big drawdown. This can be mentally exhausting for many traders.
Advantages of RevenueBot
Multiple exchange integration
User-friendly interface
Disadvantages of RevenueBot
No backtesting or live records are public
Supports averaging strategies, which can be risky
Little to no transparency on developers
Customer support
RevenueBot only provides customer support via an online form. No live chat or telephone number available could aid users in getting answers to their inquiries.
Who is the RevenueBot suitable for?
RevenueBot is best suitable for traders who have a slight knowledge of markets. Many copy trading portfolios are available, which suit beginner traders.
RevenueBot summary: is it worth going for it?
The platform lacks proper information on multiple topics, which could help novice and amateur traders easily set up their portfolios. The monthly fee of $50 is high for portfolios with small capital. There is no transparency on the developers, adding fuel to the fire.
Features: 4/10
Ease of Use: 5/10
Fees: 6/10
Support: 2/10
Price: 4/10
Payment methods: 7/10
Would you like to try out trading with an Expert Advisor?