About
Signal Start promotes itself as a professional one-stop-shop signal providing service. It is a platform that is looking for both signal providers and signal followers. It allows you to set up complete service as a signal provider. As a signal follower, you may benefit from copying the provider's signals. It allows you to copy trades from any forex account (using the different platforms) instantly.
Signal Start is a complete solution for forex signals. Signal followers do not need to keep their trading platform open all the time. It is intuitive and simple to use as the signal connection process is almost automatic. On the other hand signal providers do not need to search for clients as all the promotion is conducted by the platform. It also cares about support so everything that you should do is trading (providing the signals). You will set the fee and if your signal is profitable enough to attract many followers you will see your income to grow.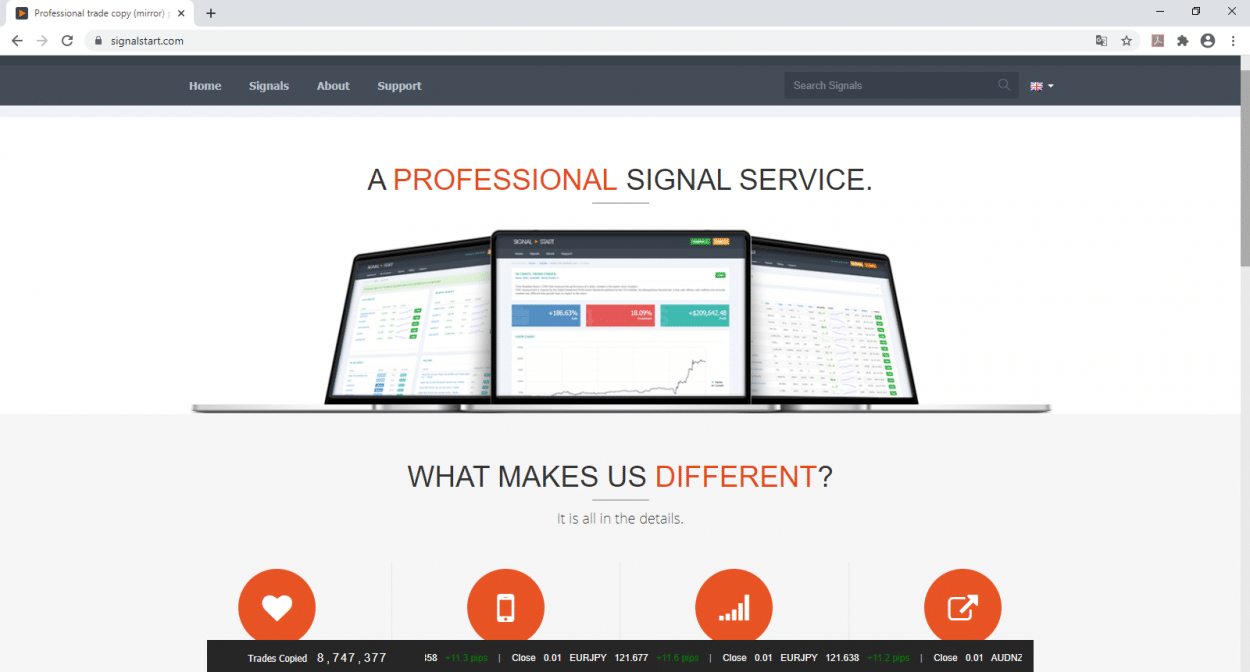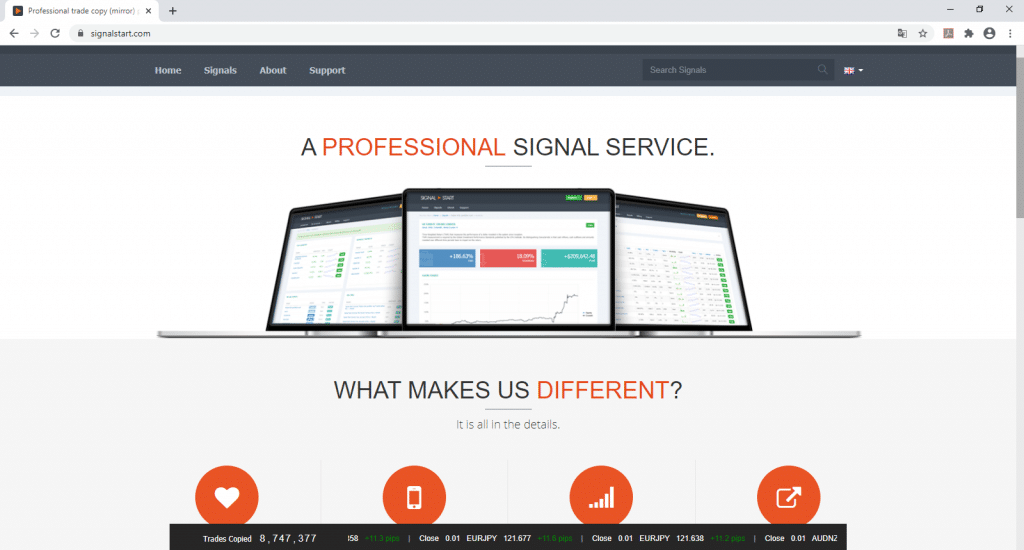 Pricing
To access the platform both signal providers and signal followers have to pay a monthly subscription fee of $25. To follow the signal you will have to pay an additional signal fee, its average price is between $50 and $75. As a signal provider, you will have to pay an additional 30% of your subscription earnings. It is important to know that you will be able to withdraw your earnings 60 days after the payment. The platform also offers a weekly trial membership for $1. Payments are accepted via credit cards and other standard payment processors.
Signals service
As a signal follower, you may choose from one of 39 (at the time of writing this article) available signals. The signals are ranked by platforms proprietary formula. For every signal, you may see its absolute gain, gain in pips, drawdown, the total number of trades, monthly gains, account type (demo or real), price, and date when it was added to the platform in the table. These parameters can be filtered and sorted. If you click on the signal name you will get more detailed data about the signal. You may see what broker the provider is using, what is the account leverage, what is the win percentage, what instruments are being traded. You may also see the open trades and complete trading history. Many of these accounts are connected to MyFxBook service, so all data is certainly reliable. Many parameters are shown in separate charts and as a follower, you can get a complete picture of what you can expect from every given signal.
Signal Start offers 24/5 customer support that is available only via email. Many users are saying that its quality is poor. The platform has 9 reviews on the Forex Peace Army that overall give a modest rating of 2.38 stars. After researching the Internet I found many bad reviews and only one positive. Well, it is something to think about. Many negative reviews are about platform unprofessional practices, as the signals have not been copied correctly. Some complaints tell us that the profitable trades ended up with a loss on the followers' accounts. Well, it is a huge blow to the service.

Verdict
So, Signal Start is a forex signal service that you can join as follower and as provider for a monthly subscription fee. Signal followers should consider using this service since it provides complete and honest statistics about every signal providing account. Moreover, many of these accounts are connected to MyFxBook service which is additional proof of the signal reliability. On the other hand, many bad reviews that can be read over the Internet tells that the service is not correctly copying the provider's signal so it should be used with extreme caution. This is the main reason why I cannot recommend the service. If you are a signal provider I would not recommend this service because it is expensive as it charges access fee and it takes a relatively high percent of your subscription earnings. Moreover, it is withholding your earnings for 60 days. So, as a signal provider, you should look somewhere else. Therefore, it is obvious that the service will not attract the best signal providers and it is the fact that the signal followers should take into account.