Promising traders of generating up to 35% monthly revenue, Trade Explorer is one of the products from the LeapFx team.
Would you like to try out trading with an Expert Advisor?
This automated MT4 compatible system can trade on 27 currency pairs. Boasting several verified accounts, this Forex robot system assures nearly 1000% earnings in a span of a few years.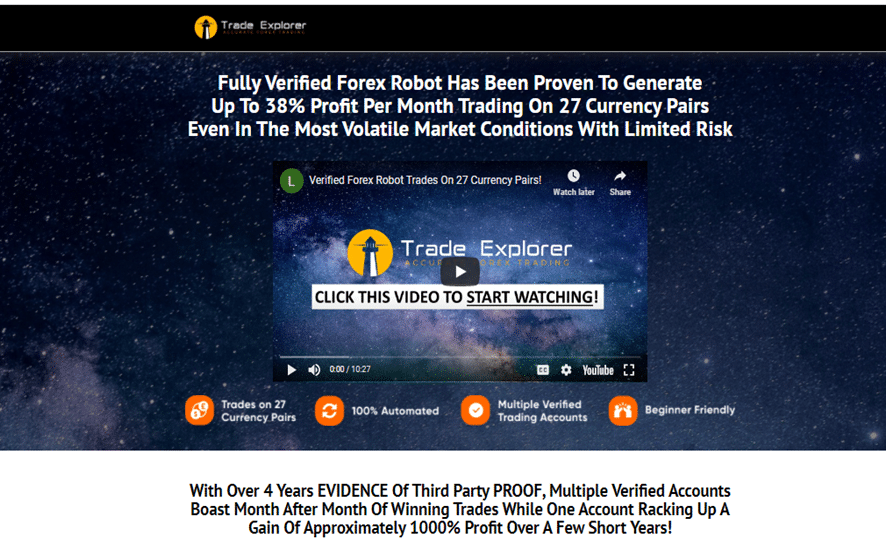 LeapFx group has many other products related to Forex trading such as Bounce trader. The website does not provide any details related to the team behind the Trade Explorer. Are the claims of this automated system true? Is it worth investing your hard-earned money? Read our detailed review to find out.
Features
This expert advisor is 100% automated and is set to work on 27 currency pairs to generate rapid revenue chances for traders. The vendor informs that the system monitors market trends and price action without placing much importance on the market noise and sharp price movements.
By the way of features, we could not find much except that all the settings, brokers, lot sizes, and other requirements are taken care of by the inbuilt system. Most of the information on the site is just marketing lingo and not related to the features of the system or the strategy.
We would have liked to know about the strategy used and how the high results claimed by the vendor are achieved through it.
How to Start Trading With Trade Explorer
With the one-year license costing $397 and lifetime membership costing $697, this Forex robot is a very expensive one.
Both packages have similar features including the software, automatic inbuilt best settings, free lifetime updates, customer support, best recommendations, and a money-back guarantee, the difference is the duration of the membership.
When compared to other competitor expert advisors in the market, this is highly expensive. An average trader will find this amount too expensive even with the money-back guarantee of 30 days provided by the vendor.
Backtests
We are disappointed that this vendor does not provide backtests. Although the performance from historical data cannot guarantee a similar result in the future, the testing helps to know more about the trading software, its strategy, and how it is performing. The absence of backtests is a shortcoming that could be rectified by the vendor to give more credence to the claims of high profits with this system.
Verified Trading Results of Trade Explorer
Many trading account results verified by the Myfxbook site are provided by the vendor. But only a few of them work. We analyzed one of the working real accounts shown in the screenshot below.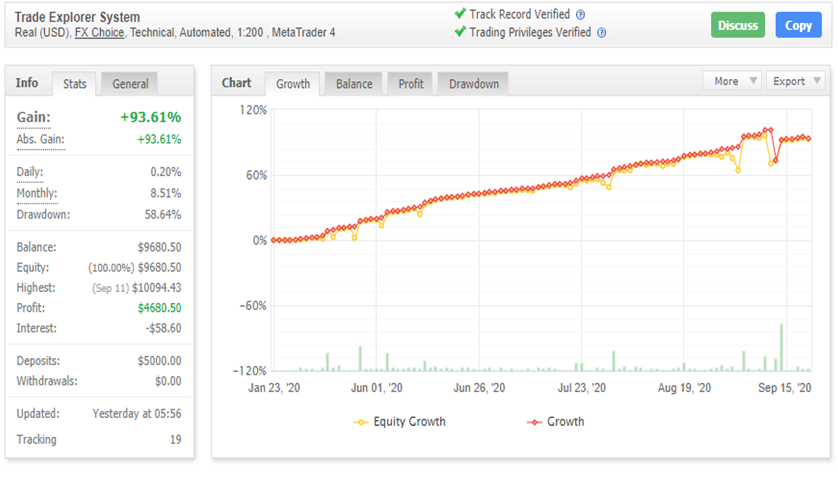 Both the gain and absolute gain are shown as 93.61% with the daily and monthly gains being 0.20% and 8.51% respectively. A drawdown of 58.64% is shown which is too high and unacceptable. High drawdowns indicate poor performance of the system and one that is more than 50% reveals that the account was in danger of losing more than half of its value at a time.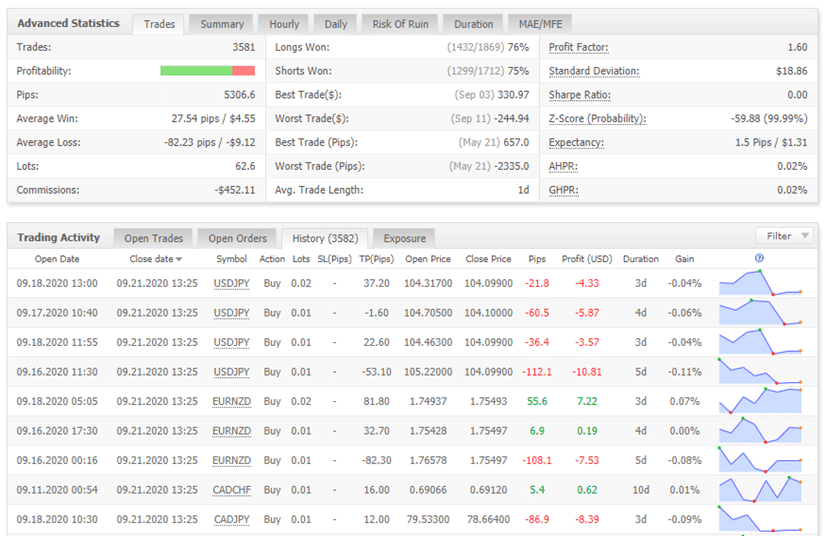 A total of 3581 trades have been executed with this account with the average win coming at 27.54 pips and average loss at 82.23 pips. The profit factor is 1.60. In nearly 12 months, the number of trades executed is very high and that with the average trade length being 1 day.
Customer Reviews
We could not find any feedback from users for this Forex robot. Despite the LeapFX team being in the market for a long time, the lack of genuine user reviews is surprising and also makes us suspect that the performance shown is not authentic. This may be the reason for the lack of reviews on reputed sites like Trustpilot and others.
Is Trade Explorer A Viable Option?
From what we have analyzed, we do not consider this system to be a viable one. The shortcomings outweigh the advantages of this software. Here are a few pros and cons of this expert advisor in a nutshell.
Advantages
Verified trading results
Money-back guarantee
Disadvantages
Strategy and time frame are undisclosed
Expensive
No user feedbacks
Summary
Summing up our Trade Explorer review, this system has several flaws that prevent it from being a suitable option. For starters, vendor transparency is lacking in this system. We were unable to find out the strategy used, which is important to evaluate the effectiveness of a Forex robot. Backtesting results are also not revealed by the creator. Strategy tests would have helped us learn more about the strategy used.
Furthermore, from the verified results we could see a high drawdown. Such high values indicate another shortcoming in this automated trading software. While LeapFX backing is a strong feature, it does not distract from the fact that there is a lot of work to be done in this system to make it more acceptable. For now, we would not recommend this system.
Would you like to try out trading with an Expert Advisor?