Today's review will be about Waw Forex Signals. It's introduced as a 100% hands-free system. The presentation looks semi-professional because we couldn't find trading results or gained pips information. We know completely little about the developers and the team behind these signals. This fact decreases the level of transparency significantly because no one wants to use signals from these analysts.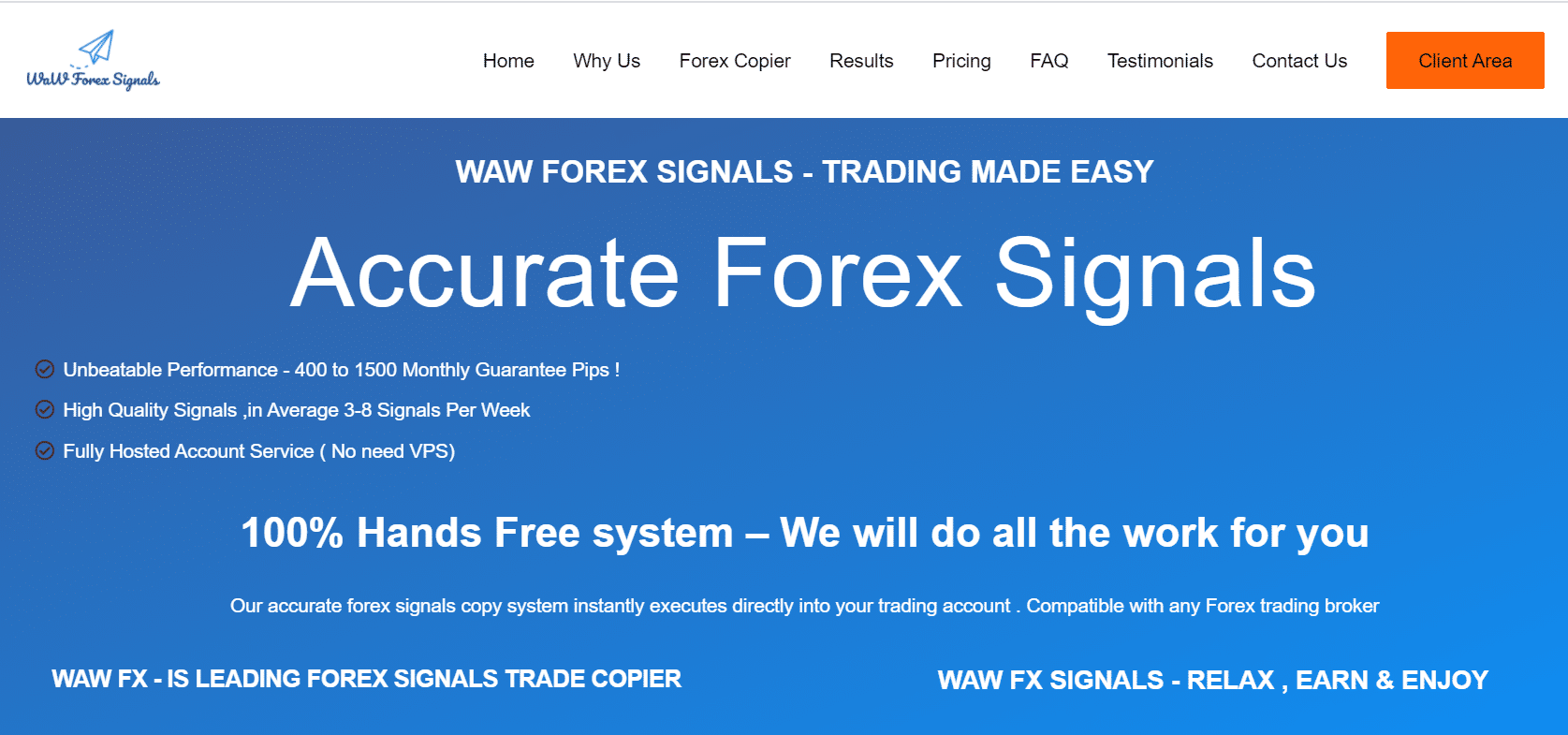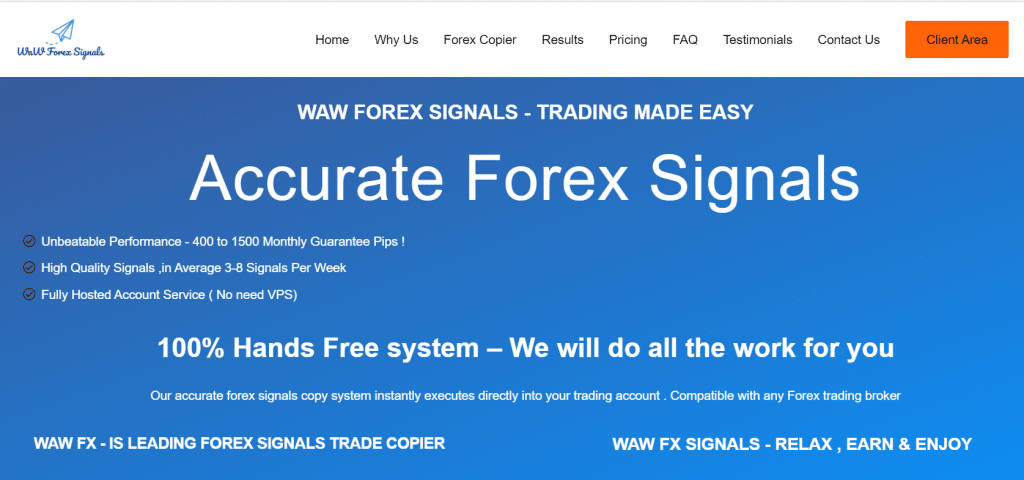 Features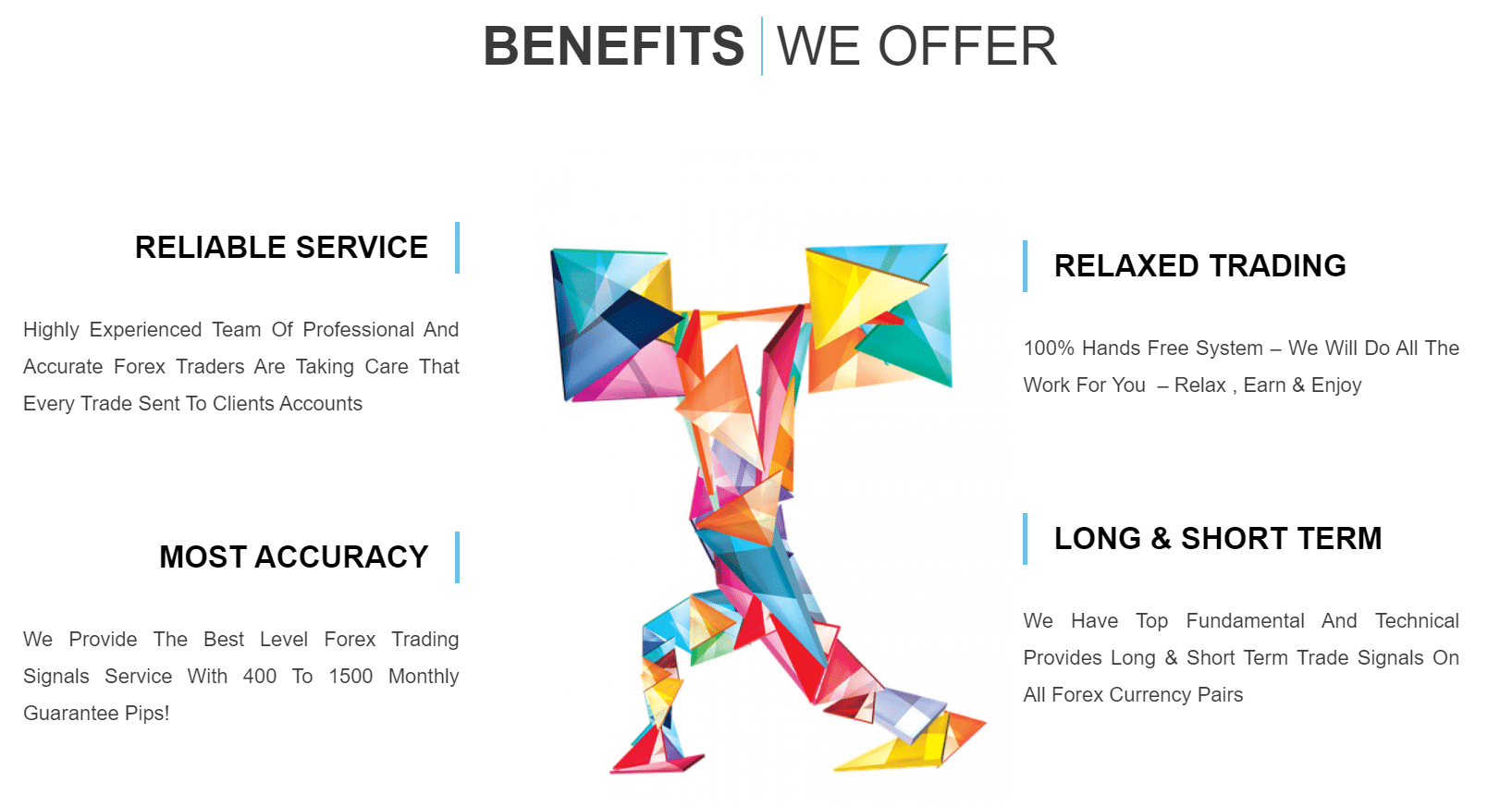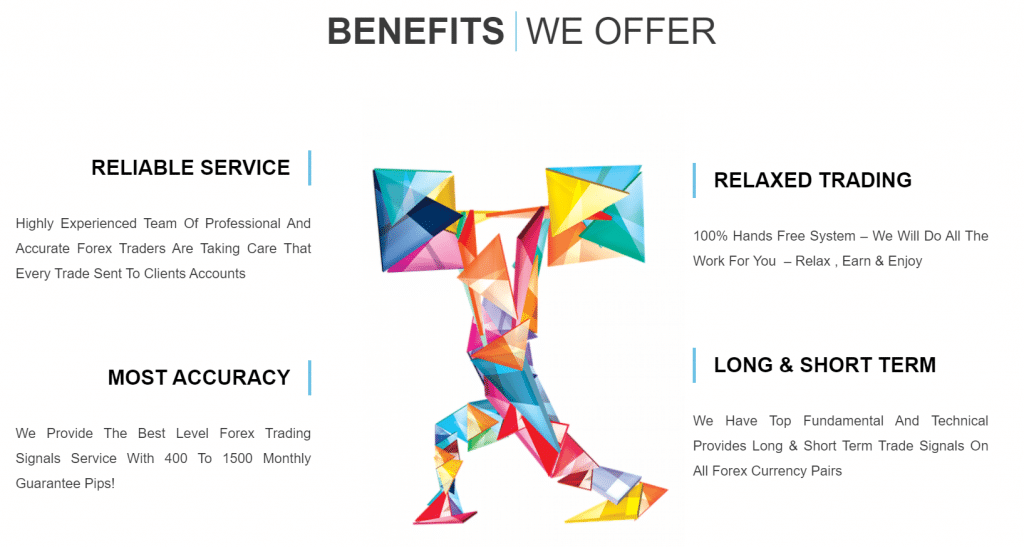 We can expect to get 400-1500 pips monthly trading these signals.
An average signal frequency is very 3-8 signals weekly. It's little as for a paid service. Many services provide 3-5 signals for free.
We can be hosted on their servers, so we don't need to pay for VPS.
Copy-trading software works automatically without the need for people interactions.
The vendor notices that signals are generated by a trader.
The signals are delivered for all currency pairs.
The company has a team of analysts and traders who open these trades manually.
Copy-trading only copies deals – we can adjust risks manually.
The system allows trading on 4 and 5-digit brokers and all terminals: MT4, MT5, cTrader, and FXCM & LMAX,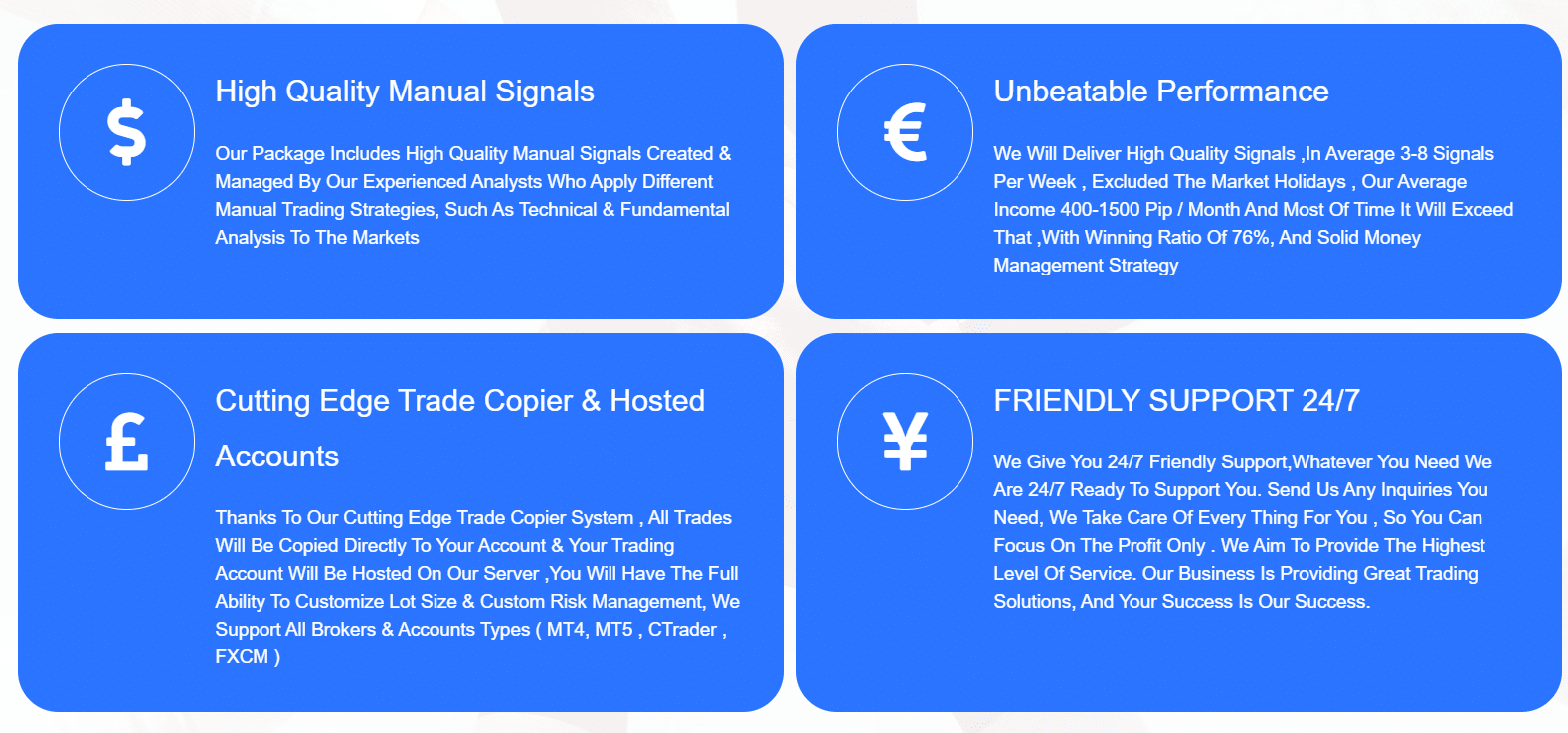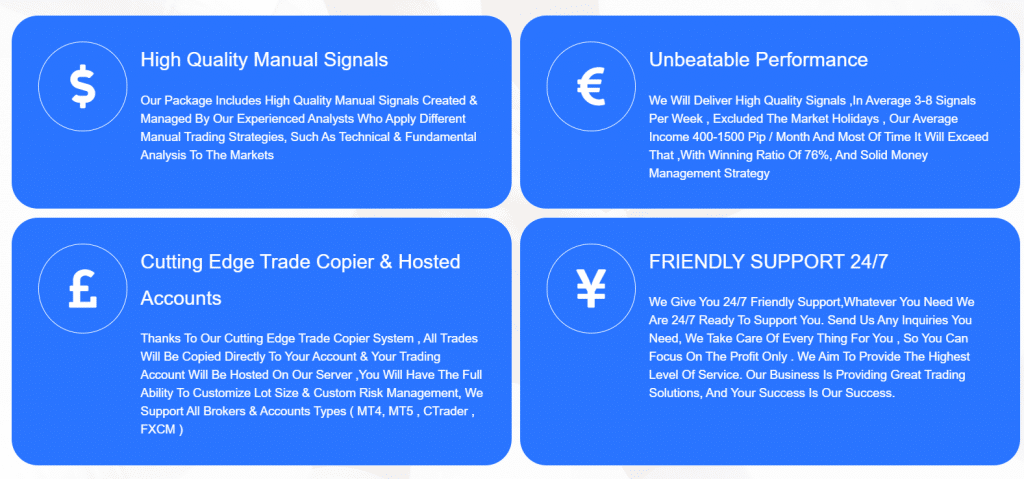 We can expect that the average win-rate will be 76%.
The company has welcome and knowledgeable support.
How to start trading with Waw Forex Signals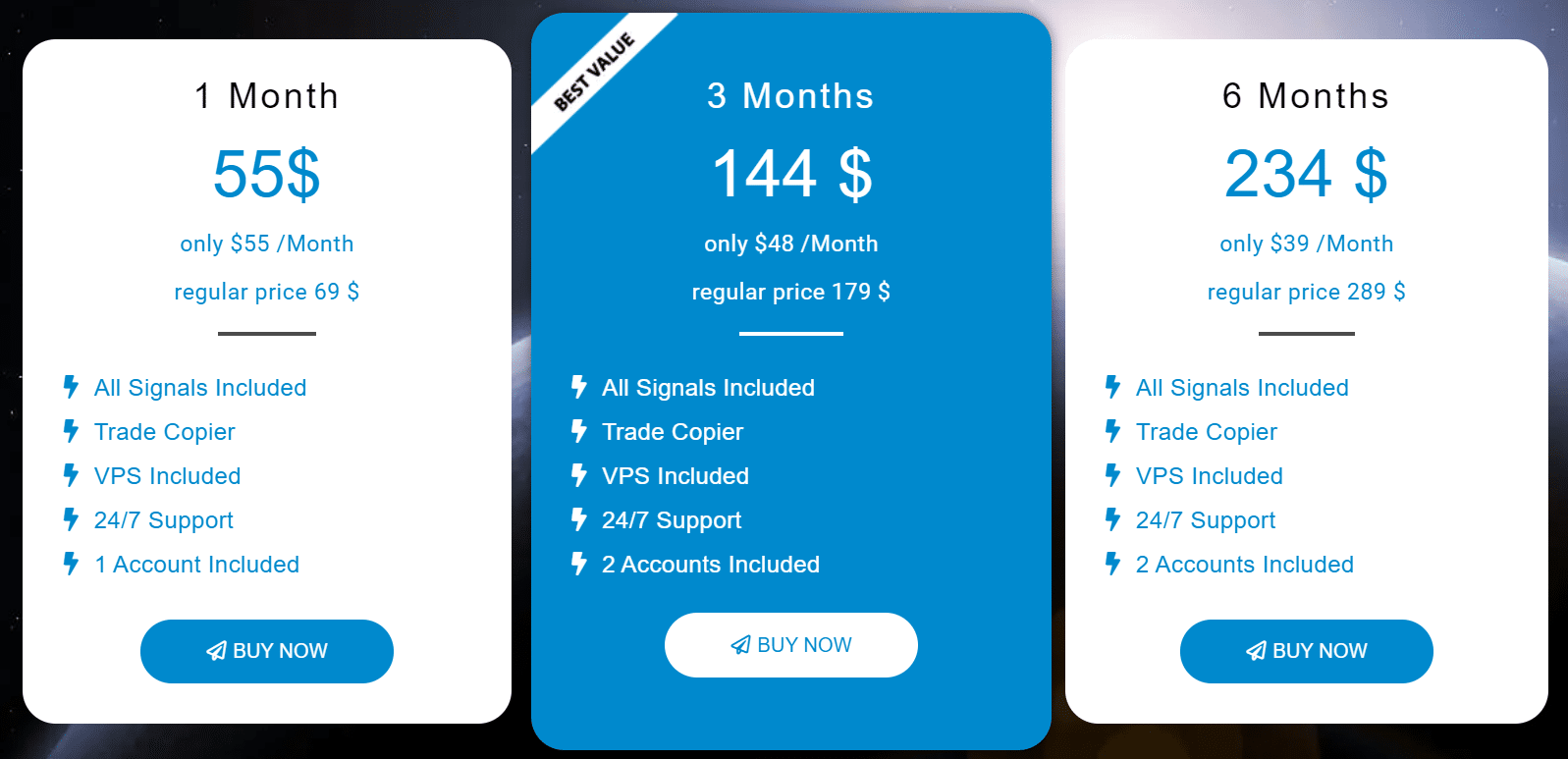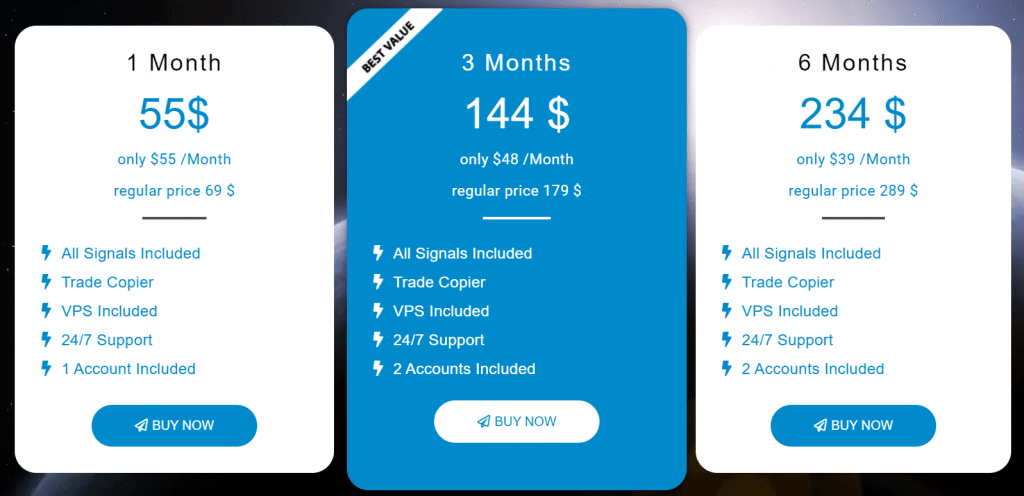 We have three packages on the board.
The monthly subscription costs $55 (regular price $69). We can copy trade only on one account.
The three-month subscription costs $144 ($179 was the original price). We can copy on two accounts.
The half-a-year pack costs $234 with $55 OFF.
All packs are featured by copy-trading software, VPS service, 24/7, welcome, and knowledgeable support, and two accounts for the last two packs.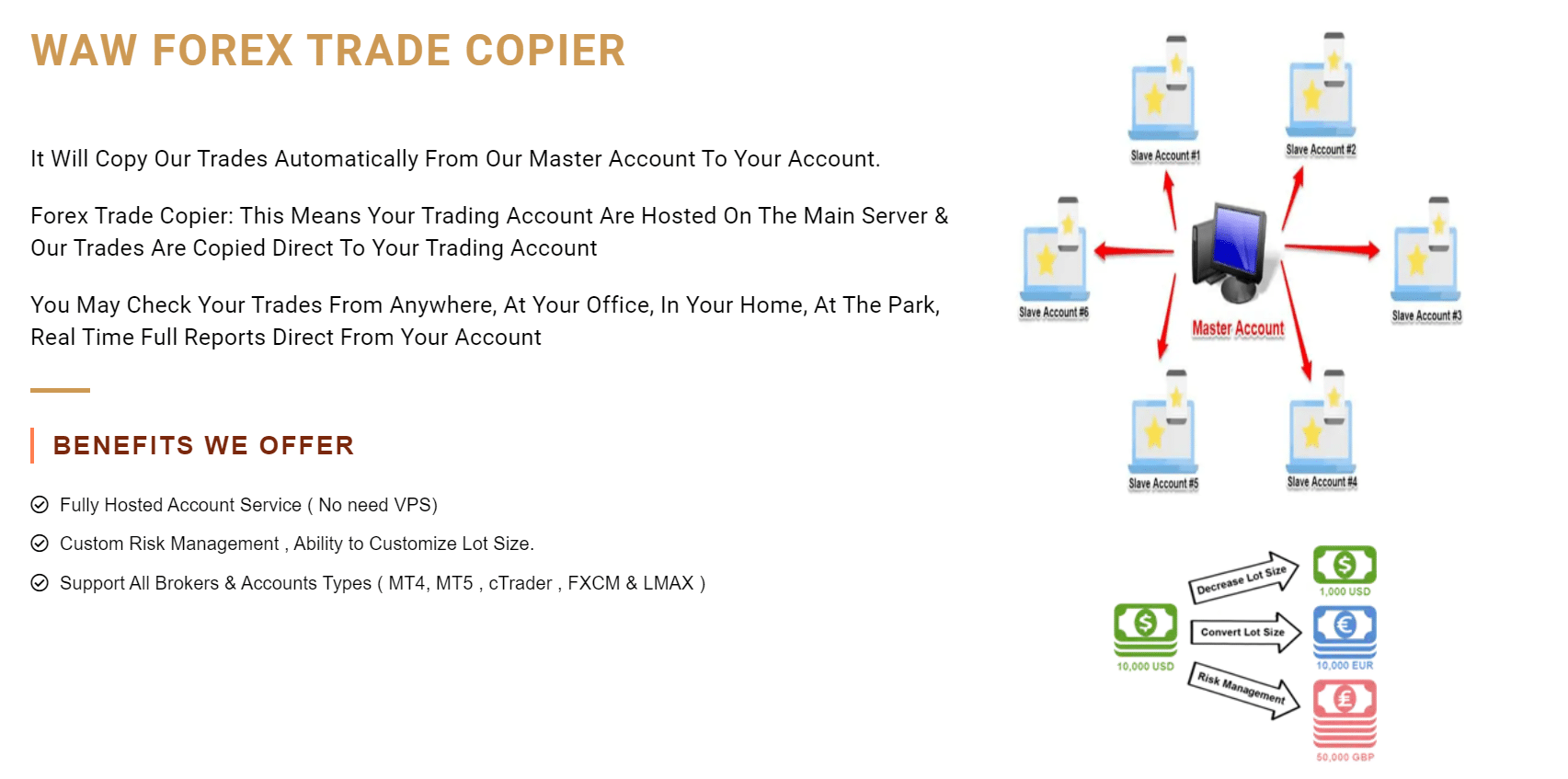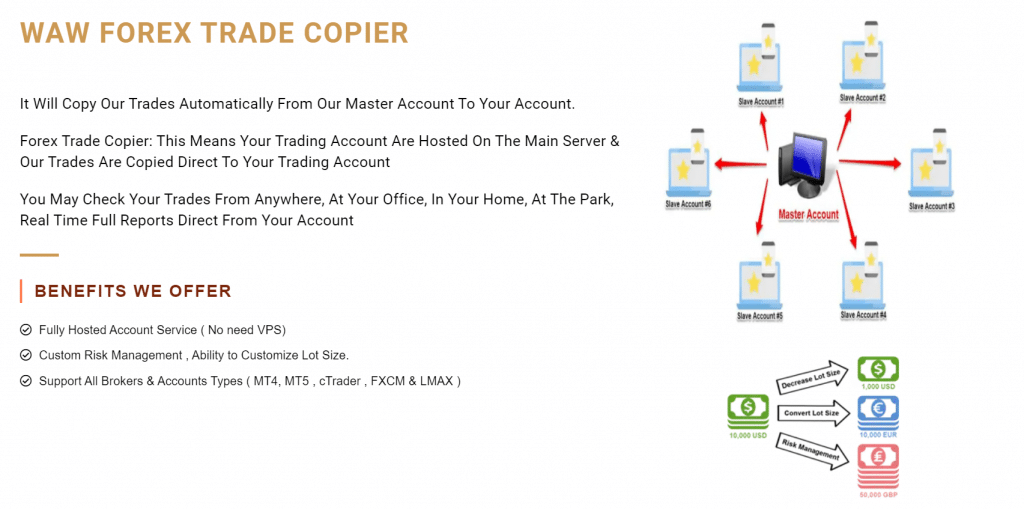 The vendor provides a scheme for how everything works. Copy-trading allows us to customize our Lot Sizes, whatever we want to fit our risk.
Backtests
The developers didn't provide backtests. It means, most likely, that they haven't designed this EA on their own. Why is the EA? If there were real traders or analysts, they would be running one or several real accounts each. So, there'd be many links on myfxbook trading results.
Verified Trading Results of Waw Forex Signals
We have no sign of Waw Forex Signals trading results. They decided to not provide trading results at all. It's a bad move. It doesn't allow us to know what symbols are more profitable, what win-rate and profit factor each of them has, what sizes and period of drawdowns, and, of course, if these signals are profitable in general.
People feedback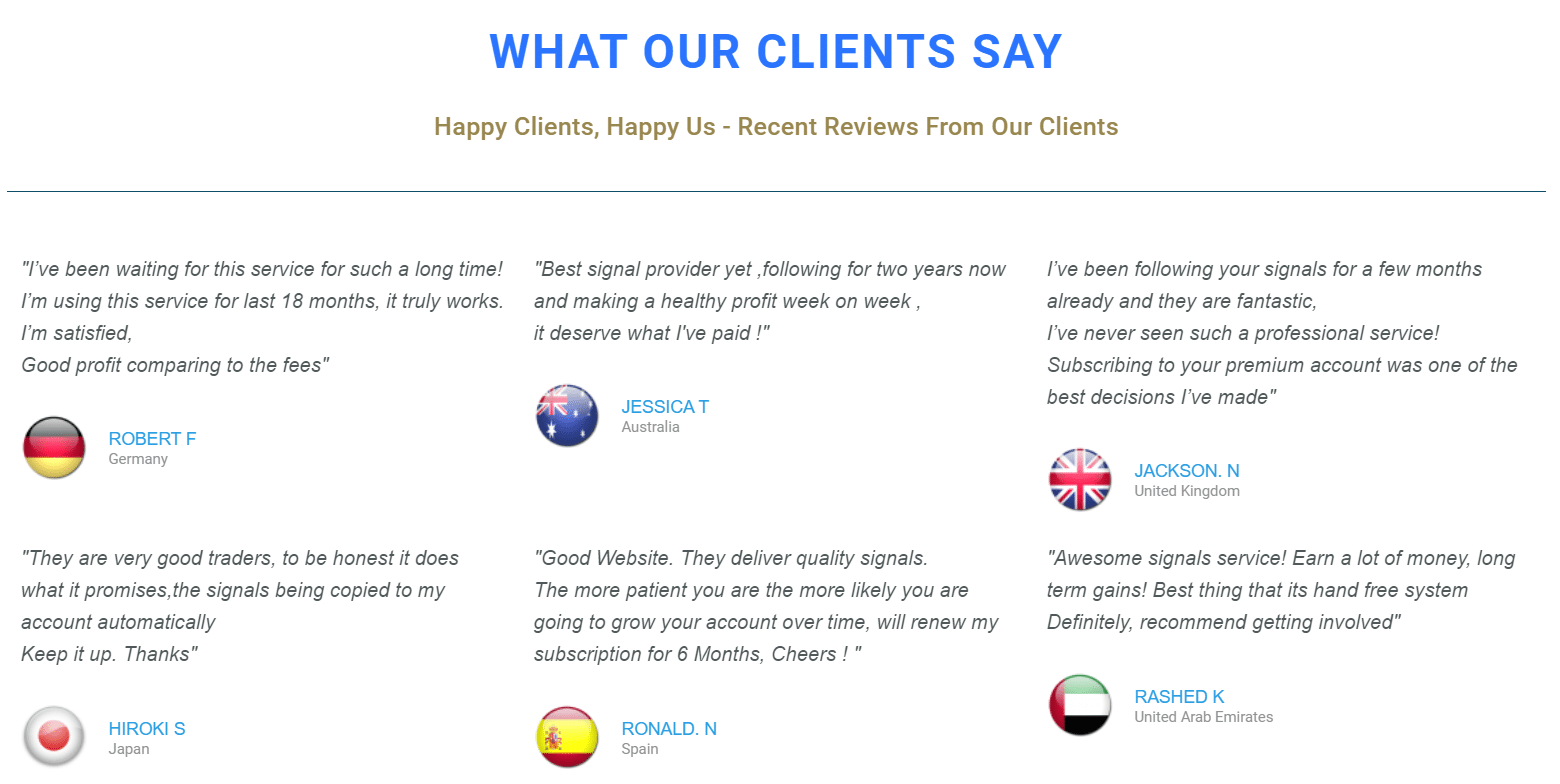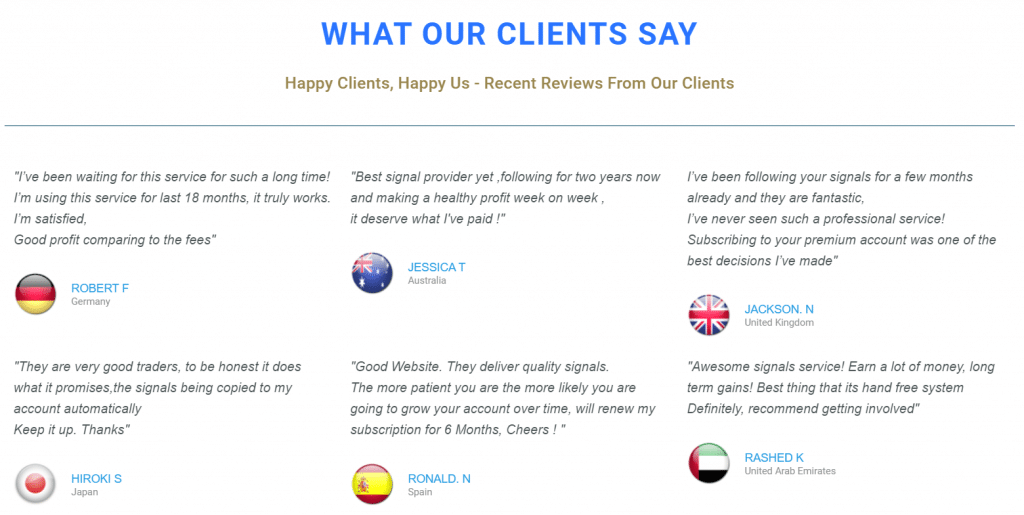 We have testimonials only on-site. They're even not screenshots of feedback from email or Trustpilot, Forex Peace Army, and MQL5.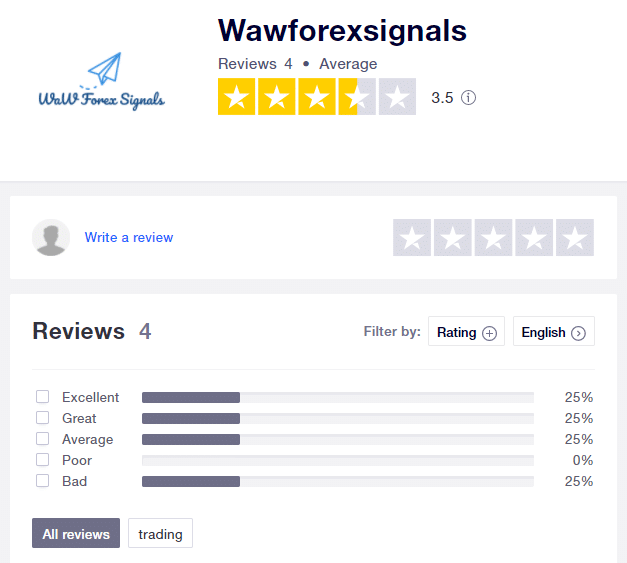 As we can see from Trustpilot, there are only two positive comments.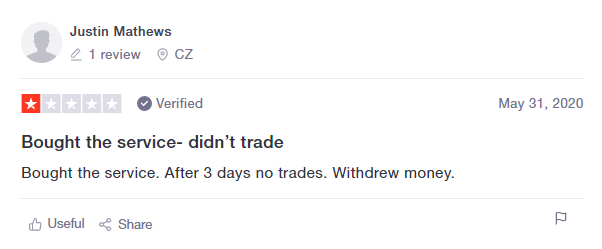 As we can see, the developers couldn't support the trading frequency they said about.
Other notes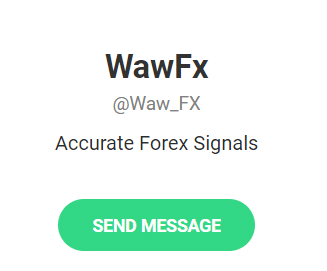 We can ask for a question in Telegram, but there's no channel to communicate with others.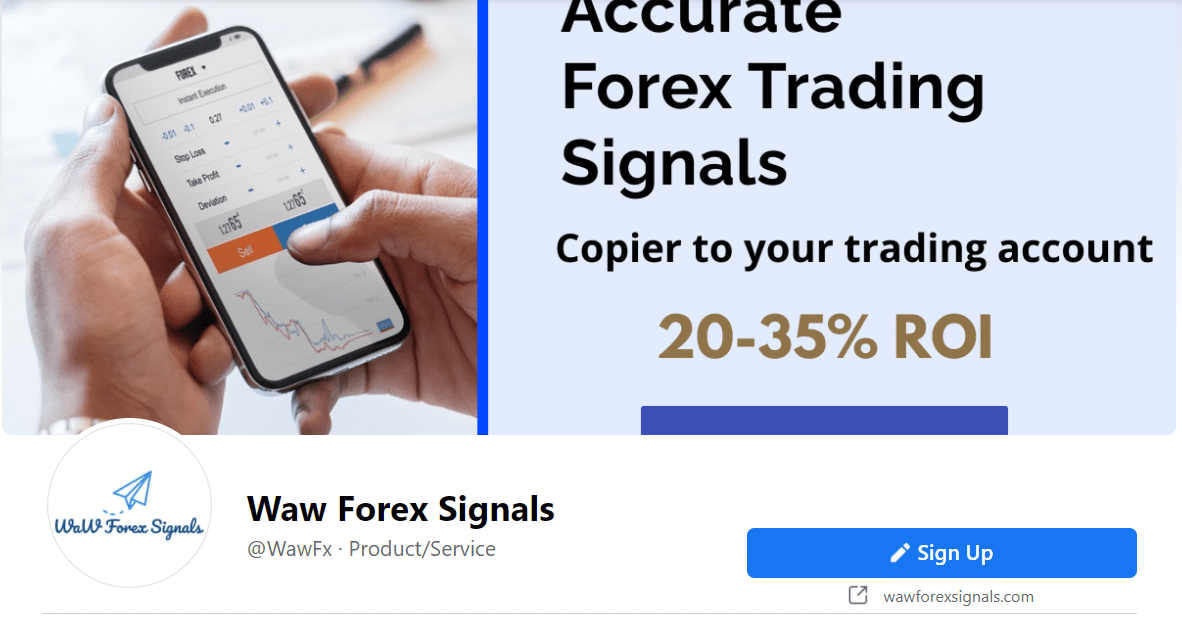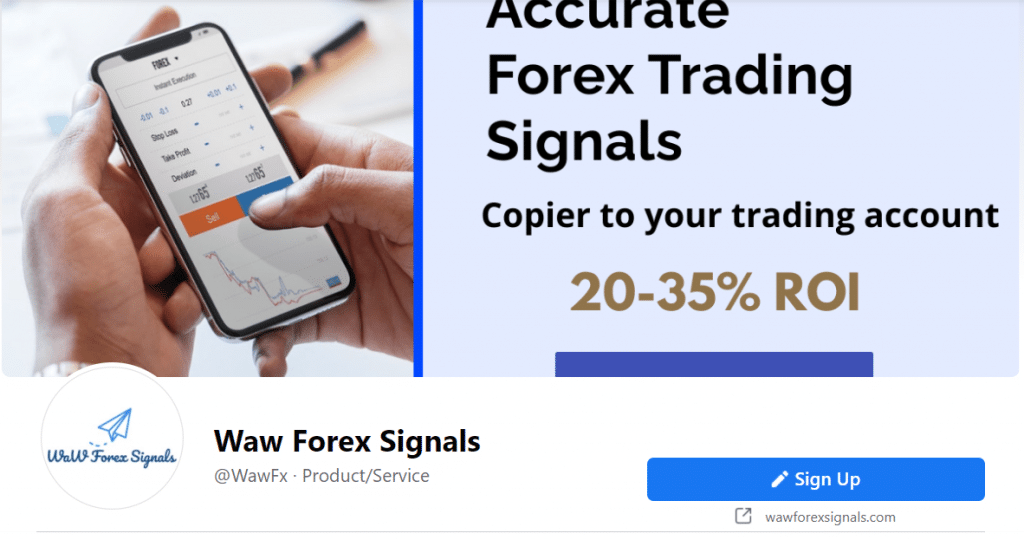 They have a page on Facebook.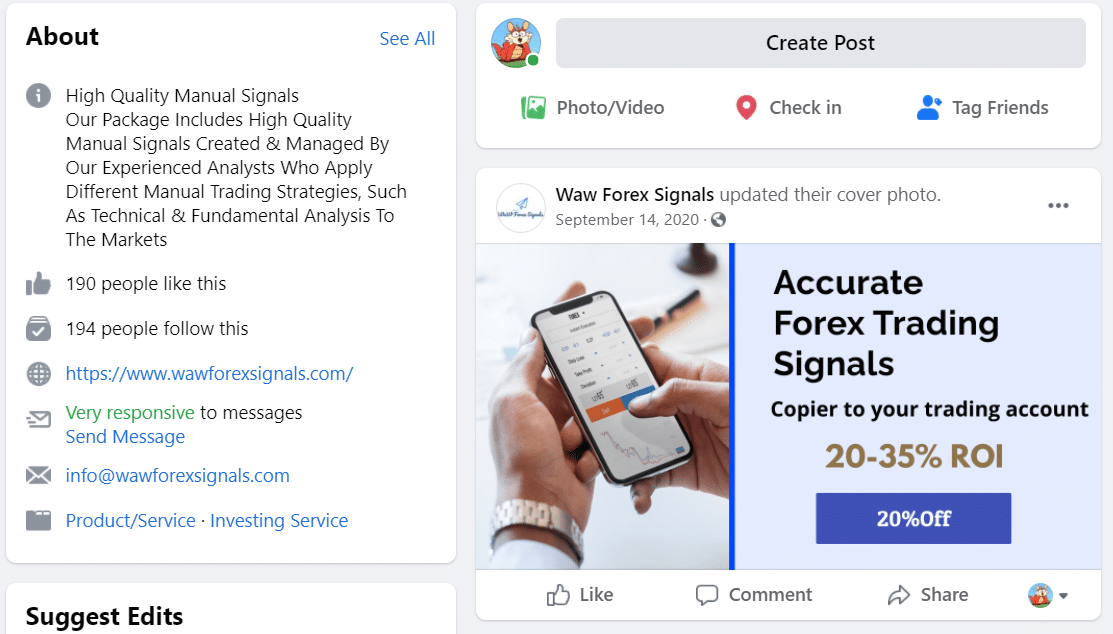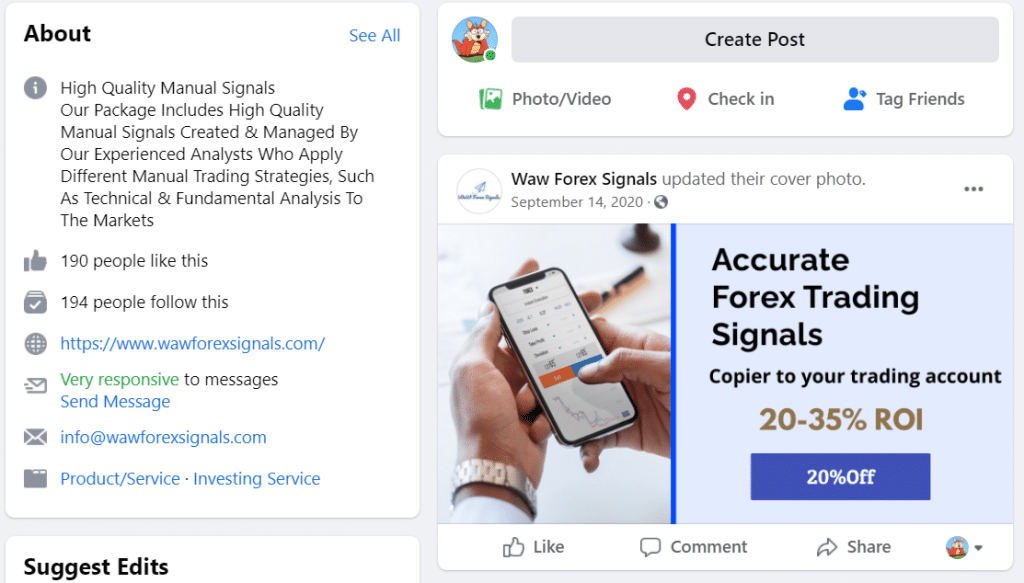 The page has only 190 likes and 194 followers. Alas, the last post was almost four months ago. So they didn't post trading results to convince people to use their service.
Is Waw Forex Signals a viable option?
No, we're not sure about the viability of this service. The vendor couldn't convince us. The main reason to not trust these signals is that we know nothing about trading results.
Conclusion
Waw Forex Signals is a scam-like service, and there are changes it's a fraud company. First, we know nothing about the team behind these signals. The site has any report or trading analysis that could convince us that they analyze the market. Without revealing a team or products of that team, we can't trust you. Second, there are no trading results at all. Many services don't share verified myfxbook accounts too, but the most important is they provide pips-gained sheets weekly. So, people can compare these traded results with the ones they've got. If the number of subscribers still grows, these sheets say true. Third, the company doesn't provide free signals to check how they're being traded in general.
Would you like to try out trading with an Expert Advisor?
Learn more about the best forex robots.