Currency prices fluctuate as participants jostle for positions in response to various economic releases and policy measures. Some events are known to trigger wild swings, while some often result in small swings. A pip is a term that denotes the slightest price change in a currency exchange rate.
Being the smallest price change, a pip is usually measured on a quoted price's last decimal place. While most come with four decimal places, others come with two. Regardless of the decimal places, it is still possible to measure the change and its value.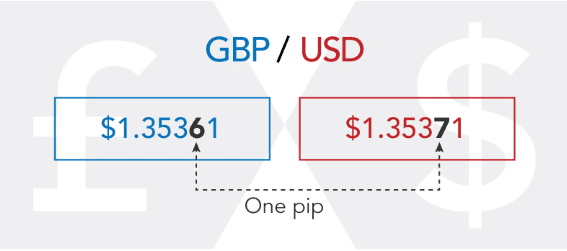 Assume USD/TRY is pegged at 7.1245 and moves to 7.1246. In this case, 0.0001 is the price change.
Similarly, if you have a two decimal place rate such as USD/HUF 309.58 and it moves to 309.59, 0.01 is the price change.
Mastering how price changes are measured is crucial for timing the market in opening and closing trades. Likewise, people rely on such changes to manage their strategies.
The smallest change also finds great use in determining the amount of money one would make or loss incurred whenever an order is closed. For instance, if one were to go long on USD/TRY at 7.4550 and it moves to 7.4600, the end result would be a 50 pips gain. The total amount of profit made in this case would depend on the position size.
Similarly, if one buys at USD/TRY at 7.4550 and the price declines to 7.4500, the change will amount to a loss of 50 percentage points. The net loss would depend on the position size and amount staked.
Determining pip value
The value of each pip comes down to several factors. For starters, it depends on the fiat being traded and the size of the trade. Similarly, it also depends on the exchange rate.
Example
Assume trader A closes a $700,000 trade involving USD/DKK at 6.0456. If the trade is closed after gaining 30 pips, calculate the profit in dollars.
Step 1. The first step entails determining the value of each pip. In this case, multiply the total amount of the trade by the smallest price change.
1 pip value= $700,000 x0.0001=70
In this case, it means that each pip on the pair is worth $70.
Step 2. Entails determining the value of base currency per pip. In this case, divide the number of DKK per pip with the closing exchange rate.
70/6.0456= $11.57
Step 3. The total gain will be equal to:
Profit = 11.57 x 70= $810.5
The value of each price change varies from one currency to another.
Leverage, which increases the purchasing power, also influences the underlying value of the smallest price change. Leverage makes it possible to enter large positions similarly to earn more on each price change. Likewise, it increases the volatility of each position.
In forex, one lot is equivalent to $100,000. Similarly, the value of one pip in a four decimal price quote is equal to 0.0001 x 100,000= $10.
Fractional pip
A fractional pip is often referred to as a pipette. It comes into being on brokers displaying an additional decimal at the end of a currency pair rate. For instance, if a USD/DKK pair rate is displayed as 6.30121, then the fifth decimal place amounts to a fractional price change.
It can also appear as the third decimal place. For USD/HUF, it might appear as 309.897, of which 7 is the fractional pip.
A point
A point is a term used to denote the largest price change in price. In contrast to other price measures, it is measured on the left-hand side of an exchange rate. The term is mostly used in the stock market to denote share price changes.
For instance, if the share price were to move from $130 to $135, the same would amount to a five-point movement. Similarly, if it were to move from $135 to $130, the same would amount to a $5 point loss in price.
A tick
A tick is somehow similar as it indicates the smallest price change on a quote price's right-hand side. For instance, if the price were to move from 1.4567 to 1.4568, the same would amount to one tick movement.
Unlike pips, the tick doesn't have to be measured in factors of 10. In most cases, price increments are measured in minimum increments of 0.25. Conversely, for the price to move from 420 to 421, it would amount to four ticks. In point terms, it would be one point.
The bottom line
Understanding what pips are is essential as it makes it easy to understand volatility levels at any given time. Volatility depends on the rate at which price changes on average on any given day.

Similarly, volatility is measured based on the rate of a price change on any given day. It's been found that cross currencies tend to experience the most volatility, which amounts to more pip changes at any given time. The larger the price change, so the doe's liquidity tends to below.
Liquidity is also crucial, given that a small number of buyers or sellers can significantly impact volatility. Similarly, exotic pairs tend to move by hundreds or even thousands of pips at any given time.
Bottom line
A pip is one of the most important terms used to denote how volatile security is. It's measured as the smallest price change in a four decimal or two decimal pair. The rate of price change comes down to how people respond to various economic releases and monetary policies as advocated by central banks.
Would you like to try out trading with an Expert Advisor?
Learn more about the best forex robots.