Z Trader FX EA is a fully automated Forex trading system that is advertised as 'convenient, not time-demanding' EA. According to its developers, this expert advisor is a 'great helper in boosting your profits'.
According to the developer, Z Trader FX EA had been worked for an entire year before we could enjoy the fruits of their hard labor.

On top of that, we are surprised that the dev who has worked on this EA for a year did not reveal who he or she is or where his/her team is based at. The person who put together their website does not seem to have a creative eye as the site is poorly organized and isn't aesthetically pleasing. On the screenshot below you may see that the word 'software' is spelled wrong:

It would be great if the dev spent much money on hiring a professional developer and a content writer who'd do a good job on their website. It would not only improve their website design but also help to attract new customers.
Nevertheless, our goal is to not only analyze their website design and skills of their website developer but also analyze the trading performance of Z Trader FX EA. That is what we are going to do in our detailed Z Trader FX EA review.
Features
We've grouped up the main aspects of this trading software in this list:
It's 100% automated Forex EA
It works on MetaTrader 4 terminal
The robot can work on any MT4 brokerage account
It uses advanced calculations that open and close trades for you according to its trading strategy
The robot does not use Averaging or Scalping
The system has professional money management settings
The free and easy installation process (takes 2-5 minutes)
It has a fixed Lot size
Supports only 1 currency pair – EURUSD
We do not know what timeframe the system relies on to open trades
The minimal deposit to start trading with this EA is $100-$200 on both Demo and Real accounts
The robot was backtested on EURUSD pair
Traders receive email about their license activation
Free updates and upgrades
24/5 customer support

Unfortunately, there is no explanation provided by the developer about the trading strategy the robot uses. They just tell us that the robot does not use Scalping and Averaging. However, they do not clarify the trading approach their EA does subscribe to.
How to start trading with Z Trader FX EA
A digital copy of the Z Trader FX EA license is sold for $117 for 2 real and 2 demo accounts and $137 for 3 real and 3 demo accounts. Both packages never expire and come with free updates, customer support, free updates, and upgrades of the system. A money-back guarantee is not included.

The dev claims that the system is easy to set up and does not require more than 2-5 minutes of your time. You should deposit $100-$200 on your trading account to start trading this EA.
Backtests
The good thing is that the dev provides a backtest report on their website.
The robot runs on an M15 timeframe with 90% of modeling quality. There were 50756 bars in the test. The initial deposit was $99. For 2 years of trading, the robot could generate $2016983, 59 of profit. Its profit factor was sky high – 638,10. It traded 326 trades and won 96, 63% out of them (315 deals). Its win rate for both short and long trading positions was high as well: 100% (110 trades) and 94,91% (216 trades) respectively. The maximal drawdown was acceptable for trading – 16%. There was only 1 consecutive loss.
Verified Trading Results of Z Trader FX EA
There is 1 live trading account on the website of the developer. This trading account was attached to fxblue.com. Frankly saying we prefer to analyze trading accounts that are added on myfxbook, as there is much data to analyze.
It is a real RUB trading account that was launched fxblue less than 3 years ago, on October 27, 2018.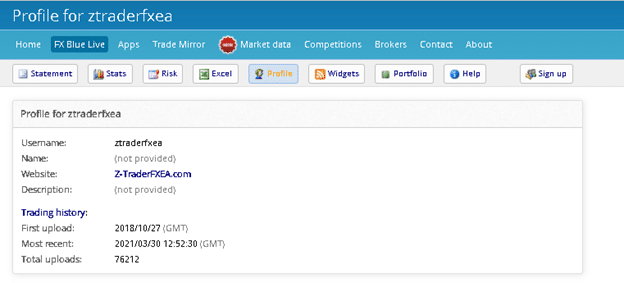 This account was deposited at RUB 9, 998, 64. For the whole trading activity of 946 days, the robot has generated over RUB 17K of profit. Its total return is -17, 899%, which resulted in RUB 36, 682, 92 of loss.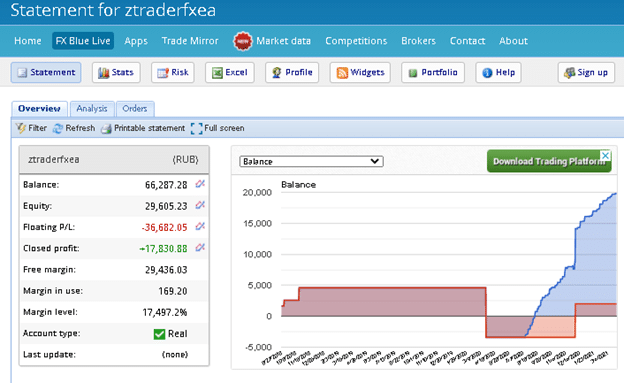 Its monthly return is 67, 3% when an average weekly return is 13%. The profit factor is 21, 40, which means that the robot trades effectively and brings stable income. The average drawdown was -6,1%. The average win rate is 89. 4%.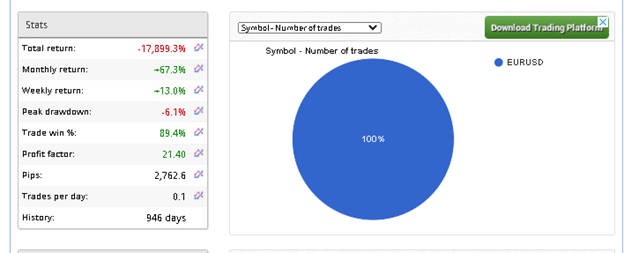 Its average loss is RUB -72, 85 when an average win is RUB 185, 20. The average trade length is 7 days. The risk-reward ratio is 0, 60.

The risk of ruin is extremely high. There is an 89, 2% chance of losing 100% of the account balance.
It trades only 1 currency pair – EURUSD:

Eleven open positions have brought a huge money loss of over RUB 36K: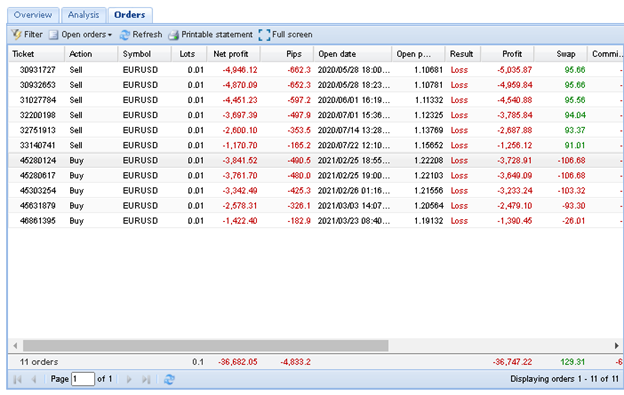 It uses only one trading strategy:

Customer Reviews
Z Trader FX EA has a page on Forex Peace Army. It has a 1, 7 rating based on 5 customer reviews.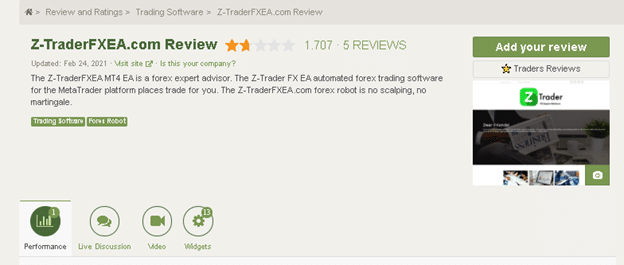 The last customer review was written in February 2021. It is a positive one but without a rating. The trader claims that he has achieved good trading results with this EA.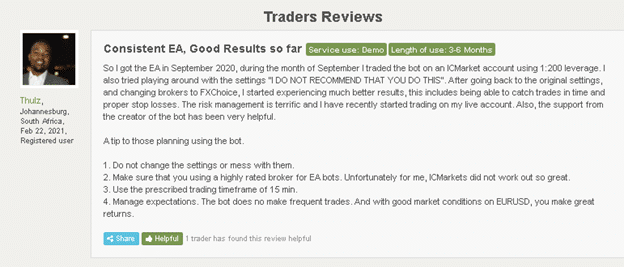 Another trader is not satisfied with the trading performance of this robot. He adds that the EA trades against the trend and that the Z Trader FX EA company provides poor customer support.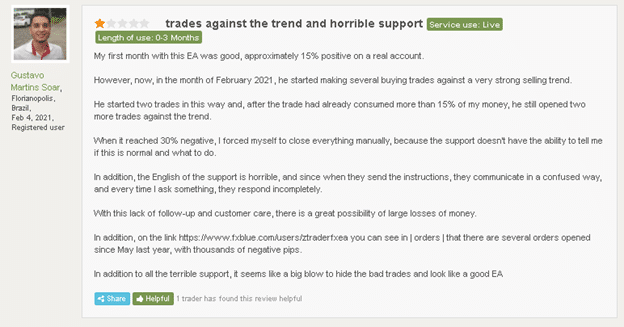 The other trader complaints about the unexplained orders:

Traders are dissatisfied with this EA as well as rude seller's attitude:

Is Z Trader FX EA a viable option?
Advantages
Backtesting report
Live trading result
Disadvantages
Bad traders' reviews
Undisclosed trading strategy
Poor trading results
Lack of vendor transparency
An unprofessionally organized website with plenty of spelling mistakes
Summary
Now this EA is a risky trading solution. Paying $117/$137 for this EA, you neither receive a money-back guarantee nor detailed trading strategy insight. You trust your money and time to a person who provides zero transparency. Poor customer rating on Forex Peace Army is another drawback of Z Trader FX EA. We do not recommend this EA to the public.
Would you like to try out trading with an Expert Advisor?
Learn more about the best forex robots.