Today's review will be about another FX Automater's robot.
Features
If we talk about the general info about EA, we'd like to notice that a Pro version is an expected software based on BF Scalper EA.
It got all-new Exit Logic that should decrease drawdowns.
The money management system allows customizing Stop Loss for various market conditions.
The grid system allows for increasing Lot Size to get more profits.
The robot places reasonable TP and SL for every trade.
It supports GBPUSD, EURUSD, EURCHF, EURAUD, EURCAD, GBPCAD, USDCAD, USDCHF and USDJPY symbols.
It works with quite low drawdowns but with medium risks.
News Filter was designed to not to trade during upcoming high-impact News.
Volatility Filter and Exit Logic care about opening and closing trades.
Notifications can be delivered to email and push on the phone if needed.
It includes broker protection to avoid fraud activities on the broker side.
Friday Exit System allows us to close deals without keeping them for Monday morning ups and downs.
The robot can be run not only on MT4 but also on the MT5 platform.
How to start trading with BF Scalper Pro




BF Scalper Pro costs $117 with $30 OFF. The package includes a license for one real account and, only three demo accounts. Also, the devs noticed that they've got the best support across other EAs sellers. The developers provide a 60-day money-back guarantee.
Let's talk about default settings and requirements:
The EA works on the M15 timeframe.
If we want to backtest the EA, we have to set M15/every tick.
The EA trades the next currency pairs: EURAUD, USDJPY, GBPUSD, USDCAD, EURUSD, EURCHF, EURCAD, GBPCAD, and USDCHF.
There are .set files for every currency pair if something goes wrong.
We have to set Trading Hours for each day manually, so the EA opens trades at the proper time.
We must use the robot only on the tightest spread broker and only on an ECN account (ICMarkets, FXChoices, and others).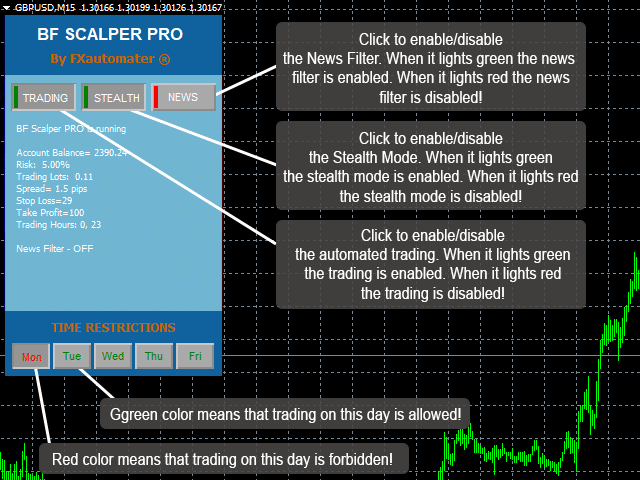 The devs share with us how the EA looks like on a chart with additional explanations.
These settings are connected to Grid trading.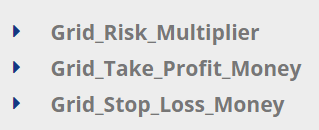 But we can use Grid with Martingale, which usually blows an account with lighting speed.

We can change these parameters for more aggressive trading, but only if we understand the new level of risks.
The next we see was five pages of EA's settings with detailed explanations.
Backtests
There are six backtest reports – one for each symbol. Let's take a look at one of them.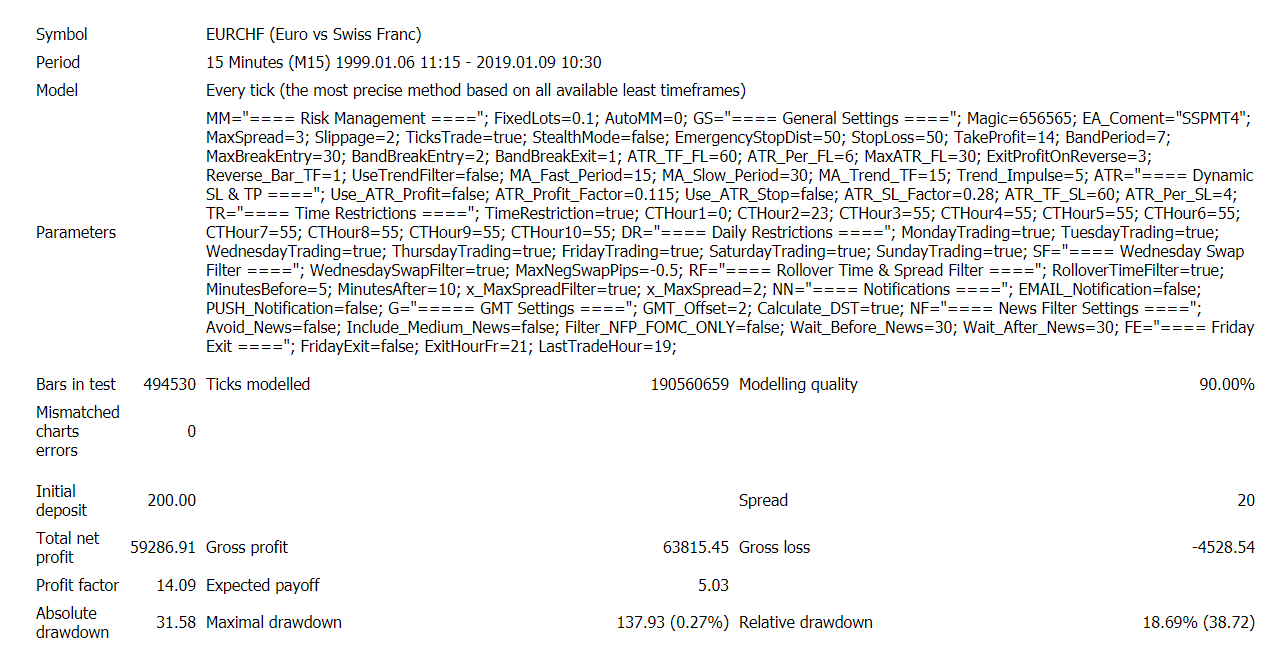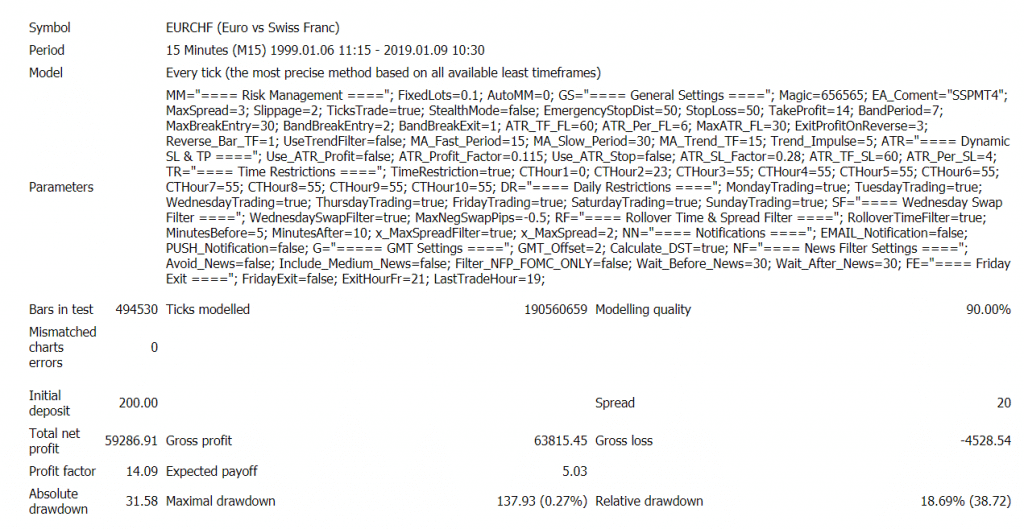 It's a EUR/CHF backtest on the M15 timeframe with 90% of the modeling quality. It was run for 20 years. An initial deposit was set at $200. The total net profit became $59.2k. A Profit Factor was incredibly high and equaled 14.09. The absolute drawdown was impossibly low (0.27%). As we can see, the EA traded mostly Shorts with 96% of the win-rate.
Verified Trading Results of BF Scalper Pro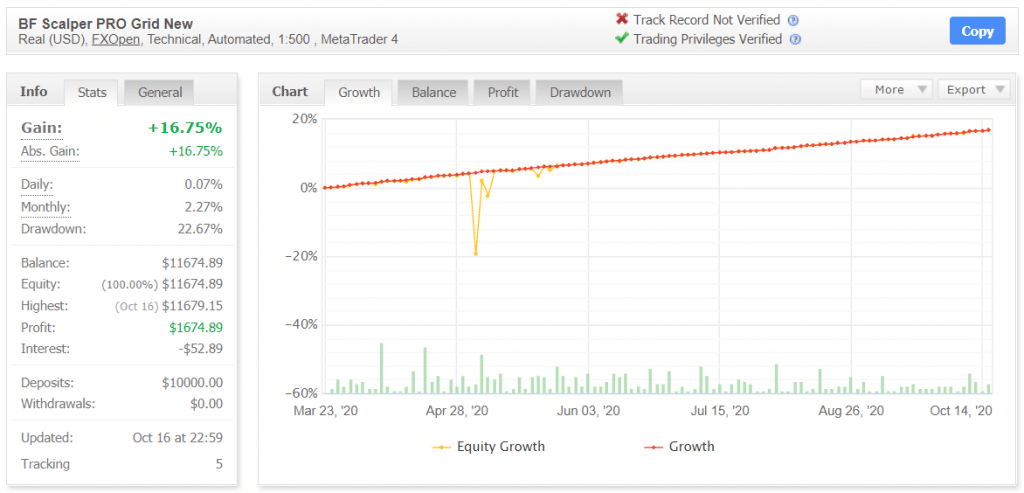 The company has several 3rd-party verified accounts, but there's only one real account. Let's take a look at it. This real USD account was created on March 23, 2020, and funded for $10k. It runs on an FXOpen broker house with high leverage (1:500) on the MetaTrader 4 automatically. Since then, an absolute gain is +16.75%. The average monthly gain is 2.27%, with a quite high maximum drawdown (22.67%).


The EA closed 421 trades with 1298 pips. As for a scalper is good growth (Profit Factor is 2.13). The average win (9.43 pips) is in one and a half times less than the average loss (-13.20 pips). A win-rate across Longs and Shorts is 70-73%.


The preferable currency pairs to trade were EUR/CAD, GBP/CAD, and GBP/USD. The #1 was GBP/USD with +$468.43 and the best win-rate (89%) by a profit.,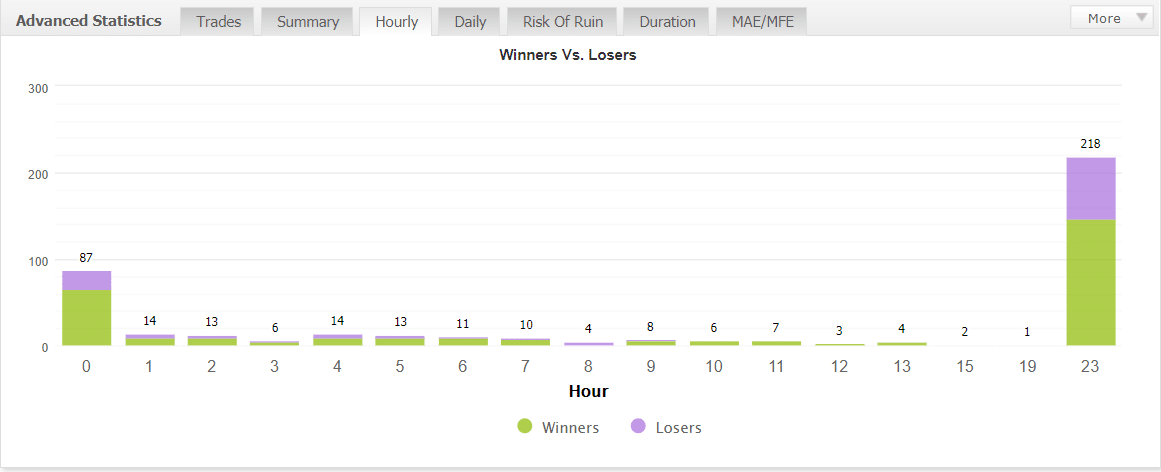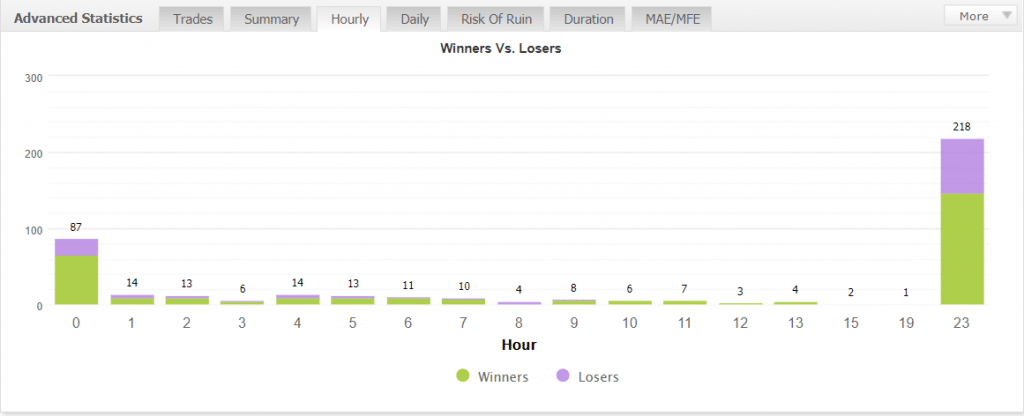 BF Scalper Pro 90% of the time works on the Asian market opening.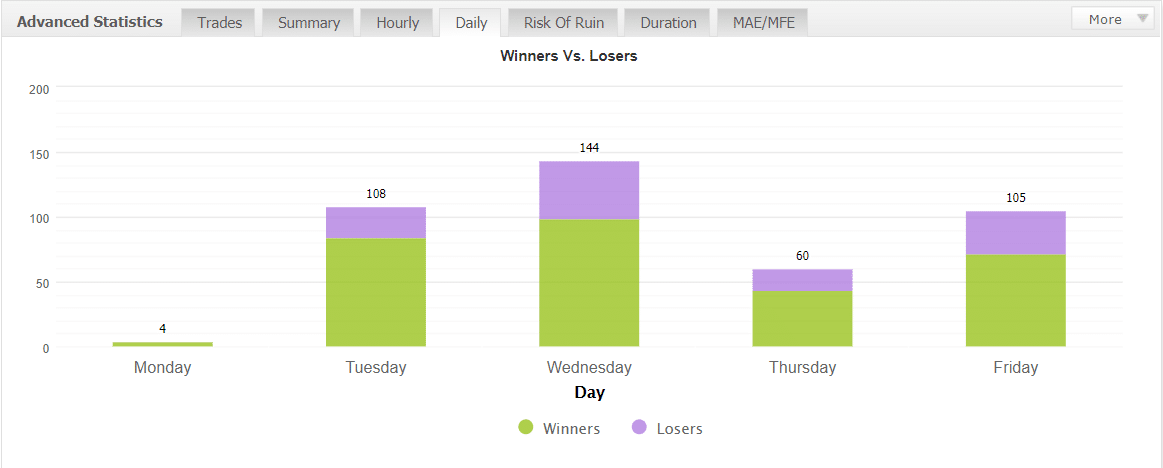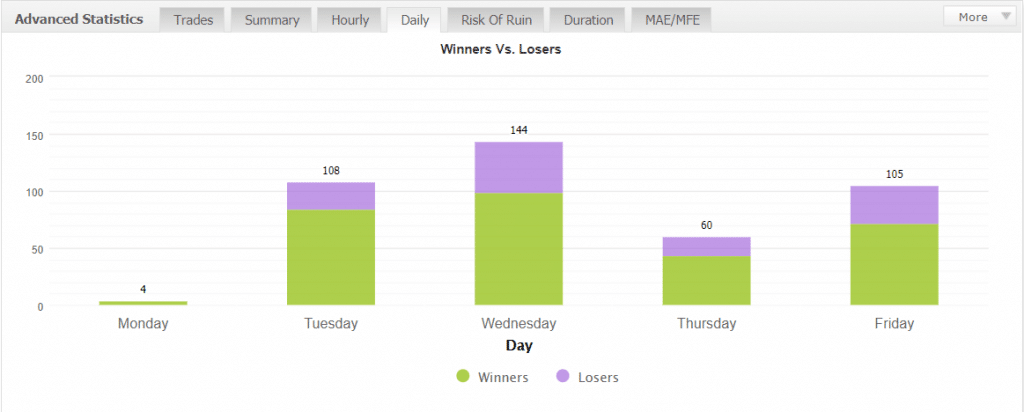 There's nothing special if Mondays are not the favorite day to the scalp because previous data maybe not actual since Friday. Trading that little on Thursday is weird.


The EA trades with, probably, 1% risks to the account balance.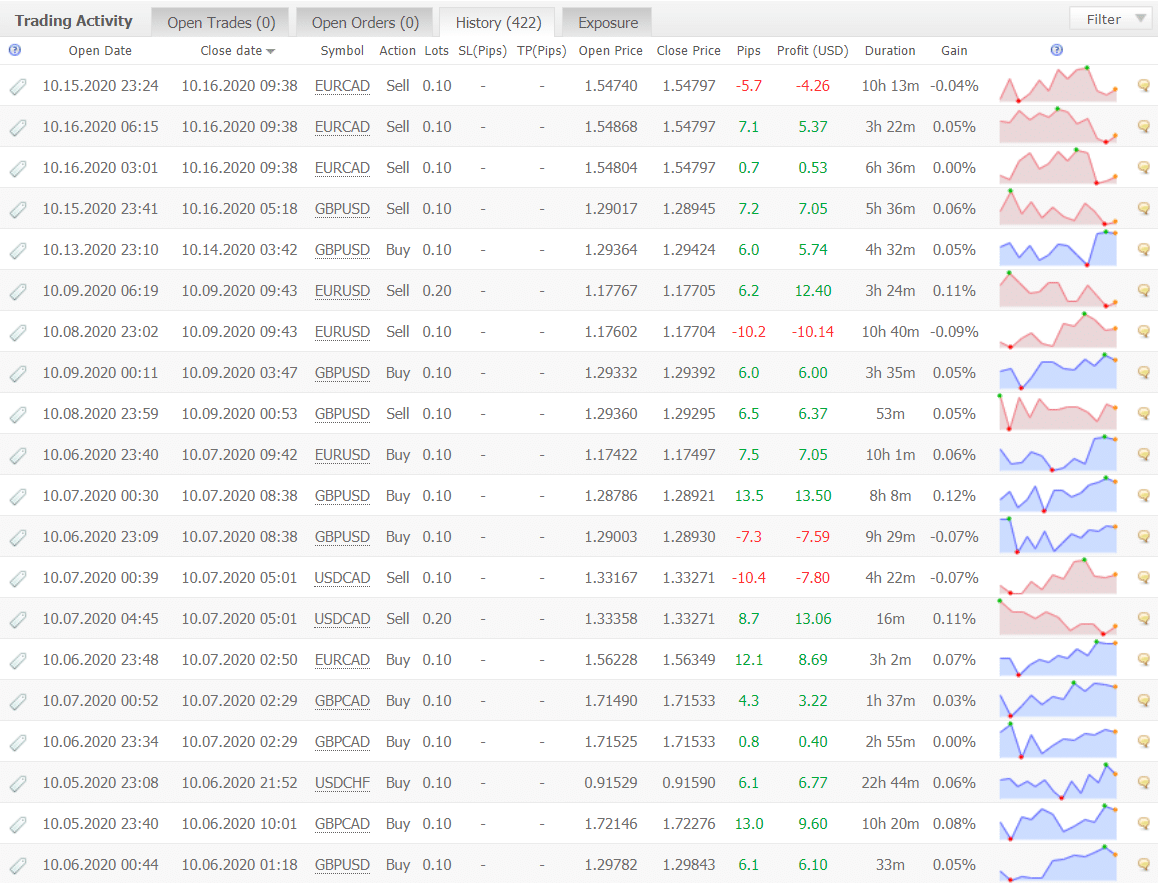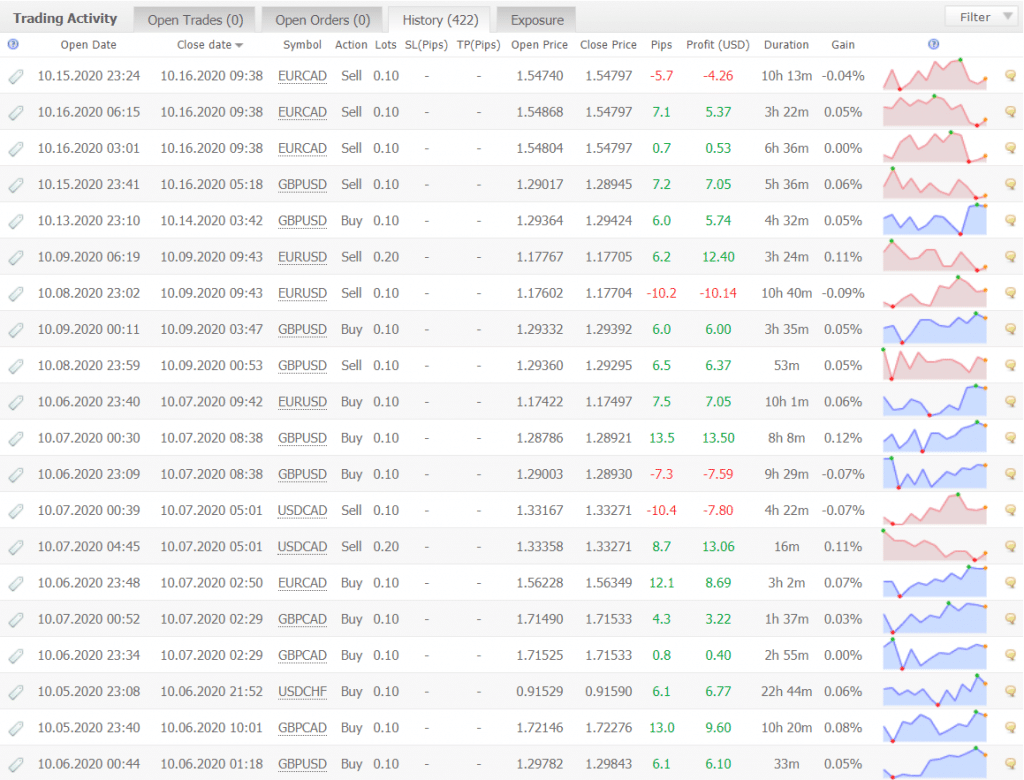 SL and TP levels are but hidden from a broker. This "type" of a scalping algorithm keeps deals open for a while, not like from 10 seconds to several minutes.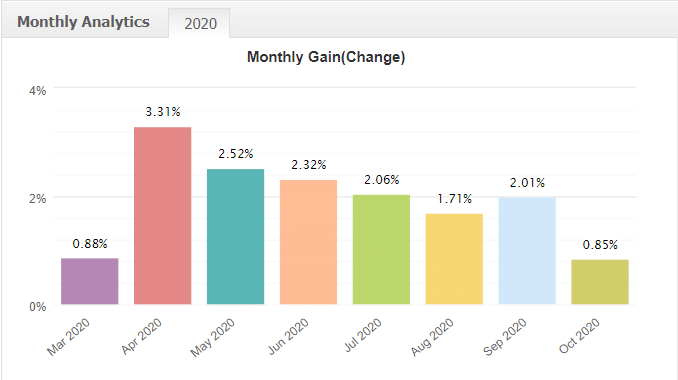 The robot shows consistency in profitability. There was no month with losses.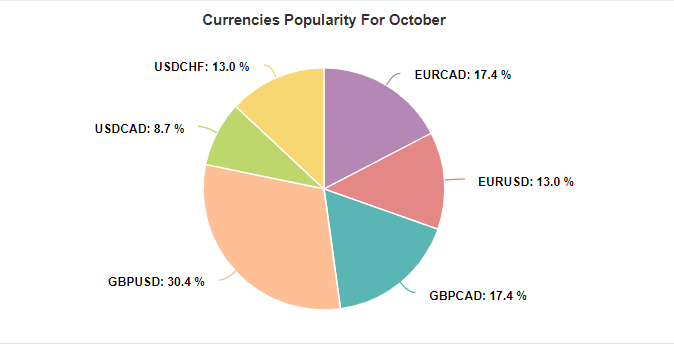 This chart provides once again that GBP/USD is over 30% of performed trades.
Is BF Scalper Pro a viable option?
Advantages
Strategy explanations provided
Features are well-planned
Settings are brilliantly-explained
The EA has got broker protection
Backtest reports provided
Trading results provided
The initial deposit was big
The Profit Factor is over 2
Win-rate is good
Pricing is okay
A 60-day money-back guarantee provided
Disadvantages
The EA doesn't trade frequently
We have to run the ECN account (commission sewn)
VPS is highly recommended for scalping
Low profits with medium drawdowns
No people feedback provided
Conclusion
If you're okay, the robot trades not quite frequently, and you have to have an ECN account running on VPS you can try. The ECN account usually has a 7% commission for one Lot (3.5% for opening and 3.5 for closing). So, to make a profit, we have to get a big account balance like several thousand. Many can't handle this, looking for the first robot to try on a $200-$1000 account.