Coinrule provides automated trading bots that empower traders to perform on par with expert traders and hedge funds. The fully automated bots do not require users to have prior experience in coding to use them. This crypto platform works with more than 10 popular exchanges. It works 24/7 ensuring you do not miss out on the market opportunities at any time.
Would you like to try out trading with an Expert Advisor?
How does this crypto bot work?
The platform provides a user-friendly and intuitive user experience. It is designed for technical and non-technical traders. You can choose from the numerous strategies present and capitalize on the automation tools that help to backtest your trading strategies and rules before you use them in real trading. As per the vendor, the platform allows you to make all types of trading executions that you could not accomplish with platforms that have limited interfaces.
Getting started with Coinrule
Getting started with the platform and using its features is a simple task that requires just a few clicks to complete. Here are the steps you need to follow:
Use the Get Started button on the official website and create an account by providing your email and setting up a password
Login to the site using the sign-in credentials you receive in your email
Choose from more than 150 rules present or create a new one from scratch. You can make your own rules based on popular indicators
Securely trade in the supported exchanges such as Binance, Coinbase Pro, HitBTC, Kraken, etc.
Company information
The company was founded by a team of crypto and blockchain enthusiasts who want to simplify the crypto trading processes. Gabriel Musellaheads the organization and has experience working with some of the leading organizations in Finland, Italy, the USA, and the UK. Other team members include Oleg Giberstein, ZdenekHofler, Abdulla Faraz, Andrew Salvadore, and more. The company partners with more than 10 crypto partners such as NatWest, Daneel, Kaiko, Bitpanda Pro, RBS, Kraken, and cryptoMondays.
Features of Coinrule
Fully automated rules
The bot allows you to customize the trades so it works 24/7 and does not miss out on profitable opportunities or get caught in a downward spiral. This platform searches for effective market indicators to ensure smart fund allocation and puts you in control of your trading machine.
Create indicator-based rules
You can set the rules to work at a rapid pace executing trades in a split of a second. The platform adds new indicators every week to widen the choice for users.
Highly secure
The platform stores API keys in encrypted form and the encryption has dedicated private keys which are separate for every user. The private keys are created by the users and stored in a detached data storage and are encrypted with AES-256. Other protective measures used include transit data encryption and Cloudflare CDN for protection against DDOS and other similar attacks.
Strategies of Coinrule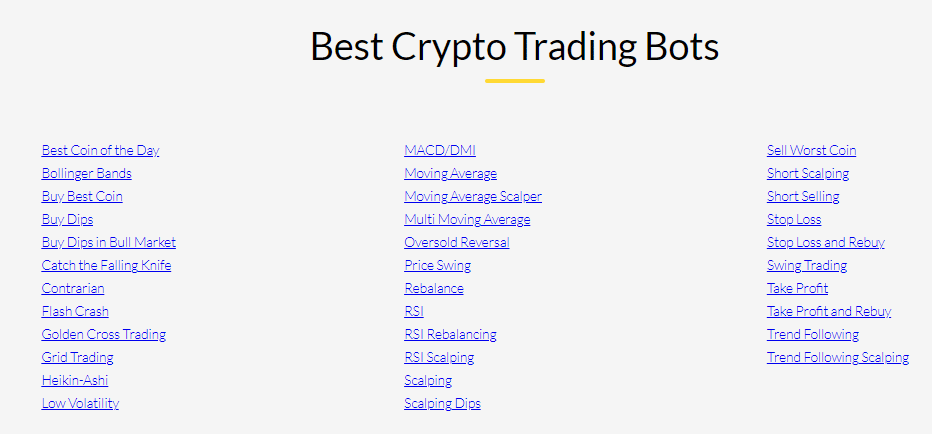 You can access numerous strategies daily with this platform. They include RSI, price swing, scalping, stop Loss, Trend Following, etc.
Pricing, fees, and commissions
Pricing plans include a free starter plan, Hobbyist ($29.99/month), Trader ($59.99/month), and Pro ($449.99/month) are the different packages present. The plans mainly differ on the number of live and demo rules. The Pro plan has additional features such as unlimited exchanges, trade volume, a dedicated server, ultra-fast execution, and more. No commission fee is charged by the company.
Deposit requirements
The vendor does not provide info on the deposit requirements for using the service.
What exchanges does Coinrule support?
This service supports the following exchanges:
Binance
HitBTC
Kraken
Bitfinex
Bitmex
Bitstap
Okex
Bitpanda Pro
Liquid
Coinbase Pro
What languages does Coinrule support in their product?
The platform supports the English language only.
Can you really make money with this bot?
While the vendor boasts of the bot being designed to provide high returns, we could not find proof of the performance of the bots.
Advantages of Coinrule
Provides multiple strategies, coins, and exchanges
User-friendly interface
Disadvantages of Coinrule
Absence of performance proof
Setting up the bot may take time due to the rules
Customer support
For support, the vendor provides a live chat feature and links to Facebook, Twitter, Discord, and Instagram. An FAQ section, resource library, Blog,and tutorials are other support methods present.
Who is Coinrule suitable for?
While the vendor claims that the system is easy to use for beginners without prior knowledge of coding, the rules and strategies are a bit time-consuming. Expert traders will find the automation effective and quick to do.
Coinrule summary: is it worth going for it?
Coinrule offers 100% automation. It provides various benefits like safe and efficient portfolio management, backtesting of the rules, and more to ensure traders of all experience levels can implement the strategies successfully. However, the expensive pricing, absence of a money-back assurance, and lack of verified performance are drawbacks of this system.
Features: 4/10
Ease of Use: 5/10
Fees: 4.5/10
Support: 5/10
Price: 4/10
Payment methods: 5/10
Would you like to try out trading with an Expert Advisor?