What's a Daxbot robot?
We've got an HTML-styled presentation of DAXBot. We're immediately offered to more than 50% of the monthly profit.

The next we see is another site link. Wait a sec! What the robot do you sell: DaxBot or Alnotrade one? It's not clear for us.
So, what do we know about it? "DaxBot EA fully Automated Trading system that trades Europe most heavily index the DAX30. DaxBots' ability to make money nearly every day is a testament to its' ingenuity of design, stability, and profitability. Please fill out the form below if you want more technical information on DaxBot. DaxBotV2 was released in March 2020 and you can see the performance in our," devs said.

It's not the best marketing move to ask for an email to give away info about the product you sell.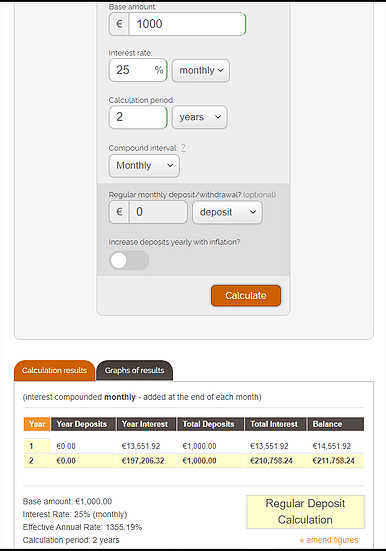 We're suggested to get 200K EUR from 1K EUR for 2 years. It sounds like a bad joke.
The robot features:
MT4 platform trading.
Works with the DAX30 symbol.
Fully-automated trading solution.
Quick trades (20 mins long).
The lot size is from 0.1 lot and tight Risk control.
No martingale nor grid.
Stop-loss and take-profit are 20 pips.
No overnight trading.
5M chart trading.
It operates between the hours of 9 am CET-5 pm CET.
DAXBOT trades a maximum of one single trade daily.
The minimum amount of funds should be $200.
A Dow 30 version of EA is underway and comes in 2020.
It doesn't require VPS.
"The crucial elements of the system are a perfect balance of momentum, rate of change, and volume. These 3 elements are the cornerstone of the strategy and each one plays a crucial role in establishing a new signal on the Daxbot system… All 3 partners must line up to get buy/sell signals. This is no more crucial than an instrument such as DAX when the heavy volume can create follow-through buying and selling which is critical for a profitable exit. A fast-moving market with thin volume has the high possibility of reversal due to weak buying/selling," devs said.
The next part explain a golden rule of profitable DAX trading.
"Like most major indices (Dow, CAC, FTSE, S+P), much of the action is witnessed in the first hour of trading, this is the perfect time window to establish a position as many banks, hedge funds and institutions are frantically placing orders. We called this the "golden hour", and respected properly can be harnessed to make a fantastic trading system. The system will open the earliest trade at 9 am CET at the market open. The DAX is a rapid market and the system seeks to exploit the first explosive move of the trading session, using fixed loss and profit orders."

The 3rd-party myfxbook verified trading results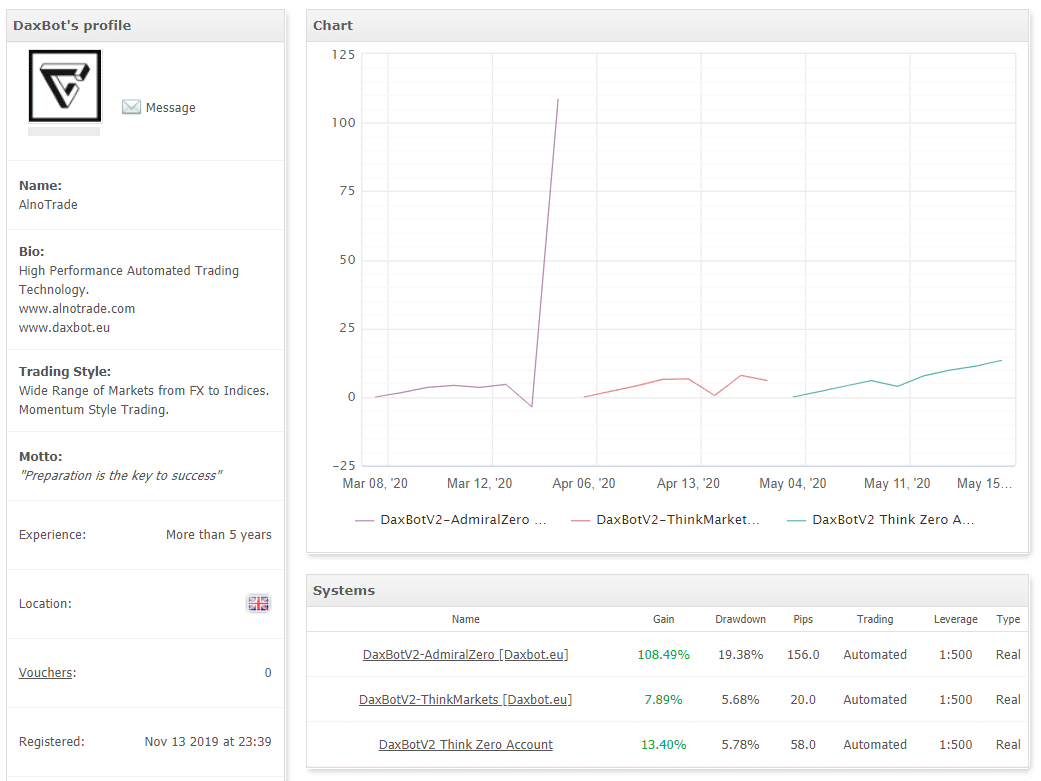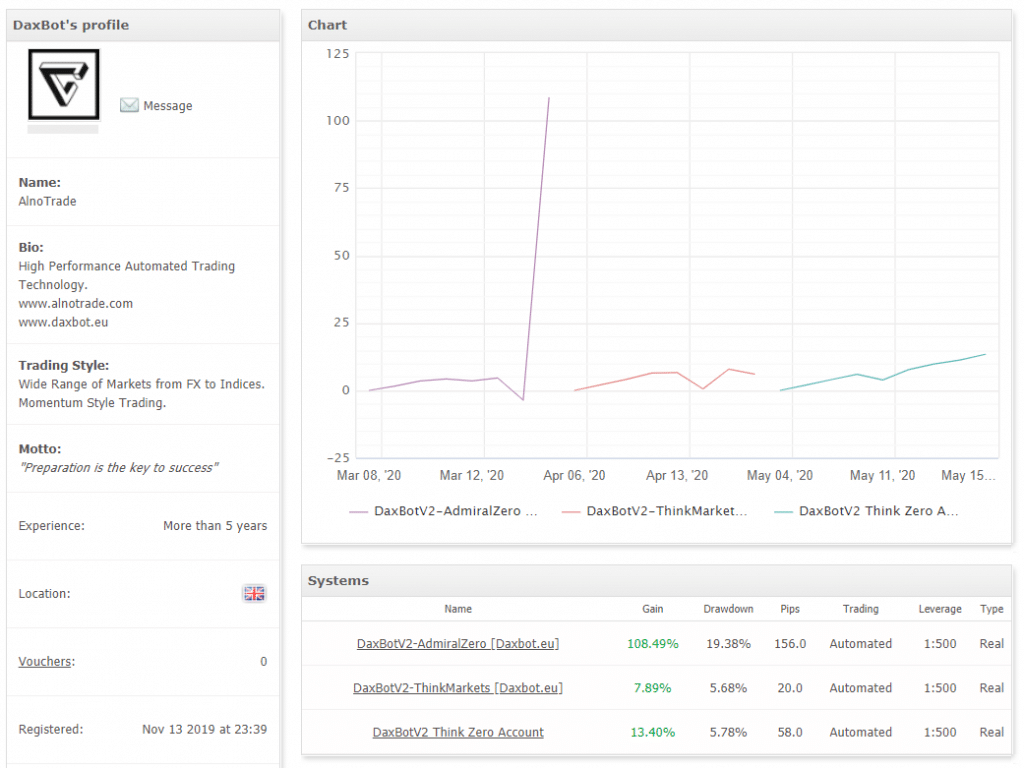 The link from the presentation goes to the owner's profile. There are three accounts on the board.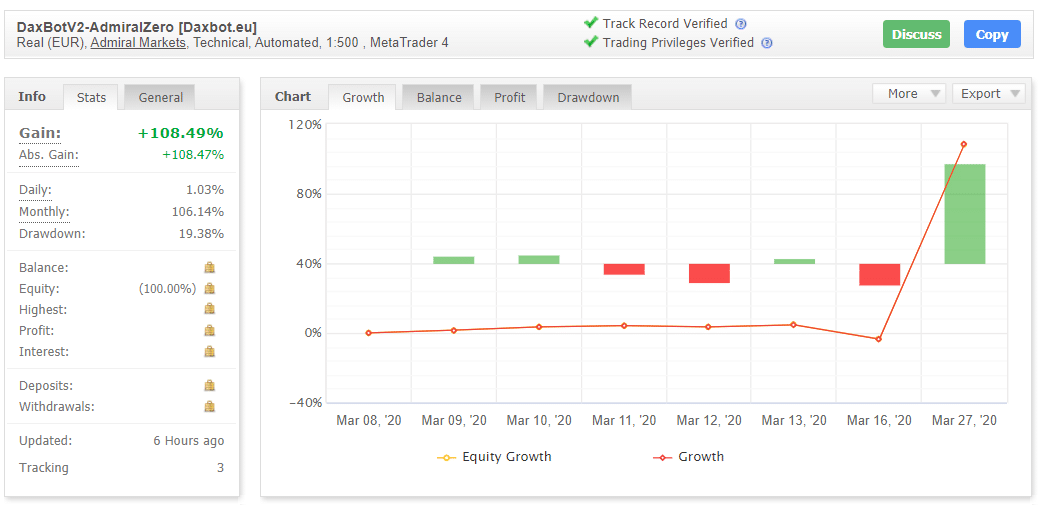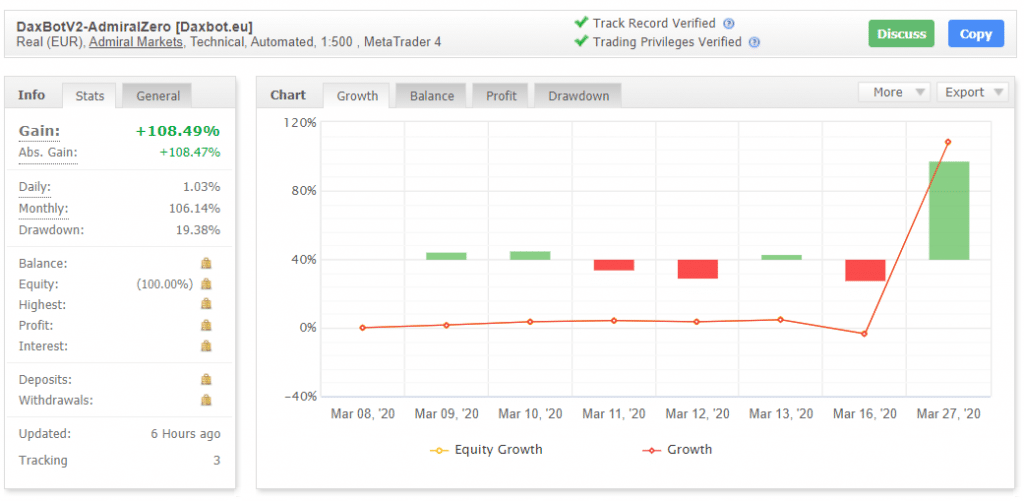 The first one has got lack of transparency and trading through it has been stopped almost two months ago.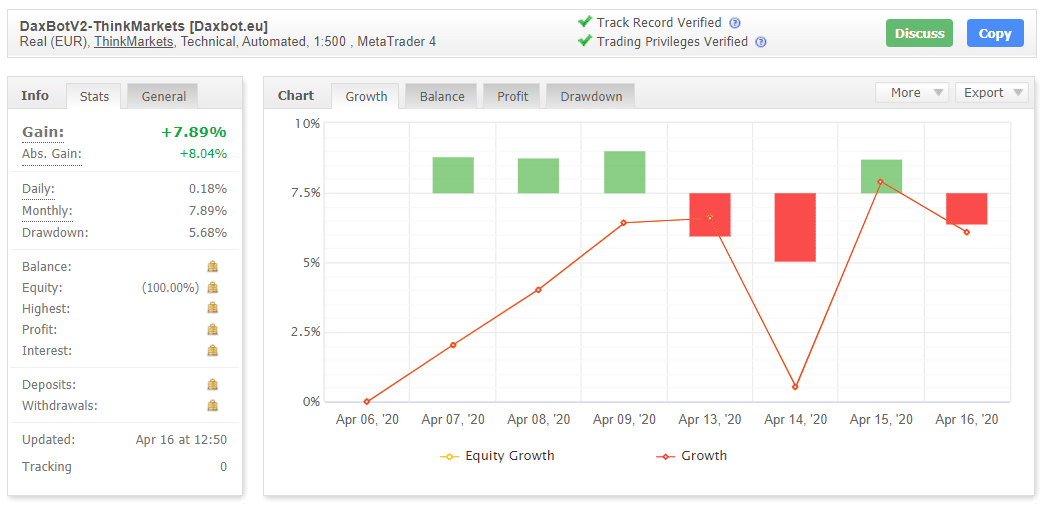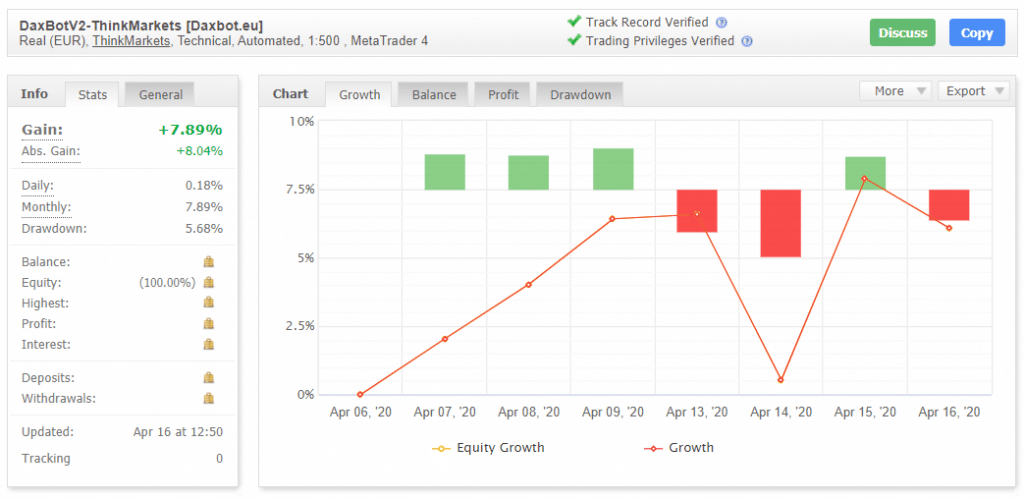 It's been stopped one month ago and showed unpredictable results during 9 trades done.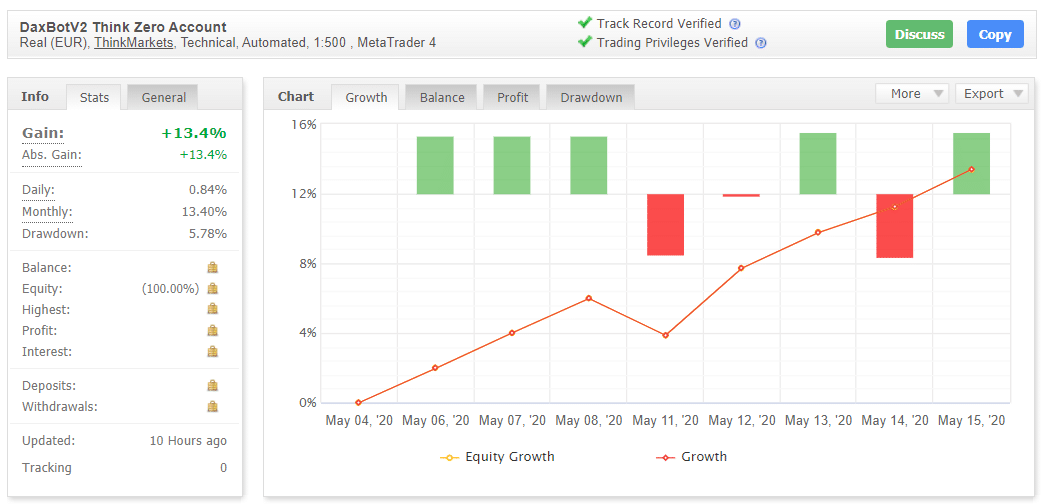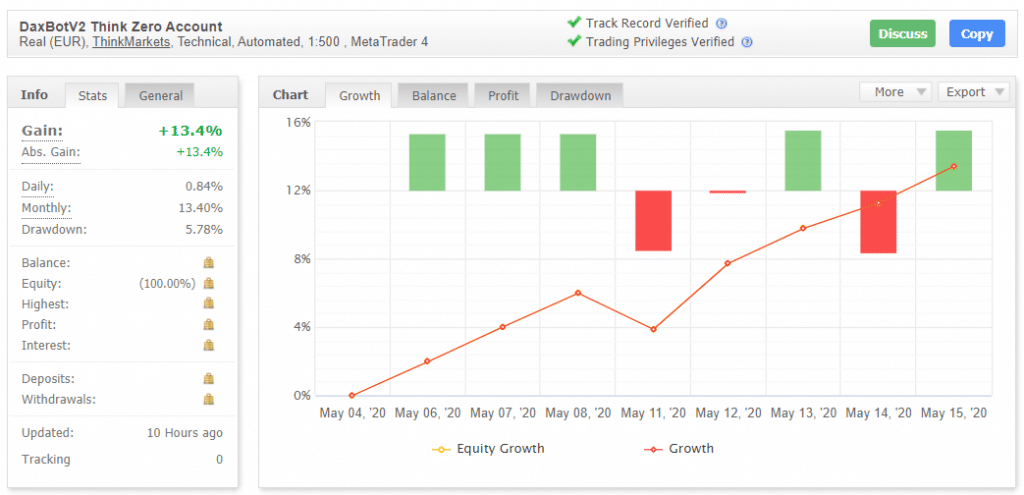 Let's talk about the last one. It's a real EUR account on ThinkMarkets, with 1:500 leverage on the MetaTrader 4 platform. The account is run with a lack of transparency.


The EA performs little trades (11) with58 pips. The average loss in pips (20.14) equals the loss (20.75). The longs win rate is 50%, shorts is 80%. The profit factor is high and equals 2.08.




The EA trades only during a European session.


The account runs with medium risks.


All the trades have been finished in an hour.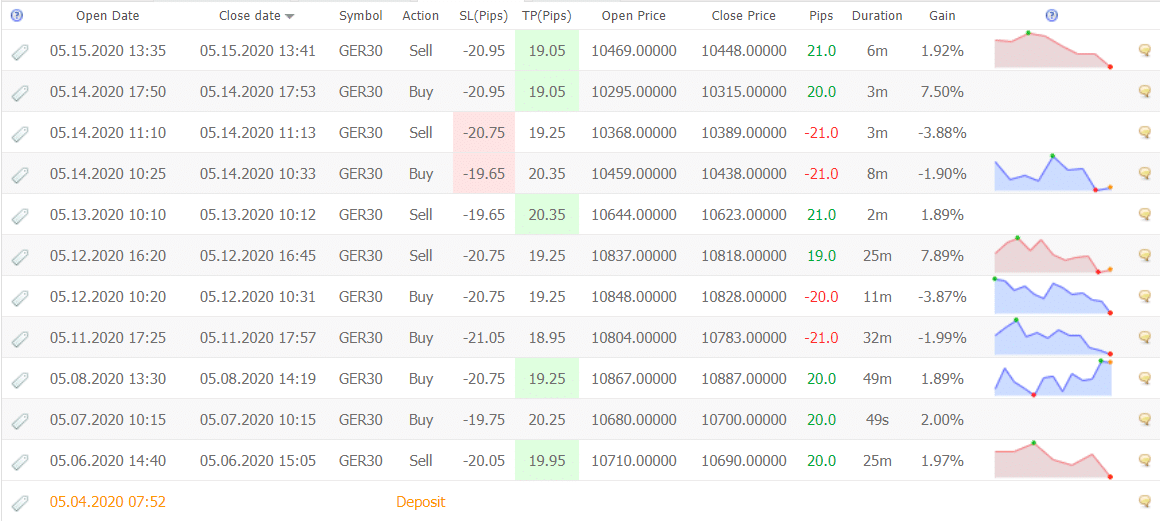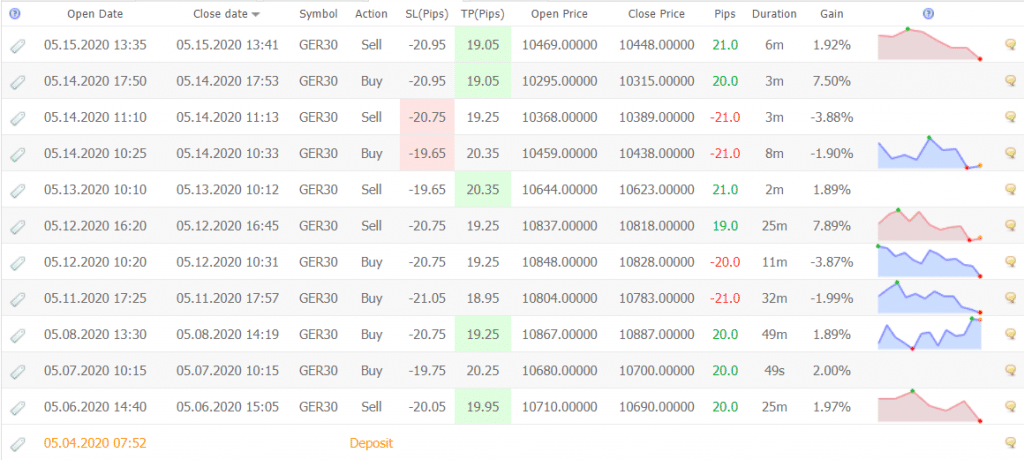 As it was told, the robot sets in pips SL and TP levels.
The offer


During scrolling the presentation, we've found a coupon on registering a live account on Admiral Markets and ThinkMarkets.
The robot itself costs 300 EUR per a 2-year live-account license. The devs provide a 60-day money-back guarantee.
It's from FAQ. So, they DO or DO NOT a money-back guarantee?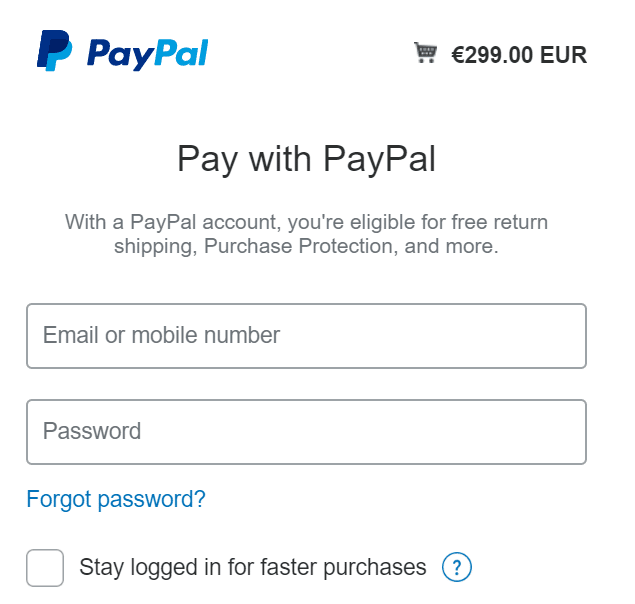 Purchasing allows only via PayPal.
Daxbot Review Summary
Pros
Well-explained strategy.
Real account trading results.
Good "profit factor".
Mid-price.
It can be bought only via PayPal.
Cons
Just one month of trading results.
Lack of transparency on the account.
Mid-price.
A question about the money-back guarantee.
No answers about free updates and support provided.
We don't know for sure how good it is. There were 3 accounts and two of them have been stopped. We don't know what the reason was for it and what's the difference between them excluding brokers. Most importantly, there's no clear position about a money-back guarantee. From the one side, there's a 60-day money-back guarantee. From the other, we're just allowed to cancel a subscription. We'd like you to receive more intel about the robot's real account performance and ask devs about a refund policy.