EA Thomas is a gold-oriented trading solution that can be used by traders with various trading experience. We have various details explained such as parameters, settings, and so on in the following list. So, we decided to take a closer look at it.
Would you like to try out trading with an Expert Advisor?


Vitali Vasilenka is a developer from Belarus with a rate of 25,964. His portfolio includes 26 robots and 19 signals. It has a 4.5 rate based on 371 reviews.
Features
There are various details mentioned about the system and its functionality. We have systemized them in the list below.
It allows us to work on the market completely automatically.
Users may want to provide supervision to it to be sure that everything is right.
You should write to the developer right after purchasing the system.
The first 25 users will receive a gift.
You don't know which one.
The robot has the best possible price of $49.
The common price of it is $149-$199.
It will have the final one of $499.
It works around five trading algorithms.
There are five time frames that can be used for trading.
You can decide what strategy we'd like to work with.
It works mostly in the trend direction.
Users can ask for advice to choose the best broker house.
It's possible to work with aggressive or conservative settings.
You can't backtest the system at all.
You should have over $500 on the account balance.
The robot works only with slippages less than 5 pips.
It's possible to trade with 30 pips spreads.
The recommendation settings are good to go.
The core time frame is H1.
XAUUSD is the only pair to trade.
You should start from a demo account before going live.
A VPS service will be a good addition.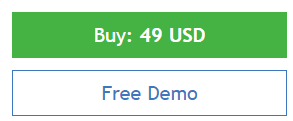 The current price was decreased from $199. Now, it costs $49. There are no subscriptions allowed. It can be downloaded for demo usage without restrictions.
How to start trading with EA Thomas
Users have to purchase and download the robot first. If the system needs customizations, they have certain options. After this, it should be attached to the proper chart on our account.
Backtests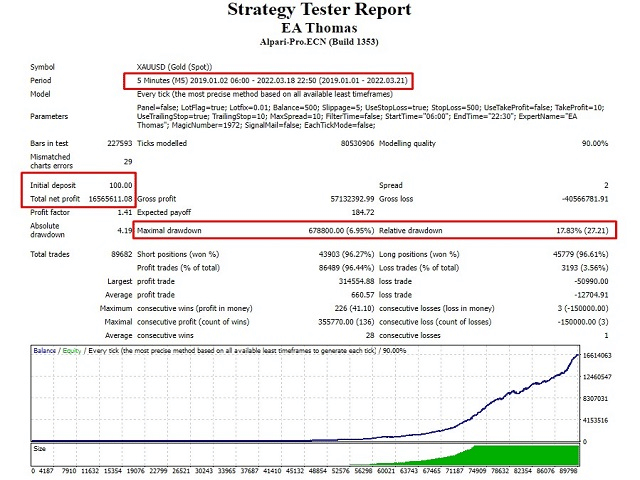 We have a backtest report of XAUUSD on M5. The period of data was chosen as 2019-2022 years. The modeling quality was 90.00%. The devs set a deposit at $1000 that has become $16565611 of the total net profit. The profit factor was 1.41 when the maximum drawdown was 6.95%. EA Thomas could perform 89,682 deals with 96% accuracy.
Verified trading results of EA Thomas


The robot keeps working on a RoboForex Pro account. Its maximum drawdown is 38.7% when the maximum deposit load is 41.8%. The win rate is 69.5%. EA Thomas could provide 41.52% of the total profit.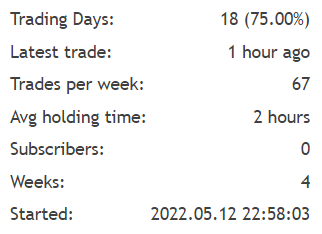 An average trade frequency is 67 orders a week. An average holding time is 2 hours. We have this account created on May 12, 2022.


May 2022 was closed with significant profits.


The system doubles lot sizes from time to time. There are grids of two orders available.


EA Thomas has performed 266 orders so far. The best trade is $167.70 the worst trade is -$42.04. The recovery factor increased from 1.5 to 2.43. It has a profit factor of 1.86. An average monthly gain can be 41.52%.


The system lost 29,000 pips when it gained $415.
People feedback


Some of the clients mentioned that the system is profitable and can be used for working on our accounts.
Review summary
| | |
| --- | --- |
| Advantages | Disadvantages |
| A backtest report provided | No risk advice given |
| Trading results available | No settings list provided |
| Affordable pricing | The robot uses a grid with Martingale combo |
| | No refund policy applied |
| | The system, which too young |
EA Thomas is a trading solution that works with a XAUUSD cross pair, using a combination of a grid of orders and martingale. Those strategies can be treated as dangerous ones. Also, we have analyzed many positive reviews written. The price is pretty acceptable.
Would you like to try out trading with an Expert Advisor?