Today, we'd like to tell you about Forex Heist EA.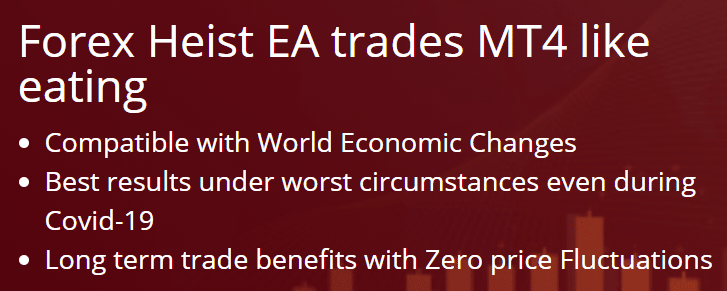 These statements about the EA are as far as Moon. No one of professional traders or those who trade on Forex much time cares about Covid-19, World Economic Changes (because of News Filter) at all. So, they're out of place.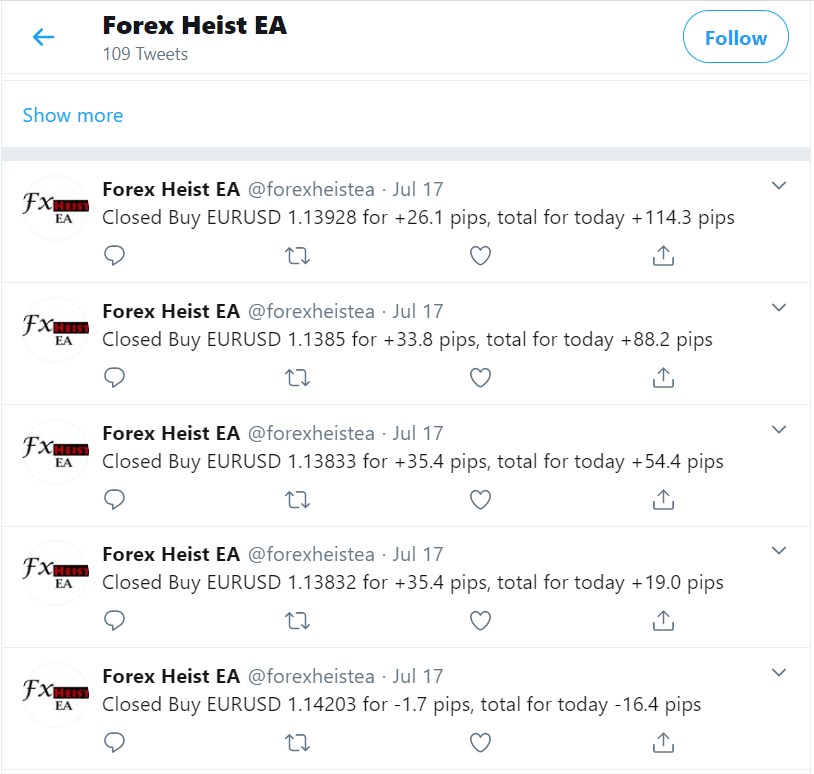 There's a Twitter news feed that wasn't updated for several months.
Features
The developers systemized reasons why to trade using Forex Heist EA. We'd like to underline the most important for you and for us:
The robot trades automatically without our interactions.
There's wise money-management.
This robot can follow FIFO rules and restrictions.
The company provides 100% verified trading results to us.
It can be run on any broker company.
Broker protection allows us to cover SL and TP levels from brokers.
There are no hidden fees.
There's an easy to follow installation and welcome support.
There's a user-friendly interface.
How to start trading with Forex Heist EA


When any company wants not to tell about the robot strategies, it writes nonsense like this. Machine Learning and checking data are great, but people want to know what strategy it performs to be ready, especially with free margin and risks.
To get started, we have to do the next steps:
We have to purchase an EA.
We have to receive installation and attach the EA to the charts on MT4.
We have to register or already have a real or demo account to run it.
Backtests
The company made a decision not to provide any backtest reports. Of course, this decreases the level of trust in them.
Verified Trading Results of Forex Heist EA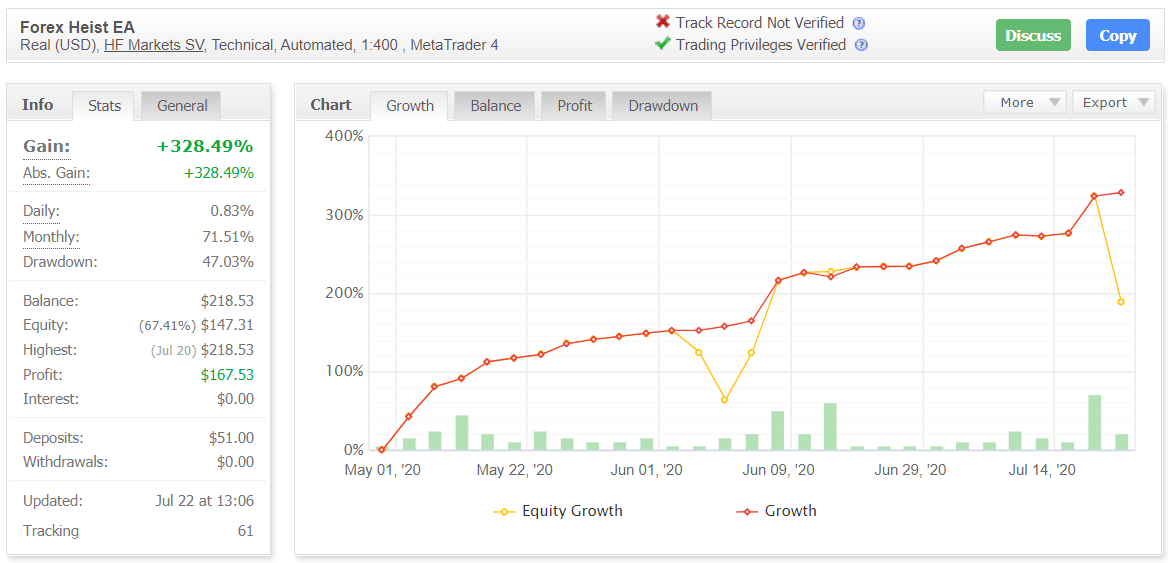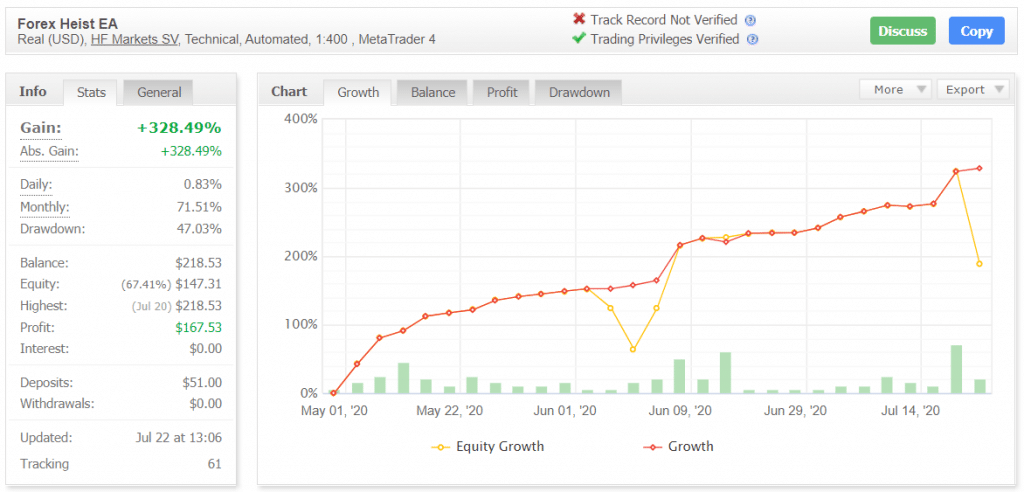 The company has a real USD account with Track Record Not Verified. They chose a little known brokerage company HF Markets SV. The EA traded with 1:400 leverage on the MetaTrader 4 platform. An account was created on May 01, 2020, and funded at $51 (it's a joke deposit). It means that they didn't trust the robot at all. An absolute gain was +328.49%. The average monthly gain was +71.51%, with quite high drawdowns (47.03%).


The EA has performed 99 deals with a huge number of pips (1593.4). An average win (23.13) equals an average loss (-23.27 pips). The win-rate is so high (84% for Longs and Shorts). The average trade length is one day. The Profit Factor was great (4.94).


As we can see, it traded only a EUR/USD symbol with equal success and frequency for both directions.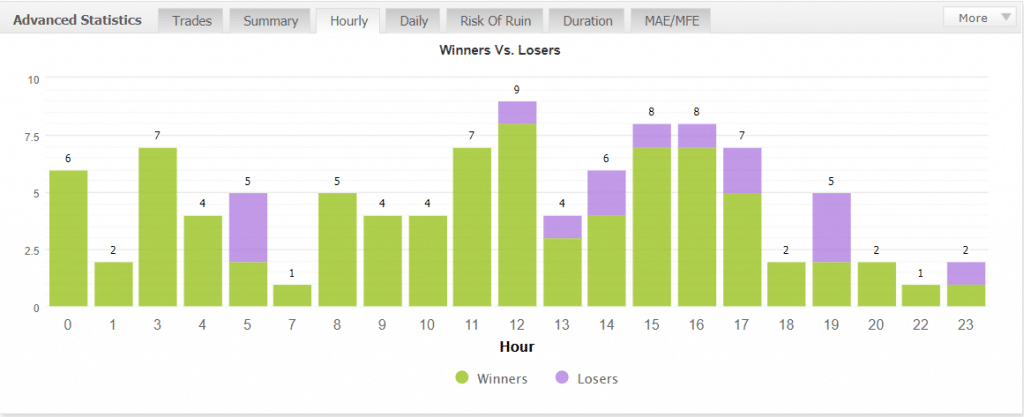 There are high chances that there's a scalping strategy on the board because of the number of open deals during an Asian market session.


Weekly frequency looks so weird with these numbers of deals on Wednesday and Thursday.


The robot ran the account with 5% risks or even higher.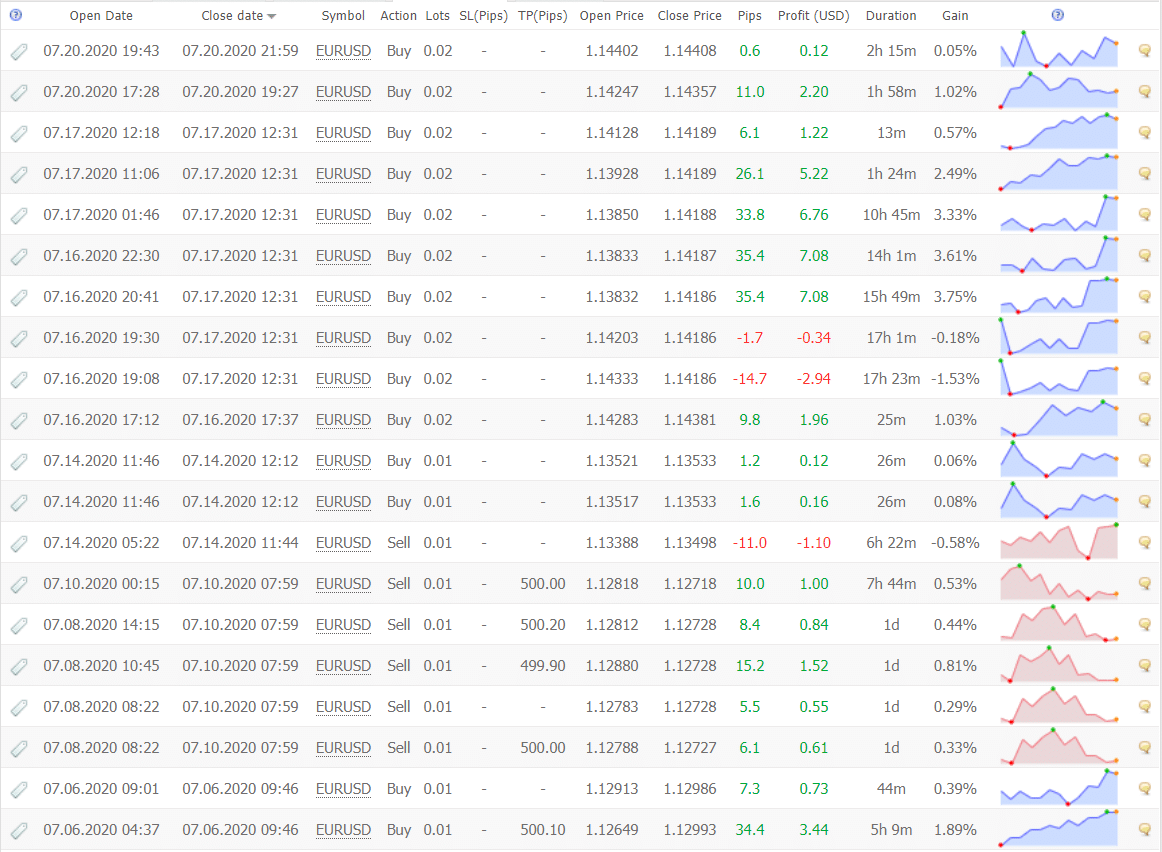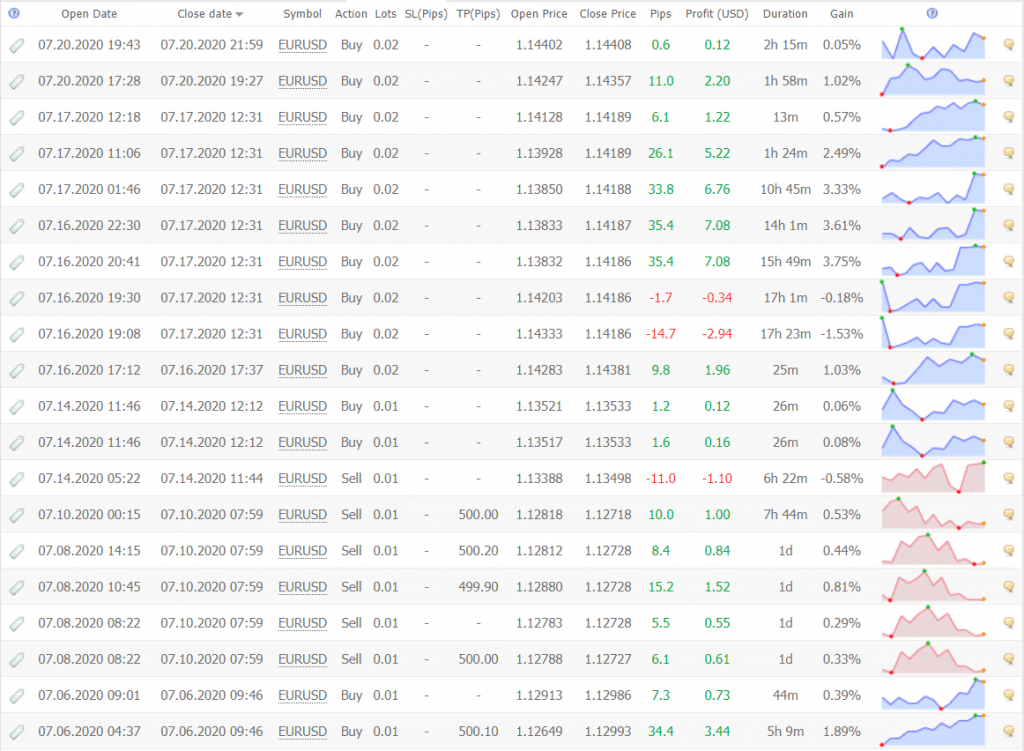 At the same time, looking at 500 pips TPs we can notice that there'd also be a trend strategy.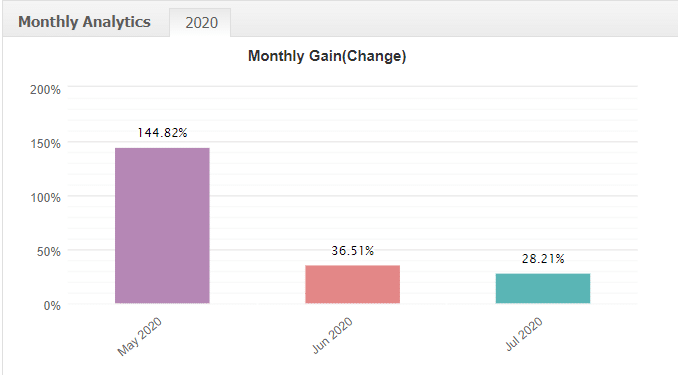 The EA started working with high risks, and then they were decreased.
Pricing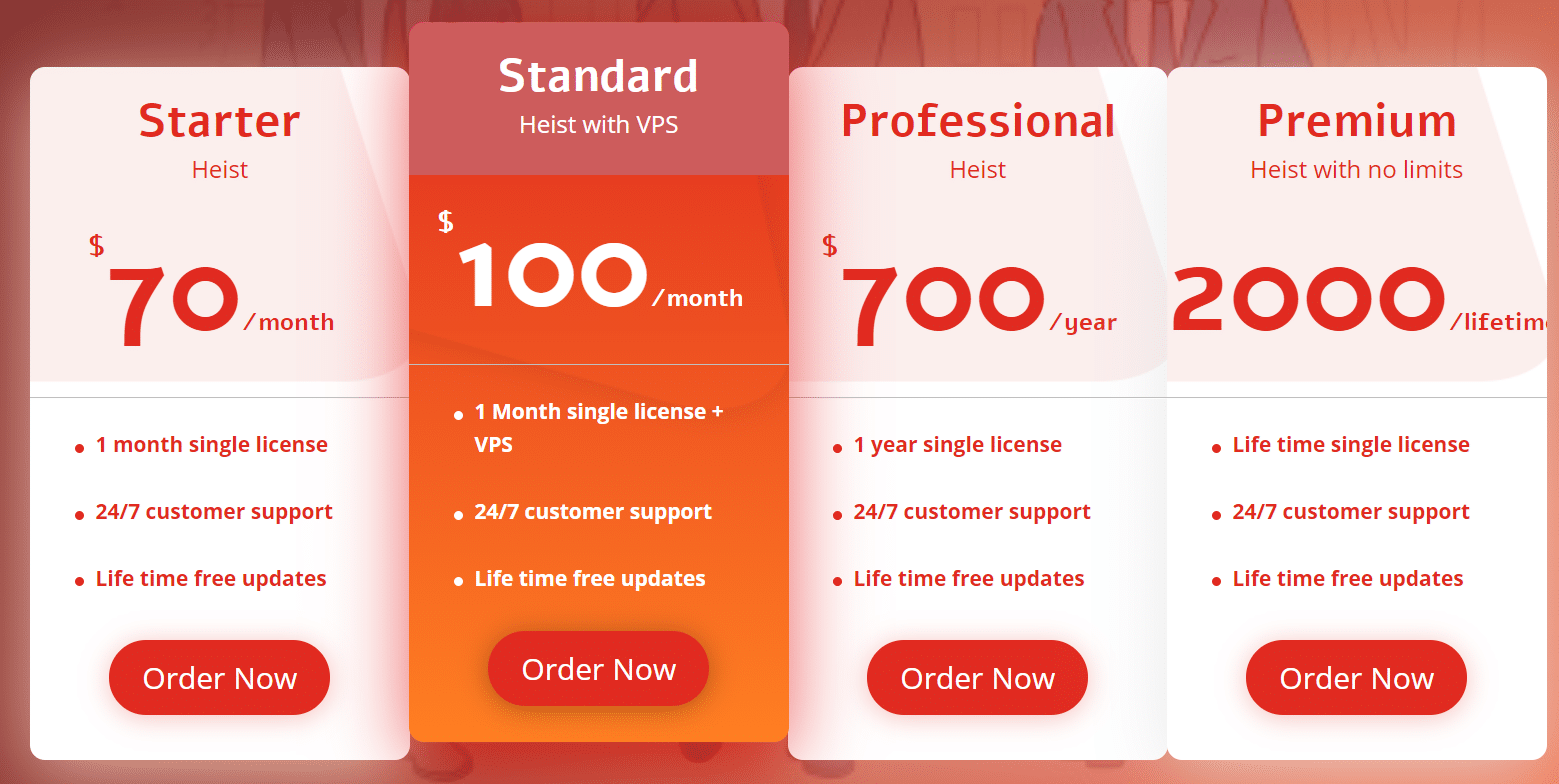 There are four packages that vary so much. The Starter package costs $70 monthly. It includes only one real account license. A Standard package costs $100 monthly and includes one month license with VPS. VPS can be bought for less than $10 from many companies. The Professional package starts from $700 annually. The Life Time Premium package costs $2000. All of them include 24/7 support and free lifetime updates.
Is Forex Heist EA a viable option?
We don't think so. There are many reasons, but the most common sense is selling the EA for up to $2000 for a copy, and it traded well half a year ago. Why didn't they fund up the real account on up to $10k and keep making money? Why did they stop trading activity if they have had a chicken that brings golden eggs? It's just common sense. The single advantage is that we've got real-account trading results, and this is all.
Conclusion
It always warns when the robot showed rocket results and was turned off without any significant reason. Would you ever stop an EA that makes +30% monthly? The answer is never. So, there's something wrong with them or with Forex Heist. Also, the last activities on the Twitter account were around the end of July 2020. What is this important? The answer we can see in the offer. The devs don't provide a money-back guarantee. It's weird that they didn't provide strategy explanations for these incredible results. Everything looks out of place. We'd like to suggest you avoid this EA.