ForexSignals is a service that focuses on educational materials only. The presentation is extended and shares much intel about what we can receive from this service. The owners claimed "Forex trading signals alone are not enough. You need tested strategies, powerful tools, and experienced traders to arm you with knowledge. That's where we come in." We are here to check everything up.
Would you like to try out trading with an Expert Advisor?
Features
The presentation has some explanations about how everything should help us to be better traders.
The devs claimed that they helped out 83,000 traders.
It's hard to trust this.
They insisted that we need "more than just signals."
"There's a one-stop shop for all Forex things."
The developers provide us with analyst material from knowledgeable traders.
We can expect to watch real-time live streams.
It's possible to share our trading ideas with other participants.
They have 55 years of trading experience.
The chat with pros is available 24/7.
We get all our questions answered.
The pack includes over 300 hours of "easy-to-understand video lessons." They can be useful for beginners and advanced traders.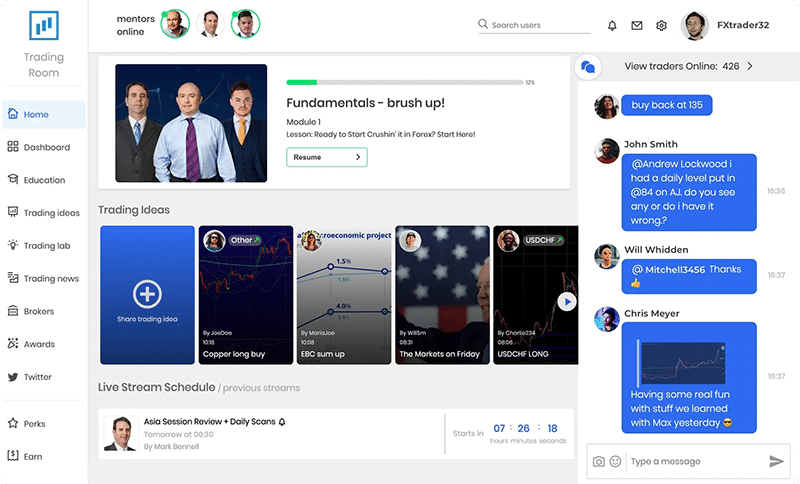 The devs have designed an app to provide services.

There's a strategy that fits all types of trading.
We have an intra-day trading strategy that uses powerful technical indicators to identify moves in the markets before they happen.
The developers told us about their Trend Surfing EA that will help us with a trading journey.
They help with risk managers.
How to start trading with ForexSignals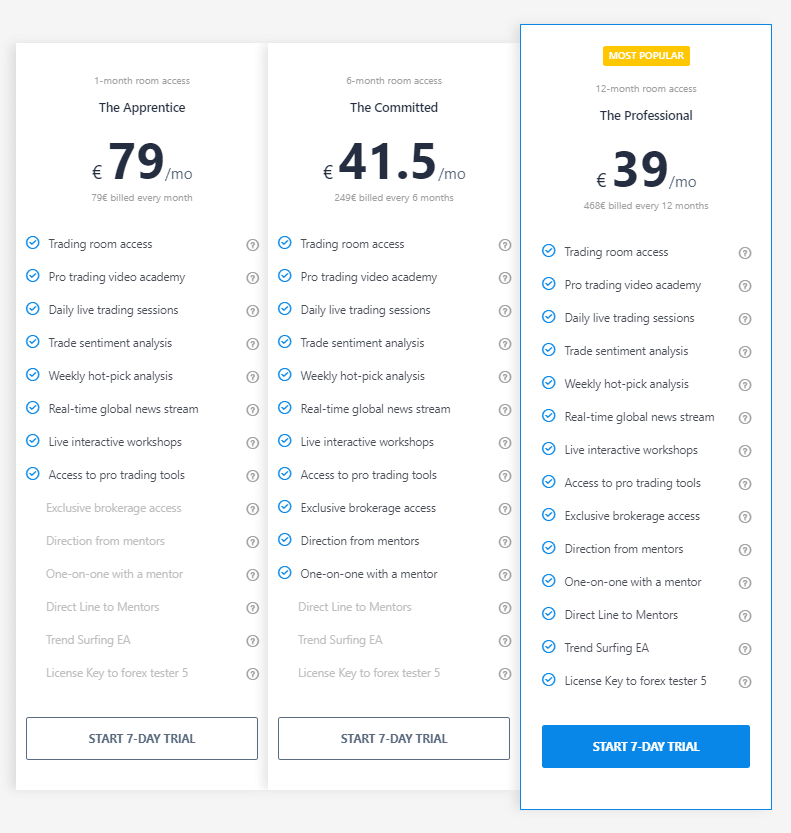 The offer looks insanely complicated. The beginners for whom all of this was written understand almost nothing. The apprentice pack is available for €79, the committed pack is available for €41.5 monthly, charged half a yearly, the professional pack costs €39 monthly, and it's charged annually. Let's take a look at the features:
Trading room access.
Pro trading video academy.
Daily live trading sessions.
Trade sentiment analysis.
Weekly hot-pick analysis.
Real-time global news stream.
Live interactive workshops.
Access to pro trading tools.
Exclusive brokerage access.
Direction from mentors.
One-on-one with a mentor.
Direct Line to Mentors.
Trend Surfing EA.
License Key to forex tester 5.

The developers allow us to give the system a try for free with a 7-day trial. We have to share our email to them.
Backtests
The presentation isn't featured by backtest reports. The system should have been tested before release and sent to mostly beginners but we have no sign of this. So, we don't know if the system got good results working on the past data.
Verified trading results of ForexSignals
The presentation doesn't include trading results either. It would be great to understand what results the system could achieve working on real or demo accounts verified by Myfxbook or Fxblue verification sites. Now, it's hard to understand if the system fits our expectations for the long run. We'd like to know what accuracy, drawdowns, trade length, and so on it has.
People feedback


There is a block of testimonials from Trustpilot.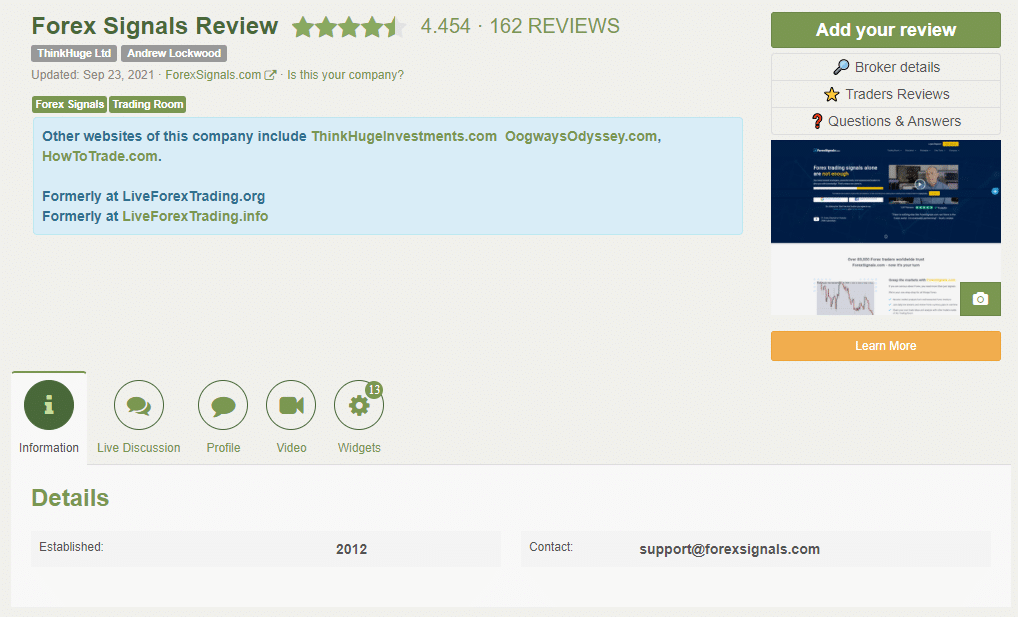 There's a page on Forex Peace Army created. It has a 4.45 rate based on 162 reviews.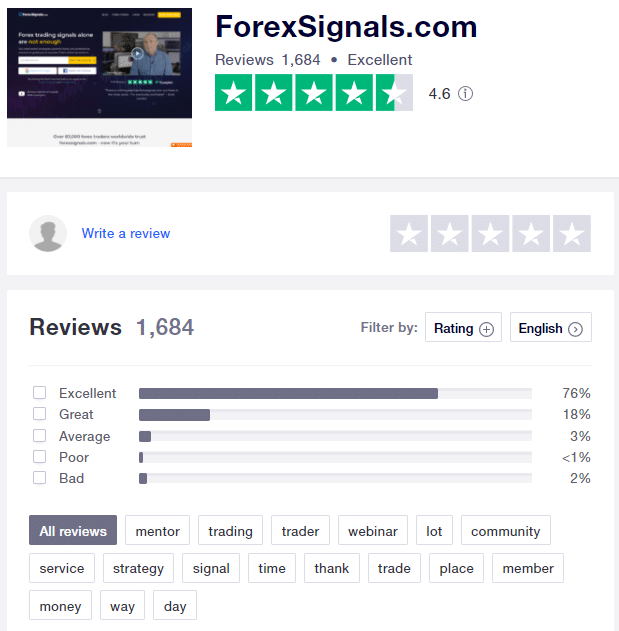 The page on Trustpilot has a 4.6 rate based on 1.684 testimonials.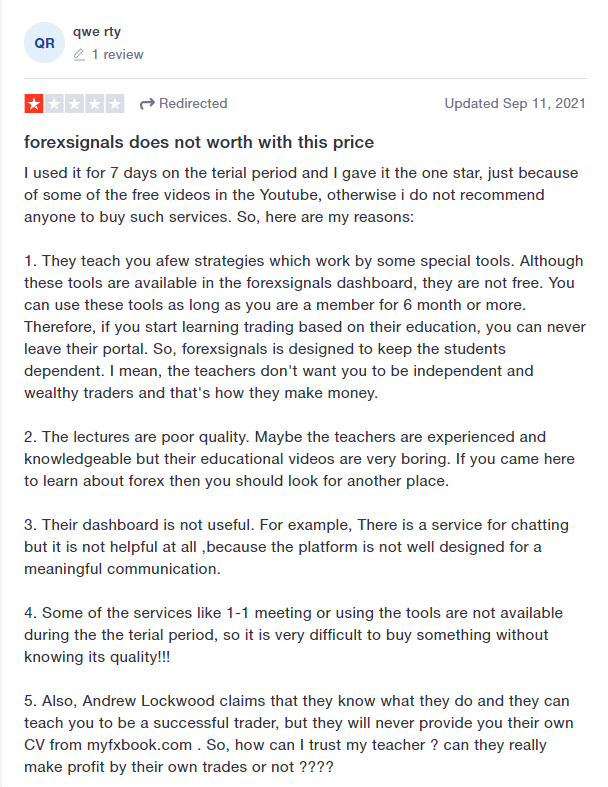 This client would like to note that the developers must run a real account with huge success to teach us trading and how it's better to trade.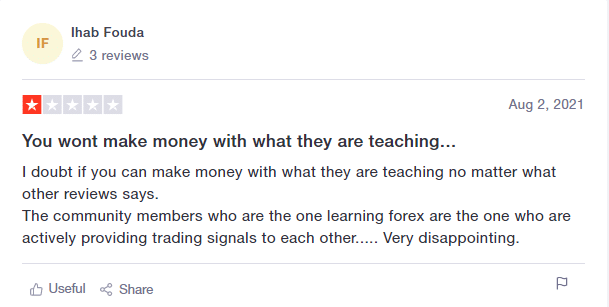 It's hard for many to trust this service all the way.
Is ForexSignals a viable option?
Advantages
Disadvantages
No team revealed 
No details about the EA explained
No backtest reports provided 
No trading results shown 
No refunds supported 
No sign about their trading activities and existed
Review summary
The company is another educational portal without trading results provided. Everything we have is just wording of how everything will be great if we subscribe to them. We know it doesn't work like that. The pricing is high for this type of service. We have no refund policy provided. Negative use reviews convince us that it is not a good choice.
Would you like to try out trading with an Expert Advisor?