FX Hunter Wealth is a Forex signal provider that sends its users trade alerts through the Telegram app. It promises more than 15 Swing signals every month and targets exceeding 100 pips. The presentation on the website is pretty neat, with all the features and perks outlined, and a Blog section where you can find many resources related to the Forex market.
FX Hunter was launched in 2013 by an individual going by the name of Dave FX Hunter, who claims to possess 7 years of experience in the Forex market. Other than that, we don't have information related to the location of the developer. It is mentioned, however, that he has won first place in a Forex Factory competition and has been featured in the top 10 for other competitions.
While the presentation looks professional and the vendor reveals some details about the developer, this is not enough for us to trust in this system. In order to judge its efficacy, we must evaluate other aspects like features, backtests, trading results, customer reviews, etc.
Features
Using FX Hunter Wealth, you can trade in a variety of pairs like EUR/USD, GBP/NZD, AUD/USD, EUR/AUD, etc. This allows you to create a diverse portfolio and significantly reduce your risks. The system follows the bank movements in the Forex market to identify the best trading occasions.
It is not an easy task to identify the institutional levels and place your trades based on them. This fully automated system working on four different timeframes can easily conduct a thorough analysis of the market, thus getting accurate information about the asset.
On the website, it is mentioned that FX Hunter Wealth follows a Manual Swing Trading Strategy where the trades are placed on the basis of COT, market volume and profile, and liquidity. The risk for each trade is about 1.5% or 5% for every position set.
As per vendor claims, the maximum risk of this strategy is only 10%. We don't have any further technical details about the trading strategy, however, and this is something we would like to see from this Forex EA in the future.
How to Start Trading With FX Hunter Wealth


In order to get started with FX Hunter Wealth,, you first need to create a live account with the IC Markets broker and make an initial deposit of $2000. Next, you need to get in touch with FX Hunter Wealth via the contact form on the website, after which you will receive the agreements and documents you have to sign.
After signing the documents, they are to be sent to the broker who will create a sub-account in your name that will be connected to the Multi Account Manager (MAM). And, after the MAM processing is complete, your trading will begin. The account is read-only, so you cannot open, close, or edit the trades manually.
For an initial couple of months, you need to pay $75 per month in order to use this software and after that, the monthly fee becomes $125. This is not exactly a cheap service and most of the Forex signals providers cost much less. So, if you plan to trade using a small account, this trading system is not for you.
Backtests
We expected the vendor to provide us with some backtesting data that would give us an idea about the system's performance, but unfortunately, nothing of that sort can be found on the website. This is quite disappointing considering the extremely professional presentation and tall claims made by the vendor.
Verified trading results of FX Hunter Wealth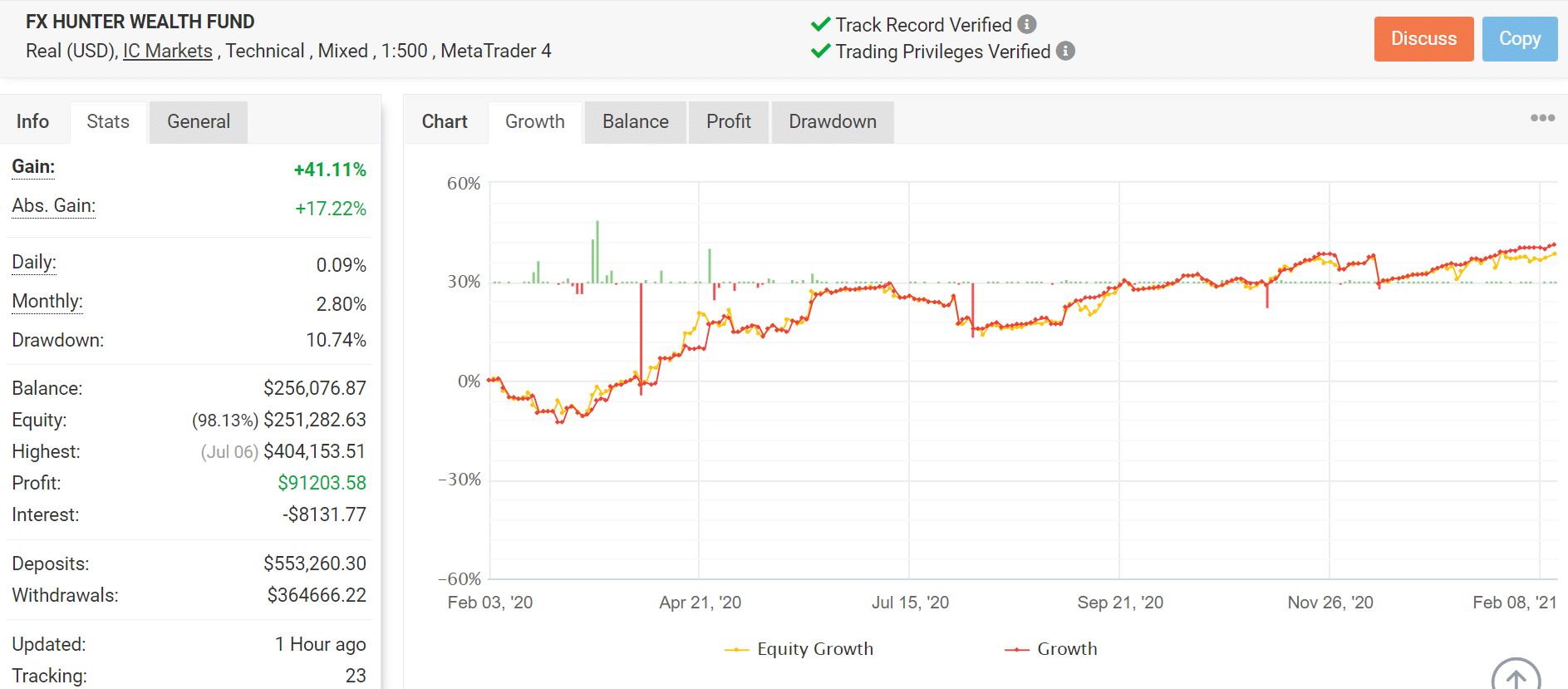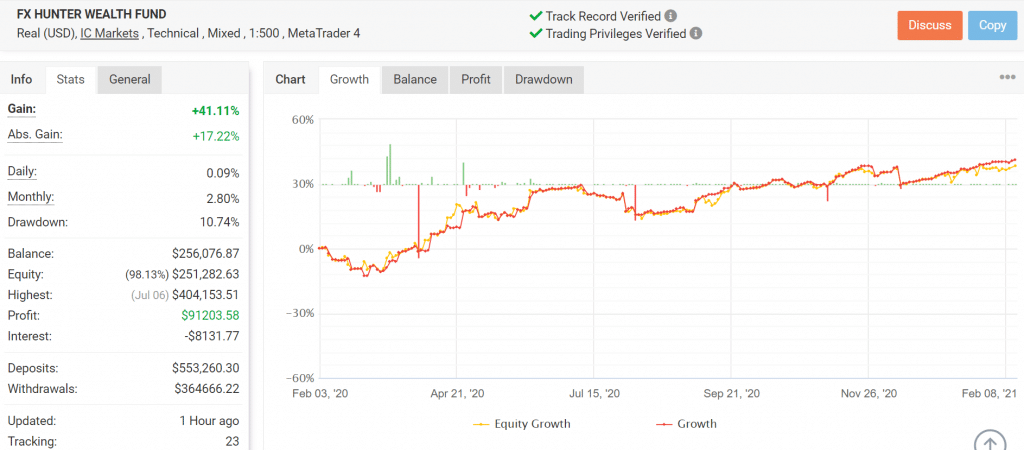 FX Hunter Wealth has a verified live trading account on Myfxbook, and the results are quite promising. After being launched on 3rd February 2020, this account has generated a gain of 41.11% using a deposit of $553,260.30. It has daily and monthly gains of 0.09% and 2.80%, while the drawdown is a low 10.74%.
To date, 2092 trades have been placed from this account, out of which 1383 have been won, and this brings the profitability to 66%. This, combined with the profit factor of 1.25 and the average win of 58.01 pips/$327.12, tells us that the system is capable of earning profits.
Customer Reviews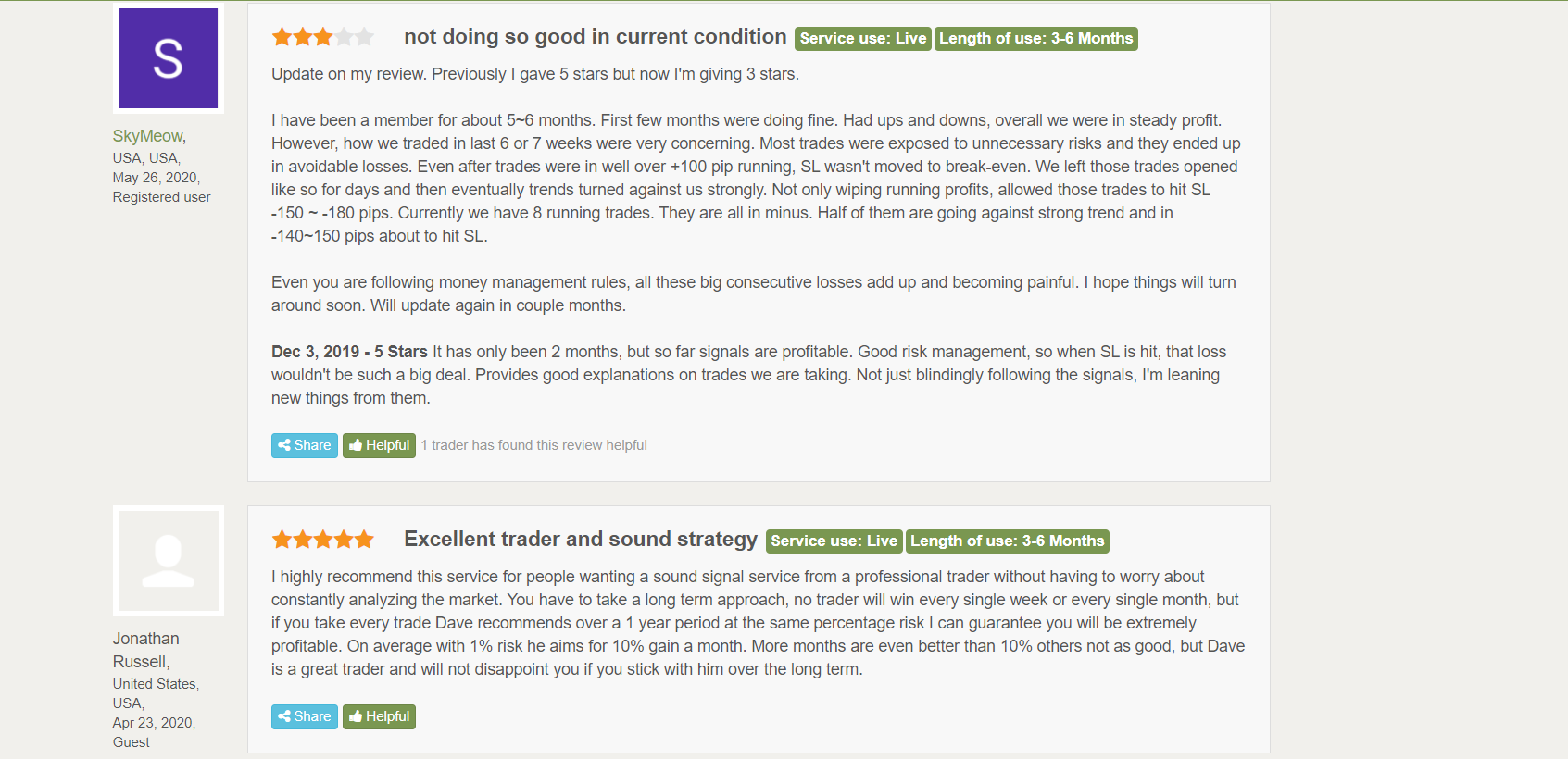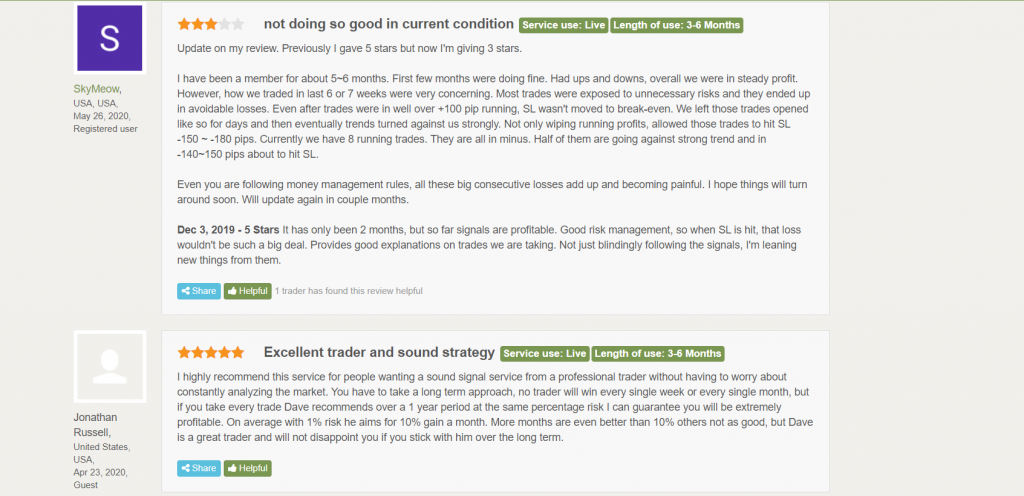 We found some customer reviews concerning FX Hunter Wealth on the Forex Peace Army website. As you can see, users have mixed feelings about this signal provider. One user has complained about its trades being exposed to unnecessary risks that led to losses, while another one has praised the steady gains generated by it.
Is FX Hunter Wealth a Viable Option?
Take a look at the pros and cons of FX Hunter Wealth in order to see if it's worth buying or not.
Advantages
Live trading results are available
Managed account service
Experienced developer
Disadvantages
Not enough information about the strategy
Expensive pricing plans
Lack of backtesting results
Wrapping Up
While this is by no means a perfect system, it does show some promise in terms of live trading results and nice features. But, considering the price, we expected more from FX Hunter Wealth, and as of now, we cannot say with confidence that you can rely on this system.
Would you like to try out trading with an Expert Advisor?
Learn more about the best forex robots.