Gold VIP Signal has a website that does not provide authentic information, lies about the service providers and the trading accuracy of their signal service. The whole group is led by two African traders who send their trades via WhatsApp to the general community. The service is not functional anymore.
Would you like to try out trading with an Expert Advisor?
Features
The signals promise traders a service where they can monitor their accounts 24/7 and have complete control over their trades. Traders do not need any trading experience and can withdraw their cash as required. The account management service ensures a 300% gain in a single month with a profit split of 60/40 in favor of the investor.
Strategy
The traders use a trend following strategy on the H4 chart. They use multiple indicators, oscillators' support, and resistance levels to help with their analysis. Fibonacci retracements are also used. Swaps and spreads are not considered with the signals, and the trader has to analyze this himself. It is the sole duty of the investor to place trades into his account. There can be some significant losses during trading, and the service provider advises the followers to keep a check on their emotional state.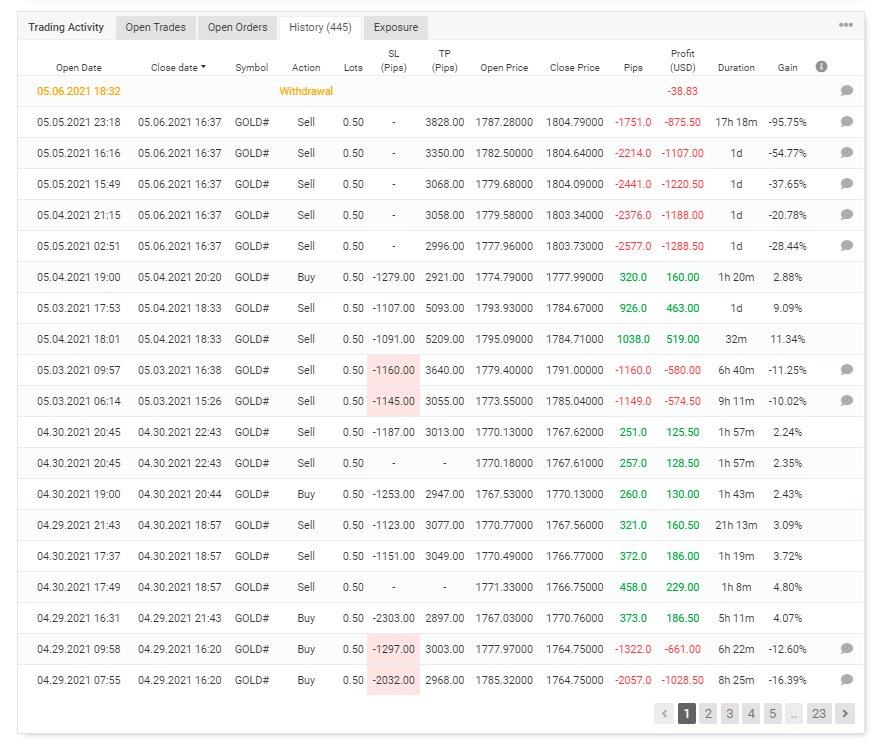 Looking at the trading history on Myfxbook, the traders traded on multiple currency pairs during March, while in April and May, they used the precious metal gold. Most of the trades open and close within a day with an average duration of 20 hours and 24 minutes.
How to start trading with Gold VIP Signal
The providers do not mention any price point for getting signals. You can check the WhatsApp group for getting their trades and use the signals recommendation on the website.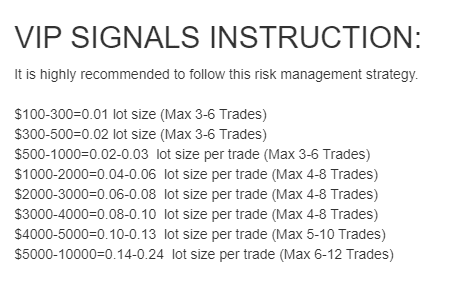 The providers do not recommend opening big lots on the trade. They say not to use more than 5% risk on any position and make a strict plan on entry and exit points.


Backtests
There are no backtesting results available as it is a signal service.
Verified Trading Results of Gold VIP Signal
The seller ensures to provide 300% percent on your account over a month yet fails to provide satisfactory verified live trading results. Their account on Myfxbook shows an impressive negative result with a margin call. A profit factor of 1.45 and a win rate of 83% for long and short for 72% resulted in a total profit of $6475.45. They traded 60.40 lots with an average win of $62.51 and a loss of $-163.54. There were substantial daily drawdowns on the system, where one resulted in a complete drawdown on 5th May 2021.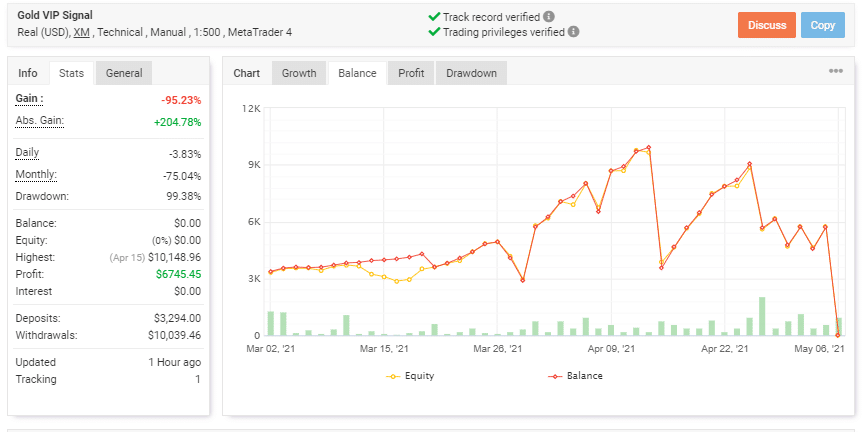 Customer Reviews
There are no customer reviews available on noted platforms such as Forex Peace Army or TrustPilot. Therefore we can not conclude the experience of traders who used Gold VIP Signals. Moreover, it might take some time to appear on websites as the service is relatively new.
Is Gold VIP Signal a viable option?
Looking at the recent results of Gold VIP signals, any trader would suggest staying away from the service. There are many disadvantages and little to no benefits of the system:
Advantages
Huge returns over a short period
Disadvantage
Significant drawdowns can expose your account to margin calls
No transparency over who commands the signals
A substandard website
The trading results on Myfxbook are for a short duration
Conclusion
The 90% winning percentage mentioned on the website is a pure hoax when we look at the results on the Myfxbook page. The page does warn that trading involves a considerable amount of risk yet and a trader should be cautious yet fail to implement proper risk management strategies. Before following any signal service, make sure they have an automated copying system, so you don't have to execute the trades manually. Also, keep a note of their results on popular review websites.
Would you like to try out trading with an Expert Advisor?