Golden Fleece is an expert advisor designed to work with any broker. It is trained with a multilayer perceptron neural network to trade on the XAUUSD pair and any indices. Roman Erokhin is the brains behind this robot. Angry Lion, Genius Assets, and the Golden Coup are the other products included in this vendor's portfolio. The developer is based in Russia. Unfortunately, there's no other background info presented that could help us gauge Roman's credibility and expertise on matters Forex.
Would you like to try out trading with an Expert Advisor?
Features
The robot has the following features:
It is easy to install
Each trading position has a hard stop loss and a take profit attached to it
Not sensitive to broker conditions
No risky techniques of money management like the grid, averaging, or martingale are applied
The recommended timeframe is M30
You are advised to work with an ECN account
How to start trading with Golden Fleece
You need to register an account with mql5 to begin using the robot:
Just click on any package you desire to work with. Enter your name and email address. Password details will be sent to your inbox, which will be used to activate your new MQL5 account.
Log in and choose a payment method from the list provided.
Once you confirm the payment, download the EA, attach it to your MT4/5 account, and activate it so that it can start trading for you.
Golden Fleece works with the trend trading strategy, which utilizes the vendor's indicator and neural networks as input signals. The EA depends on the signals produced by the indicator to open orders.
The system offers two pricing packages. We have a lifetime option that costs $690 and a rental plan that is priced at $500 per year.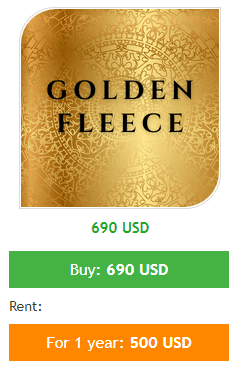 Backtests
As you can see below, the vendor has shared the backtest results of the robot. According to the data, a deposit of $1000 was turned into $9280044.07 total net profit. So, we have a profit factor of 126.01, which indicates that the wins made by the EA were much higher than the losses. At the time, 967 trades were completed using the XAUUSD currency pair. Nearly all the short trades (99.30%) and long trades (98.15%) made profits, which is amazing. The drawdown was small at 1.06%.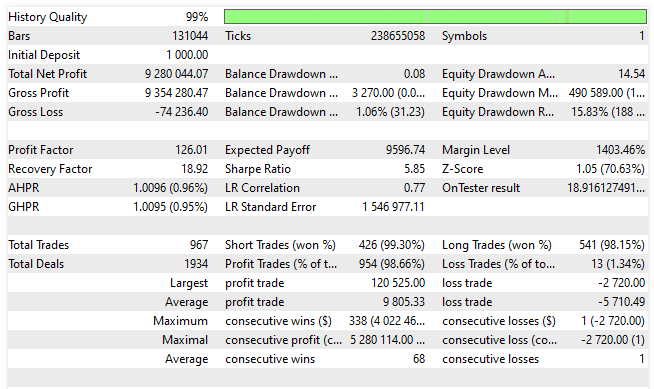 Unverified trading results of Golden Fleece
The EA has a live account on MQL5, but the data has not been verified by a third-party. For this reason, we are not sure if it reflects the true performance of Golden Fleece in the real market.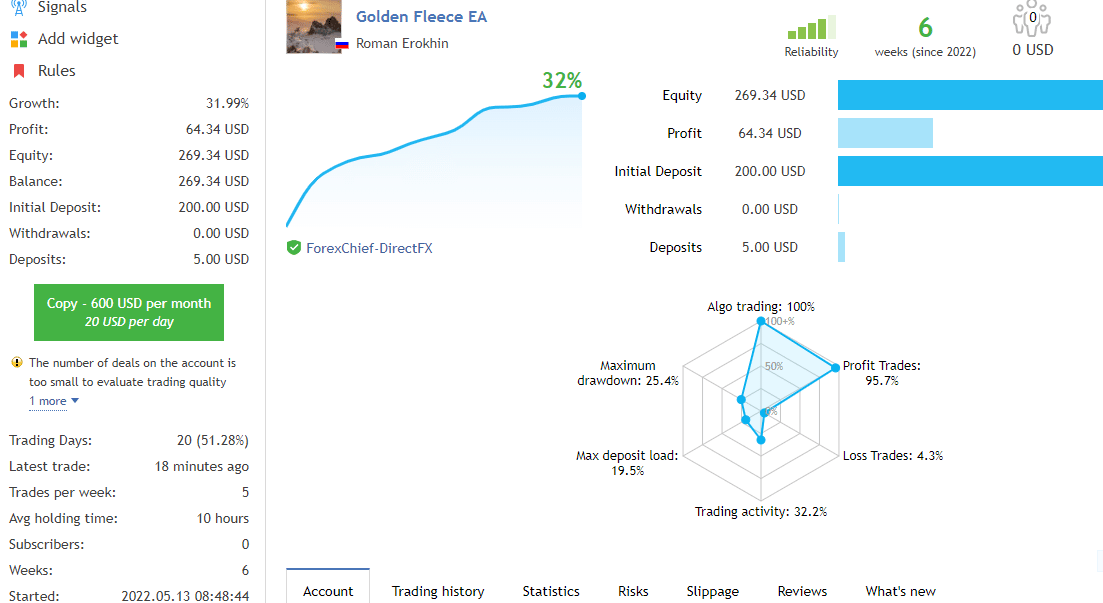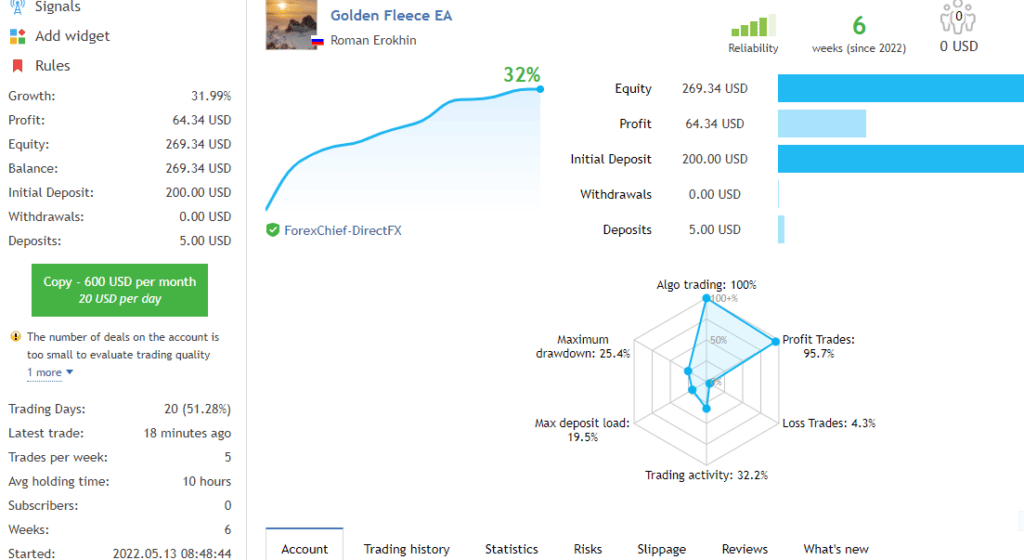 The above account has a 20-day trading history. During this time, the bot has generated a profit of $64.34 from a $200 deposit, leading to a 32% growth rate on the account. Trading risks seem to be a bit high, as the drawdown has already surpassed the 20% mark. The average holding time for a trade is 10 hours. An extra deposit of $5 has been injected into the account.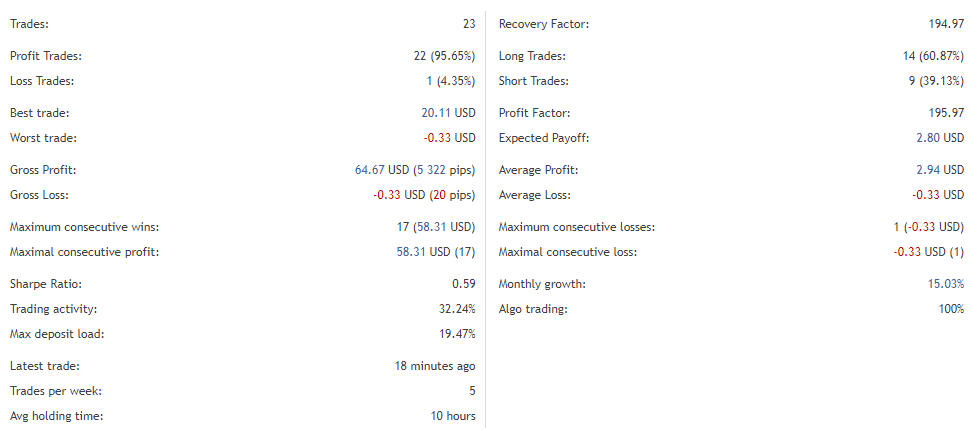 On average, the EA initiates 5 trades per week. So, we have 23 completed trades to date. Almost 96% of the orders have been successful, and the resulting profit factor is 195.95. These trading outcomes suggest that Golden Fleece is a productive trader. We also see that the average profit ($2.94) is higher than the average loss (-$0.33). This tells us that there are more wins than losses.
Customer reviews
Golden Fleece has a 5-star rating on MQL5 based on 4 reviews. The major claims among these traders are that the bot is awesome, well written, and profits in all market conditions. We could not find any reviews on more credible sites like Trustpilot or Forex Peace Army.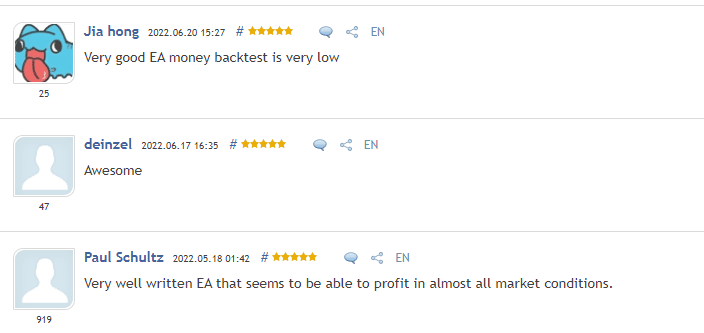 Is Golden Fleece a viable option?
| | |
| --- | --- |
| Advantages | Disadvantages |
| Fully automated | Expensive pricing options |
| Easy to use | No verified performance reports |
| Backtest results are showcased | Short trading history |
| | Lack of a refund policy |
Wrapping up
Golden Fleece is a user-friendly bot that helps you to conduct trades automatically using the trending strategy. Its backtest results are presented and show impressive results. All the same, the robot is expensive and lacks a money-back guarantee. Moreover, the authenticity of the live performance reports has not been verified. So, we cannot make any conclusions about the bot's profitability or trading risks in the real market.
Would you like to try out trading with an Expert Advisor?