A part of the EA systems developed by the Forex Automator group, Grid Master Pro claims to maximize trader earnings with this professional version. In contrast to the free BF version of the same name, this EA has 3 extra strategies for boosting trading performance. The EA ensures the characteristics it offers will help in profitable trades.
Features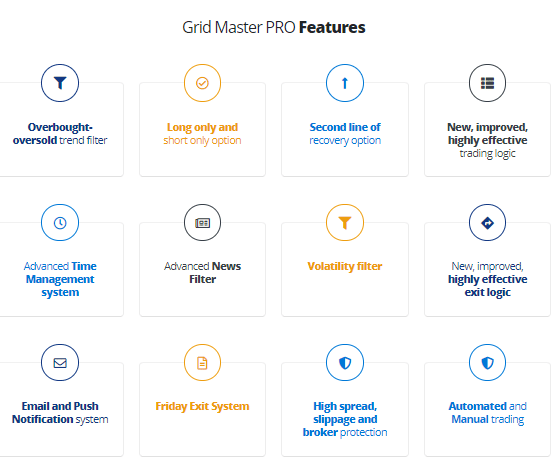 Grid Master Pro features include trend filters for overbought and oversold positions, second-line recovery option, reverse option add on, and short and long-only options, besides several other features that ensure improved performance.
This EA is designed to work particularly with the GBPUSD pair and is compatible with Metatrader 4 and Metatrader 5. M15 time frame is used by Grid Master Pro. The advanced features introduced in this pro version include time management, push notifications and email alerts, and Friday exit approach.
A grid trading strategy, where the software keeps opening positions to take advantage of the momentum of the markets is used here. This robot is created to work at a precise market movement for the initial position and the subsequent recovery trades on a grid basis.
Although the strategy is ideal for a ranging market, a breakaway can lead to dismal performance such as margin calls, blown accounts, and stop-outs. The second line of safety helps in setting up scalping trades of high frequency when a narrow price range is present.
The EA also allows drawdown compensating trades as the second line of safety for when price breaks occur in an unexpected direction. This occurs only when a powerful reversal pattern is detected.
How to start trading with Grid Master Pro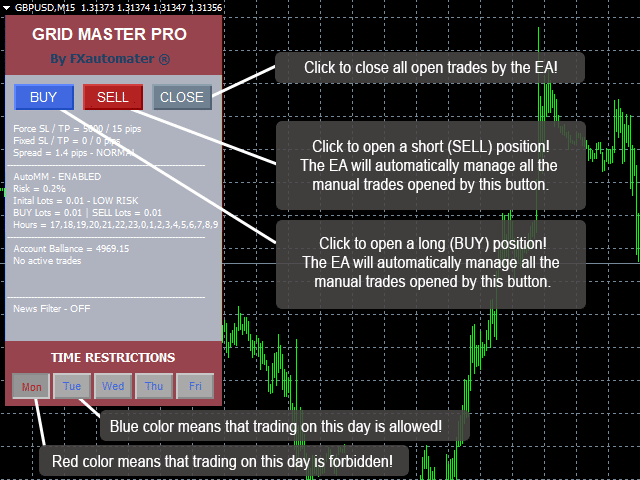 Grid Master Pro is available now at a 20% discounted rate of $117, instead of its original price of $147. Features provided with the package includes three demo accounts and a single real account.
A money-back guarantee of 60 days and 24/7 support is also provided. We checked for the support and found that only email support via the contact form available on the official site is available.
To begin trading using this EA, you need to make a minimum deposit of $1000. The advanced money management process designed in this EA helps you set the risk percentage you need upon which the lot size and free margin are automatically fixed by the EA.
Although the EA is set up to work on the GBPUSD pair, you can use it on other trading pairs easily but the performance cannot be guaranteed as with the primary pair. This is because you may have to add intensive optimizations prior to using it on other pairs.
Backtests

From the backtest results shown on the official website it is clear that it is for a period of 10 years and done with all the signals enabled. The modeling quality is 99.9%, hence we can safely assume that tick data was used for the calculation.
Although variable spreads were allowed, the slippage and commission aspects are not clearly stated, which could influence the results largely. When compared to the free version, the pro version indicates more profits for 10 years.
Verified Trading Results of Grid Master Pro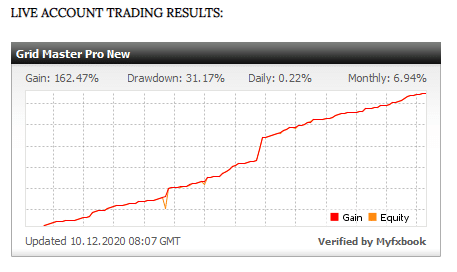 We found that the live account trading aspects are verified by Myfxbook, which makes the results more reliable. From the results we could see a profit of about 162.47% and a high drawdown of 31.17%. Gains accrued per month is 6.94% and 0.22% being the daily gain.
Customer Reviews
Feedback from customers is a key factor that helps to know about the reliability of an EA. There are not many reviews found in reliable review sites and whatever available on the official website looks to be manipulated or paid reviews.
Is Grid Master Pro A Viable Option?
When we consider all the aspects of this EA, it is clear that Grid Master Pro is not on top of the game when it comes to delivering effective software for traders.
Advantages
Diverse customizable options present in the site
Money back guarantee of 60 days is provided
Price is affordable
Disadvantages
The account is in danger of crashing if the default settings are modified
A minimum of $1000 is needed as a deposit for trading with this EA
Minimal or no feedback present
Wrapping Up
With plentiful features and addons, Grid Master Pro appears to be a good Forex tool at the outset. But, on a closer look, we found several drawbacks. The backtesting shown on the official website indicates a modeling quality of 90%, which means the EA does not use tick data, slippage, etc. for its backtest analysis.
For the EA to work it needs ideal conditions in the market like low spreads, reduced slippage, and high liquidity. Even with the addition of the special filters and other customized settings, the risks are high and another glaring omission we could see was the total lack of features like support, updates, and instructions. Hence, we do not recommend this EA and there are other alternatives that work more effectively.