Happy Neuron is a Grid strategy-based Forex expert advisor. It is a part of Happy Forex robots. They have various trading solutions where some of them are scams. Let's check how viable this one is because the Forex Store rated it as 4.7 (was 5.5) from 10.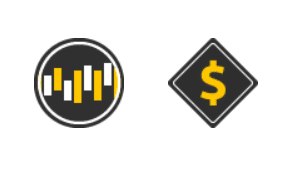 Forex Store marks this presentation only with two icons: Verified Track Record and Refund Policy.
Features
The system contains "modules that work on recurrent neural networks to determine market sentiment analysis with news filters."
The system trades the following cross pairs: GBP/AUD, GBP/CAD, GBP/CHF, GBP/JPY, GBP/USD, NZD/CHF, NZD/JPY, AUD/CAD, AUD/CHF, AUD/JPY, AUD/NZD, AUD/USD, CAD/CHF, CAD/JPY, CHF/JPY, EUR/AUD, EUR/CAD, EUR/CHF, EUR/GBP, EUR/JPY, EUR/USD, NZD/USD, USD/CAD, USD/CHF, and USD/JPY.
It works on the Swing time frame – H4.
How to start trading with Happy Neuron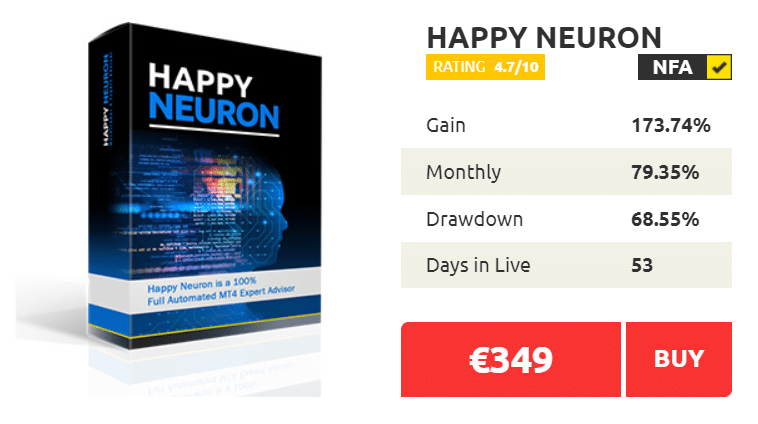 For getting started, we have to buy a copy of the product. The robot sells for 349 EUR for a digital copy. The package has a 30-day money-back guarantee, free updates, upgrades. The developers allow us to change the real account license as many times as we like. "The license is for the first month and will be automatically free renewed for a lifetime on your email. You will pay for the license once only." We don't know what's the reason for this trick, but it's something unfriendly.

We can buy the product from the company's site with all the same and 10 EAs in addition for free. Many of them are out of service.
The presentation is just several pages long, and there's a lack of information:
Happy Neuron is Happy Forex's trading solution.
The robot trades fully automatically without a need for human intervention.
The system is designed for the MetaTrader 4 platform.
It can trade twenty-five currency pairs. It's almost all available in the terminal.
The robot requires an ECN account to execute orders quickly.
It follows NFA regulation rules during trading.
The robot works well with 4 and 5-digit accounts.
The expert advisor is easy-to-install.
We can start trading without having previous experience.
The system isn't sewed to a particular broker.
It can be run on Windows 7, 8, 10, Mac OS, and Linux systems.
There are different account balance requirements depending on the risk we want to work with:
Conservative risk needs $5000 ($500 for micro and $50 for cent accounts).
Normal risk needs $3500 ($350 for micro and $35 for cent accounts).
Aggressive risk needs $2000 ($200 for micro and $20 for cent accounts).
Backtests
The robot has been delivered without backtest reports. Most likely, the devs did them, but they decided not to share reports with us. It looks suspicious.
Verified Trading Results of Happy Neuron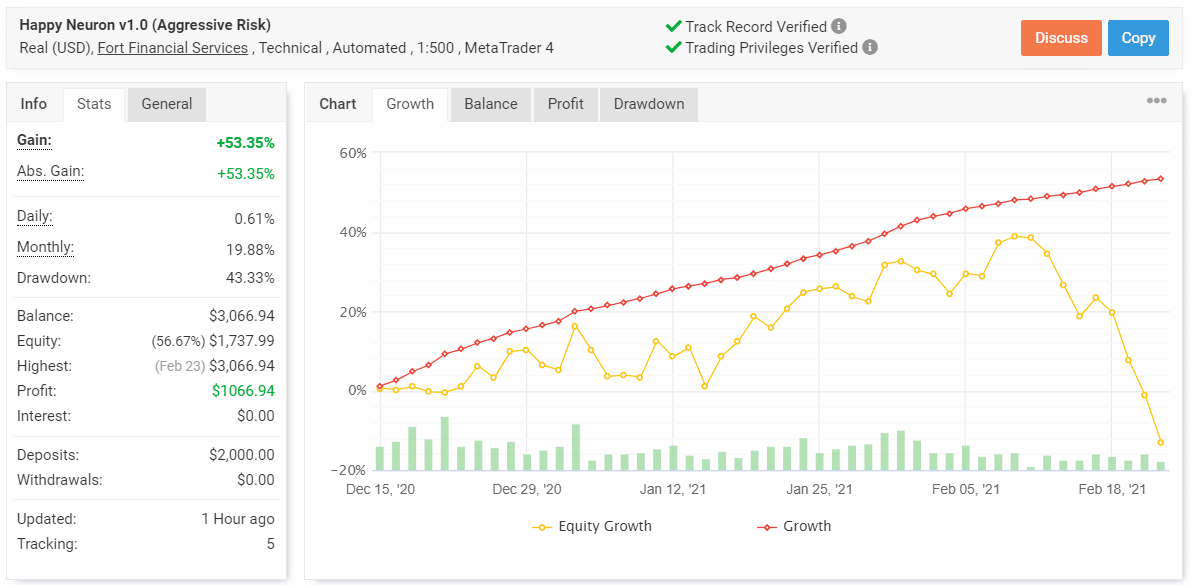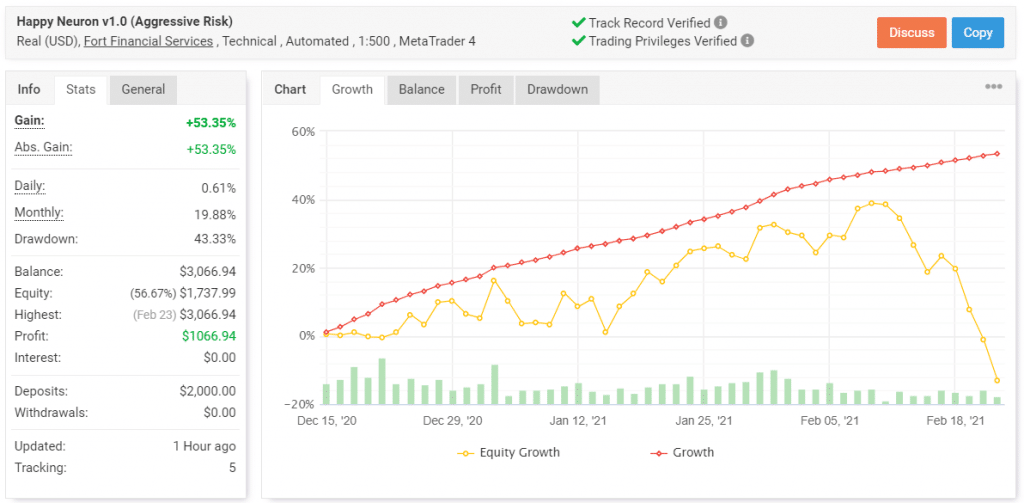 Happy Neuron runs an account on the Fort Financial Services broker. It's a real USD account. The system works automatically using technical indicators data from MT4. The leverage is 1:500. The account has a verified track record, so all data is delivered as it is. It was created on December 15, 2020, and deposited at $2000. Since then, the absolute gain is +53.35%. An average monthly gain is 19.88%, with the insane maximum drawdown – 43.33%. Five investors track the account.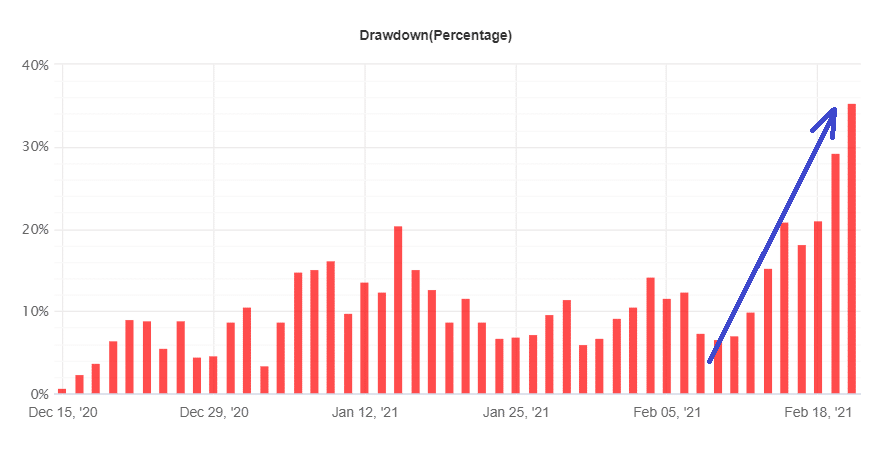 As we can see, the robot sits in the huge and long-term drawdown. We don't know if there's enough margin to overtake this.


The robot has closed 1565 trades with 8207.5 pips. An average win is 13.95 pips when an average loss is -43.53 pips. Happy Neuron traded 16.08 Lots. The win-rate varies between 84% and 85%. An average trade length is one day. The Profit Factor is 2.14.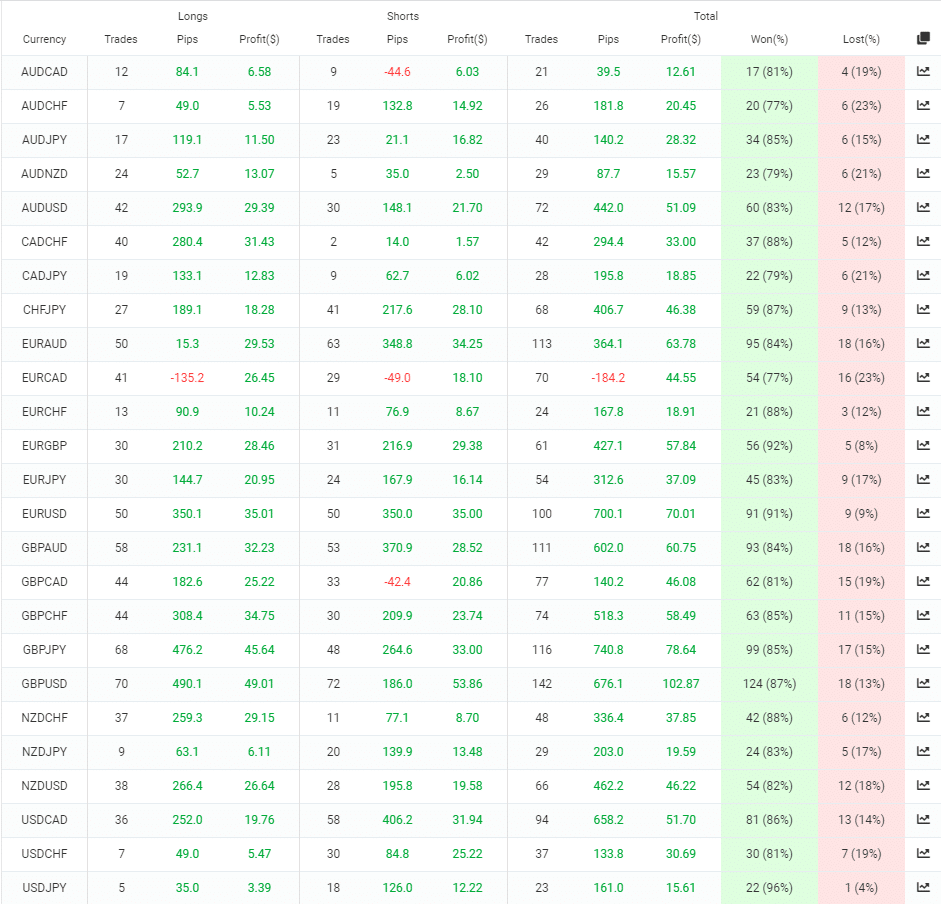 GBP/USD is the most traded symbol – 142 deals. It's the most profitable as well – $102.87.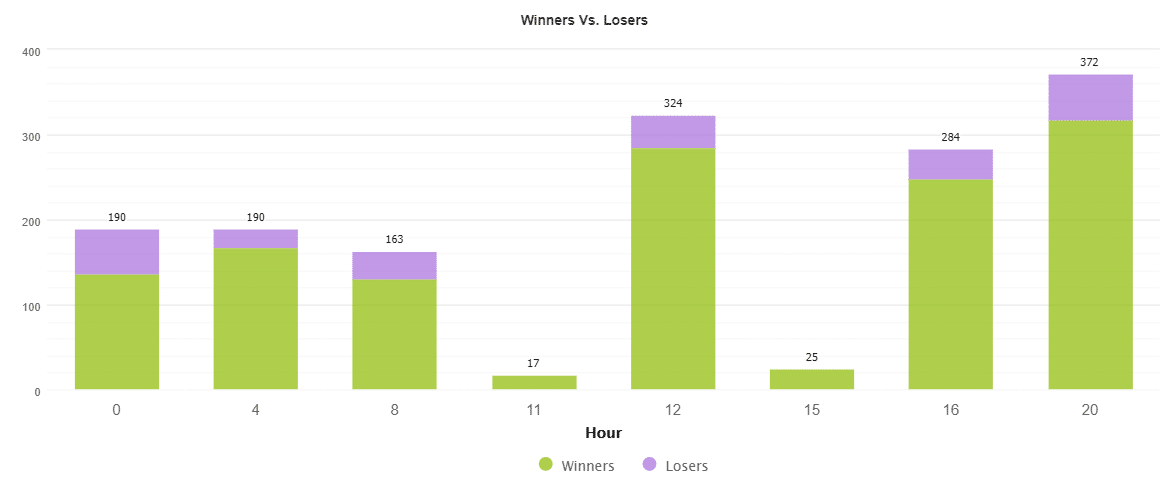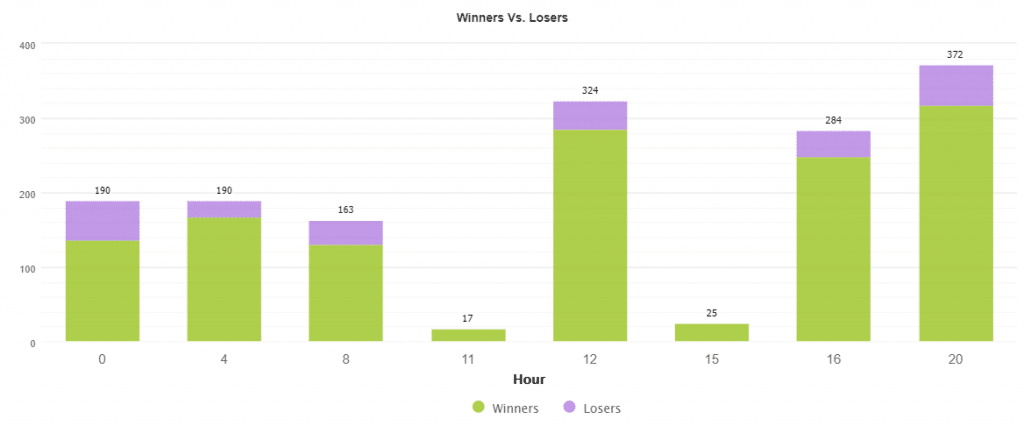 As we can see, the robot trades breakout and high-impact news trading hours.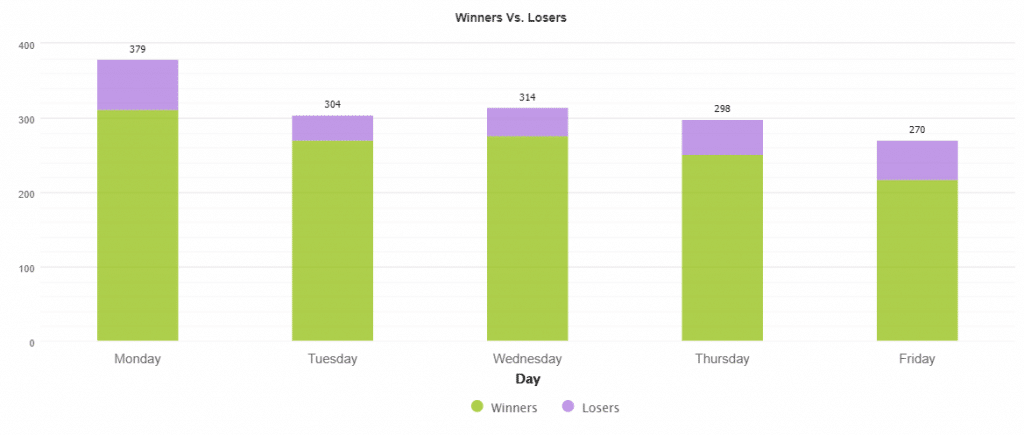 Monday is the most-traded day – 379 deals on the board.


The robot works with low risks to the account balance.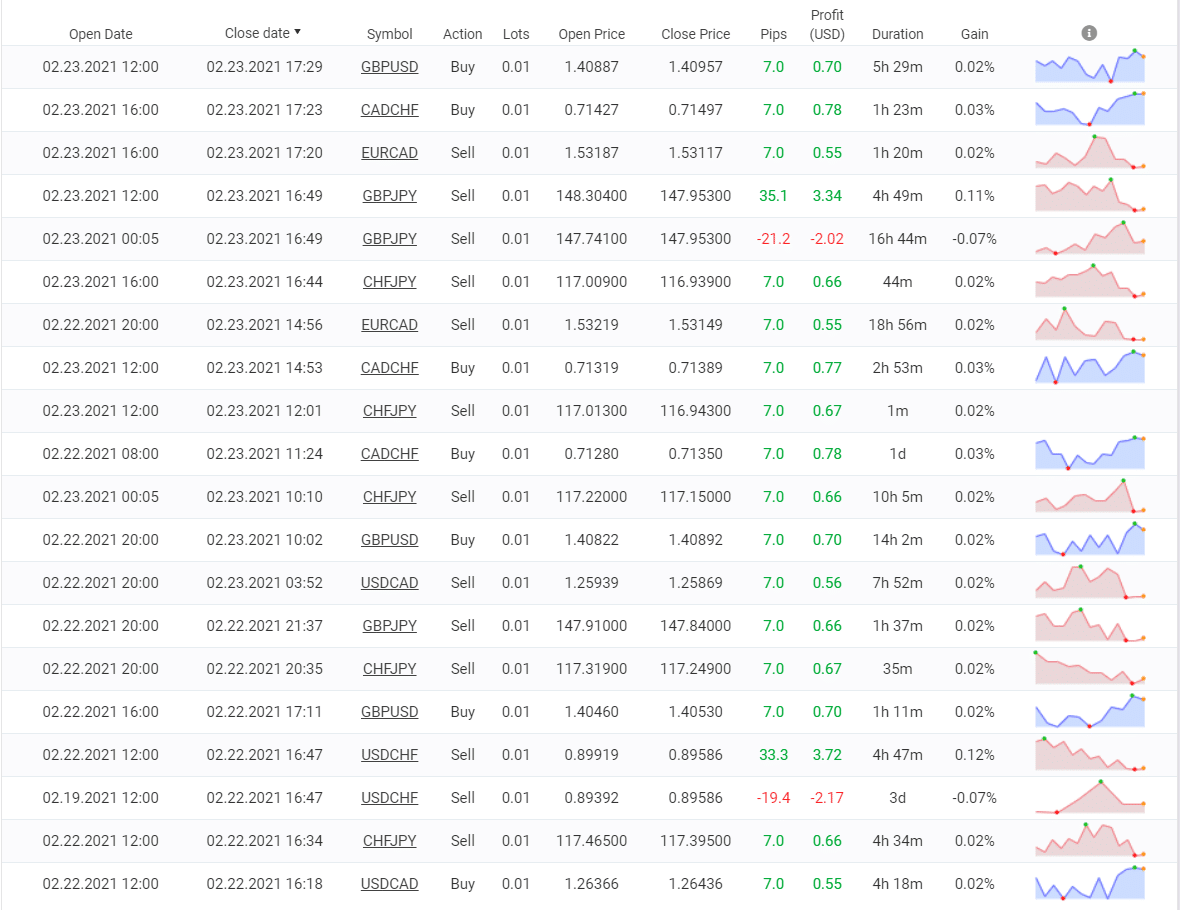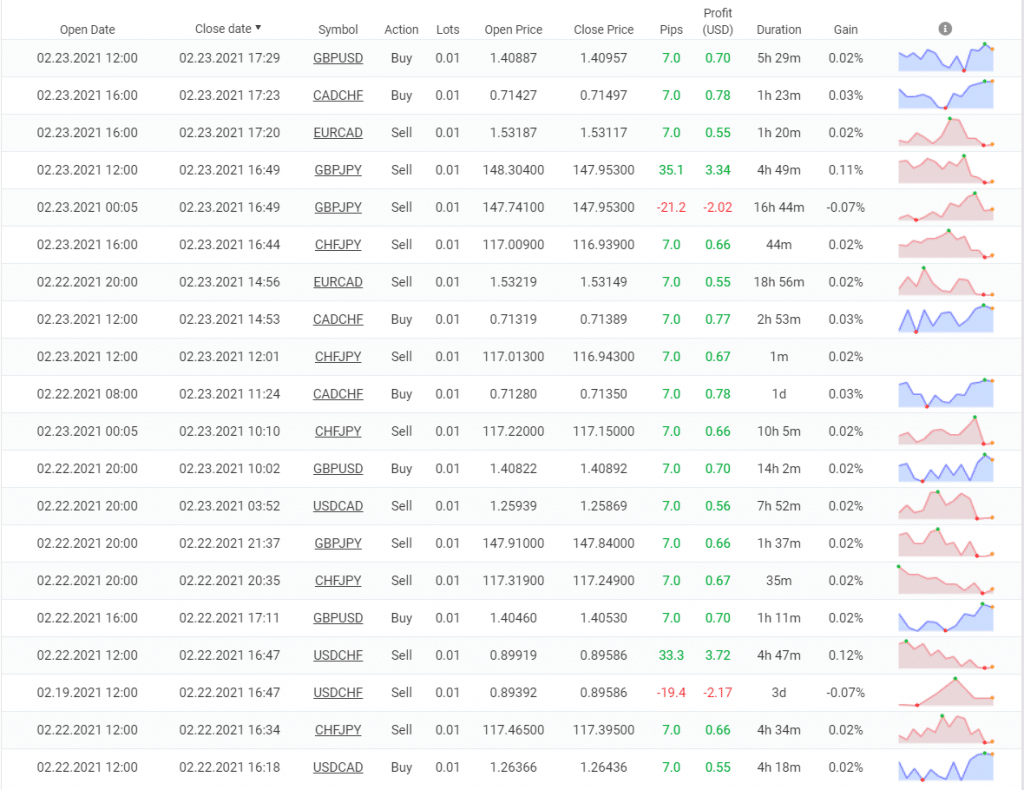 As we can see, an average Take Profit level varies from 7 to 33-35 pips.
People feedback


We've found a page of the Happy Forex company on the Forex Peace Army. There are five reviews and a 3.54 rate.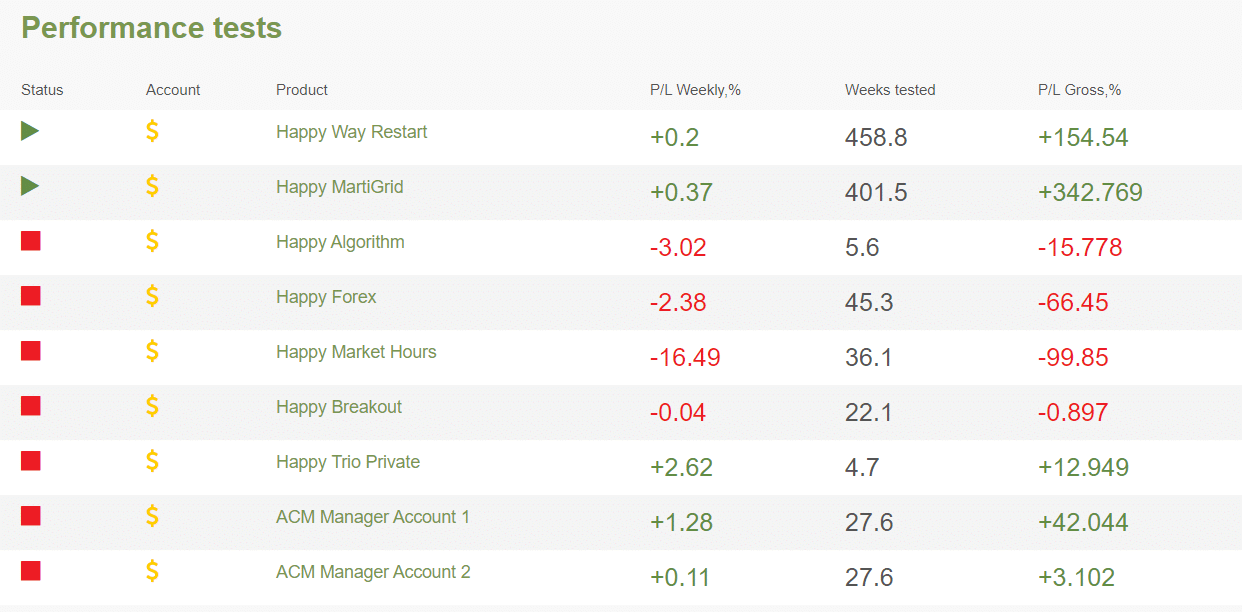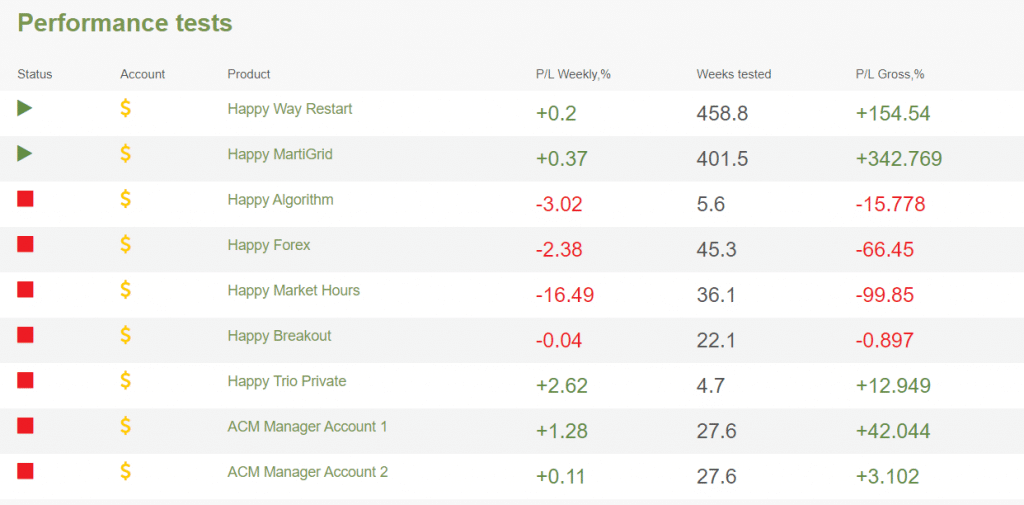 We can see many of the EAs that are in the pack. Some of them are scams. Anyway, the robot doesn't provide comments about it because it's just a three-months-old trading solution.
Other notes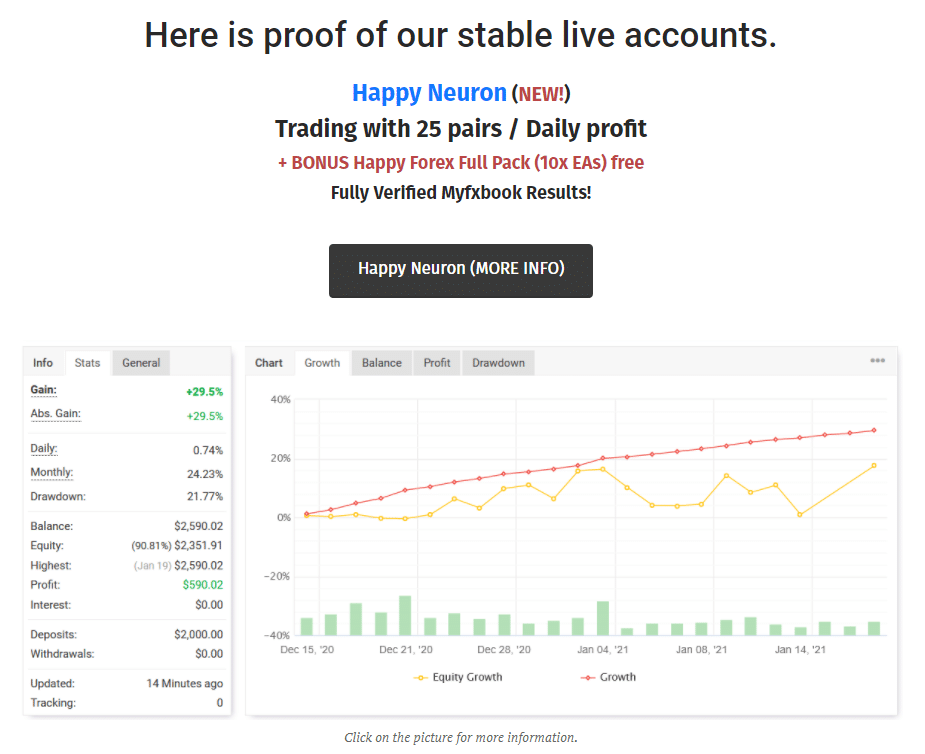 The main page of the Happy Forex site includes a month-old screenshot without significant drawdowns we could see.
Is Happy Neuron a viable option?
We don't think so. We are not sure if the robot can handle the drawdowns it sits in.
Conclusion
Happy Neuron is a several-months-old robot that runs over twenty-five currency pairs on the MetaTrader 4 platform. From detailed trading results, it seems like the robot focuses on opening trades during Break Out and, as a result, formed trends. Pricing is in the middle of the pack. In February 2021, the system started experiencing significant drawdowns. Let's see if it closes these deals with profits.
Would you like to try out trading with an Expert Advisor?
Learn more about the best forex robots.