StrategyQuant X is a platform that lets you develop algorithmic trading strategies and gauge their effectiveness with ease. You don't need any programming knowledge to work with this system since it has a simple user interface.
The presentation on the official website is quite detailed with separate sections on features, preview, pricing, data, etc. On the home page, the vendor has clearly outlined what StrategyQuant X is about and how it can help you improve your trading outcomes. There are several customer testimonials and example strategies provided as well.
StrategyQuant X is located in Prague, Czech Republic, and its founder and main software architect is Mark Fric. The identities of the senior developers, head of education, and customer service personnel are revealed, along with pictures. Formal addresses are provided for both the main office and the Hong Kong office.
In the vendor transparency department, this trading tool scores a lot of points. Many such systems are reluctant to provide us with information about the vendor, but it seems StrategyQuant X is a legit company that has nothing to hide.
Features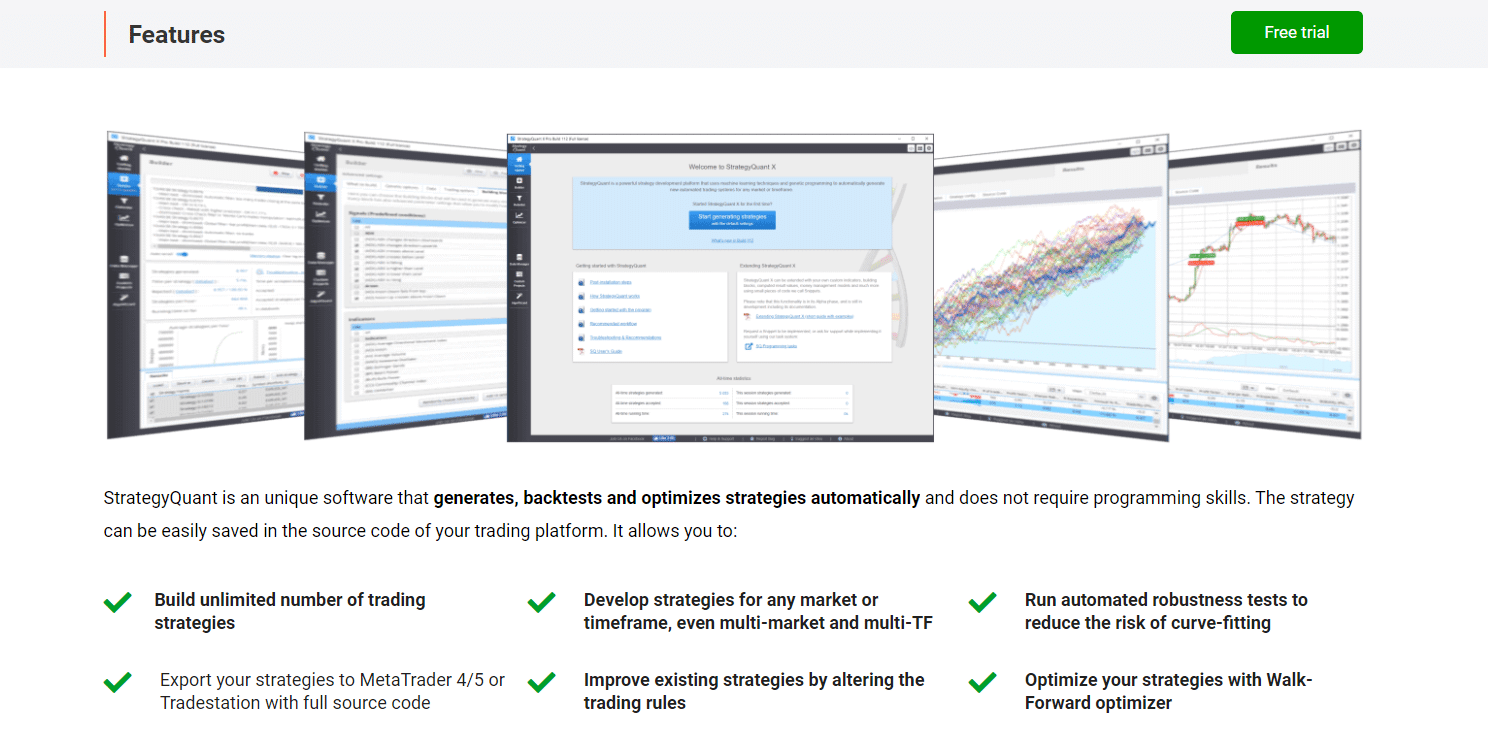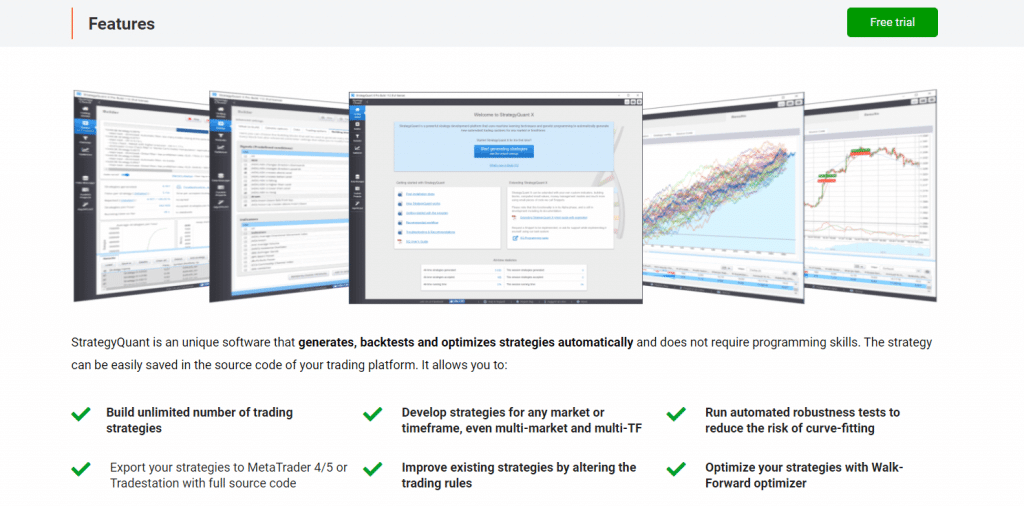 StrategyQuant X lets you create, optimize, and test all kinds of strategies on multiple timeframes. It has an extremely fast backtesting engine and an automated workflow that you can easily customize. Some of its high-end features include advanced filtering, 3D optimization charts, cluster analysis, walk-forward analysis, and Monte Carlo Tests.
This system recognizes problems in the strategies automatically and provides suggestions for fixing them. You can easily expand your strategies using several models and indicators and display the trades on charts. It lets you configure the number of signals for each chart, along with the properties.
The Builder mode allows you to create several strategies by selecting appropriate properties. Using advanced techniques like genetic evolution and random generation, the system is able to combine all the components as per the selected properties. Furthermore, there are robustness tests that let you avoid overfitting.
How to start trading with StrategyQuant X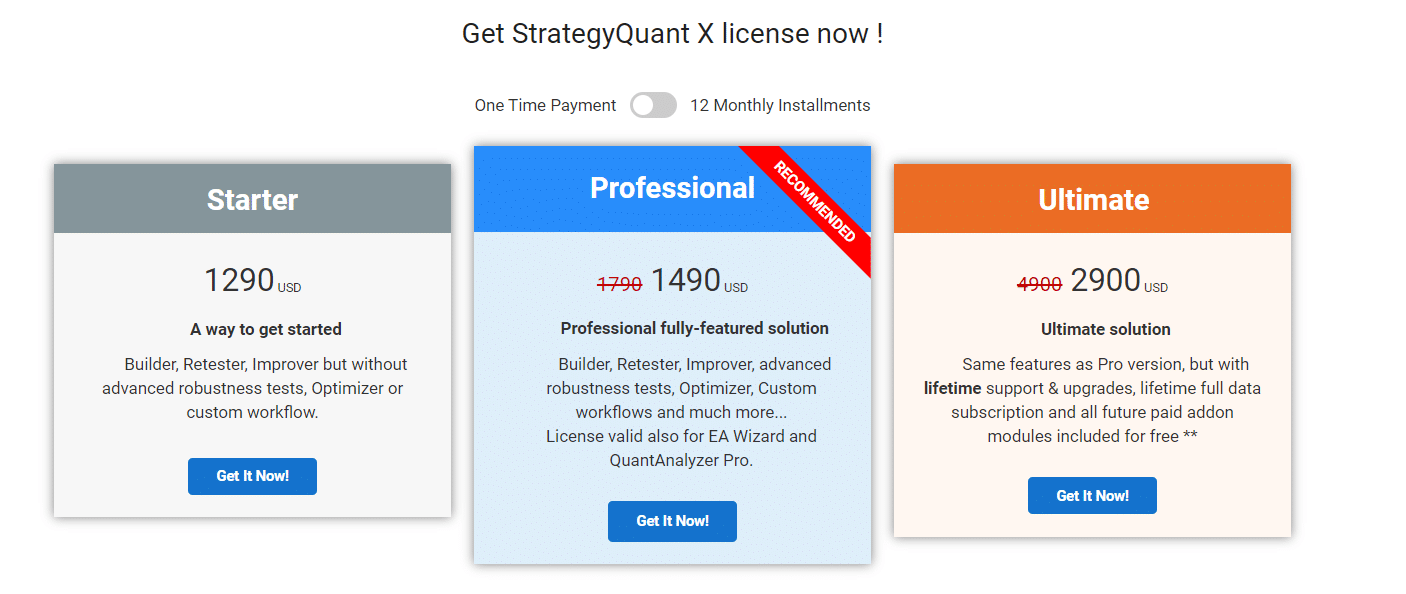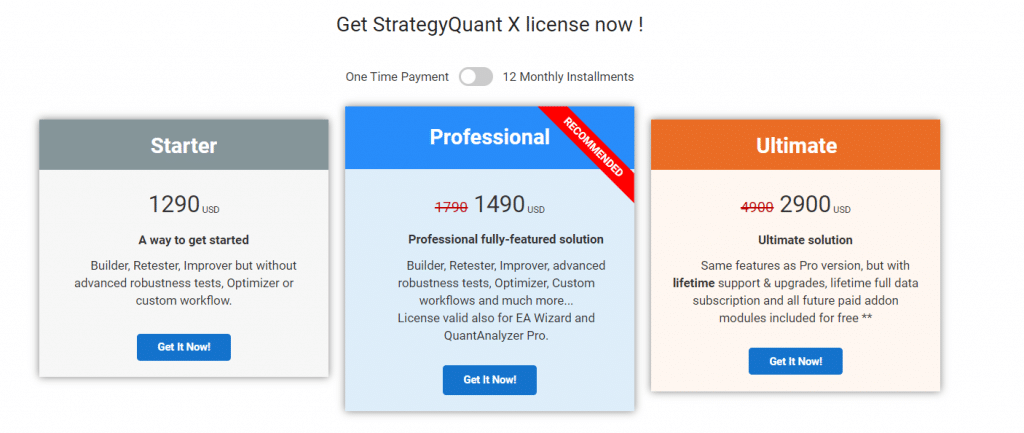 StrategyQuant X has three distinct pricing plans – Starter, Professional, and Ultimate. The prices for these are $1290, $1490, and $2900, respectively. You have the option of making a one-time payment or paying in 12 monthly installments.
Using this system, you can build as many strategies as you want for any timeframe or market and export them to a trading platform like MT4 or MT5. It also lets you modify the trading rules to improve the strategies and optimize them using the walk-forward optimizer.
Backtests
There are no backtesting results provided by the vendor on the official website. But, this is expected since it is a platform for developing trading strategies. The system has its own backtesting engine using which you can conduct thousands of backtests in a single second, thus reviewing their performance based on historical data.
Verified Trading Results of StrategyQuant X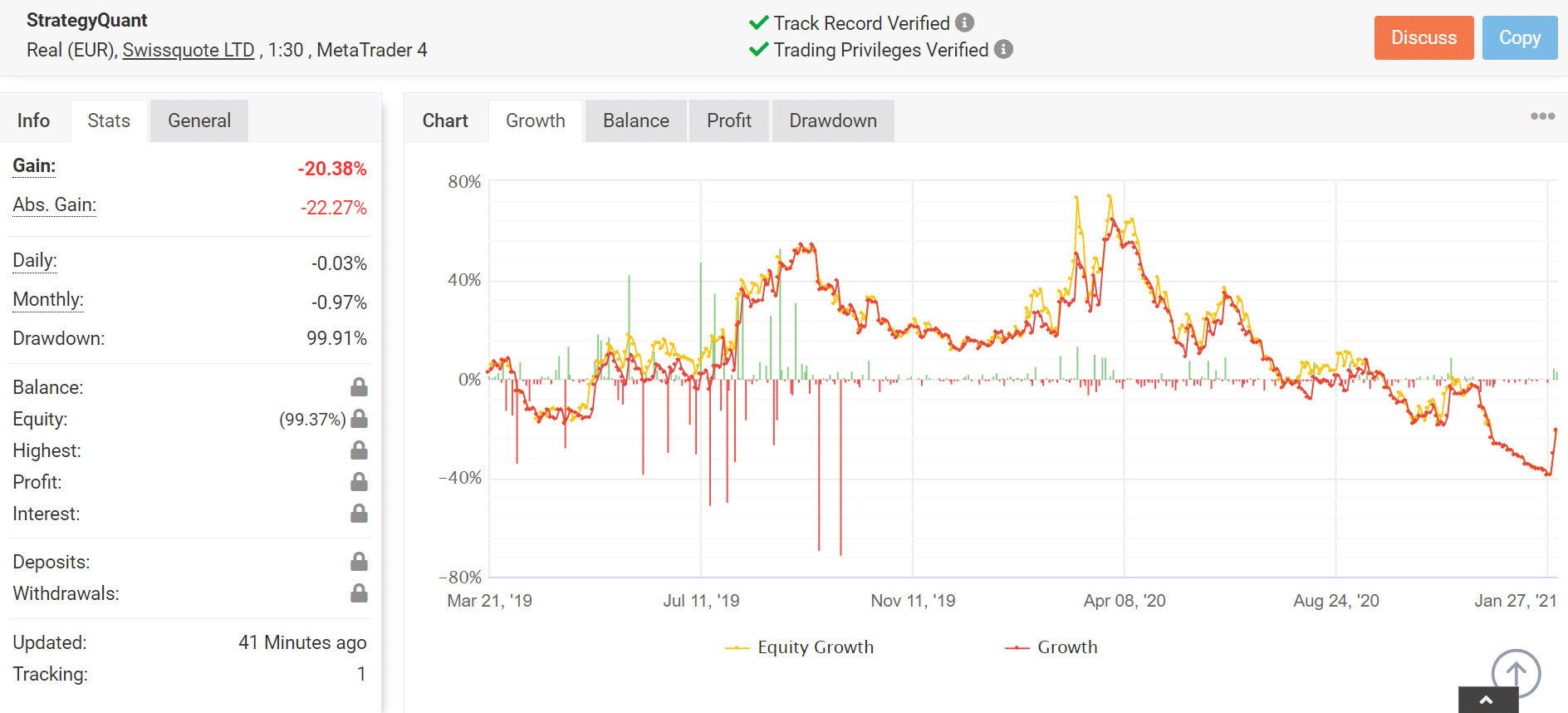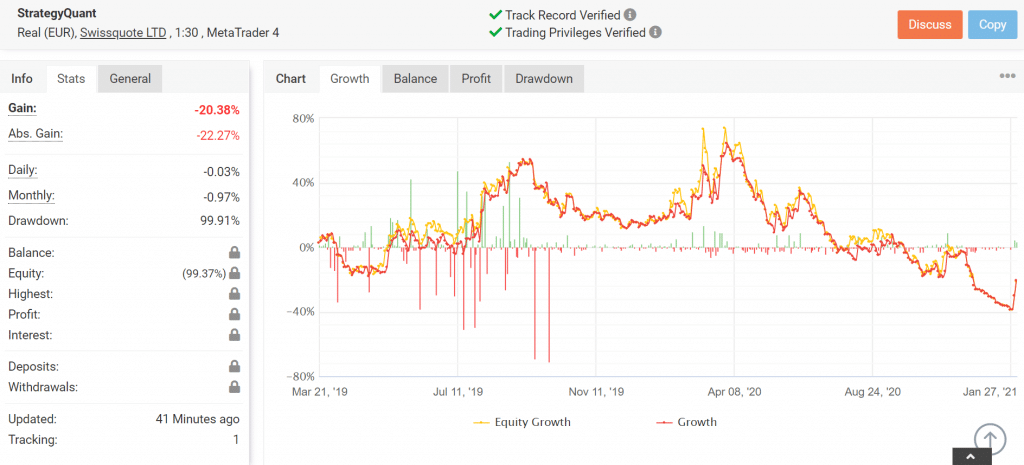 Although there are no live trading results available on the website, we were able to find a live trading account on Myfxbook for StrategyQuant X. The account was launched on July 17, 2017, and as we can see, its performance has been quite dismal, as of late. While most of the figures are restricted on this account, we can see that the absolute gain is -20.38%, whereas the daily and monthly gains are -0.03% and -0.97% respectively.
To date, 858 trades have been placed using this account, out of which only 296 have been won. This represents low profitability of 34%. The profit factor is 0.97, and we don't think this is a reliable system in the live market since it is below 1.
Customer Reviews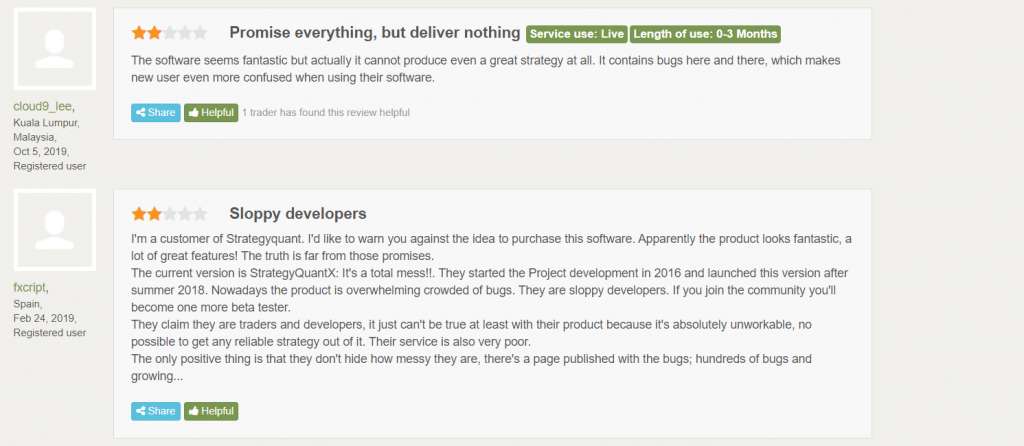 We managed to find some user reviews for StrategyQuant X on the Forexpeacearmy website. One customer has complained about the software being full of bugs and not being able to create an effective trading strategy. Another user has stated that the developers are inefficient and it is not possible to work with the system because it contains too many bugs.
What we can gather from these reviews is that the customers are not really satisfied with StrategyQuant X. They say the customer service is poor and the system does not work properly. Such negative reviews are likely to deter serious Forex traders from investing in this system.
Is StrategyQuant X a viable option?
Advantages
The information is available on the developer team
Several advanced features
Disadvantages
Poor live trading performance
Negative customer reviews
Expensive pricing packages
Wrapping Up
To summarize, we think it's risky to invest in StrategyQuant X. While it is true that it provides a whole lot of advanced features and has maintained vendor transparency, it seems the system is not as efficient as the vendor claims it to be. If the customer reviews are anything to go upon, there are just too many bugs on this platform for you to work with it, so you are better off purchasing a more reliable trading system.
Would you like to try out trading with an Expert Advisor?
Learn more about the best forex robots.