Telegram connector lets you receive signals from the Telegram app and execute them on the MT4 or MT5 platform. According to the vendor, this software has served more than 1200 traders and is used by 1186 VIP users. However, we need to conduct our own research to figure out whether it can be trusted or not.
Would you like to try out trading with an Expert Advisor?
The presentation on the official website is very concise. After introducing the system, the vendor outlines all the main features. We also have the details of the pricing plans and an FAQ section where you can find the answers to some relevant questions. We can see some customer testimonials posted on the website, although it's hard to determine their authenticity.
We know little to nothing about the company behind Telegram Connector. The headquarters of this company is located in Koge, Denmark, but nothing is known about its service history. Since the vendor has not revealed the identities of the developers and traders working for this company, we cannot discern whether they have the required experience and technical knowledge to build a system like this.
Features
The Telegram Connector software instantly executes orders received from Telegram. For risk management purposes, it modifies the lot sizes for the signals based on how much balance you have in your account. While trading in Forex, you can set the percentage of risk you are willing to take for each pair.
This signal provider has a multi-language tool that allows it to read all languages. It uses take profits and stop losses with each trade, and you have the option of shifting these levels as per your judgment. Telegram Connector can deal with several take-profit levels, executing all of them. With this software, you also get signal analytics functionality that lets you monitor the performance of the Telegram channels from where the signals are copied.
The trader has the option of deciding whether the signal should be executed instantly or with a delay. Additionally, it is possible to define by how many pips the entry price should differ from the market price. You can also set the expiration time for pending orders and set the risk for each individual channel.
The vendor has not provided any information on the trading strategy used for generating the signals. This comes as a disappointment since we can get an idea about the system's profitability by studying the technical details of the strategy.
How to Start Trading With Telegram Connector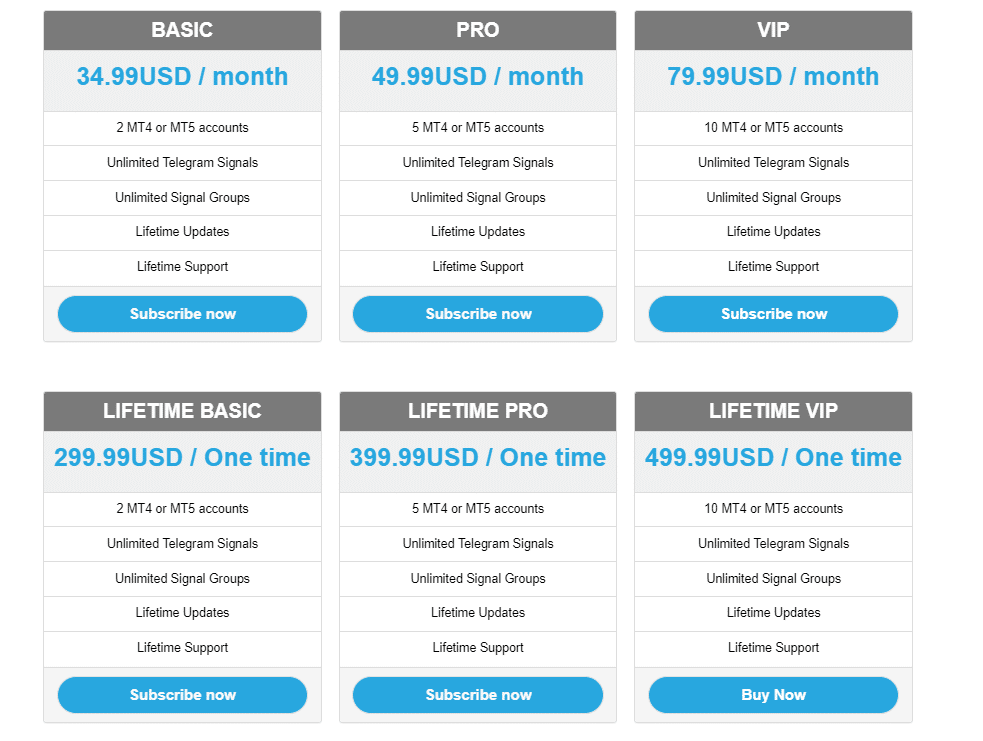 To get started with Telegram Connector, you can choose to sign up for a monthly subscription service or pay a one-time fee. There are three monthly plans, namely Basic, Pro, and VIP, and these are priced at $34.99/month, $49.99/month, and $79.99 per month, respectively. The corresponding lifetime plans cost $299.99, $399.99, and $499.99, respectively.
With the costlier plans, you get access to more accounts. The fact that the vendor does not offer a money-back guarantee makes us wary about signing up for this service. After choosing your plan, you will receive an email with installation instructions.
Backtests 
There are no backtesting results shared on the official website. This software does not have its own strategies. It simply connects signals from other analysts and traders to the user's account.
Unverified Trading Result of Telegram Connector 
The vendor has not shared any trading results for Telegram Connector. Without verified trading results, no trader would risk spending so much money on a signal provider. These results serve as a mark of authenticity, and from them, we can determine whether the system is capable of generating profits in real-time. When a vendor does not share the live statistics for their system, it is safe to say that they are running a scam.
Customer Reviews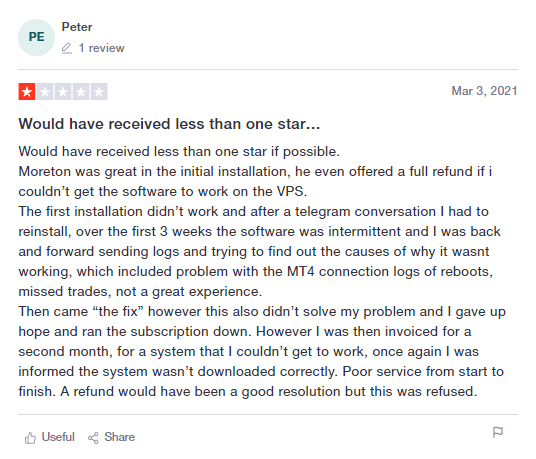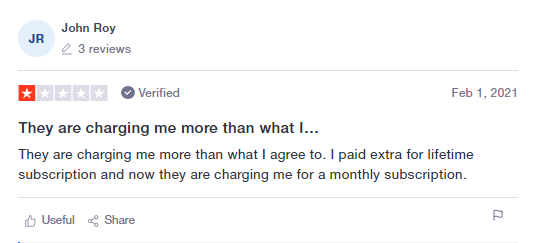 We found several customer reviews for Telegram Connector on the Trustpilot website. Here customers have complained about the company charging them extra for the services. One customer has complained that the system does not work with a VPS and that they were not provided with a refund in spite of this fact. Thus, it is evident that this signal provider does not have a decent reputation in the market.
Is Telegram Connector a Viable Option?
Advantages
Multiple languages supported
Disadvantages
No verified live trading results
Lack of strategy insight
Money-back guarantee is not available
Summary
In the end, we would like to say that Telegram Connector is a scam service. The vendor does not explain the trading strategy and does not reveal the real-time performance of the system. On top of that, refund requests are not entertained, so purchasing this signal provider is an extremely risky prospect.
Would you like to try out trading with an Expert Advisor?