WeTalkTrade claims to provide traders with an 80% success rate on multiple financial instruments. They offer their signals through an application that links to your MT4 or MT5 platform for automated copy trading. Numerous indicators are available on the website for traders that we will review in our article to see if the service is good for us.
Would you like to try out trading with an Expert Advisor?
Features
The company has the following features:
It can trade on multiple instruments
There is an application available for both Android and iPhone
The system promises a 80% success rate
Economic calendar and multiple tools are available on the website
The company trades on multiple financial instruments and claims that each execution comes with a fixed stop loss and take profit. There are numerous take profits for each position. There is no further information on the topic, and no live records are provided by the company that could be used to analyze their methodology.
How to start trading with WeTalkTrade
To get the service up and running, you the following steps:
Purchase the product from the author through their website
Download the application available for smartphones
Connect your MT4 or MT5 platform, and the trades will be copied automatically
Traders can also copy the signals from the application manually. For that purpose, they have to be alert and active when they are made available and copy the stop loss and take profit, respectively.
Price
The signal is available for an asking price of $79.99, and there is no money-back guarantee or renting options. Traders can also access the free version, which comes with no costs, but no automated copy trading option is available. The success rate varies between the two, which is high for the premium service.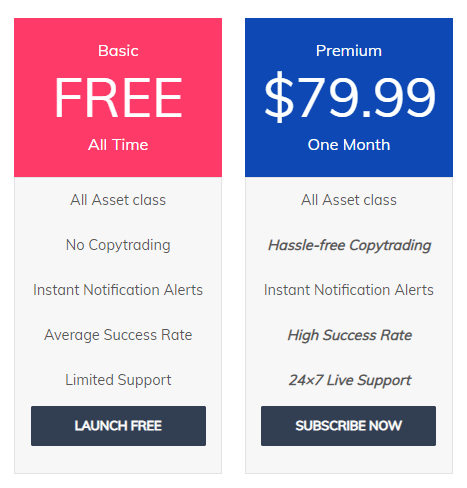 Backtests
The company does not provide any backtesting records for their signals or indicators present on the website.
Verified trading results of WeTalkTrade
There are also no live records that we could use to analyze their current performance. We searched multiple performance tracking websites but could not find anything.
Vendor transparency
The company states that it started searching for profitable strategies back in 2009. They concluded that all the indicators available online are useless, so they decided to develop their own systems. There are no names of the developer or any certificates that could verify their experience in the market for the said duration. They claim to have established their presence in 2711 Centerville Road Suite 400 Wilmington, DE USA 19808.
Customer reviews
We have 36 reviews available on Forex Peace Army, giving a rating of 3.272 for WeTalkTrade. One of the traders says that the company is giving lots of bad signals. In one month of 46 trades, the winning rate was only 65%, which is far from the statistics they present. He states that traders should avoid their advice on gold.

Another trader states that he has bought one of the indicators from the company. Traders should avoid purchasing it as there are many false signals from it.

Another trader says that the company does not provide good customer support. There is no refund for anything even before receiving the product. It is not possible to test out the EAs before purchasing them.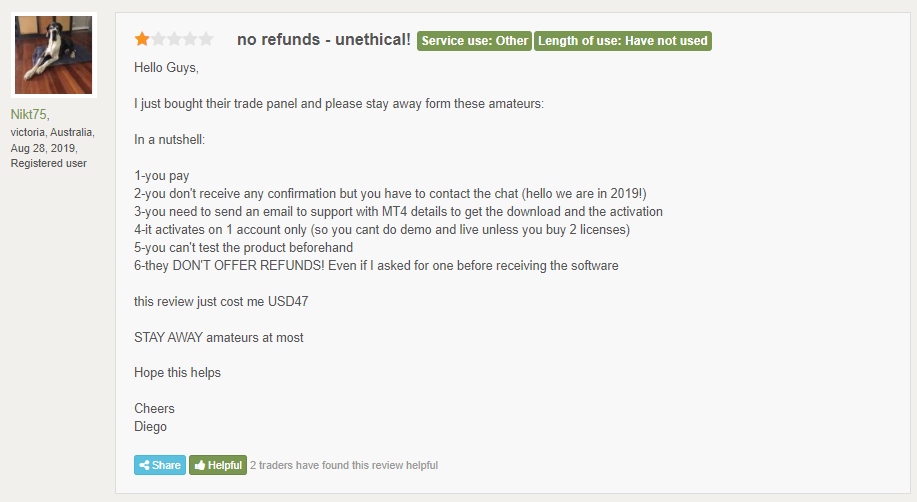 Is WeTalkTrade a viable option?
The company has the following benefits and demerits.
Advantages
Free signals from the application
Disadvantage
No backtesting records
No live records are available
Low information on the strategy
Negative user testimonials
Conclusion
WeTalkTrade is not transparent on its trading strategies and does not provide us with live records. The company also does not have good reviews on multiple forums that raises many concerns.
Would you like to try out trading with an Expert Advisor?