We'd like you to read a review of a Best Scalper Forex Robot.
It's good to know that the devs care about sharing with us the most crucial info.
Features
Almost the whole presentation is trading results.
The EA has both versions for MT4 and MT5 platforms.
We have to use ECN brokers with the lowest spreads like ICMarket, FXOpen, XM, FXTM, and others.
It works during an Asian market.
It can make "consistent" and predictable profits.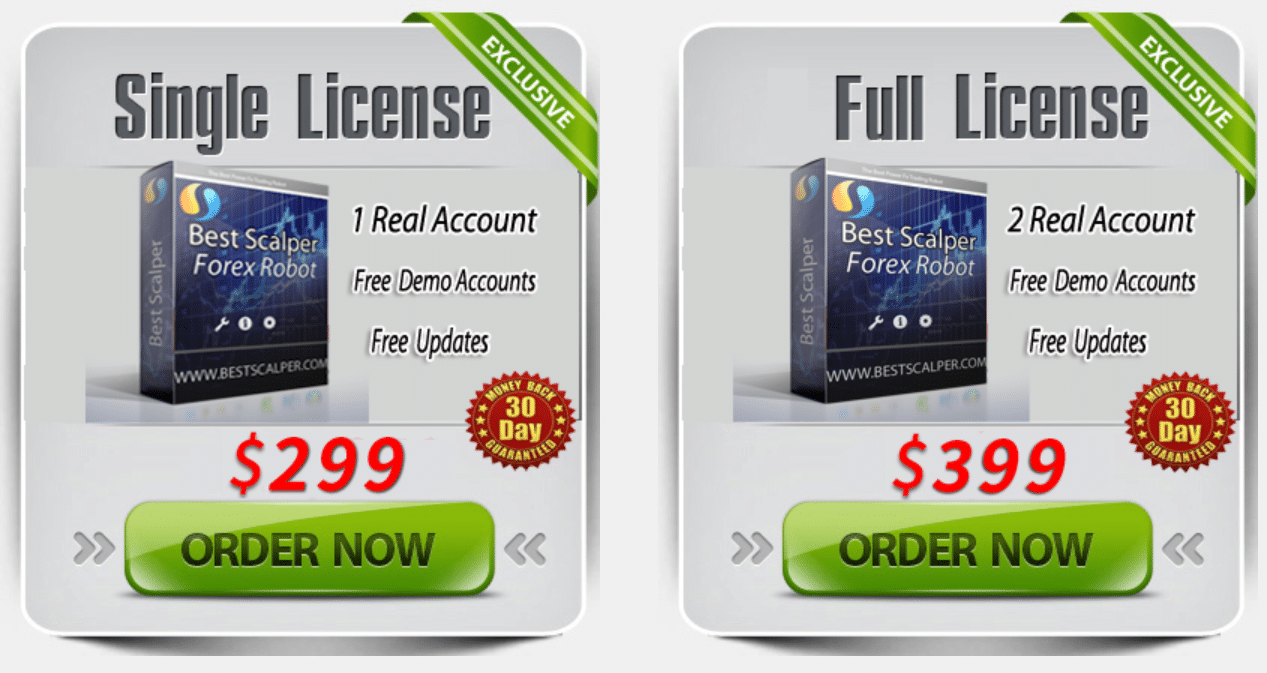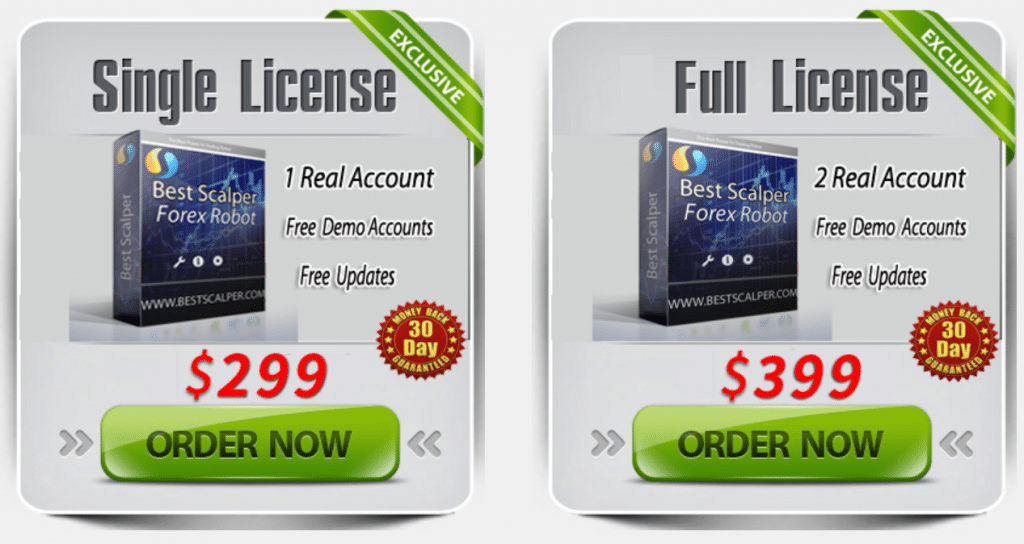 The offer includes two packages that vary by the number of licenses. For $300, it's one real account and unlimited demo account licenses. The Full License package costs $400 and includes two real account licenses. Both packages have free updates and a 30-day money-back guarantee.
How to start trading with Best Scalper
The devs don't provide any extra information. It should be like: pay, wait, download, install on the MT4, and that's all.
Backtests
Usually, the developers don't prefer to provide backtests of scalping trading robots because they are many trading results, and scalpers are so sensitive to spreads.
Verified Trading Results of Best Scalper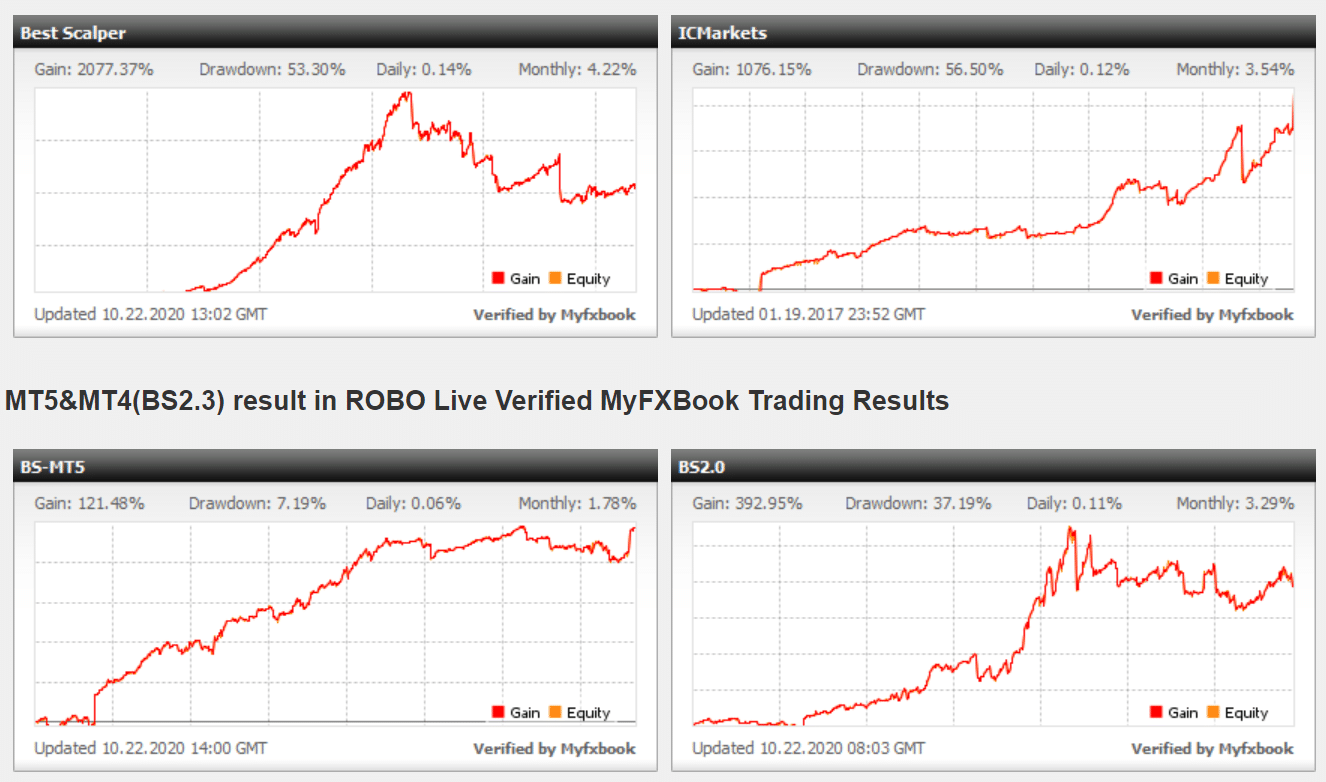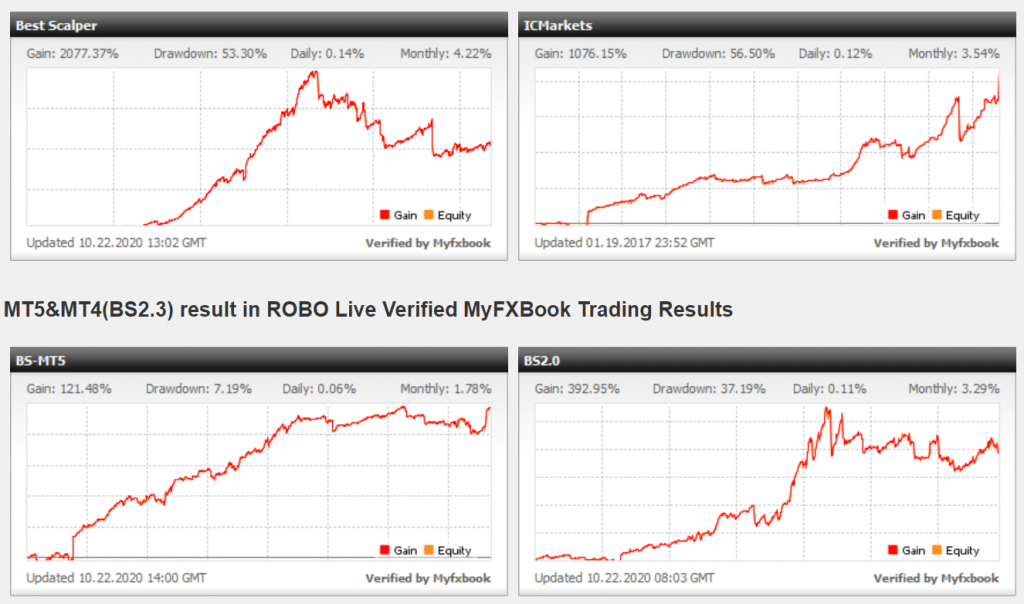 As we can see from the chart, default settings suck.

These accounts belong to a private investor, and they rock. From six available accounts, three of them were stopped.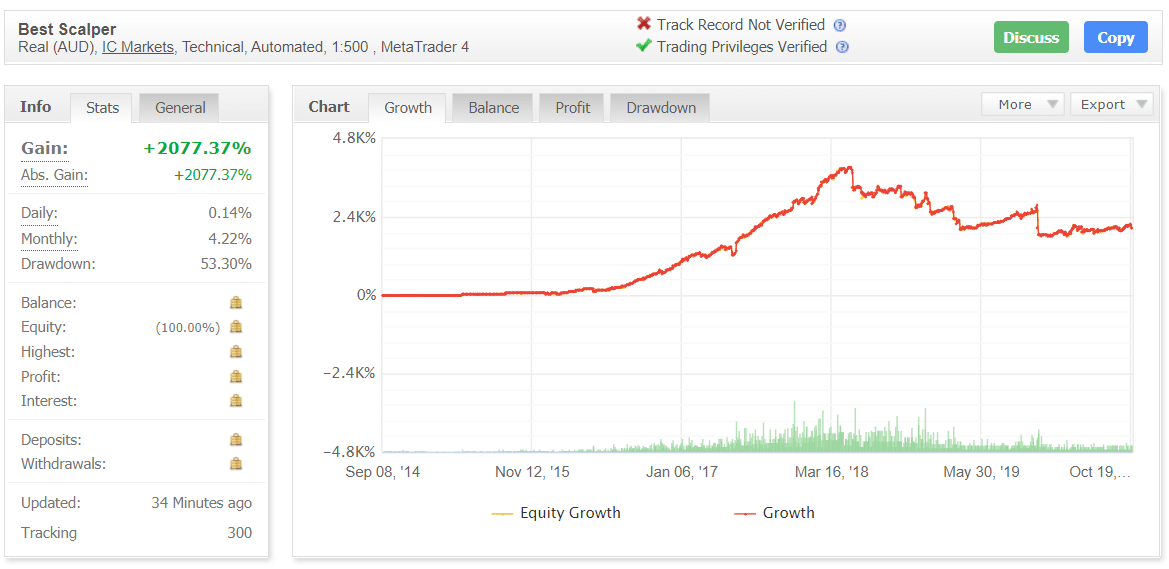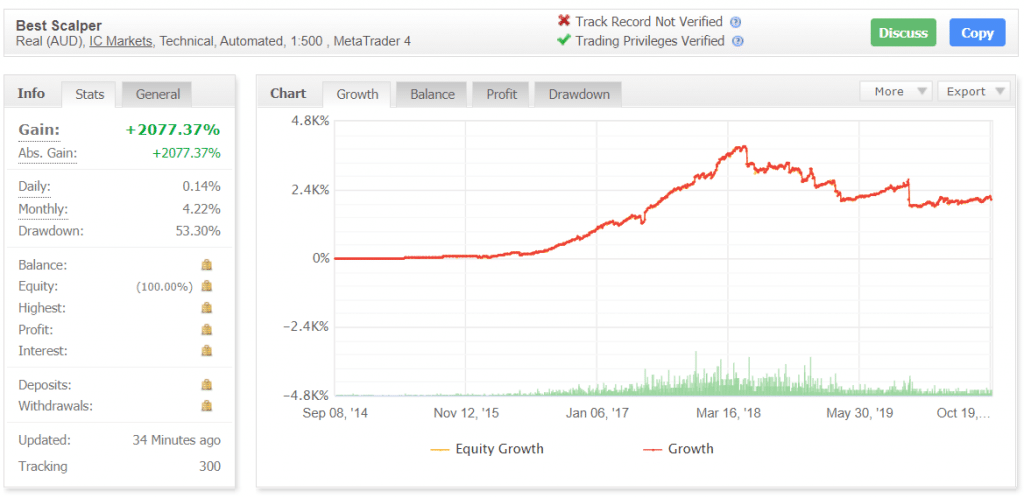 So, the main account is a real AUD one on the IC Markets brokerage company. It trades with 1:500 leverage on the MetaTrader 4 platform. The developers didn't set myfxbook's software to verify trading. Anyway, the account is a long-life one and was created on September 08, 2014. Nevertheless, there's a lack of transparency, but 300 traders track it. An absolute gain is +2077.37%. A monthly gain was +4.22%. The maximum drawdown was high (53.3%). With high leverage, it can force the open trades to Stop Out on little accounts.


It provided +10.95% of the gain in 2020 (+43.53% to the previous year). It means 2019 was a disaster.


The robot closed 3452 deals with 3586 pips. It's such a mediocre result (1.14 Profit Factor). An average win in pips (3.88) is twice less than an average loss (-6.72). The win-rate for Longs is 71% and for Shorts' one is 75%. The average trade length is a bit higher for one hour.


It scalps two symbols: EUR/USD and GBP/USD with equal results for Longs, Shorts, and even win-rate.


As it was told, the robot works mostly during the opening of the Asian session.


Monday is not the favorite day to trade, but the win-rate (89%) is outstanding for Monday's deals.


The EA trades with 10% risks to the balance or even higher.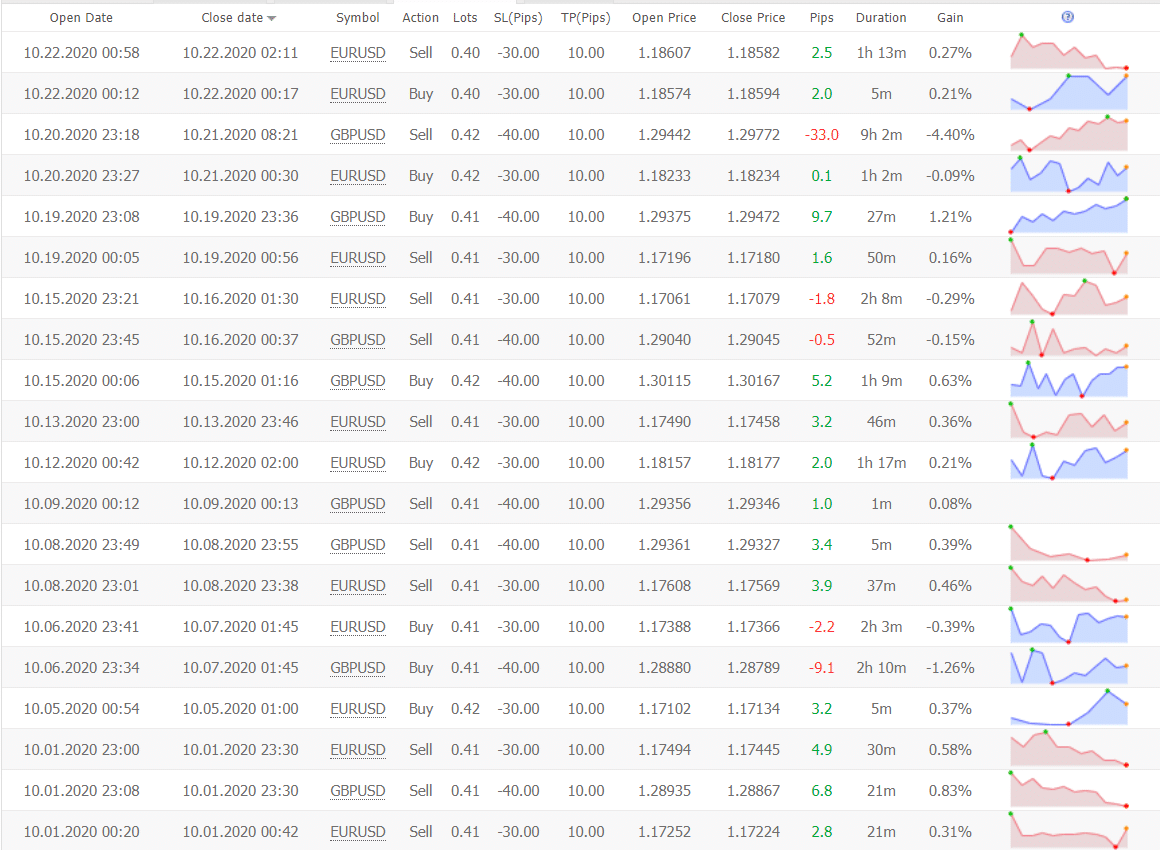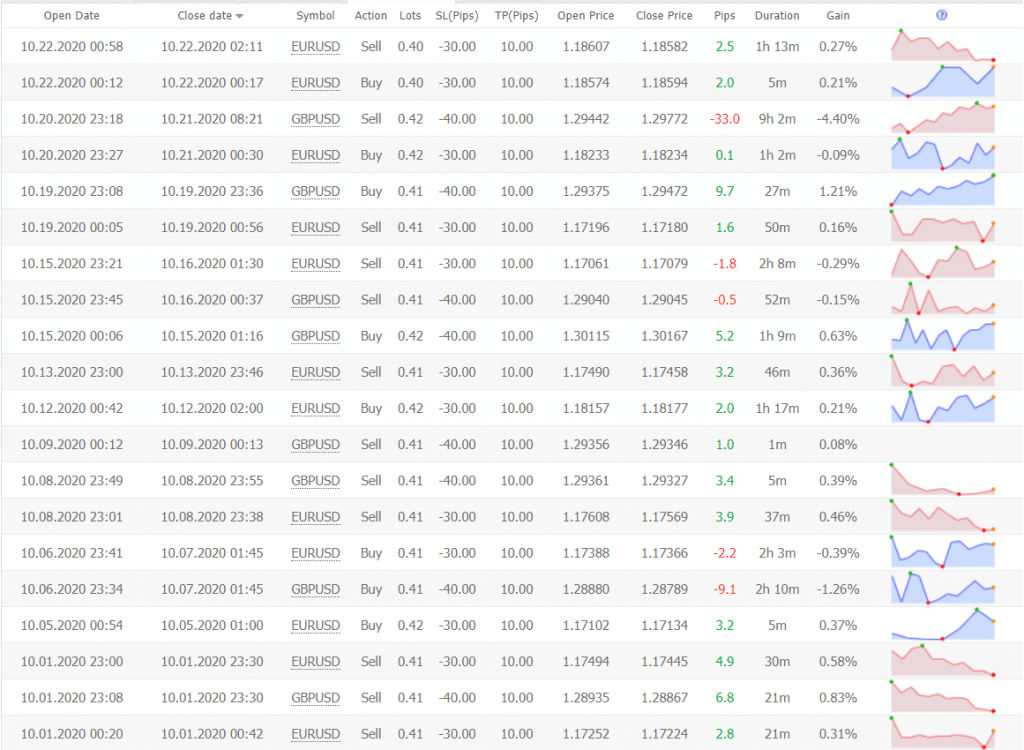 From the sheet, we can see why default settings are good for nothing. There\s SL at 30/40 pips when TP at 10 pips is a mistake. You don't need to lose 40 pips on an M5 or M15 chart to understand that the market doesn't move in your direction.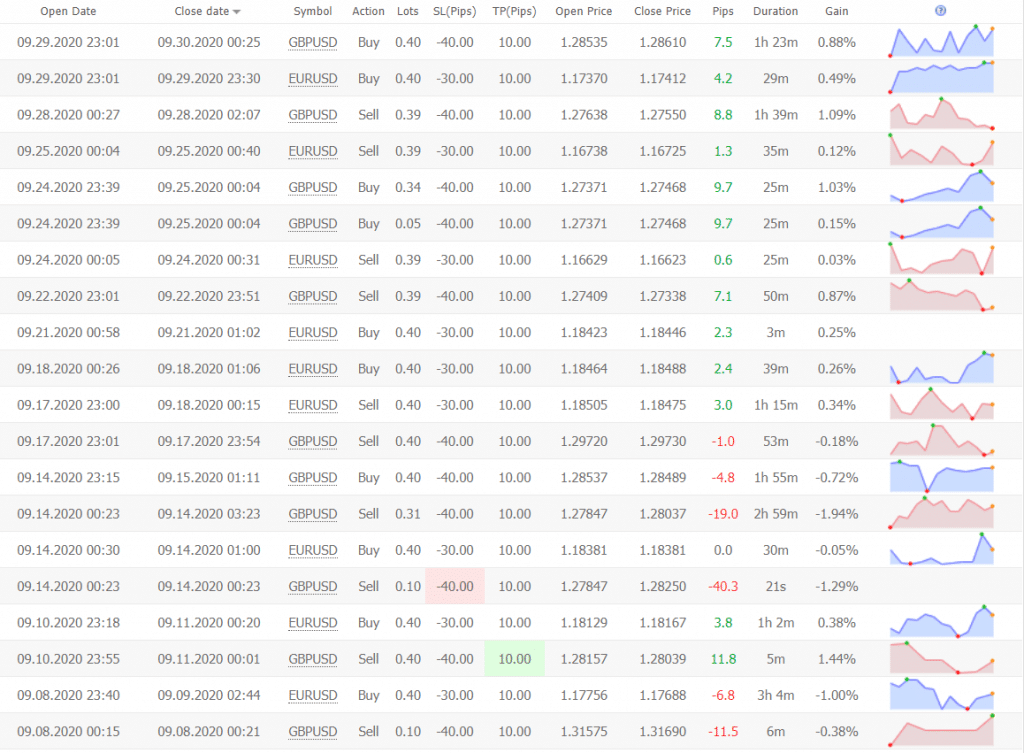 So, one closed deal with SL covers several pages of profitable trades.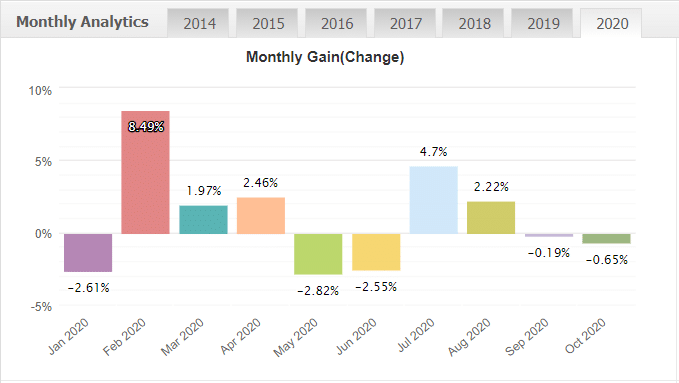 As a result, there are two lost moths in a row.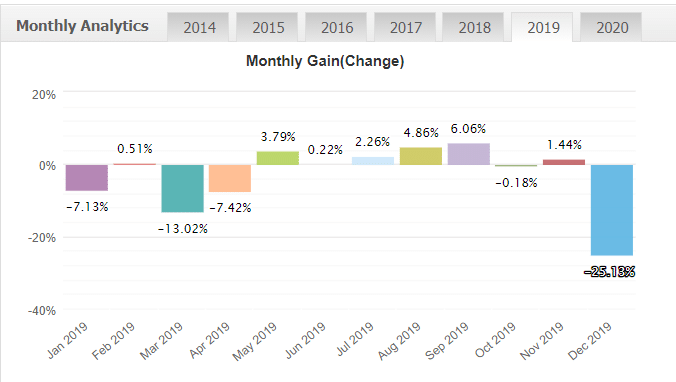 2020'sresults, anyway, are much better than this Christmas disaster.
People's testimonials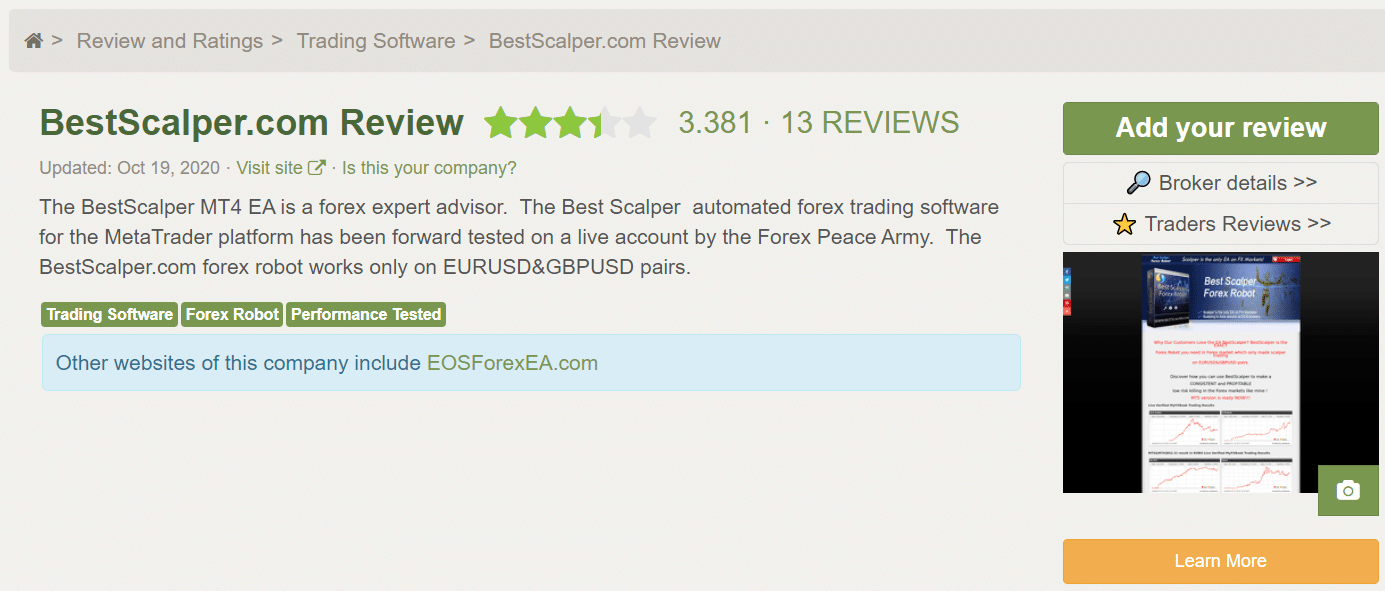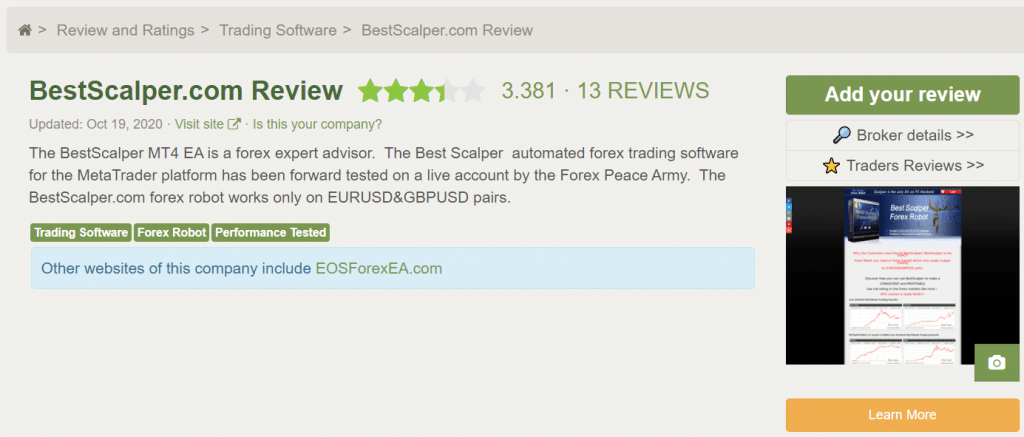 It's the main profile of Best Scalper on the Forex Peace Army. There's a 3.38 rate based on 13 reviews.


The first problem was that the EA doesn't trade on every broker, probably, because of the high spread protection.


In this case, we have problems with the installation and refund policy.


So, it's exactly what we said. A trader can't manually change spread settings.
Is Best Scalper a viable option?

The EA has the second account on Forex Peace Army and where it has a 3-stars rate. The robot from that account received updates in 2016.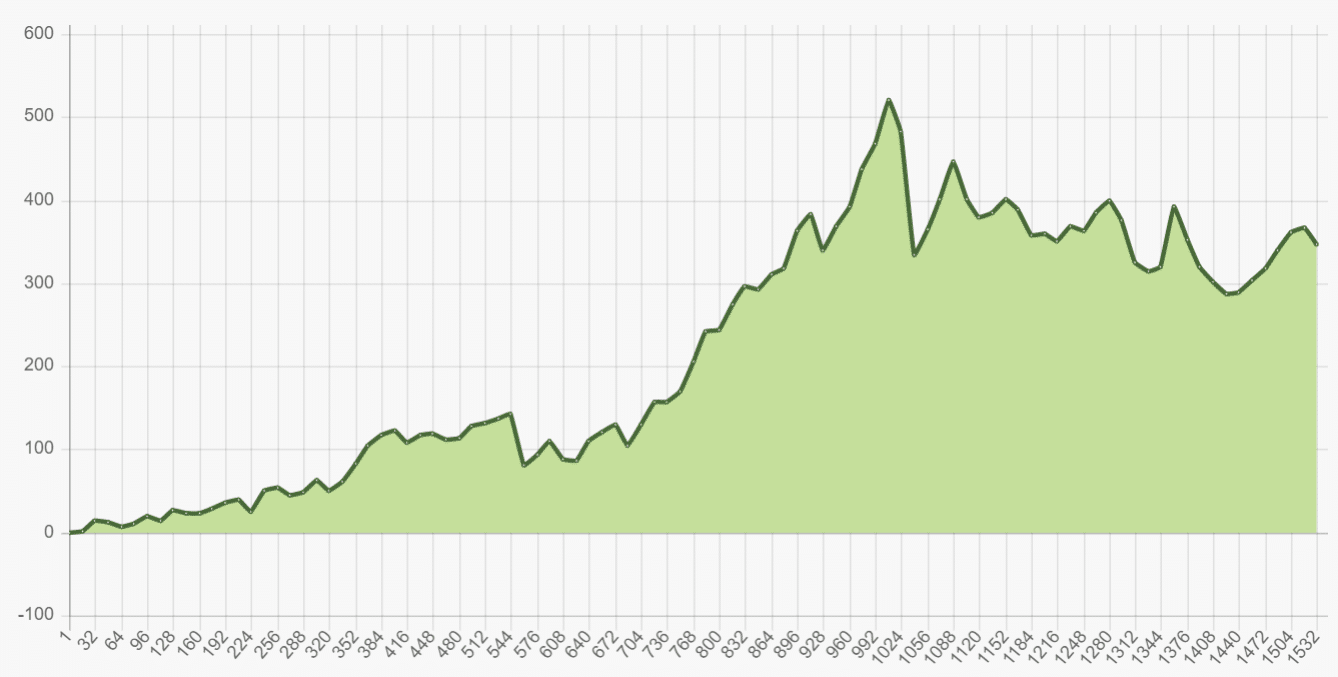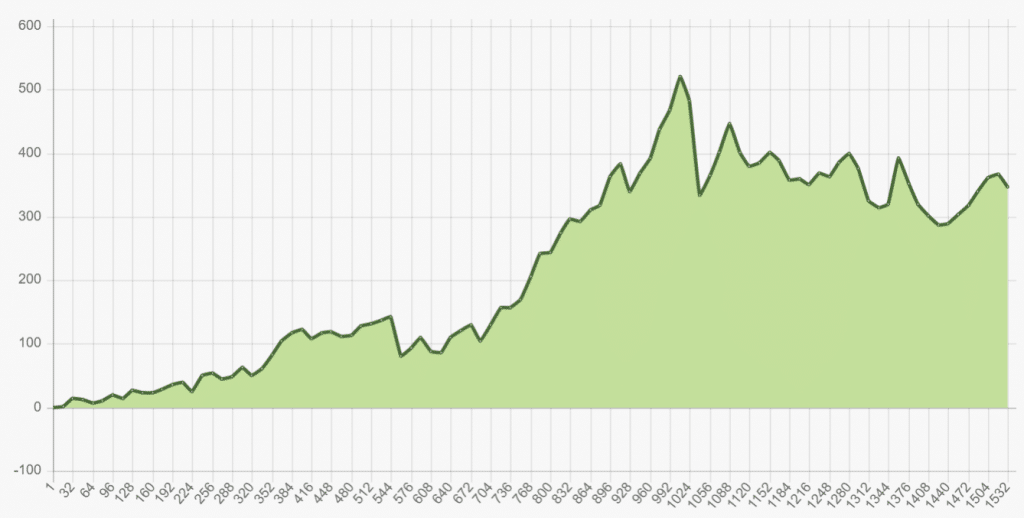 So, as we can see, these updates didn't help it to become a profitable solution.
Conclusion
The presentation couldn't convince us that buying this expensive EA is a good decision. There's almost no information. The most important intel for any scalper is settings. We could see the difference between trading results that were obtained using default settings and trading results with custom settings. They vary so much. So, for now, the EA doesn't cost this money because it provided losses in the last several years. As a cherry on the top, there are 300 traders who track the account, but no people's testimonials across the web nor on the site.
Would you like to try out trading with an Expert Advisor?
Learn more about the best forex robots.