The right trading psychology is key to having a successful career as a forex trader. Having a positive mind is crucial to surviving the onslaught that takes place in the capital markets daily. If negative thoughts continuously bombard your mind, you are likely to struggle a great deal in the highly competitive field where having an edge is crucial.
What are forex affirmations?
Forex affirmations are short statements that help enhance mental state and control emotions while trading. Simply put, they are conscious phrases that overwrite subconscious programming allowing people to remain fixated and motivated towards a given goal while trading. Successful people in business and sports and other professionals rely on short positive statements of encouragement to stay on top of their game.
In forex trading, many external influences have prevented traders from achieving their goals, let alone gain a competitive edge in trading. In this case, the negative influences are the negative things that people tell themselves that add no value.
Some of the negative statements include
I always make dumb mistakes
I keep on making losses
I always give back my profits
There is always a high probability that after some time, a trader would fall victim to the negative influences. In the long run, they end up making it difficult to make correct judgments on what to trade, let alone cut losses or take in profits.
Positive affirmations, on the other hand, go a long way in offsetting the negative affirmations. In this case, one develops the right trading psychology ideal for navigating even the most complicated challenges in the forex market.
How to Create Powerful Forex Trading Affirmations
State in the Present
The only way a trader can stay on top of their game is to live in the present and state how good a trader they are from time to time. If you keep telling yourself you are a good and successful trader, then, with time, you will develop the right mindset needed to make informed and appropriate decisions in the currency market.
In the end, the brain will always find the right way to align internal feelings and external reality, thus nurturing the right mindset for trading. Any person, regardless of background or trading skills, has the potential to succeed in trading.
The right mindset and psychology allow traders to make informed decisions and stick to trading rules that are highly needed to navigate the forex market. The fact that the ability is already inside you calls for a lot of pumping by stating positive trading affirmations in the present tense.
Some of the present tense affirmations that one can rely on include
I am a highly-skilled forex trader
I believe in my ability to trade
I am highly driven to succeed
I know how to recognize a fair deal
I am driven to succeed in forex trading
Recite Positive Short and Specific Affirmations
Forex trading affirmations should always be short and specific to the point. That is the only way anyone can nurture their trading psychology. Once you keep your affirmations short, you make it easy for the brain to master and interpret them with ease. Likewise, creating affirmations that rhyme makes it easier to remember.
Some of the forex trading affirmation that is easy to memorize include
I am a successful trader
I am a smart trader
I am a skilled trader
Forex trading is easy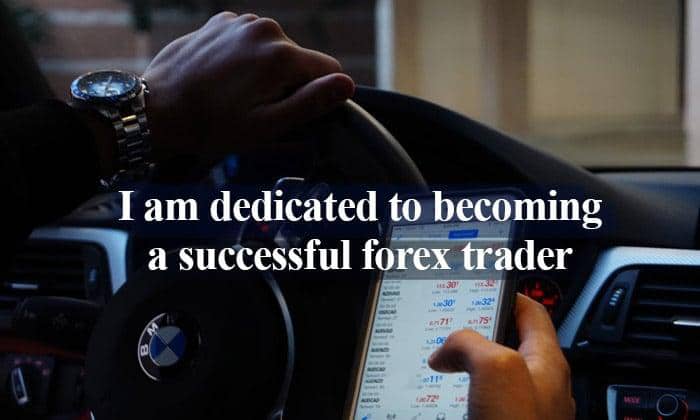 Top 5 Trading Affirmations for Profitable Trading
I am a Profitable Trader
One of the reasons why most traders drop off is on questioning their ability to trade and become profitable in the highly competitive field instead of motivating themselves. That said, it is essential to voice and train the mind of the high probability of succeeding and becoming profitable in the forex market.
Even if you have not reached a level of consistency, it is essential to remind the brain that you are a profitable trader. The same should be expressed in the present tense to prevent the mind from wandering into the future.
Using future tense in expressing profitability prospects only nudges the goal, making the brain question the ability to succeed as a trader.
Trading is a game of chances
It is important to remember that no trader or a trading system generates profits of 100% of the time. Trading is a game of numbers or probabilities. It is crucial to train the brain to remember that every trade can never be a winner.
There will always be down days when everything seems not to work. Likewise, there will be days when everything turns right with little effort. The idea is to accept losses are part of the game and strive to ensure they never take a toll on a trading account.
I am entirely synchronized with the market
Trading with confidence is of utmost importance. Without confidence, you are likely to question everything and conversely miss out on trades that would have ended up as big winners. To trade with confidence, it is essential to backtest a trading strategy and ascertain when it is likely to work best.
Backed by a backtested trading strategy, repeating time after time, "I have confidence in my strategy is a sure way of staying on top of the game in trading. Trading confidence is nurtured by sticking to a rule-based trading strategy.
I always stick to my trading plan
The brightest minds in trading don't chase trades on the belief that opportunities are always cropping up. Successful traders spend most of their time scanning the markets in pursuit of trading opportunities and are never afraid of missing out on big trades.
A common mistake that novice traders make is to trade regularly on the belief they have what it takes to make more money. As an essential forex trading affirmation, it is important to state when the urges to trade come 'I am patient, I do not chase trades. Similarly, trade only when opportunities present themselves fitting a pre-set trading profile.
I am in control
Emotions have ruined lots of careers in trading. Likewise, it is important to always be in control of oneself when it comes to trading. Humans are emotional creatures calling for a lot of sobriety and discipline when it comes to trading.
Overconfidence is another voice that has caused traders to lose their hard-earned money in the currency market. Therefore controlling one's emotions is essential if one is to leverage a role-based strategy to trade in forex.
Conclusion
A positive mindset goes a long way in nurturing a successful career in the forex trading business. Forex Affirmations are important tools that successful traders rely on to pump and encourage themselves when things are not going well.
With the help of positive affirmation, you can eliminate nervousness and gain the confidence to become a successful trader in the currency market.