Forex Gold Investor is the newest offering from the FX Automater team, which is a well-known developer in the Forex trading community. It claims to use an efficient algorithm to trade in gold while keeping the drawdown significantly low. Even when the market is stagnant, Forex Gold Investor claims to provide you with the best recommendations.
Unfortunately, there is no information about the location or identities of the developers. The website has a blog section and a FAQ section where you can find some basic information about the robot and how to set it up. But, the question remains, is this a system you can trust? The answer to this question can be found by conducting a thorough analysis of each and every aspect of this Forex EA.
Features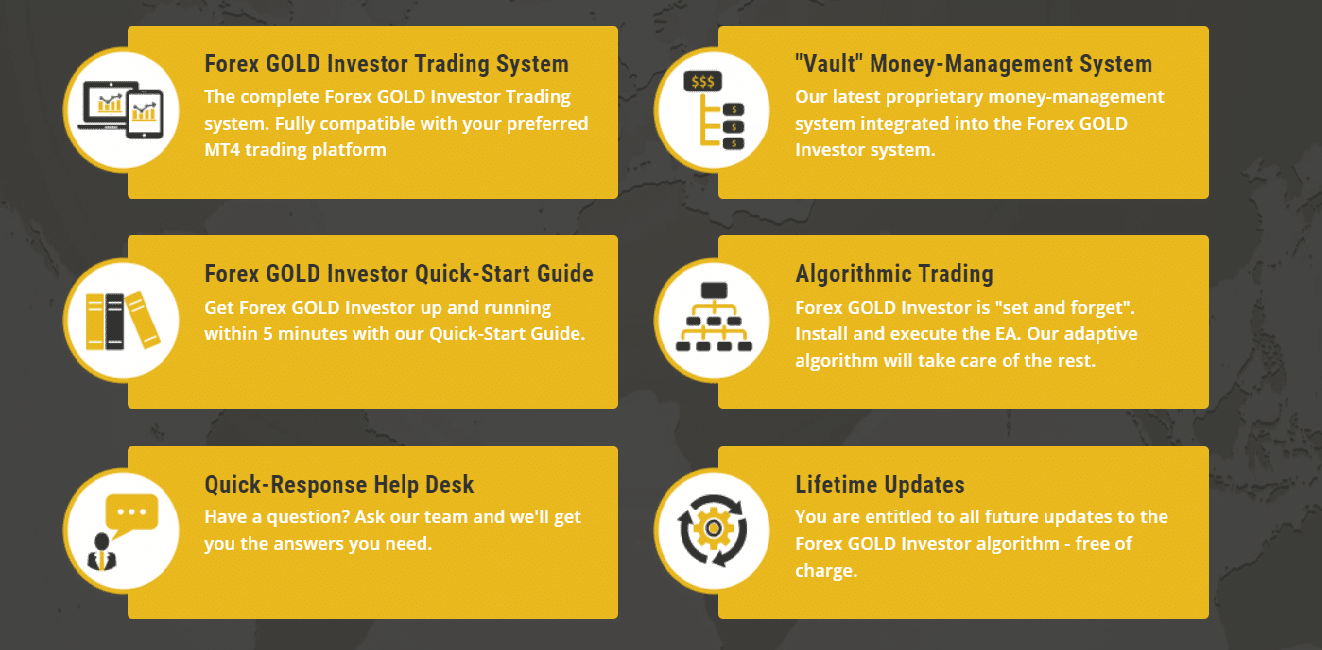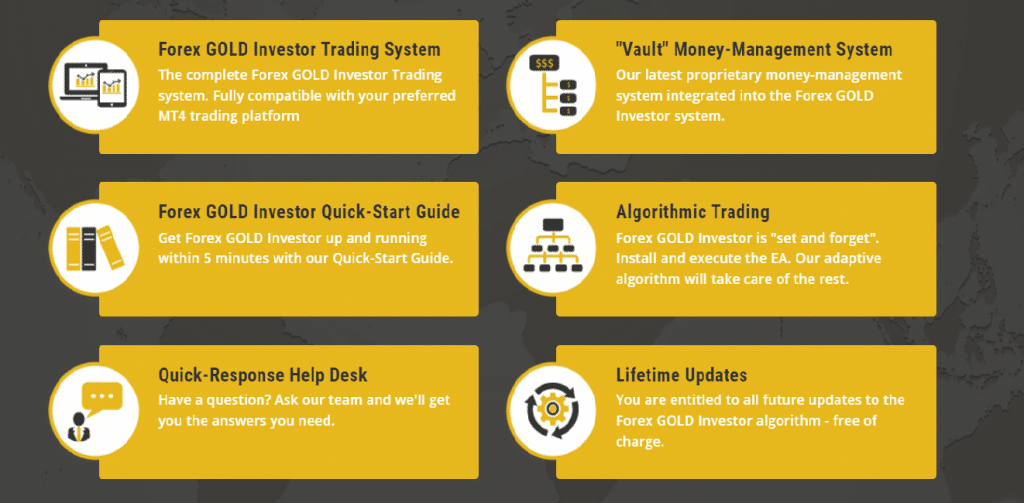 Forex Gold Investor claims to possess accurate data regarding intraday gold price cycles, which allows it to buy and sell gold at the proper times. It is compatible with the Metatrader 4 platform and has an integrated money-management system. When you buy the software, you get a quick-start guide after going through which you can start trading in 5 minutes.
Forex Gold Investor also provides you with lifetime updates for the software as well as a quick-response help desk where you can get the answers to all your queries. The features offered by the system are 100% customized and there are several settings you can adjust as per your preferences.
This Forex EA has a broker spy module fitted into it that ensures your account's safety. It ensures maximum profit by following the market trend and has some entry and exit functionalities that let it make profits even when the trend shifts.
Forex Gold Investor uses trend and impulse following strategies like "scalp the trend," "buy and hold," and "buy and deep." But, apart from this, no further details are provided about the trading strategies, and this could be a red flag for serious Forex traders.
How to Start Trading With Forex Gold Investor
The member section of the company website has a download section where you can find a guide containing the steps to install the Forex Gold Investor software. By consulting this, you can easily install the system in a short period of time. Using the website, you can activate the demo and real accounts by entering the account number provided.
To start trading, you need a system with a strong network connection and minimal hardware specifications. Following this, you need to install the MT4 platform through which your trades will be placed.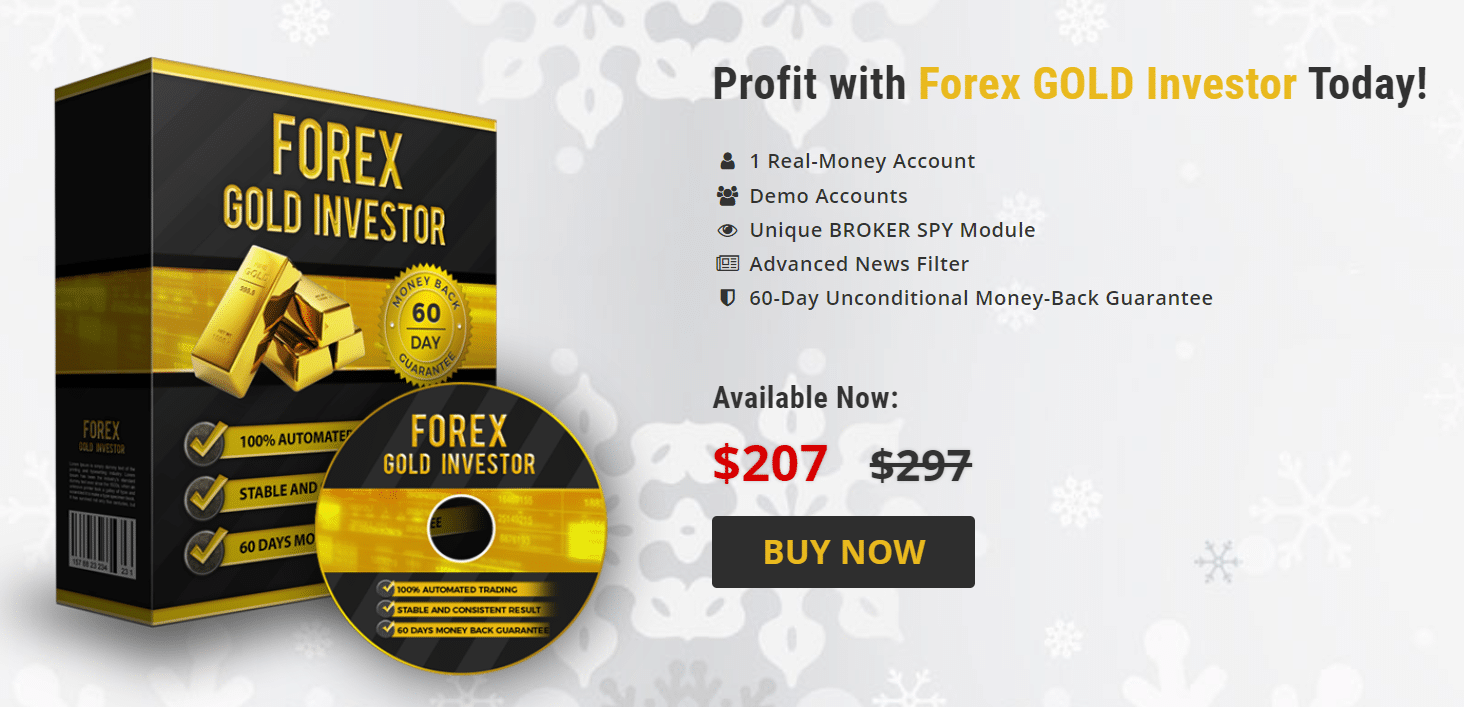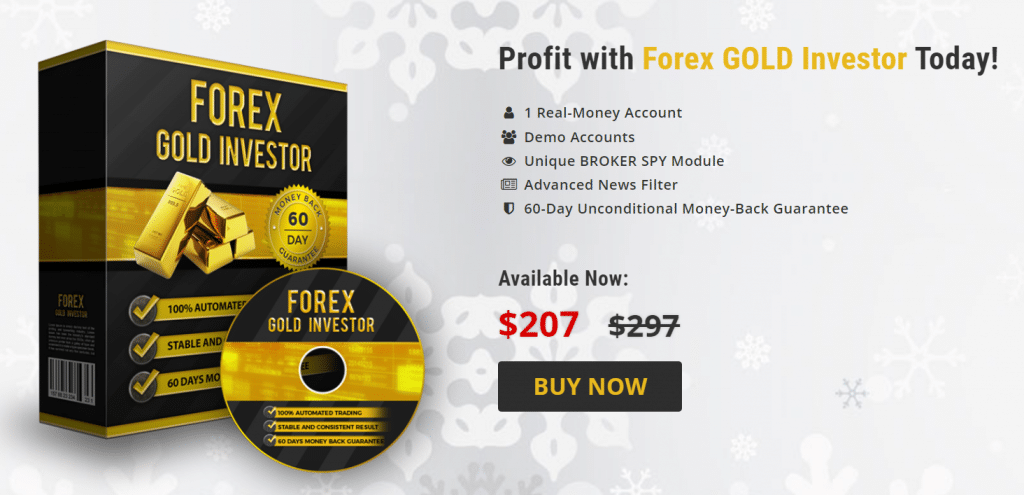 The company is presently offering the Forex Gold Investor software at discount and you can get it for just $207 instead of the usual price of $297. Furthermore, there is a 60-day money-back guarantee, and this is a sign of a reliable Forex EA.
Backtests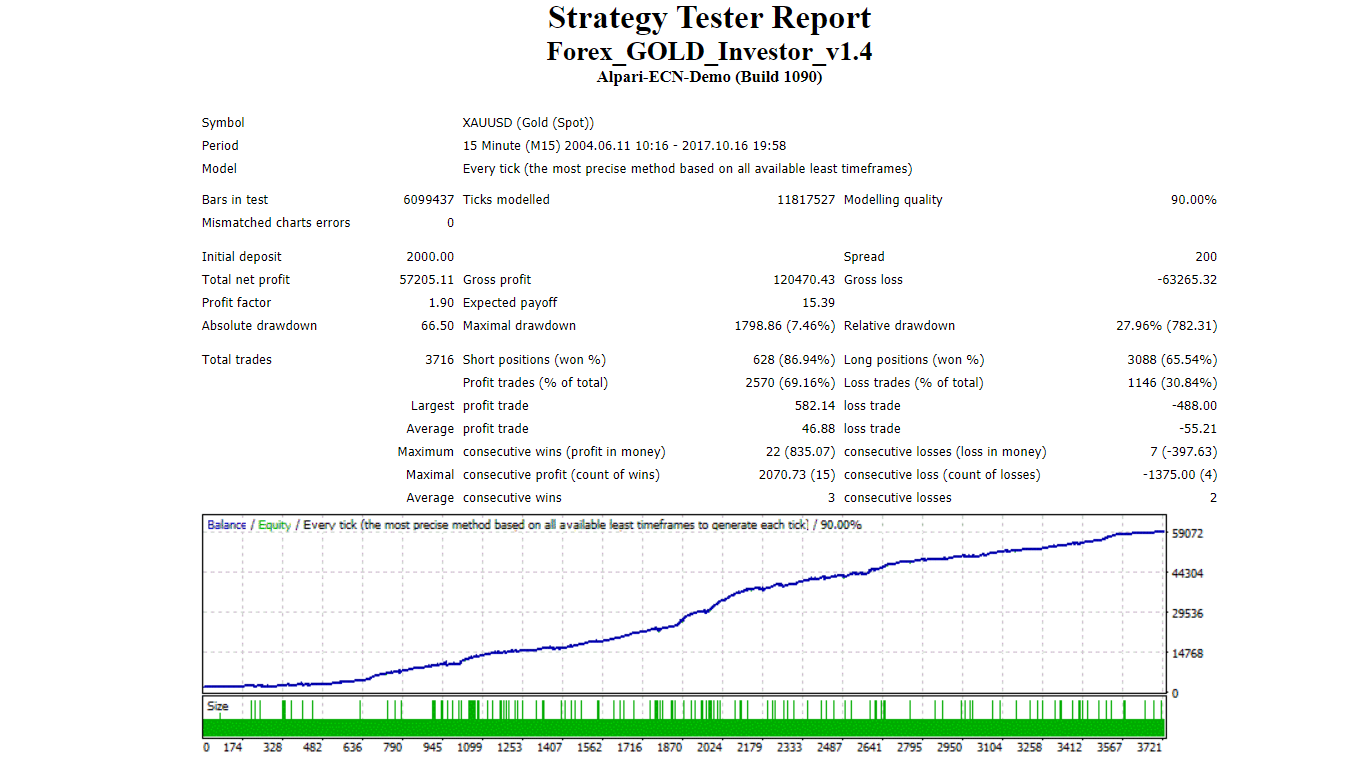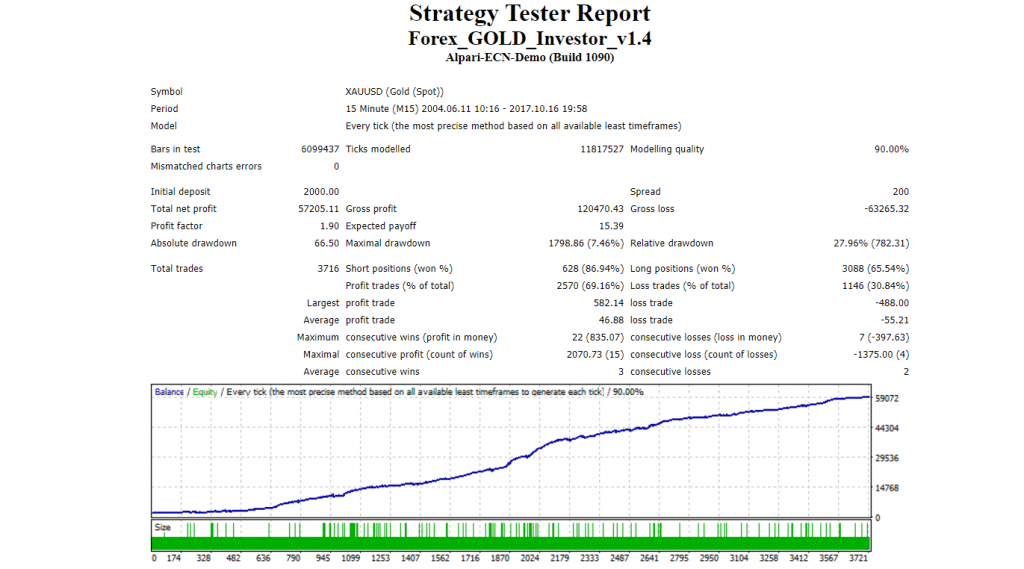 Forex Gold Investor provides us with 14-year backtest data on the XAU/USD pair. As we can see above, the system has generated a total profit of $57,205.11 from an initial deposit of $2000. The profit factor of 1.90 is quite competitive and the absolute drawdown of 66.50 is not too alarming.
Looking at this backtest data, we can also see that the system has made 3716 trades in total, out of which 86.94% short positions and 65.54% long positions have been won. This brings the percentage of profitable trades to 69.16% and that of loss trades to 30.84%.
Verified Trading Results of Forex Gold Investor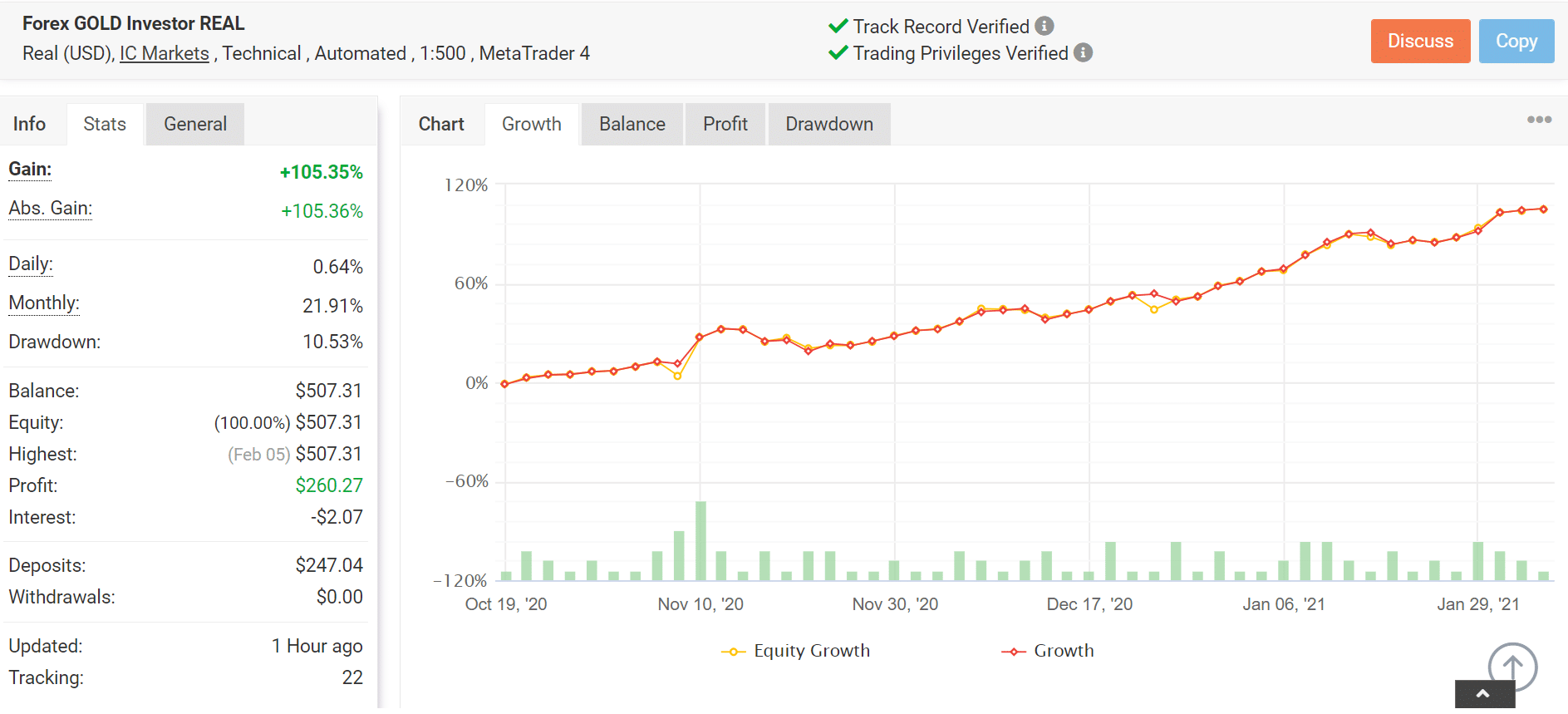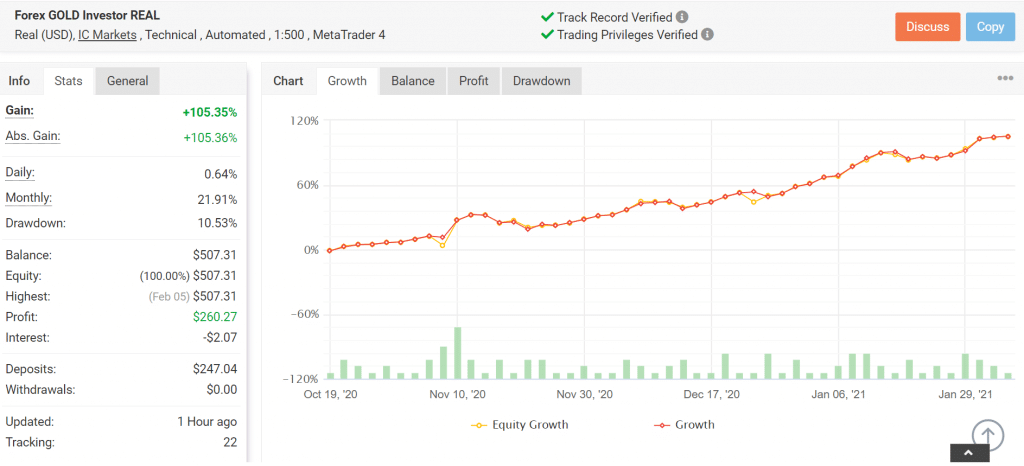 On the company website, we also found a link to a live trading account verified by Myfxbook. This account was launched on July 27, 2020, and to date, it has generated a gain of 105.35%. The daily and monthly gains are 0.64% and 21.91% respectively, while the drawdown is a low 10.52%.
Up to now, 94 trades have been placed using this account, out of which 75 have been won and that brings the profitability to 80%. This, combined with the high profit factor of 2.92, makes us think that this system follows an efficient algorithm that allows it to close the majority of trades in profit.
Customer Reviews
No customer reviews are available for Forex Gold Investor on websites like Trustpilot and Forexpeacearmy. For all the tall claims made by this vendor, there are no actual testimonies to back them up. We hope to see at least a few reviews for this Forex EA in the future.
Is Forex Gold Investor a Viable Option?
Forex Gold Investor makes it easy for you to trade in gold. This fully automated trading tool shields your profits with its smart money-management system. You don't have to create your own algorithm since the system is automated. Moreover, it is legit and helps you out whenever you face any issue.
Advantages
Verified live trading results
Backtesting data available
Affordable pricing
Disadvantages
Lack of vendor transparency
No customer reviews available
Not enough information about trading strategy
Wrapping Up
In conclusion, we would like to say that the pros and cons of Forex Gold Investor more or less cancel each other out. While the vendor does provide us with live trading results and backtesting data, there is a lack of information about the vendor and trading strategy, which cannot be ignored. Furthermore, there are no user reviews concerning this Forex EA on the web, so we cannot surely tell whether this system can be trusted or not.
Would you like to try out trading with an Expert Advisor?
Learn more about the best forex robots.