Forex Ninja is an expert advisor launched in the middle of 2018. The creators of this trading tool claim that it can help traders discover possibilities of auto trading on Forex. It is refreshing to see a team that does not provide any promise of any kind of returns. They only promise smooth automated trading and a guarantee of quality assuring their clients the robot has met rigorous backtests for over 10 years.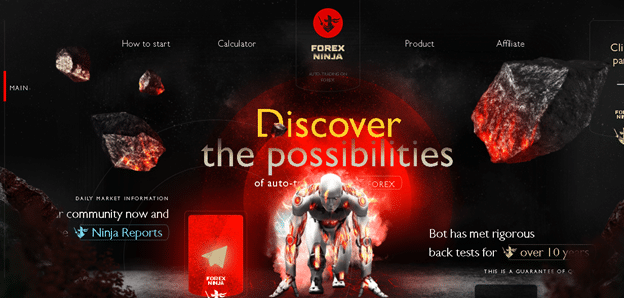 Erik Skozynski, a young Polish man, developed this software. He's a new face in this industry, a fresh coder who'd like to make a splash with his showy website design. The dev failed to provide any sort of information about his identity, location, or trading history. From one side it is good as we know that he is a newcomer who has a girth of trading experience in Forex. On the other hand, it makes it difficult to pin down what Erik brings to the table.
One of the oddest things we've found after our whois.domain.tools research was the next fact: '
forex. ninja is for sale!'. Its price is $2,495.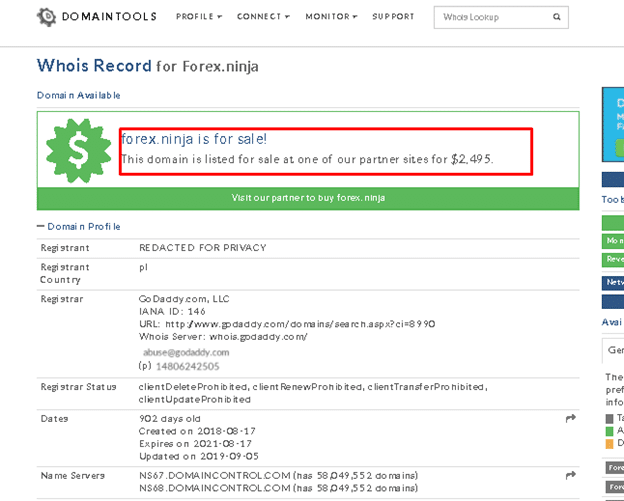 The dev did not mention this info on his website. Moreover he goes on to sell his EA. If the domain is listed for sale, this sort of info should be mentioned on the Forex Ninja homepage. We do not know whether the EA is viable. Is the dev going to transfer the website? Why? What is the reason for the sale? What about the traders? What will they do if the Forex Ninja website disappears? What about their invested money? Money-back guarantee? So many questions need to be immediately answered.
Features
The company provides no details on what strategy or strategies are behind the system. However, after our detailed trading results analysis, we've found out that the system uses a bunch of risky and dangerous trading strategies: Martingale, Grid, and Scalping.
The dev failed to provide a detailed product review.
The key features of this robot are:
It's 100% automated EA
It can only be run on the MT4 platform
We need to buy VPS for smooth trading
Brokers with the lowest spreads are offered (the company recommends ICMarkets)
Traders can change capital, date, and number of currency pairs
There's a poor affiliate program
Traders can receive 15% of the commission from a sold copy, while competitive services offer 30-40% paybacks
It supports 24 currency pairs
Software is easy to use even for newbies
How to start trading with Forex Ninja
The company claims that traders can easily earn money while Forex Ninja will do all the hard work for them. To start trading with this EA you need to install the MT4 terminal on the VPS server. The dev recommends brokers offering the lowest possible spread in the market, – ICMarkets.
In terms of pricing, this Forex trading tool comes in 3 different plans: 1 month plan/$39, 3 months plan/$112, and 6 months plan/$211. To buy the robot traders have to insert a capital that they'll be trading and then choose the date range they want to use the EA. Depending on capital and date the price will grow or decrease. Sincerely saying, we do not like their pricing approach, as there is no lifetime membership and they penalize traders with larger accounts, which is unacceptable. The devs do not disclose a timeframe the robot works the best.
Backtests
The developers of Forex Ninja do not provide backtesting results. Sadly, but the company does not provide any insight into the trading approach and methodology the robot uses for trading. There are no market setups the EA searches for to open and close deals. Lack of information is a red flag for any trading system. Disclosing strategy is crucial for traders as it helps them decide whether a system suits their trading goals. They can see whether the robot uses longer trades or uses a risky trading approach trading a higher capital. They can tell whether a robot uses an aggressive, moderate, or low-risk strategy in the market. In 2021, vendors try to be as smart as possible and they know that providing trading strategy details is crucial. The absence of backtesting results and trading strategy information only proves the fact that professionals do not run Forex Ninja EA.
Verified Trading Results of Forex Ninja
This is a Real EUR account trading with the ICMarkets brokerage on the MT4 platform. It uses a leverage of 1:500. It was launched on March 25, 2020. Since that time its total gain has risen to 166, 73%. Its monthly gain equals 9,74%, while daily profit is 0, 31%. The account is tracked by 22 traders.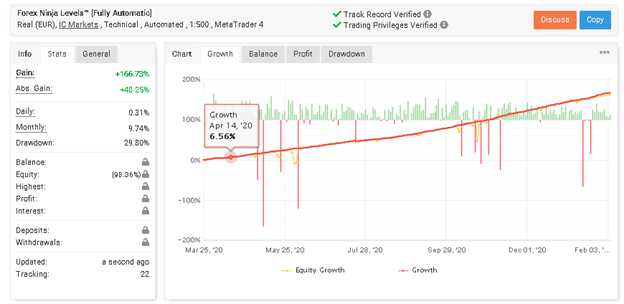 The peak drawdown was 29, 80%. As you can see on the screenshot below, Grid and Martingale set high risks to the balance. These vicissitudes in terms of drawdowns performance are too risky for a trading account and can easily increase the risk of ruin.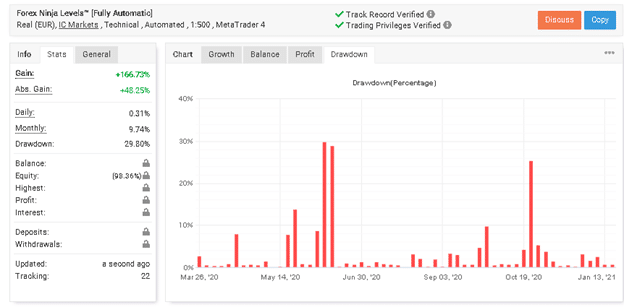 Since the time of activation, the robot has placed 1088 trades and traded 2086.3 pips. The average trade length is 4hours and 40 minutes with the average win coming in at 6.76 pips and a significantly higher average loss that equals -21.24 pips. Its profit factor is 1, 64.

It trades 24 currency pairs, the most frequently traded one is USDCAD – 67 trades, the less traded currency pair is EURCHF – 18 trades.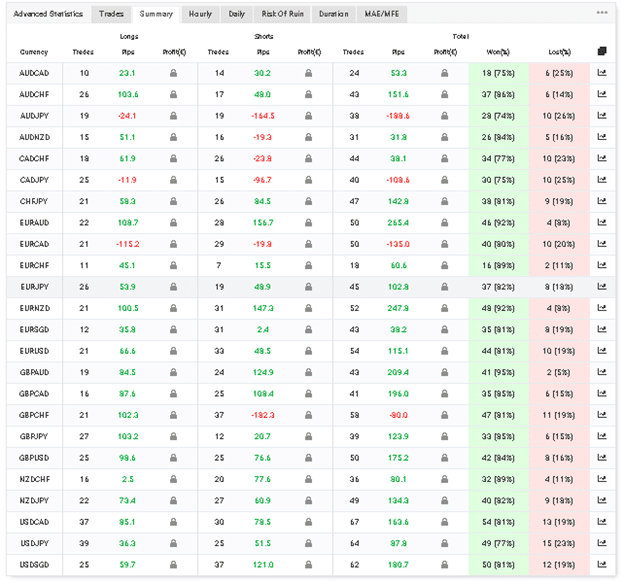 The robot runs the account with high trading risks. For losing 10% of the account, we have to lose six deals in a row. There is a 62,73% chance of losing 10% of the account. With a Grid on the board, it is not difficult.

Lot size is hidden. However, we know that EA uses the Martingale trading approach. Winning 10 pips provided more account gain (0,42%) than losing -12,3 pips provided losses (-0.31%).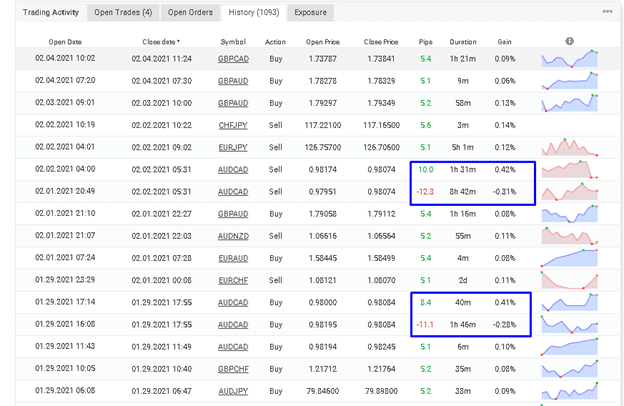 People Feedback
The dev shares some customer reviews on his website. However, we cannot check them, as we cannot contact these traders. Thus, we have no proof these reviews are from real traders.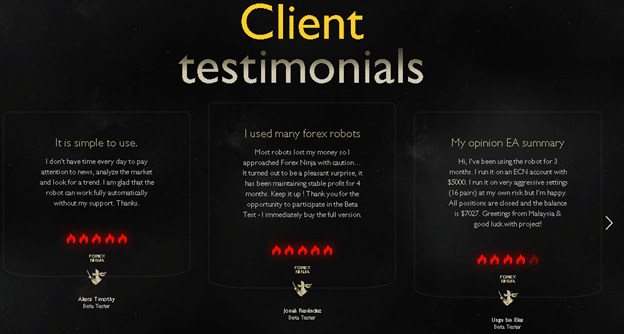 The EA has a profile on FPA with only 1 positive review from a customer.

It looks odd as for EA showing so impressive trading results.
Is Forex Ninja a viable option?
Advantages
Disadvantages
No backtesting results provided
Undisclosed trading strategy
Lack of customer reviews
Lack of vendor transparency
Their domain is listed for sale
No website updates since September 2019
Summary
The Forex Ninja developer, Erik Skozynski, does not provide a detailed trading strategy insight or backtesting results on their website. After a detailed robot analysis, we've found that Forex Ninja used Martingale and Grid trading approaches. The dev tries to hide this info from us. It seems that the EA scalps in the trend direction that is why the developer recommends using VPS and running this robot on ECN accounts.
Would you like to try out trading with an Expert Advisor?
Learn more about the best forex robots.