Forex Profit Robot is an expert advisor, which uses technical analysis based on different trading algorithms that allow the robot to trade profitably generating 'profits after profits'. The developer of this trading tool says: 'There is no other EA that can match with our EA's performance'.
The vendor makes a short presentation on the official website, pointing out the main features of the robot, pricing details, and live trading results. Their website presentation has a lot of spelling mistakes and lacks information where it is the most required. The developers failed to provide any sort of information about their identity. We know neither what trading experience they had, nor where their headquarters location is. The developers avoided disclosing it to force us to make a decision based on the absolute gain chart only. The question remains, can you trust this Forex EA? How can you invest in this EA if there is a lack of much useful and important information? How risky is it to trade with Forex Profit EA? It is what we are going to find out in our detailed Forex Profit EA review.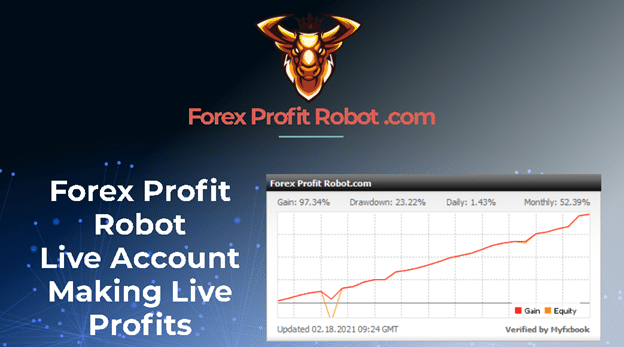 To get in touch with the Forex Profit team traders need to use their contact form where they have to provide their name, email address, subject, and a message of issue/request.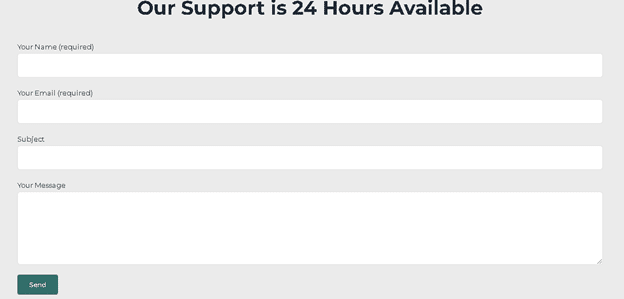 Features
Let's start with robot' features, functionality, and trading strategy details:
It is a fully automated EA
All trades are closed within 24 hours
It works only on the MetaTrader 4 platform
It trades AUDCAD, EURGBP, EURUSD, GBPUSD, USDCAD, USDCHF, and USDJPY currency pairs
It employs insane Grid and Martingale for trading
It has a Full Money Management System that automatically analyzes trader's account balance and calculates Lot size for every open deal
Traders can also set Lot size manually
It is easy to install EA
Traders are free to disable currency pairs they do not want to trade
The dev recommends using default settings for trading
The robot comes with a 30-day money-back guarantee
How to start trading with Forex Profit EA
The developer points out the main requirements for trading with this robot:
Minimum account balance to trade with Forex Profit EA should be at least $1000
Minimum MT4 account Leverage should be 1:500
Forex Profit Robot can be applied to one chart only
Traders are recommended to trade with default settings. In case you want to change them you have to discuss it with support before going life or starting trade on Demo account with them
To trade smoothly traders should have a good Internet connection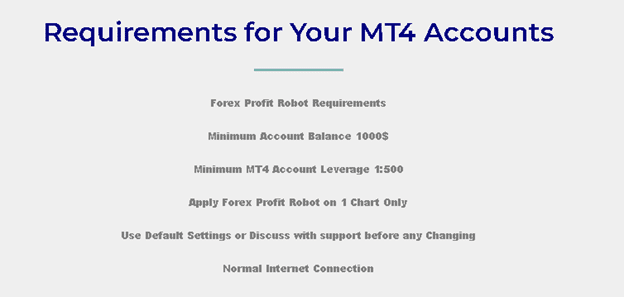 This expert advisor is sold in 2 different packages: 1 License and 1 License + MT4 VPS server. The first pack costs $100/month. It comes with 1 Real or 1 Demo MT4 account license, free email support, and free installation, free transfer to any other MT4 account. The pack includes a 30-day money-back guarantee, which is fake, as it is a monthly subscription. The other package costs $140 for a monthly subscription. It has the same features, but in comparison with 1 License, this one includes a VPS server. Frankly saying, paying extra $40 for VPS is too much.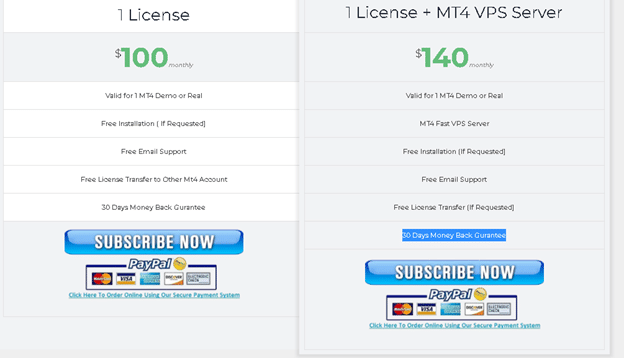 Backtests
The developer failed to provide a backtest report to show how the EA performed in the past. Although history data does not reflect present trading results, it could help us to analyze the trading strategy the EA used. Lack of information is a red flag for Forex Profit EA.
Verified Trading Results of Forex Profit EA
The dev provides trading results of this EA verified by myfxbok.com.
This trading account was added on myfxbook.com on January 01, 2021, and was deposited at $1426 (total deposit is over $6,2K. This is a Real USD account that is run by an FBS broker on the MT4 platform. The robot trades with 1:1000 leverage. Its trading record and trading privileges are verified. Oddly, but there is no data from technical indicators. Its current balance is $8, 090. 60. For 1 month and 2 weeks of trading, the robot has earned $3353 of profit. It withdrew only $31, 03 in total. Since January 4, the absolute gain of this trading account has grown to 97, 34%, the average monthly gain is high and equals 53, 13%. The peak drawdown was 23, 22%.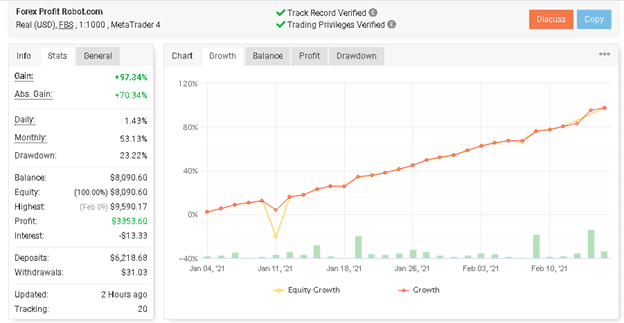 From January 18 up to the current days (the date when our review was written), the drawdown is low – under 0.91%. It looks good, but we are uncertain whether it will be so in the next couple of months.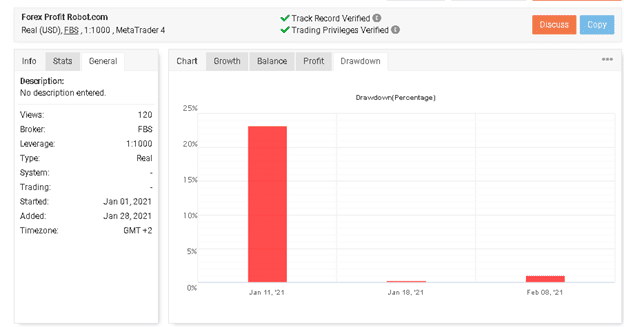 It traded 308 trades and won 176 out of them, which represents 57%. It has closed -503, 2 pips. From a negative number of gained pips, it is Grid plus Martingale. The average loss is -10,35 pips when the average win is 4,90 pips. The average trade duration is one hour and eighteen minutes. The win rate for long trade positions is 56%, while the win rate for short trade positions is 57%. Its profit factor is 1, 60.

It trades 7 currency pairs. The most frequently traded as well as the most profitable one is GBPUSD – 49 trades and $1408, 95 of profit. The worst traded currency pair is USDJPY ̶ -$43,05.

It trades with high trading risks and there is a 35, 01% chance of losing 10$ of the account balance. It can happen if the EA experiences 19 consecutive losing trades.

As you can see on the screenshot below, the standard Lot size is 0,20. However, the robot can increase it to 0, 80, 1,60, 3,20, or even to 6, 40 to recover after losses.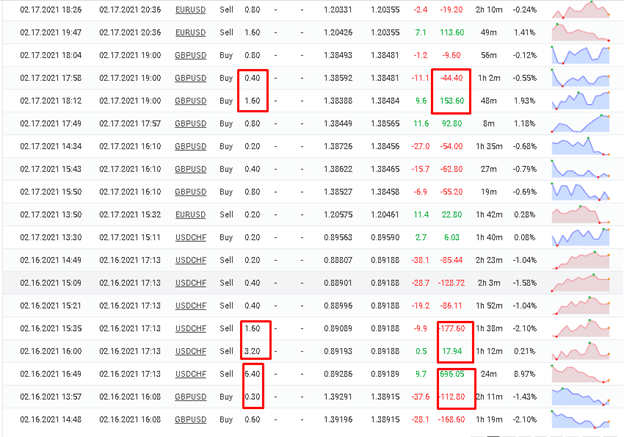 After an unsuccessful trade attempt on February 16, 2021, the robot lost -$112.80. To recover after this loss, the robot applied Martingale and increased Lot size 21 times, from 0, 30 to 6, 40! It's madness! It is too risky for trading.
Customer reviews
Unfortunately, there is no customer review available on the web. Probably, it is because the EA is too young and traders have just started to try the EA. However, if they find it to be good or bad we'll see their reviews on third-party websites in the nearest future.
Is Forex Profit EA a viable option?
Advantages
Myfxbook trading results provided
Disadvantages
No backtest report revealed
Lack of vendor transparency
Extremely high pricing
Risky Grid + Martingale combo
Undisclosed trading strategy
A suspicious money-back guarantee provided
No customer reviews
Final Thoughts
It is too early to judge the EA. However, there are a few drawbacks we've noticed: insane Grid + Martingale combo, extremely high price, no backtest report provided, and lack of vendor transparency. This robot uses a dangerous and risky trading approach. The robot that is run on the Real account can increase Lot size by 23 times to recover after losing a trading attempt. It is scary. If you are ready to risk your money, then welcome. However, be ready to lose a pretty penny one day.
Would you like to try out trading with an Expert Advisor?
Learn more about the best forex robots.