FXMath X-Trader is a fully-automated Forex automated trading system that is based on an efficient mathematical model that allows it to earn high profits while keeping the drawdown low. As per vendor claims, this Forex robot will let you take your profits to the next level and place trades automatically without any manual intervention. It is also promised that this system wins 90% of the trades it places.
On the official website, we have been provided with a brief overview of the main features, along with a couple of trading accounts showing live trading results. We also have backtesting data, system requirements, pricing details, and a contact form using which you can send a message to the FX Math X-Trader team. It is to be noted that the website is a bit clunky and some of the buttons don't work as they should.
There is no information on the website about the company behind the Forex EA. We don't know who the developers are, or whether they have built similar systems in the past. So as far as vendor transparency is concerned, we are not too impressed with this robot.
Features
This Forex EA trades in the EUR/USD pair using the leverage of 1:100 to 1:1000 on the MT4 platform. However, the vendor mentions that it can be used for trading in other pairs as well. Support is provided to all users on a 24*7 basis.
The system undergoes regular updates so that it remains competitive and can perform under all market conditions. It looks for the most likely direction in which the trend could advance for the next few days and opens the order within a stipulated time period. The robot uses precise mathematical calculations to generate the trading signals.
We don't have any information related to the trading strategy used by the robot, which is highly disappointing. Most Forex traders look for some kind of strategy insight before investing in a system, since it allows them to gauge the robot's profitability to a certain extent.
How to Start Trading With FXMath X-Trader 
There are three different pricing plans for this Forex EA, which are known as Silver, Gold, and Diamond. Priced at $99, $123, and $149, respectively, these plans differ in the number of real and demo accounts they give you access to. The license key has lifetime validity and you can use it forever.
After the completion of your payment, you need to email your MT4 account number to the service team. You can use this robot with a Cent, Micro, or a Mini account. Any MT4 broker is compatible with it and you can run it on different operating systems like Windows 2003, XP, Vista, 7, 8, and 10.
After the installation is complete, you don't have to take any further steps. The system then starts placing trades on its own and it does not require frequent monitoring.
Backtests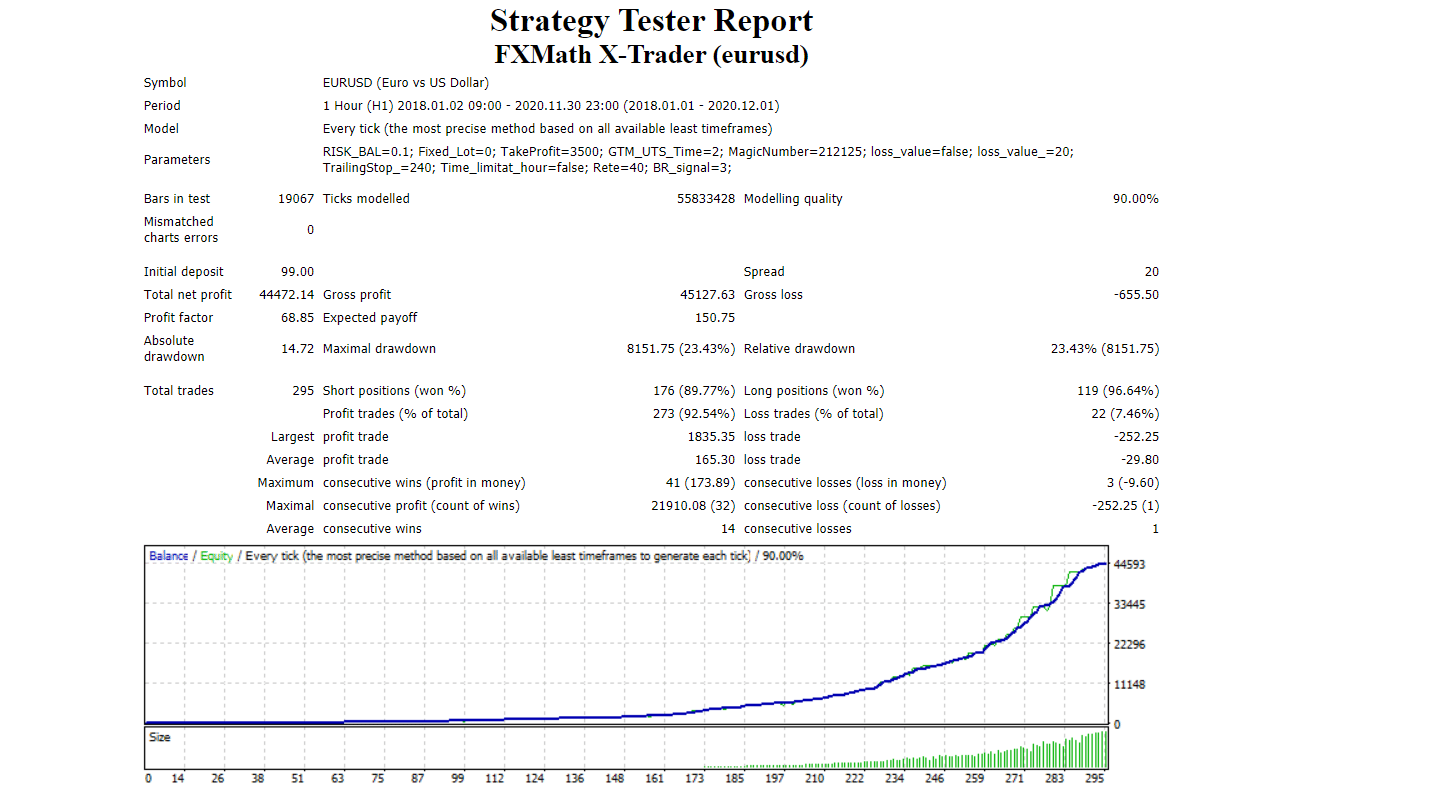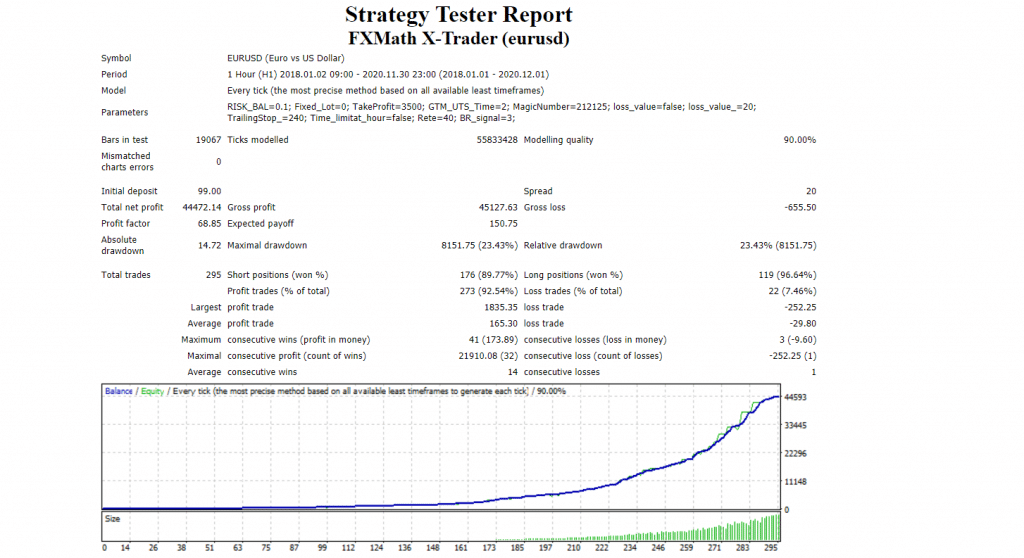 Here we have the backtesting result for the EUR/USD pair conducted from January 2018 to November 2020. During this time period, 295 trades were placed, out of which 273 were won, meaning the system had a win rate of 92.54%. The total net profit generated was $44472.14, and this was done using a small deposit of $99.
For this backtest, FXMath X-Trader had an incredibly high profit factor of 68.85 that is virtually impossible to reproduce in the live market. The relative drawdown was moderate at 23.43%.
Verified Trading Results of FXMath X-Trader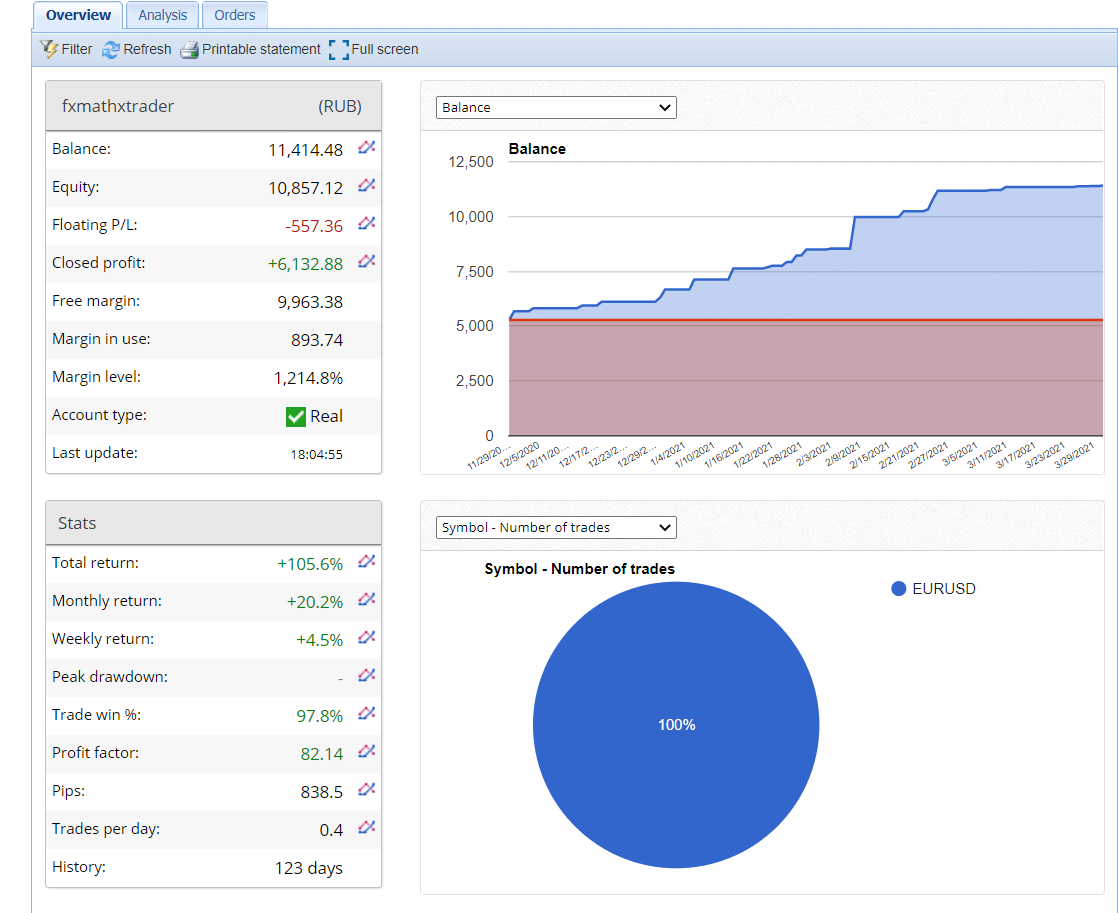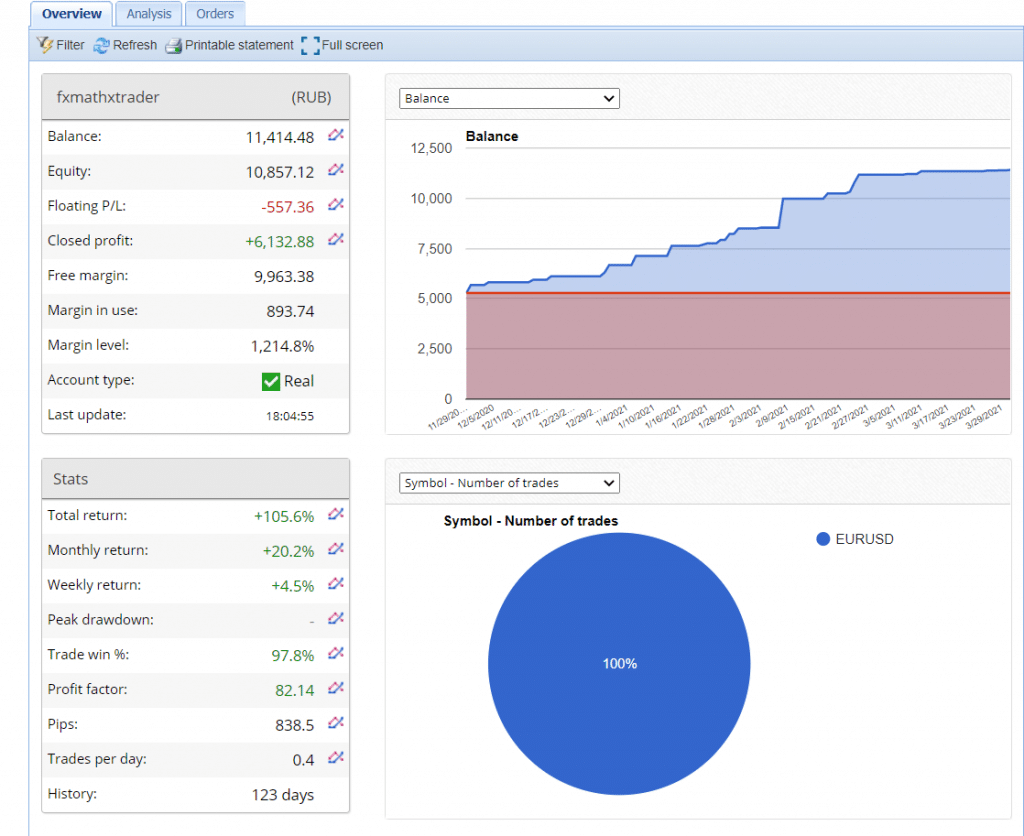 This live trading account on FXBlue has a trading history of 123 days, during which it generated a total profit of 6132.88 Rubles. While the total return for the account is 105.6%, the daily, weekly, and monthly returns are 0.88%, 4.48%, and 20.19%, respectively. It has an extremely high trade win rate of 97.8%, which reflects the high profitability in the backtesting result.
By taking a look at the history of closed orders, we can see that there has only been one major loss. The risk/reward ratio is quite decent – 3.24.
Customer Reviews


We found a single user review for FXMath-X Trader on the Forex Peace Army. Here the user has stated that the system does not work properly and that the vendor refuses to refund the subscription amount. It is also mentioned that the service team was not able to fix the situation even after the user gave them access to their VPS.
Is FXMath X-Trader a Viable Option?
Advantages
Verified live trading results
Backtesting data available
Affordable pricing plans
Disadvantages
Lack of strategy insight
Lack of vendor transparency
Negative user reviews
Conclusion
At the end of our assessment, we have reached the conclusion that FXMath X-Trader is not the perfect system, but it is not a scam either. Although the vendor has shared the live trading outcomes and backtesting data, we have no information about the trading strategy, and vendor transparency is lacking as well. Thus, we think investing in this robot is a bit risky.
Would you like to try out trading with an Expert Advisor?
Learn more about the best forex robots.