The rising popularity of day trading has led to the popularity of trading platforms. Robinhood and WeBull are two of the most popular trading platforms in the world. But behind the scenes, there are other quality trading platforms used by day traders.
Would you like to try out trading with an Expert Advisor?
In this article, we will look at two trading software that is prominent among stock, commodity, options, and forex trading. We will explain what NinjaTrader and Thinkorswim are, their differences, their benefits, and how to use them. Most importantly, we will identify the best forex trading tools by comparing the two platforms.
What is NinjaTrader?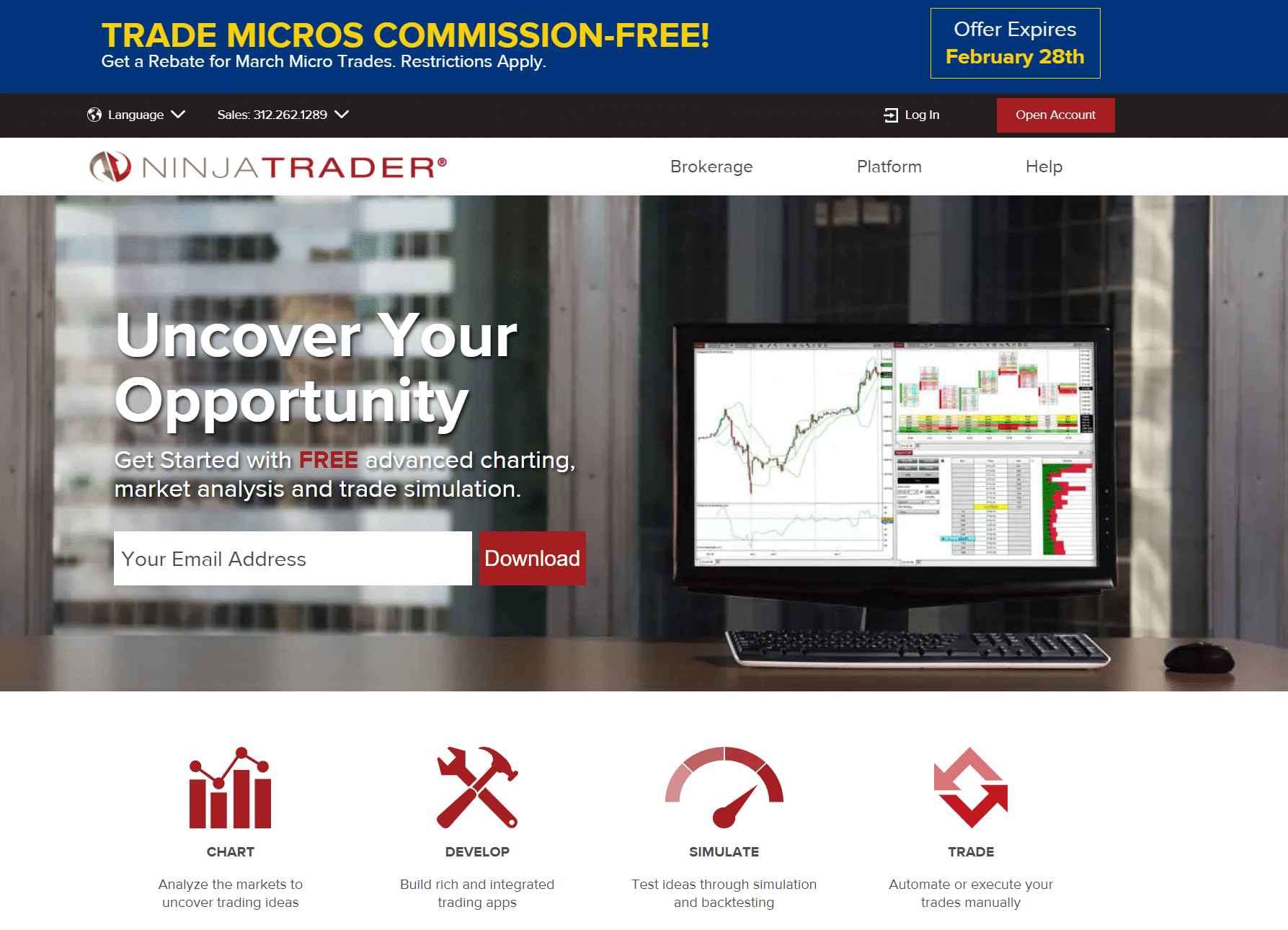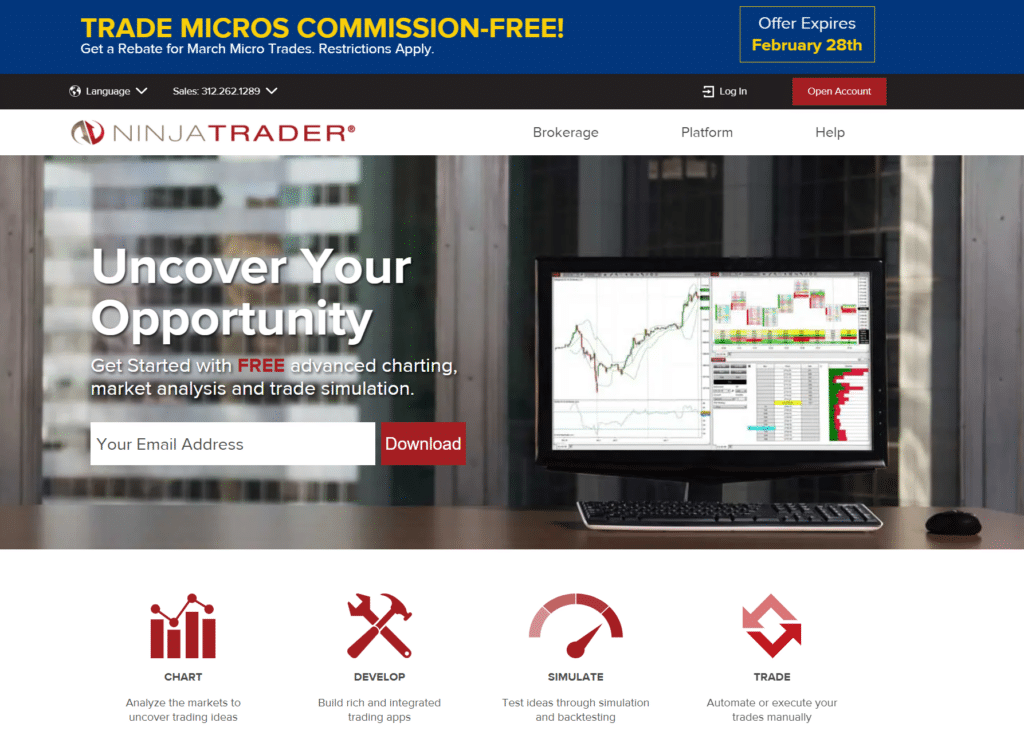 The trading platform is owned by NinjaTrader (NT) Group, an American company. The group is made up by the Ecosystem, Software, Brokerage, and Kinetick. The brokerage service offers solutions that allow people to trade futures and options.
The software division offers a free trading platform that people from around the world can use to analyze assets. Users can download the software on its website and use it to test their strategies. The alternative and most popular option are when people use the software from their online brokers.
The concept behind this is relatively simple. NT has entered deals with online brokers like FXCM that offer the software to their clients. These clients can then do analysis and execute trades on the platform. They can also build and test trading algorithms on the platform.
NT8 mostly competes with other free platforms like MetaTrader 4 and MetaTrader 5. When compared to these platforms, NT has a significantly smaller market share.
What is Thinkorswim?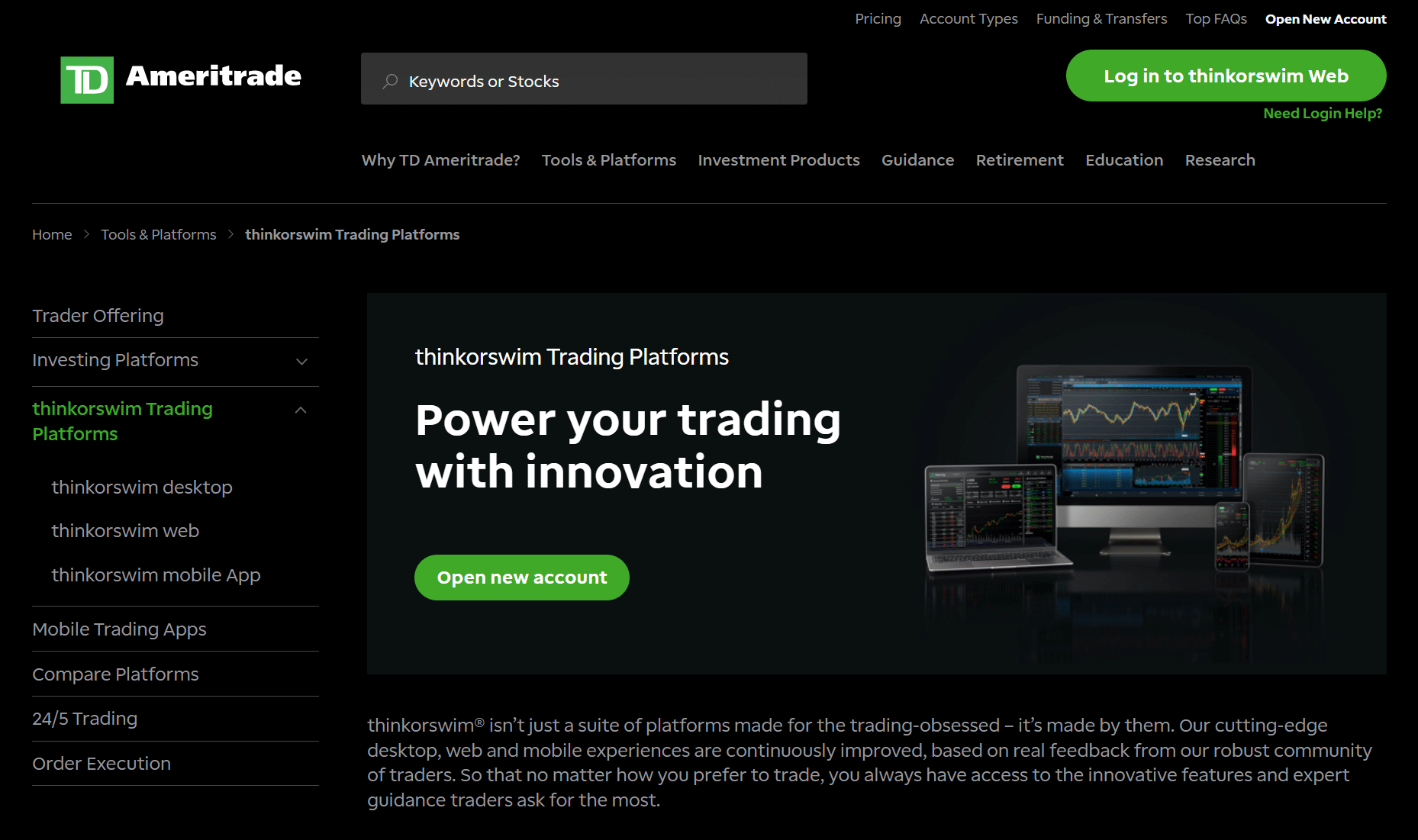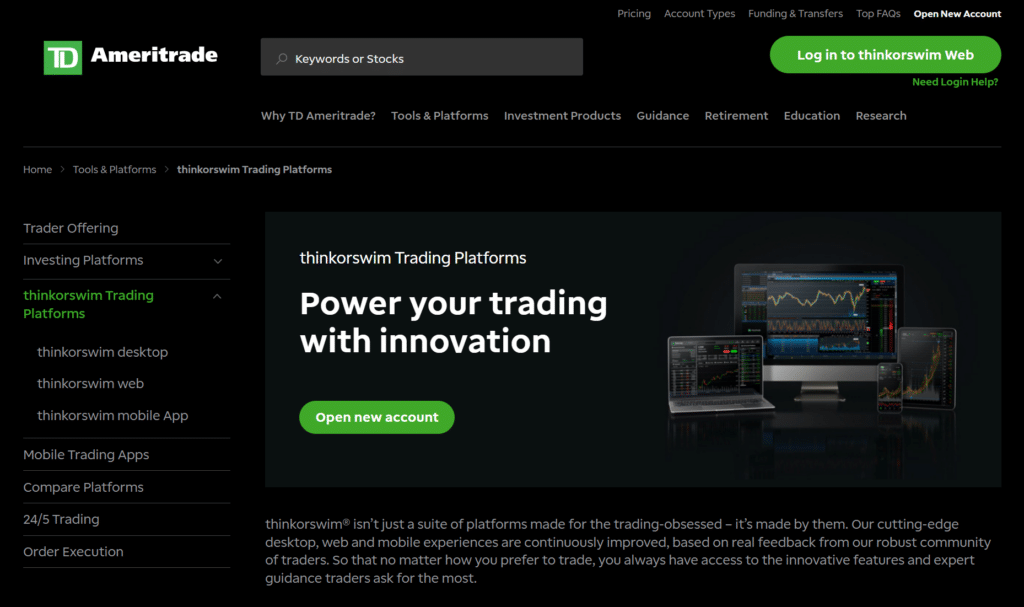 Thinkorswim is a trading platform that is offered by TD Ameritrade, which is one of the biggest brokers in the United States. TD Ameritrade was acquired by Charles Schwab in a $26 billion deal. The acquisition came in a period when online brokers were adjusting to the commission-free trend.
Thinkorswim is an advanced tool that has all tools you need to analyze and execute trades on thousands of assets like stocks, commodities, indices, options, and exchange-traded funds (ETFs), among others.
Thinkorswim is available as a desktop application that can be installed on all computers. It also has a web application that can be used in most browsers like Chrome and Mozilla. The software also has a mobile app that can be installed on Android and iOS.
Advantage of NinjaTrader over Thinkorswim
When looking for FX charting tools, there are several benefits that NinjaTrader has over Thinkorswim. First, unlike Thinkorswim, NT is available in most countries around the world. Thinkorswim, on the other hand, is only offered in a limited number of countries. For example, its services are not available in the European Union countries, Canada, and Japan.
Second, you don't need an account with NT to use its service. The situation is different with Thinkorswim since you need to have an account with TDAmeritrade to use its services. Finally, you can use NT for free if your broker offers the platform.
Advantages of Thinkorswim over NinjaTrader
There are several reasons why Thinkorswim is better than NT. First, TD Ameritrade has some of the most advanced trading courses for most new traders. While NT has its own courses page, the ones offered by Thinkorswim are better.
Second, Thinkorswim is a cheaper product to use. All you need to do is to create an account with TD Ameritrade and deposit funds, and you will have all the access. Some advanced packages of NT cost a substantial amount of money per month.
Third, the platform offers more assets. Thinkorswom has thousands of assets like stocks and bonds, some of which are not available in NT.
Finally, while Ninjatrader has mobile applications, in our experience, we have found that the apps offered by Thinkorswim are significantly better.
Trading automation with NinjaTrader vs. Thinkorswim
One of the best considerations when looking at the best forex trading tools is automation. The process involves using robots or expert advisors to automate entry and exits. The benefit of Thinkorswim and NinjaTrade is that they allow people to automate their trades using the software.
Thinkorswim has a tool known as ThinkScript that allows you to build your strategy. It also has several templates that you can apply or adjust to fit your trading strategy. For example, you can direct the platform to open a buy trade of a certain amount when the price moves above the 25-day Moving Average.
NinjaTrader has an automated trading tool and Strategy builder feature that you can use to build the strategy. A good thing about it is that you don't need to have any coding experience to achieve this.
Therefore, in our experience, we have found that automating trades using the two platforms is equally good.
Backtesting with Ninjatrader vs. Thinkorswim
Backtesting is the process where you test an indicator or a robot to see its performance in the real market. It is a popular feature that most trading platforms like MT4 and MT5 have. The same is true with Ninjatrader and Thinkorswim. We believe that the process of building a robot using NinjaTrader is easier and better than using ThinkorSwim. Also, the backtesting process takes a short period in the former platform.
Trading fees and commissions
The cost of trading has come down significantly in the past few years. To most traders, NinjaTrader is a free platform if you are using a broker that has a relationship with the platform. But it has some costs if you are not using a broker that provides it. Depending on the features you want, it costs you an annual lease fee of between $720 and $1,099.
Thinkorswim does not charge a fee for most trading assets like stocks. Its forex solutions do not have a commission either. Instead, the fee is reflected in the bid and ask prices.
Therefore, in terms of pricing, Thinkorswim is cheaper than NinjaTrader if you opt for the most advanced tools.
Summary
There are many trading platforms in the market today. In this article, we have done a forex trading tools review between Thinkorswim and NinjaTrader. In it, we have looked at the difference between the two and identified how they work and which is the better option. We believe that the two are good platforms depending on the service you want.
Would you like to try out trading with an Expert Advisor?