To attain success in the forex market, traders need to have the sixth sense of knowing when and which currency to sell or buy in order to make a profit. Gauging the different factors and taking trading decisions accordingly, requires a lot of skill, experience, and knowledge, something which novice traders are generally devoid of.
On Control EA Review
To help such individuals, a class of software programs called Expert Advisors have been developed to automate the trading decisions and take actions accordingly. The main aim of these software programs is to eliminate the influence of emotional instability, something which is unavoidable for us humans while taking important trading decisions. Expert Advisors never make any spontaneous or impulsive decision and instead follow a calculated and automated trading method. On Control EA is one such example, which is the focus of this review
On Control EA presents itself as a very powerful and effective expert advisor, designed to maximize user's profits. It has been developed by a team of Forex experts, ensuring that their client gets the perfect trading solution.
The website looks unimpressive, to say the least, with very scanty information provided about the various components of this tool.
Price: 1500 EUR
Timeframe: Any
Currency Pairs Available: USD/JPY, USD/CHF, GBP/USD, and CAD/JPY
Strategy: Martingale
How to start trading with On Control EA
On Control EA is operational during certain hours when the program analyses and determines the future price direction for the next couple of days. It allows users to set desired profitability levels and specify risks before trading.
The minimum deposit amount for trading with 0.01 lots is $2000, with the option of customizing lot sizes.
The EA is also compatible with any FX broker and account which allows an expert advisor trading on their platform. XM and ICMarkets are examples.
It uses special algorithms for opening and closing trades, along with an easy to install MetaTrader 4 program.
Key system updates are provided from time to time.
As mentioned before, the website does little to explain the trading strategy involved. The website claims that the EA has been designed by a team of mathematical experts, despite the lack of information, it seems evident that they employ a martingale money management system. Using this strategy involves increasing lot sizes to recover losses, making it a highly risky form of trading. This is because one wrong decision can result in the trader's funds getting compromised. It is thus advised to use a reliable and proven ECN Forex broker for the best chance of getting orders filled.
Trading Results
Once again the website fails to explain the results of the trading tests provided. However, ON Control EA has provided 10 trading results from myfxbook. Seven of the accounts are already closed.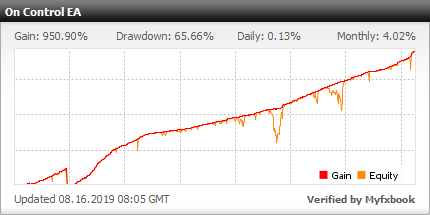 The first result given indicates the gain percentage of 950.90% and a drawdown level of 65.66 %. This is indicative of a very risky trading style.
Pros and Cons
| | |
| --- | --- |
| Pros | Cons |
| Multiple Currency Pair Support | Disappointing back-test results |
| Any account size | Lack of transparency in the strategy being implemented |
| Responsive customer support | Comparatively expensive |
| Money back guarantee | |
Conclusion
After considering all the features and drawbacks of the system, the promise of "easy money without any effort" remains largely unfulfilled. Key areas of concern include the overall lack of transparency, closed accounts of Myfxbook, and the overall price of the product. Also, it employs a pretty risky trading strategy and is not suitable for traders with a conservative approach. There are several alternatives available at the same price level with proven results, which can better cater to the needs of traders.